Top 15 Things To Do In Chiang Mai
If you're coming to Thailand but looking for an alternative to Bangkok's chaos and traffic-congested streets then go to Chiang Mai. Known as the 'Rose of the North', Chiang Mai is the second largest metropolitan area in Thailand after Bangkok and offers visitors a green city, quiet roads, and a more relaxed vibe.
Chiang Mai is an excellent base to explore the Northern region of Thailand from. This culturally rich city and its surrounding countryside will offer you spectacular mountain views, stunning temples, majestic elephants, bustling markets, scenic bamboo river rafting, and more.
Whether you've already experienced many Chiang Mai day trips or this is your first time, chances are you'll be seeking out the most memorable things to do while in town. Read on to learn about the incredible places that many consider to be the "must do" in Northern Thailand or book online today.
Top activities to include in your day trips from Chiang Mai
If there is one thing you must do in Chiang Mai, it's to spend the day with an elephant! Bon Voyage Thailand offers an excellent selection of elephant tours no matter your traveling style. There are all sorts of tours, from private day trips and meeting baby elephants to tours that combine visiting elephants and trekking afterward or one that teaches you how to be a mahout (elephant trainer) for a day.
Most people agree that spending a day with elephants is the highlight of their trip to Thailand. There are many sanctuaries and parks in Chiang Mai that rescue elephants from performing and logging industries and give them the freedom to do what they love most: eating their favorite tropical snacks, rolling around in the mud, and swimming in a local river.
Take an Elephant Tour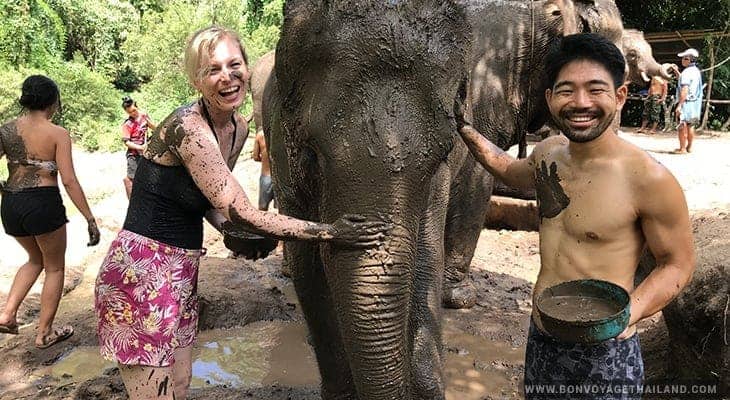 If there is one thing you must do in Chiang Mai, it's visiting an elephant sanctuary. Most visitors agree that spending time with an elephant through the local jungle or nearby rice fields is a once-in-a-lifetime experience and the highlight of their trip to Chiang Mai.
Swim in a Waterfall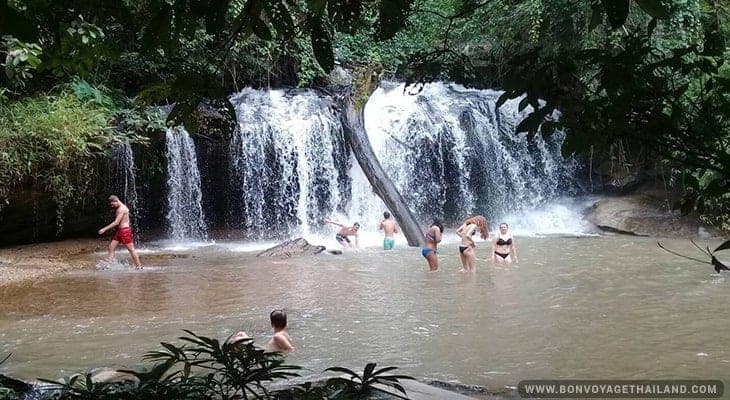 Northern Thailand has countless waterfalls. Nature lovers can look forward to standing before magnificent falls and feeling the cool water spray on their skin or swimming in their natural plunge pools. Many people use this time to take photos or enjoy a picnic in the idyllic surroundings.
One of most unusual of all the waterfalls in the area is the Bua Tong Sticky Waterfall. These falls are so named because of their sticky surface, which allows you to climb easily up and down through the cascading water. A high level of calcium in the water is responsible for creating this rare phenomenon.
Another highly recommended waterfall is the Mae Sa Waterfall. It's one of the most impressive waterfalls in the area and consists of ten different tiers. If you're adventurous, you can climb a steep, narrow trail that stops at each level.
Mae Wang Waterfall is another waterfall perfect for swimming. Found in the Mae Wang National Park, this single-story waterfall is approximately 20 meters high but has a natural plunge pool at the bottom where swimmers can enjoy splashing around.
Enjoy the Rivers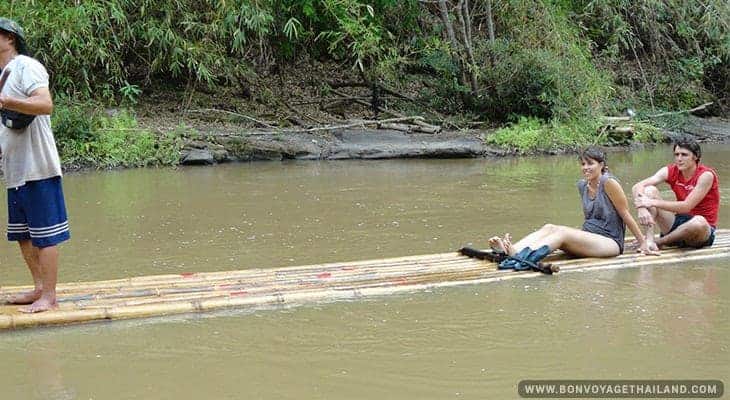 For a relaxing afternoon, float down the Mae Wang River on a traditional Thai bamboo raft. Its handmade design is perfect for navigating the slow-moving shallow river waters and allows for a peaceful and picturesque way to study the jungle's plants and cute creatures passing by.
If you are looking for something more adrenaline-filled, try your hand at whitewater rafting. The Mae Tang River has deeper and faster moving water making it perfect for this thrilling sport.
Go Temple Hopping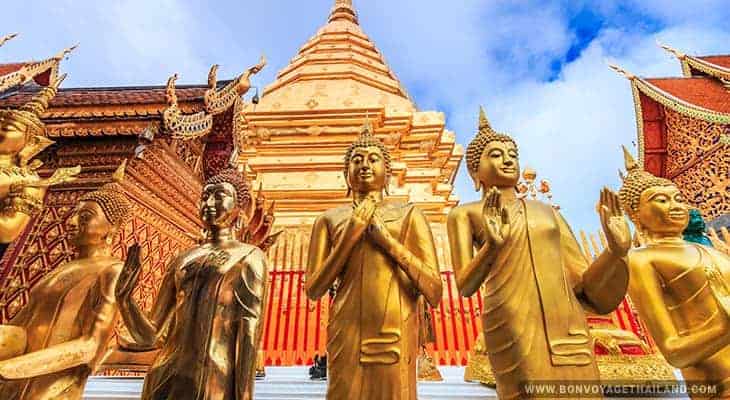 Chiang Mai Province is home to several hundred temples, all of which are stunning works of architecture. Some are even quite famous and attract thousands of visitors each year!
The most popular temples are located near the city center. Wat Chedi Luang, Wat Phra Singh, and Wat Chiang Man and can be found within the Old City and happen to be the three oldest temples in town. Wat Phra That Doi Suthep, which is perched on the side of the Suthep Mountain, is another very famous temple because it houses an auspicious Buddha relic.
Explore the Markets
Thai markets are fascinating. In some markets, you can purchase skillfully made handicrafts directly from the local hill tribe people. Other markets have Thai vendors from all over selling jewelry, wood carvings, paintings, silk clothing and other memorable souvenirs. You can also sample fresh produce and tasty Thai snacks while you weave through the markets' stalls. Many of the Chiang Mai day trips organized by Bon Voyage Thailand include a chance to visit a local market.
Visit a Hill Tribe Village
This northern region offers the exclusive opportunity to see firsthand local Thai hill tribe communities and witness their way of life and unique dress. Learn about their culture and individual languages, which only exist in the spoken form.
Go Trekking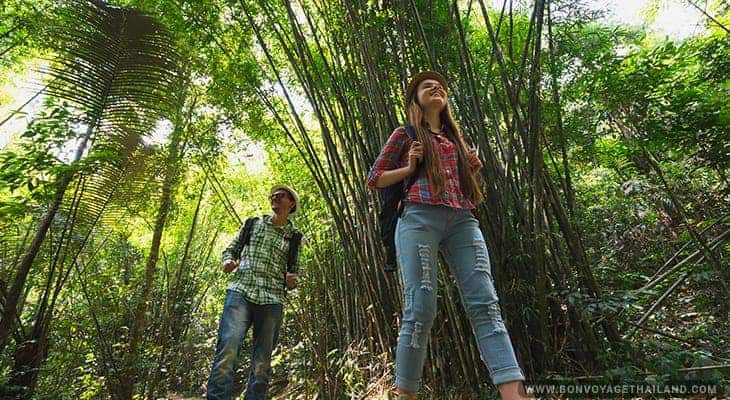 Jungle trekking is extremely popular, and options starting in Chiang Mai are plentiful. You can take a short trek along a nature trail on the mountainside, plan a day trip or join a tour that lasts for several days and includes elephant sanctuaries, hill tribe encounters, and river activities.
As with all Bon Voyage Thailand's trekking tours, you will be accompanied by an English-speaking guide who will tell you all about the flora and fauna you will see, take you to the most scenic places in Chiang Mai, and teach you what it's like to connect with the Thai forest.
Take a Dip in a Hot Spring
For a rejuvenating treat, try dipping your feet in one of the natural hot sulfur springs in the area. This activity is especially nice during the cool season but is fun all year round. Vendors typically pass around small baskets of eggs that you can boil just for fun.
Join a Monk Chat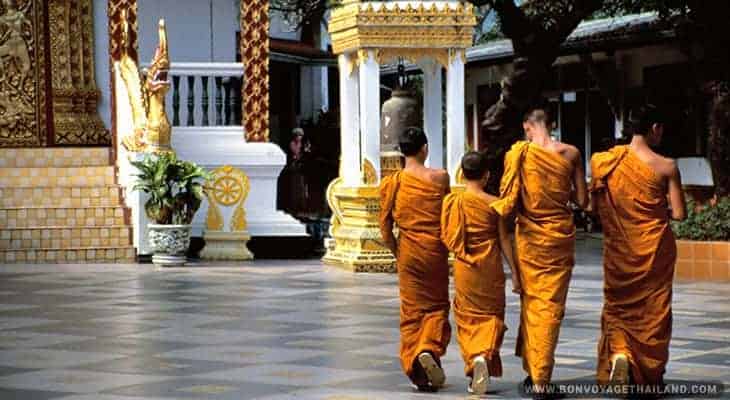 A monk chat is one of the most unique things you can do when you visit Thailand. It's an opportunity to have an informal chat with a young Buddhist monk and learn about Thai culture and their lifestyle at a Buddhist temple. For the young monks, it's a welcome chance to practice their English. Monk chats take place all around the city at different temples and at various times of the day. After speaking with the monks, they will oftentimes give you a special blessing that involves a religious chant and tying a special white cord around your wrist.
Take a Thai Cooking Class
Chiang Mai is an excellent place to take a Thai cooking class because of the variety offered throughout the city. There are cooking classes that are family friendly while others cater to vegetarians or vegans. Others still can accommodate large groups or one-on-one private classes.
Many will start the class with a trip to the market where you'll learn about the fresh ingredients you'll soon cook with. Afterward, you'll be taken back to the kitchen and taught how to cook tasty, healthy Thai meals from fresh ingredients you just gathered.
Attend a Festival
Depending on which month you're visiting Chiang Mai, you might be lucky enough to attend one of the spectacular annual festivals.
In February is a three-day flower festival. There's a parade that features large floats intricately decorated with tens of thousands of fresh flowers. Browse among the street vendors and sample sweet seasonal strawberries, ogle over the tropical flowers and ferns on display, and shop for some of the more unusual souvenirs.
In April, locals celebrate Songkran, which is also known as the Water Festival. It's one of Thailand's wildest, wettest, and most fun festivals. Thousands of people of all ages take to the streets of Chiang Mai armed with water pistols, cannons, and buckets filled with ice cold water for what can only be described as a massive water fight!
In November, the Lantern Festival Yee Peng (Yi Peng) coincides with the full moon of the twelfth lunar month. You might have seen the incredible photos of hundreds of floating lanterns being released into the night sky, symbolizing the letting go of the misfortunes of the previous year. Check ahead for the exact dates of the festivals to make sure you don't miss out.
Everything you need to know for planning your Chiang Mai day tours
When planning your Chiang Mai day tours, a little preparation goes a long way. Use the information below to get the best out of your trip.
Getting Around
Getting around Chiang Mai is surprisingly easy. The Old City is beautiful, compact, and easy to walk around the small alleyways. If you prefer not to walk, hail one of Thailand's famous three-wheels vehicles, the tuk-tuk! If you want to travel like a local, use a songthaew, which is a red pickup truck with a covered bed. They act like a shared taxi and are a great way to get around the city super cheaply.
There are also a small number of air-conditioned private taxis, but these are not easy to hail. You will mostly find them waiting at the airport, bus and railway stations, hotels, and malls. Alternatively, you may want to rent a motorcycle or bicycle. If you are sightseeing, taking a tour is the best option, as transport will usually be included.
Weather
Chiang Mai is known for its hot and humid climate much of the year, but its coolest months are in December and January. During these months, many visitors flock to Northern Thailand to escape the heat thanks to its high altitude and lush mountainous jungles.
Chiang Mai's wet season is between the months of June and October. During this time, there are daily rain showers that typically last between one and two hours, but don't let this stop you from coming! While it rains, duck into a massage shop or relax with a fresh fruit smoothie until the rain showers pass.
What to Wear
Because of its tropical climate, visitors should wear breathable and slightly loose-fitting clothing to stay cool and comfortable. Cotton short-sleeved shirts and shorts are perfect for day tours.
Wear a pair of shoes that won't cause blisters and are safe to walk around on uneven surfaces. If you partake in more adventurous activities such as elephant camps or bamboo rafting, be sure to wear shoes that can get wet and are easily cleaned. Flip-flops or thongs are acceptable to wear, too.
Chiang Mai day trips that include a visit to a temple require a little extra thought. Be sure to wear clothing that covers your shoulders and knees. Women are asked to wear shirts with a neckline that comes up close to the collarbone. An easy way to be properly covered is to pack a light sarong or scarf and cover areas of your body as needed. Also be mindful to take off your shoes before entering a temple, as it is Thai custom to do so.
Our Top 5 Chiang Mai Day Trips
With so many great things to experience, you may be wondering how you're going to do it all. To help you, we have hand-picked the best attractions in the area and incorporated them into our Chiang Mai day trips. Each of our trips includes:
An English-speaking guide
Driver and transportation
Local Thai meal
All entrance ticket fees
Hotel transfer (within 3 km of the Chiang Mai City Moat)
Accident insurance
Guests will receive a meal on full-day tours that will feature local Thai cuisine. Visitors who have signed up for a half-day tour will receive light snacks and refreshments only. Bottled water will be provided.
Please inform us prior to your trip if you have any special dietary requirements, such as eating vegetarian or halal meals or have food restrictions or allergies.
During the wet season, the weather can be a factor. Although tours may briefly pause during the rain, the schedule will go on as planned.
Chiang Rai Golden Triangle and Long Neck Karen Tribe
Highlights of the trip to Chiang Rai include:
Popping into the hot springs
Visiting the White Temple
Overlooking the Golden Trianglelandmark
Wandering through the Mae Sai border market
Touring a Akha Hill Tribe Village and Long Neck Karen Hill Tribe Village
Chiang Rai is a neighboring province north of Chiang Mai. This extended full-day tour begins with a scenic drive through the countryside and a brief stop at a natural sulfur hot spring. There, visitors can relax and soak their feet in the mineral-rich pools or watch as geysers shoot water into the air. There are also vendors selling eggs to boil in the hot spring with the help of tiny hand-woven baskets.
The tour continues with a trip to the famous White Temple. This entirely white temple is one of the most recognized structures throughout all of Thailand and is adorned with glittering mirrors and symbolic structures.
Next, you will embark on a ride to the Golden Triangle. This area was once the center of Thailand's opium trade, but traders have since been forced out or have converted to growing legal crops. The highlight of the area is the overlook at Sop Ruak. This viewpoint is renowned for the coming together of the Ruak and Mekong Rivers and overlooks the border tripoint of Laos, Thailand, and Myanmar.
Continue on to the Mae Sai Border Market situated at the Thailand-Myanmar border and very near to the most northern point of Thailand. This bustling market is a shopper's heaven.
Lastly, visitors can look forward to a trip to two different northern Thai hill tribe villages: the Akha and the Long Neck Karen. The Akha hill tribe people are best recognized by their dark attire decorated with bright embroidery and elaborate headdresses. The Long Neck Karen hill tribe people are famously known for the brass rings that adorn the women's necks, giving the illusion of an elongated neck. Both tribes are known for their intricate weaving and cloth work, which can be purchased directly from the tribes.
Learn more or book a spot now and you'll experience a little bit of everything on the Chiang Rai Golden Triangle and Long Neck Karen Tribe Tour.
Doi Inthanon National Park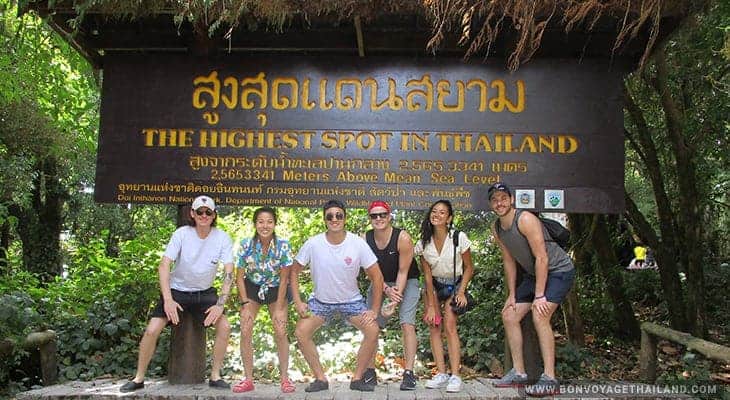 Highlights of the tour of Doi Inthanon include:
Exploring two waterfalls
Visiting a hill tribe village
Touring the King's Royal Projects
Exploring the King and Queen Pagodas
Walking a short nature trail to the highest point in Thailand
Doi Inthanon National Park is one of Thailand's most beautiful parks and is home to Doi Inthanon, Thailand's highest mountain. Within this mountain's unique jungle you can find an incredible variety of trees, flowers and bird species, along with stunning manmade structures. Roughly 60 km southwest from Chiang Mai City, the drive will take you through the country and up the mountainside.
This full-day tour begins with a visit to two of the many waterfalls within the Doi Inthanon National Park. Next, you will meet a hill tribe villages and learn about how they once produced opium on the mountainside. Thanks to the opportunity provided by the King's Royal Projects, nowadays these local hill tribe people make a living growing rice, fruits and vegetables, flowers and coffee. While you're there and a cup of special Thai-brewed coffee.
Walk among climate controlled plant and flower gardens and explore the endless stretches of coffee plantations, strawberry patches and rice terraces along the mountainside. Sample some of the freshly picked organic fruits and vegetables.
Next, you will see the Twin Chedis, two incredible symmetrical structures built in honor of Their Majesties the King and Queen of Thailand. After reaching either base of the King and Queen Pagodas, you can wander around their perfectly manicured gardens and gaze down at the stunning view of the valley below.
During a trip to Thailand's tallest mountain, it would be a shame not to visit its absolute highest point, which is situated 2,565 meters above sea level. The perfect way to get there is to take a peaceful walk along a short nature trail that pops out at a sign announcing you've reached the highest spot in Thailand. Don't forget to take a picture!
Sign up now for the Doi Inthanon National Park Tour for stunning views of mountains and temples.
Doi Suthep Temple and Doi Pui Hmong Hill Tribe Village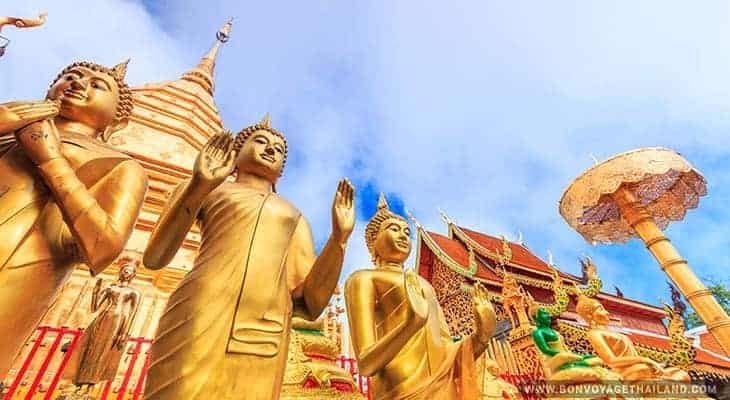 Highlights of this tour include:
Touring Wat Doi Suthep, a Buddhist temple atop a mountain
Visiting a Hmong Village, a local hill tribe
This half-day tour offers both morning (8am to 8:30am) and afternoon departures (1pm to 1:30pm) and is perfect for travelers who have limited time or would prefer a short but culturally memorable experience.
A typical day begins with a trip to one of the most popular tourist destinations in Chiang Mai: the magnificent Wat Phra That Doi Suthep. What makes this temple sacred is the Lord Buddha relic housed within, which attracts countless devout Buddhists on a pilgrimage to the temple throughout the year.
This temple sits near the top of Chiang Mai City's closest neighboring mountain, Doi Suthep. On clear days, visitors can stand on the temple's wrap-around balcony and gaze down on the old city center below. Try to spot the city's iconic square moat if you can!
Although many visitors enjoy the challenge of climbing over 300 steps to enter the temple, there is an enclosed cable car for those who cannot or prefer not to walk up the Naga (serpent) flanked stairs. It is worth browsing through the plentiful shops at the base of the stairs selling iced drinks and snacks, as well as silk scarves, temple bells, hill tribe attire and wooden elephant carvings.
The outside area of the temple, which is on the lower terrace level, features gardens and rows of large hanging prayer bells. Once inside the temple on the upper terrace, there are beautiful gold-leafed Buddha statues and the dazzling Golden Chedi.
The tour continues to the local Doi Pui Hmong Hill Tribe Village not far from Doi Suthep. Hmong people are recognized for their elaborately embroidered outfits with headdresses adorned with beads. Here you can grab a fresh brew made from locally grown coffee beans or shop at rows of handicraft stalls. It is also worth taking a quick tour at the village's museum and walk through a small poppy flower garden.
Book the Suthep Temple and Doi Pui Hmong Hill Tribe Village Tour if you're looking for something short and sweet.
Hug Elephant Sanctuary
Highlights of this tour include:
Learning about elephants' behavior, anatomy, and their long history in Thailand
Feeding and playing with them in their natural home in the jungle
Giving the elephants a cooling mud spa
Bathing, brushing, and swimming with the elephants in a local waterfall
No elephant riding
Spend an unforgettable day in a tropical forest with Thailand's most revered animal, the elephant. These majestic animals have been rescued from a life of hard work hauling logs and giving rides to tourists and now spend their days at Hug Elephant. There you can visit them and see what they enjoy doing most: eating their favorite snacks, playing in a waterfall, and taking a mud bath.
Your tour begins with a scenic drive through the hillsides of Chiang Mai. Once you arrive, the order of the day's activities will depend on your group's size and arrival time, so your English-speaking guide will adjust the schedule as necessary to allow you to participate in all activities.
After a brief lesson in elephant history and behavior, it's time to meet the elephants. Learn their names one by one and earn their trust by feeding them a few snacks. Some of their favorites things to eat are sugarcane, bananas, and other fresh tropical fruit.
After getting close with the elephants, have some messy fun giving the elephants a mud spa. Smear and spread cooling mud on their bodies to protect their skin from bugs and the hot Thai sun. Once everyone is thoroughly covered, take your new elephant friends for a leisurely walk through the shady Thai jungle to a waterfall.
Once you've arrived at the waterfall, take a dip in the refreshing waters and grab a water bucket and scrub brush to wash the elephants clean.
Want to spend a full day with these playful elephants? Find out more or book our amazing Hug Elephant Sanctuary Tour now. Full day and half-day tours are available.
White Temple and Black House
This tour includes visits to:
Hot springs
The White Temple
Touring the Black House
On this extended day tour to Chiang Rai, your group will visit two exquisite yet utterly contrasting pieces of architecture.
After departing from Chiang Mai, enjoy a scenic drive through Thailand's countryside and then take a short stop at a natural hot water spring. Here you can dip your feet in the mineral-rich pools, watch as water shoots high into the air from the springs, and even boil eggs in the hot water.
The first building along the tour is locally known as Wat Rong Khun, but to many visitors it is famously known as the White Temple. This is quite fitting because the buildings are entirely white and decorated with pieces of mirrored glass, which make them sparkle and glint as the sun's rays shine down on them. Even the shallow pools that dorn the manicured lawn are filled with albino Koi fish to stay true to the all-white theme.
The second equally interesting yet strikingly foreboding attraction is a set of buildings known as Baan Dam or Black House. They are constructed out of dark metal and wood and decorated inside with animal bones and skins and chilling devices and furniture. It cannot be more different to the ethereal White Temple.
Are you ready to visit the out-of-this-world White Temple and Black House? Book now!
What are your favorite things you must do in Chiang Mai?
Given the incredible variety, it's hard to choose just one thing to do while visiting Chiang Mai on Chiang Mai day trips. Let us make it easy for you — sit back and relax while we take you to the best sites in the area and make your trip unforgettable.
Pick out your perfect day trip and book online today.