Discover the magic of Chiang Mai, where nature, spirituality and vibrant city life blend in perfect harmony. Wait no longer and plan your dream trip to this fascinating destination with our carefully crafted 5 Days Chiang Mai itinerary promises memories that will last a lifetime.
Get up close and personal with the gentle giants at an elephant sanctuary. Immerse yourself in the ancient splendor of Doi Suthep Temple, where spirituality embraces you at every turn. Embark on a breathtaking hike at Doi Inthanon and immerse yourself in the stunning beauty of nature. And that's not all – a captivating two-day trip to Chiang Rai will reveal cultural wonders beyond your wildest imagination.
Get ready for an extraordinary adventure in the Land of Smiles. Your Chiang Mai experience is waiting for you and invites you to experience unforgettable moments. Start planning now and let the journey begin!
Day 1: Visiting An Elephant Sanctuary and Food Tour at Night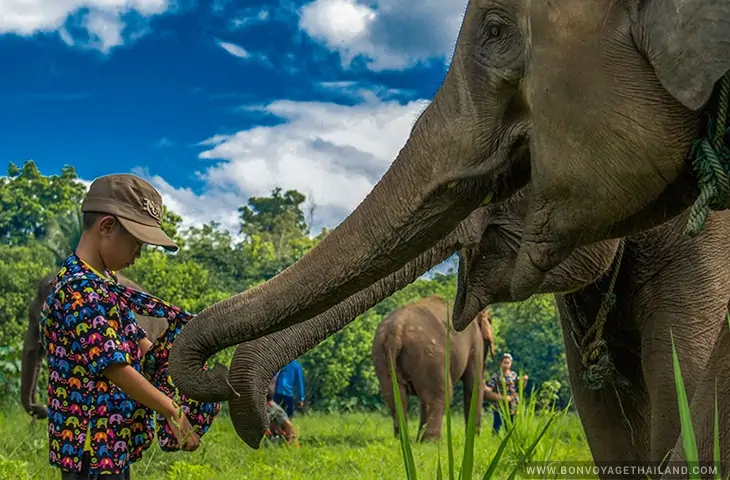 On the first day of our Chiang Mai itinerary, we begin with an unforgettable visit to an ethical elephant sanctuary. Spend time with these gentle giants, feed them and walk with them in their natural habitat. You can even enjoy a mud bath with them!
After visiting the sanctuary, return to town and get ready for a food tour in the evening. Sample some of the best local dishes as you walk the streets of Chiang Mai and learn more about the city's culinary culture.
From the famous Khao Soi, a noodle soup with coconut curry, to the delicious Thai-style chicken with cashew nuts, you'll be spoiled for choice. Whether you're a foodie or not, this food tour is a must for anyone visiting Chiang Mai.
Bon Voyage Thailand Elephant Sanctuary and Food Tours
What Our Customers Are Saying
Day 2: Visit Doi Suthep Temple in the Morning, Afternoon Explore the Old City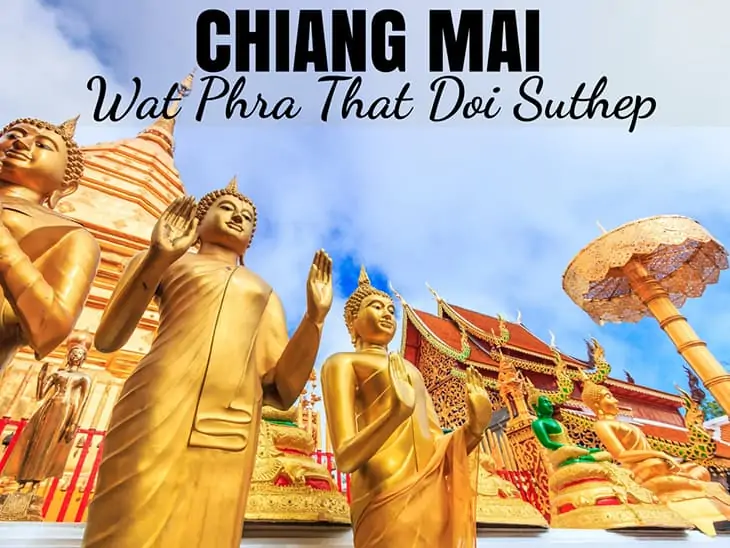 On the second day of our Chiang Mai itinerary,you'll visit one of the most important and sacred temples in northern Thailand, Doi Suthep Temple. This temple is located on a mountain and offers a breathtaking panoramic view of the city and the surrounding countryside.
To get there, you can either hire a songthaew (red taxi) or hire a local guide. Be sure to wear appropriate clothing and cover your shoulders and knees as this is a sacred site.
After visiting the temple, return to the Old City and explore other temples such as Wat Chiang Man, Wat Phra Singh (Golden Temple) and Wat Chedi Luang. Each of these temples has its own history and architecture and offers a glimpse into the spiritual and cultural heritage of Chiang Mai.
As you stroll through the Old City, you'll also have the opportunity to explore the local markets, stores and cafes. Don't miss the opportunity to sample delicious local street food and soak up the lively atmosphere of this vibrant city.
End the day at one of the city's many rooftop bars or treat yourself to a traditional Thai massage to recover for the next day's adventures.
Bon Voyage Thailand Trekking and Walking Tours
Day 3: Trekking at Doi Inthanon, relaxing massages in the evening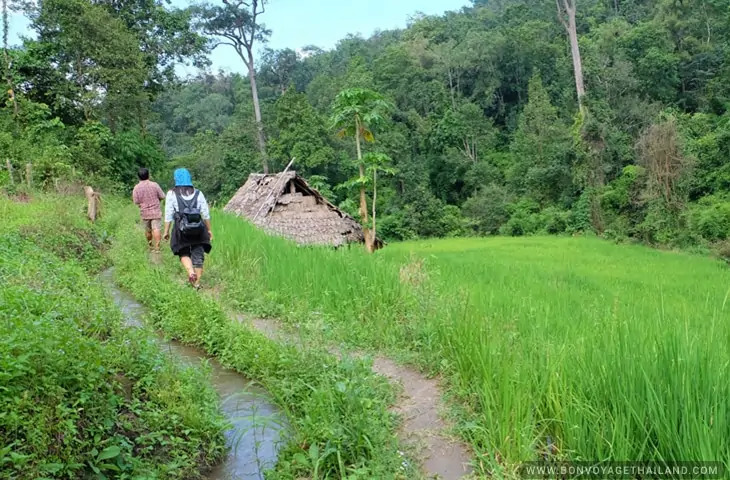 On Day 3 of our Chiang Mai itinerary, start the day with an exciting trekking adventure to Doi Inthanon, Thailand's highest mountain. You can hire a local guide to lead you through the jungle trails and explore the lush landscape of waterfalls, valleys and hill tribe villages.
After trekking, treat yourself to a soothing massage at a local spa to help you relax and rejuvenate your body and mind. There are many spas in Chiang Mai that offer a wide range of massage treatments, including traditional Thai massages and hot stone massages.
If you're not too tired after the trek, head to Chiang Puak's night market to sample some of the city's best street food. Popular with locals and tourists alike, this market offers a wide selection of delicious food and drinks, including grilled meats, noodles, and fresh fruit smoothies.
End the day at one of the city's rooftop bars or enjoy a cold beer at one of the local pubs.
Our Trekking Tours with Local Tour Guide
Day 4 & 5: Go to Chiang Rai – 2 Day, 1 Night Trip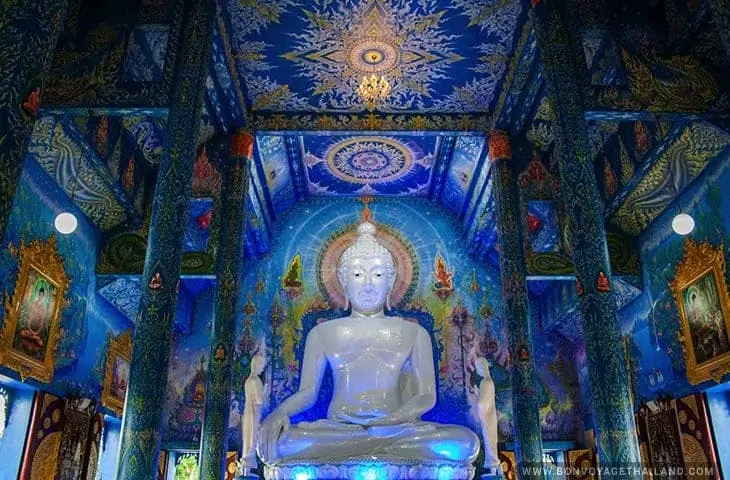 To make the most of your trip to Chiang Mai, we recommend that you take a two-day excursion to Chiang Rai on the 4th and 5th day. Chiang Rai is a city in the northernmost part of Thailand known for its breathtaking nature, cultural heritage and unique temples.
On Day 4, you will start your trip with a visit to the famous White Temple, also known as Wat Rong Khun, which is one of the most visited tourist attractions in Thailand. This temple is all white and features intricate carvings and unique artwork.
Next, visit the Black House, also known as Baan Dam, a unique museum that exhibits the works of famous Thai artist Thawan Duchanee. The museum displays a collection of sculptures, paintings and other artworks that reflect the dark and mysterious side of Thai culture.
In the afternoon, visit the Blue Temple, also known as Wat Rong Suea Ten, a stunning temple with a blue and gold interior and intricate artwork and murals.
End the day with a visit to the Night Market, a lively and vibrant market selling a variety of local street food, handicrafts and souvenirs.
On Day 5, start the day with a visit to Wat Huay Pla Kang, a massive temple complex with a 9-story pagoda and a Guan Yin Statue at the top. The temple offers panoramic views of the surrounding countryside and is a popular spot for locals and tourists alike.
Afterwards, visit Singha Park, a picturesque park with beautiful gardens, tea plantations and a variety of outdoor activities, including ziplining and biking.
After an exciting two-day trip to Chiang Rai, you will return to Chiang Mai in the evening and spend your last night exploring the city's night markets or relaxing with a traditional Thai massage before departing the next day.
Bon Voyage Thailand Chiang Rai Private Tours
Wrap Up: Create Your Perfect Chiang Mai Adventure
Chiang Mai is a city that truly has something for everyone, from nature lovers to culture enthusiasts to adventurers. In this 5-day itinerary, we've highlighted some of the best experiences the city has to offer, including visits to ethical elephant sanctuaries, trekking adventures, and exploring the temples and night markets of the Old City.
We also suggested a two-day trip to Chiang Rai to experience some of Thailand's most unique and impressive temples, as well as scenic nature parks and vibrant night markets.
On your trip, don't forget to enjoy delicious local street food, treat yourself to a soothing Thai massage, and immerse yourself in the vibrant culture of Chiang Mai.
We hope this itinerary will help you plan a memorable trip to Chiang Mai and create memories that will last a lifetime.