The Mae Wang River is famous for two things: elephant sanctuaries and bamboo rafting. The river cuts through the Mae Wang National park, which spans 700 square miles across the mountains of Chiang Mai.
The area is one of the best for rafting excursions. The Mae Wang River is shallow and relatively smooth, perfect for a lazy float with glimpses of choppy rapids. Unlike the plastic rafts used for Western whitewater, Thai rafts are made of bamboo. This ancient style has been used for centuries to travel along bodies of water, connecting one riverside village to another.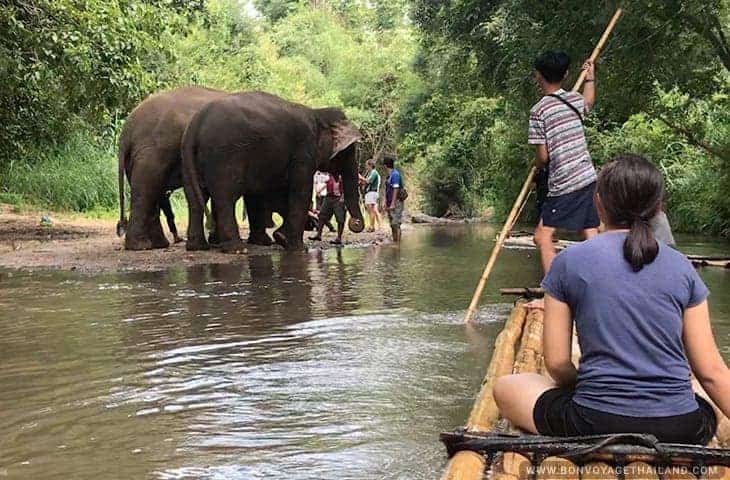 Come here during the wet season to see the river gushing at its peak, or during hot season to slow down, cool down, and watch life drift by.
Along the River
Imagine drifting down a stream of water, lush foliage embracing the shoreline. The raft swerves between rays of sunshine, in and out of pools of shade. Water seeps in through the cracks between the lashed bamboo to keep you cool and observant on the journey. The pace of life mellows out to match the calm heartbeat of the jungle.
The surrounding hills host Hmong and Karen villages. Nearby villagers go about their daily routines along the Mae Wang shoreline, together with birds, dogs, and other countryside animals. A number of elephant sanctuaries are also tucked inside the forest, so it's common to see elephants splashing in the water or taking a rest on the sunny shoreline.
Booths and restaurants are plentiful along the way, so you can stop for a meal or a snack at any time. It's possible to rent a raft to take the trip by yourself, or you can ride along with a tour guide. If you aren't familiar with the area, we suggest taking a guide along who knows how to navigate the river. Steering these rafts is a time-honed skill that isn't easy!
Rafting Respectfully
Mae Wang has more to offer than bamboo rafting. It's home to ancient waterfalls, majestic elephants, and welcoming villagers. Travelling to this part of northern Thailand feels like getting in touch with the country's true essence and magic.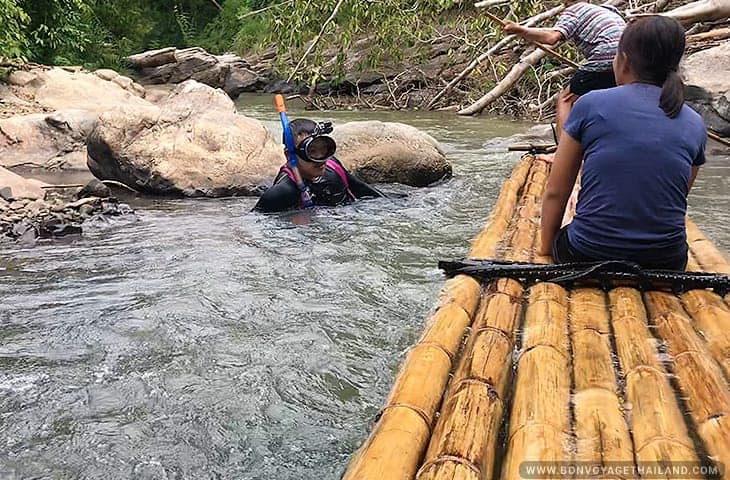 Be respectful to the environment and to the locals along the way. You'll get a bit wet during the journey, but that's a refreshing part of the exposure to nature and a trip spent outdoors. Bring a camera, some sandals, and a sense of adventure and you're ready for the experience of a lifetime.
How to Get to Bamboo Rafting in Chiang Mai
A private guide will pick you up from your accommodation and take you to Mae Wang, organise the bamboo rafts and then, if you wish, explore the area, meet elephants and then choose a restaurant for a Thai lunch.
Red truck taxis are also available in the center of Chiang Mai City, you hire a driver for the day, you can go where you want and return safely.
Day Trip With Bamboo Rafting