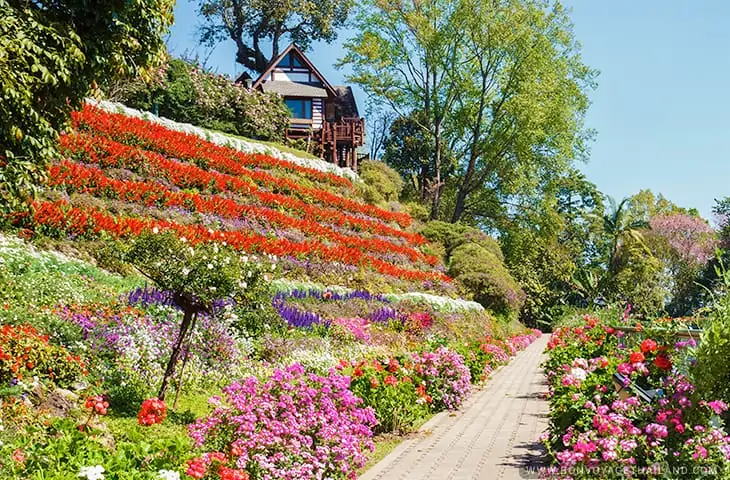 Bhubing Palace is where the Thai royal family spends winters and holiday visits. The charming royal residence sits on top of Doi Buak Ha (Buak Ha Mountain), surrounded by rows of opulent flowers and well-preserved gardens. If you love nature and want to learn more about the most respected family in Thailand, then Bhubing Palace should be on your must-see list.
Although the inside of the palace is forbidden to visitors, the outer gardens are open to the public, and well worth the visit. Spend some time strolling through the exquisite landscape, snapping photos of the palace's gorgeous exterior. It's cool climate makes it one of the best places to visit in Chiang Mai during the warmer months and a welcome pretty respite from the city.
Rose Gardens and Musical Fountains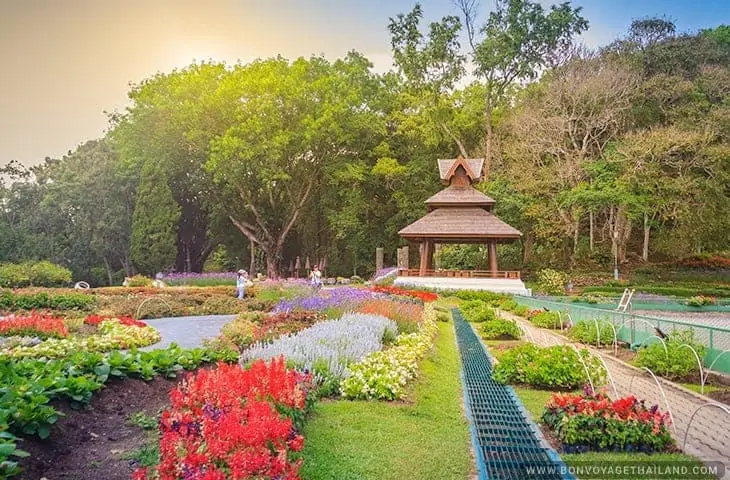 A bed of roses lines the outskirts of the home, forming a luscious first impression of the majestic estate. An abundance of exotic plants sprout amidst the gardens, with new flowers blooming every season. A fern garden was started here nearly three decades ago, and some of the species planted here are a century old.
A wide footpath leads through blossoms towards teak-wood pavilions, eucalyptus wood log cabins, and other residences scattered around the property. These are waiting rooms, banquet halls, and guest houses where other respected officials stay during their trips through the country to meet with the royal family.
A star of the palace grounds is the water reservoir, its banks covered with arrangements of landscaped flowers. A musical fountain here sometimes dances into life accompanied by music including the King's own compositions.
Respecting Royalty 
Bhubing Palace is always open to the public, except when the royal family and other prominent state officials are visiting. This is usually during holidays and winter season, so if you're here during those times, be sure to call and make sure they're accepting guests.
In order to pay respect to the royal palace, a strict dress code is enforced. Pants should reach mid-calf, and shoulders should be covered. If you forget to bring the proper attire, you can rent clothes on-site, so don't let this stop you from visiting this heavenly residence.
Once you do arrive, it's hard to want to leave. The land is expansive, with new treasures waiting around every corner, and colourful enough to be a fairy's playground. Roses, orchids, and vibrant flowers wrap around every terrace, building, and walkway. It's a place of peace and beauty, every color of the rainbow blooming as far as the eye can see.