Chiang Mai is a shopper's paradise. Whether you're looking to haggle over local hill tribe handicrafts or shop 'til you drop at high-end retail stores, this city has it all.
Discovering Chiang Mai Markets
Chiang Mai wouldn't be complete without its markets. There are many small neighborhood markets where you can get a glimpse of local life in northern Thailand. However, if you prefer to go to larger, livelier markets in the city, then follow us!
Sunday Night Walking Street
One of the highlights of many tourists' visit to Chiang Mai is the Sunday Night Walking Street. Every Sunday from 5 PM to 11 PM, the city closes off a portion of the Old City to road traffic. Vendors set up all along Rachadamnoen Road and some side streets, too. There's more than a mile of shopping!
Because of the way the market is set up, the best way to see every stall is to walk up one side of the main street and then down the other. Don't forget to check out the side streets when you walk past. Along the way, there are also four beautiful temples lit up for evening worship.
At Sunday Night Walking Street, you'll find local artisans selling jewelry, clothing, beauty products, toys, art, home goods, accessories, and more. There are also unique OTOP (One Tambon, One Product) items for sale that you can only find in northern Thailand. OTOP is a government-endorsed program that encourages local entrepreneurs from different regions or tambons.
The atmosphere is lively and you'll find the best deals for gifts to bring back to your family and friends. Unlike many markets that cater to tourists, the Sunday Walking Street Market sells products at prices that locals are happy to pay, so you'll be able to buy your souvenirs at the Thai price!
This market is also a great spot to have a refreshing drink and grab a bite to eat. You can choose to dine from hundreds of food vendors linings the street or relax at one of the nearby cafes, bars, or restaurants.
There also is a Saturday Night Walking Street every Saturday on the south side of the Old City. It's located on Wua Lai Street with an entrance at Chiang Mai Gate.
Night Bazaar
Unlike Sunday Night Walking Street, the Night Bazaar is a huge market that's open every evening from 7 PM to nearly midnight along the sidewalks of Chang Khlan Road.
There are handicraft items for sale but most of the vendors sell souvenirs, "Made in China" clothes and accessories, and incredible knock-off items. It's not as authentic as some of the other markets but it's fun to browse through the stalls. Plus, it's open no matter what night you go.
GPS Location: 18.7853° N, 99.0002° E
Address: Chang Khlan Road, Chang Khlan, Mueang Chiang Mai, Chiang Mai 50100
Warorot Market / Kad Luang Market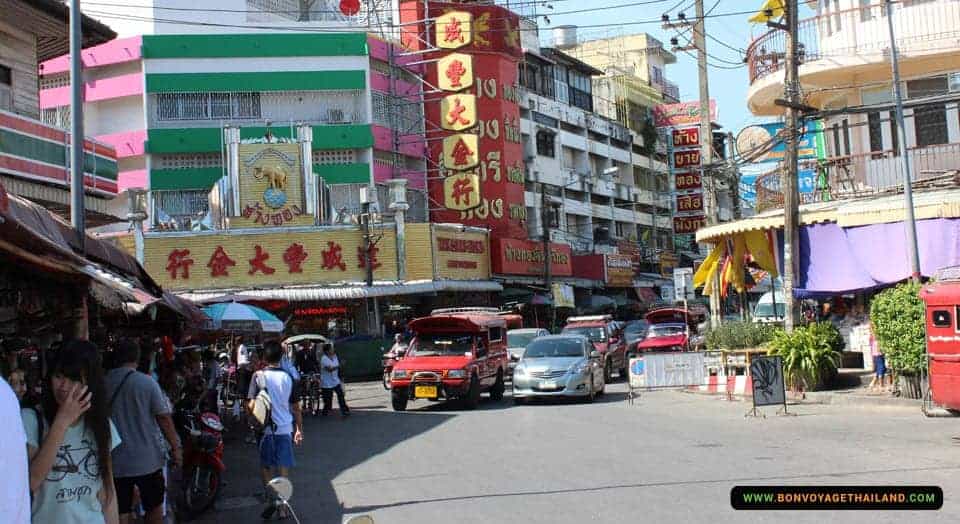 If there's one place in town you'll get the best deals, this is it. Also known as Kad Luang Market, this sprawling market is more than 100 years old and is home to hundreds of stalls selling everything you can think of. It is frequented mainly by locals, so you can count on being one of few international visitors insight. It's open every day and is huge, so enjoy your time there!
At Warorot Market you'll find vendors selling dried fruits, herbs, and spices as well as specialty sausages, clothing and fabric, kitchen supplies, household products, fashion accessories, silverware, wood carvings, and more. There is also an amazing selection of prepared and packaged Northern Thai food inside the main buildings and hawkers selling Thai street food outside of the market.
The heart of Chiang Mai's Chinatown is found in Kad Luang. Early Chinese merchants settled along the Ping River and used riverboats to transport goods between Bangkok and Chiang Mai. Besides the dozens of Chinese shops including the ubiquitous gold jewelry shops, you can visit the two Chinese shrines, Pun Tao Kong and Guan Yu where several festivals are celebrated throughout the year.
Nearby, is an Indian Sikh temple called the Gurdwara, which was started by the Indian Sikhs merchants who specialize in selling cloth. They run some of the larger fabric stores in Warorot. They are not only fluent in several Indian languages but in Thai and English, too.
Just around the corner from the fabric stores is Hmong Lane where you can buy handicraft products made by the Hmong Hill Tribe. Their same products are often found at the Night Bazaar or Walking Street for much higher prices! Sometimes you can see some Hmong women sewing their New Year's Eve traditional costumes.
Kad Luang is an important traditional neighborhood that not only reflects the multicultural history of Chiang Mai but is an appealing tourist attraction for people who want to see a 'real' local market. However, the Chiang Mai municipal government plans to widen the roads which would demolish some of the original historical shops. So go and visit Kad Luang before it becomes another modern shopping plaza!
Home of Handicrafts in Sankampaeng Area
When: Everyday
Time: 9 AM to 5 PM
Bo Sang Umbrella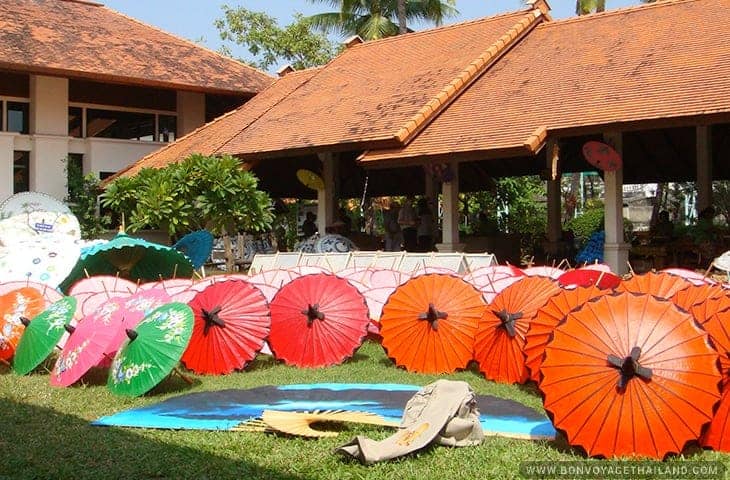 Bo Sang is a small village located about 30 minutes from Chiang Mai Old City and known as the Umbrella Village. They are famous for their handmade umbrellas (parasols) made from bamboo and saa paper (mulberry). You will see hundreds of colorful umbrella designs and sizes ranging from miniature to gigantic. You can observe them being made before you can take them home as souvenirs. Every January, the village holds the "Bo Sang Umbrella Festival".
There was a legend about who brings the Umbrella making in Thailand, we will let you discover the legend by yourself!
To go to Bo Sang Village, it is more comfortable to take a taxi or book a tour so you can have more information about the village.
When: Everyday
Time: 9 AM to 5 PM
Baan Tawai
When: Everyday
Time: 9 AM to 5 PM
Located South West of Chiang Mai (about 30 minutes away)
Baan Tawai is well-known for its proud tradition of woodcarving and the charming lifestyle of wood sculptors. Shops present handicrafts and handmade merchandise that reflect the heritage of local wisdom and villagers' way of living.
Flower Market
As you exit the Warorot Market and head to the banks of the Ping River, there's a good chance that you'll walk right by Chiang Mai's largest Flower Market. You may even smell the fresh-cut flowers before you see them! Brimming with beautiful flowers, this is where the faithful come to buy their temple offerings. Some of the most popular items are jasmine flower necklaces, bundles of lotus flowers, and strings of yellow marigolds. Most vendors also sell bulk flowers for special ceremonies and celebrations at rock bottom prices.
GPS Location: 18.7907 N, 99.0015° E
Address: 90 Wichayanon Road, Chang Moi, Mueang Chiang Mai, Chiang Mai 50300
For a private tour of any of the markets, please contact us directly.
Chiang Mai's Shopping Malls
In just the past few years, Chiang Mai exploded with shopping malls, granting visitors access to some of the best deals available under one air-conditioned roof. If you are looking to go on a shopping spree, we recommend visiting these malls.
MAYA Lifestyle Shopping Mall
Bright and modern, this 7-story mall has local and international brands, a Thai food court, a children's play area, and a massive cinema. It's conveniently located just 1 kilometer northwest of the Old City near the Nimman area.
Website: www.facebook.com/maya.chiangmai
GPS Location: 18.8024° N, 98.9673° E
Address: 55 Moo 5, Huay Kaew Road, Chang Phuak, Mueang Chiang Mai, Chiang Mai 50300
Central Plaza Chiang Mai Airport
Conveniently near the Chiang Mai Airport, this mall has mid-range retail shops selling clothing, home goods, electronics, and Lanna souvenirs. It also has several floors dedicated to shops servicing banking, beauty, and dining needs.
Website: www.centralplaza.co.th/en/
GPS Location: 18.7701° N, 98.9748° E
Address: 252-252/1 Mahidol Road, Mueang Chiang Mai, Chiang Mai 50100
Kad Suan Kaew
Chiang Mai's first mall has the best deals in town. It is known for its outlets, affordable massage shops, and 'local' vendors that are housed within its behemoth brick walls. It's located on Huay Kaew Road, which branches off the northwest corner of the Old City.
Website: www.kadsuankaew.co.th/en
GPS Location: 18.7963° N, 98.9763° E
Address: 21 Huay Kaew Road, Chang Phuak, Mueang Chiang Mai, Chiang Mai 50300
Time: 5 PM to 11 PM