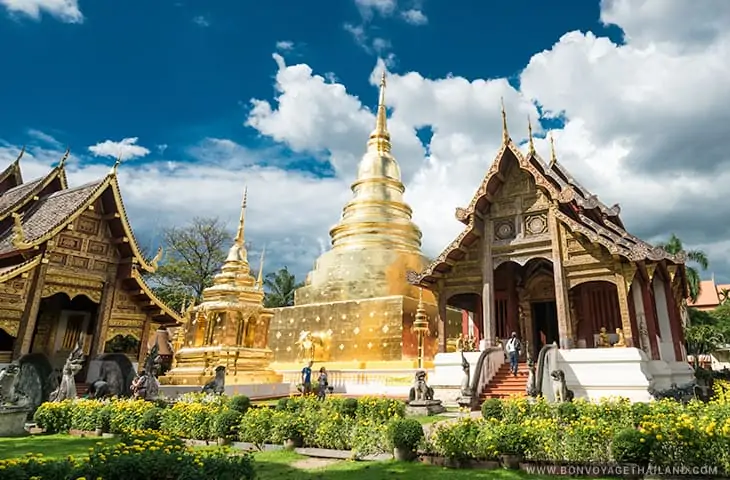 Wat Phra Singh temple is a must-see if you are visiting Chiang Mai, the contemporary cultural capital of Thailand, once the capital of the Lanna Kingdom. Built in 1345, Wat Phra Singh is a relic of royalty, with signature Lanna-style roofs displaying their ornate connection to the kingdom. This incredible temple is widely considered to be one of the three most important temples in the city, second only to Wat Phra That on Doi Suthep.
Vilharn Lai Kam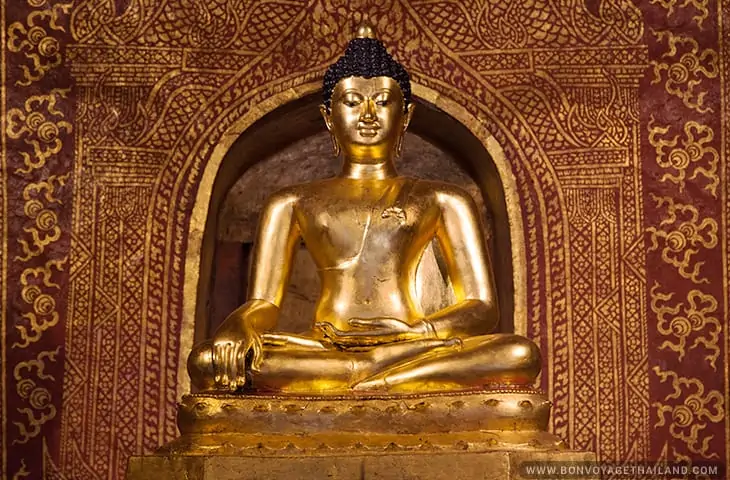 There are a few different primary structures within the temple grounds, the most extravagant being the Lai Kam "vilharn", or assembly hall, a sort of "chapel" where Buddha images are kept and venerated. Enter the gleaming gold and red building under the eaves of its impressive, wing-shaped roof. The exterior walls are decorated in geometric gold stenciling and wood carvings, and the stairs are guarded by imposing naga serpents.
The interior of the chapel is even more stunning than its facade. A Phra Buddha Sihing image sits waiting to be revered by pilgrims and devotees. Walk around the building (be sure not to turn your back on the Buddha), past elaborately gilded windows and columns, to discover the murals depicting folk tales and scenes of everyday life from 14th century Thailand.
Main Chedi
Wat Phra Singh's oldest — and tallest — structure is its main chedi. The temple was built together with this chedi, constructed to house the ashes of King Pha Yu's father. The wihan and other structures were added years later, and this chedi describes the temple's original sacred purpose.
Covered in gold and decorated with elephant sculptures, the main chedi is appropriately central to the wat complex. It is 20 meters high, with stairs that lead to the top, but they are closed to public access. You can't help but imagine what forbidden wonders might be hidden inside this 14th century marvel, but the outside is just as impressive. Its gold exterior is often wrapped in orange cloth as a token of veneration by devotees.
Monks Seminary
Wat Phra Singh is sometimes called "the Monastery of the Lion Buddha", in part because of its famous Buddha image in the wilharn, but also because it is actually an active monastery. More than 700 monks and novices from all over Thailand as well as South East Asia come here to live and learn. The monks here are sometimes shy, but in general quite friendly and eager to practice their english. Tourists wandering the temple grounds are often approached by monks looking for a conversation. This exchange is a true treasure: a first-hand opportunity to learn from a Monk about their experiences, beliefs, and buddhist philosophy. When else will you have a chance to ask a monk the meaning of life?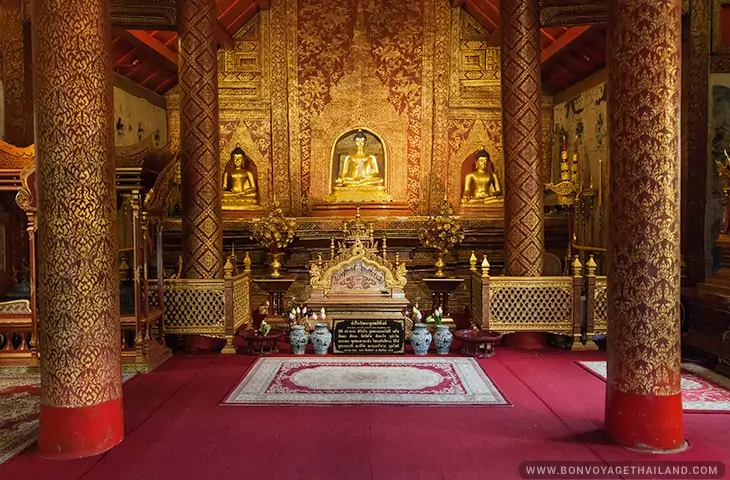 The Grounds of Wat Phra Singh
Beyond the ornate structures and dramatic buildings of Wat Phra Singh, the temple grounds themselves are lovely to behold. A walking path meanders through the space, inscribed with 52 inspiring quotes encouraging walkers to live a good and balanced life. Benches and gardens are scattered about, so you can sit and enjoy the holy space in peace.
Not all is prayer and pilgrimage: pleasure abounds here, too. Massage pavilions and coffee stands are offered within Wat Phra Singh for a full experience.
Temples in the Area
Learn more about Chiang Mai Temples