There probably really are at least 1001 things to do in Chiang Mai, Thailand. Quite different from the southern metropolis of Bangkok, things to do around Chiang Mai city are a bit more chill, with a strong focus on art, architecture, and of course nature.
The city of Chiang Mai is special: although it's the third largest city in the country and the largest in the north, it's surrounded on all sides by mountain ranges, waterfalls and a picturesque landscape where rural Thais and hill tribe villagers grow rice and other produce. It's the land of rice and elephants, rolling limestone hills and peaceful rivers that nourish the region.
It is also a living relic of the Lanna Kingdom, and one of the best things to do in Chiang Mai is exploring that cultural legacy. Visit golden temples built on mountaintops, with the wings of their Lanna-style rooftops stretching into the heavens. Explore artisan villages where master craftsmen pass down their skills through generations, producing woodwork, silk, silver jewelry, and so much more.
And, of course, there are more here than just mountains and museums. Because of its proximity to nature, the list of "Top 10 Things to do in Chiang Mai" includes a variety of adventure activities, from whitewater rafting to ziplining.
There's something for everyone here. Of the 1001 things to do in Chiang Mai, here are a few of our favorites.
Elephant Sanctuaries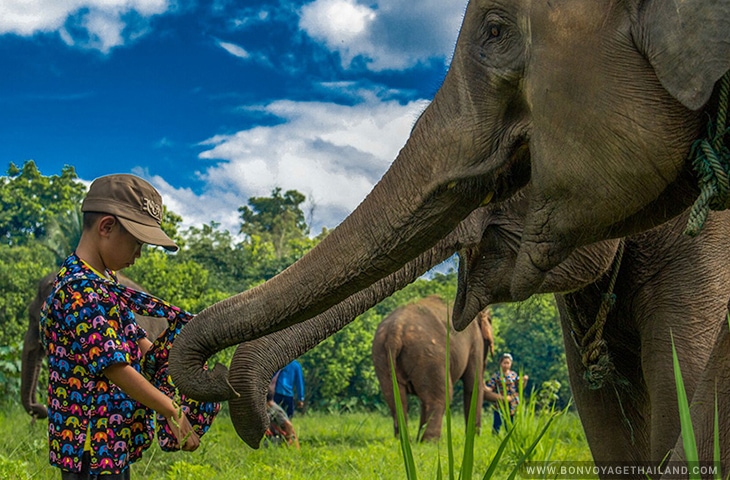 Elephants have become synonymous with Thailand, gentle and intelligent beasts that have come to symbolize the country itself. As a result, a visit to an ethical elephant sanctuary has become a popular tourist experience. For many people, a trip to see elephants is as high up on the must-do list of things to do in Chiang Mai as eating Pad thai and visiting temples.
These sanctuaries are usually set deep in the countryside, surrounded by thick jungle and towering mountains. Some are run by hill tribes, offering the opportunity for cultural immersion as well as conservation education. Most offer some variation of jungle or waterfall trekking, and nearly all offer the opportunity to help bathe elephants in mud or river water and feed them their favorite snacks. Of course, "ethical" is the keyword here — be sure to prioritize the wellbeing of the elephants, avoiding camps that offer riding of any kind.
Adventure
Thailand is a country ripe for adventure, especially in the mountainous north. Ziplining opportunities are abundant: trek deep into the jungle to sail through the tree canopy, enjoying the sweeping views of mountain ranges and biodiverse forests. A view like that has to be one of the best things to do in Chiang Mai because it offers a perspective you can't get any other way.
The adventure doesn't stop with ziplines (as though cruising through the sky wasn't enough!). Get literally off the beaten path on an ATV, passing through rice paddies, tiny rural villages, and spectacular views of the surrounding landscape. This is one of the best ways to experience the best of the Thai countryside, where the paved roads (and therefore other tourists) don't go.
If you've tried ziplining and ATVs, but want more of an adrenaline fix, then bungy jumping is probably what you need. A bit different from standard jumps in theme parks or city buildings, Chiang Mai offers a bungy tower set in a pretty park, with landscaped gardens and a lagoon. Plummet from the top while watching the countryside stretch out — upside-down — around you!
Food
Some people come to Thailand just for the food. Dishes tend to consist of four flavor groups in perfect harmony: salty, sweet, sour, and spicy. From noodle dishes like pad thai and pad see ew, to colorful curries and spicy soups, there's plenty of variety. And between main courses, there's an abundance of street food to snack on, everywhere, all the time, from sweet and doughy treats to savory meat skewers.
It can be overwhelming to try to parse through the hundreds of different unique Thai dishes, each one better than the last. A food tour can help with this. A local guide can take you through food markets, help you order different dishes in Thai, answer all the questions you might have, and reveal all the local culinary secrets! If you want to go deeper into Thai cuisine, take a cooking class. Head into the kitchen of a local chef to learn how to make a few of your favorite dishes from scratch. Let the flavors of Thailand follow you home — what better souvenir could there be?
Festivals
Festivals are some of the best ways for visitors to experience the true vibrance of Thai culture. Songkran Festival is perhaps the most famous Thai festival. Occurring in April, this is Thailand's New Year celebration, and over the years it has transformed into a country-wide water fight, where crowds of people drive or walk through the streets throwing buckets of water out of truck beds or squirting passers-by with water guns. The water is believed to be spiritually purifying, washing away the troubles of the previous year and adding wet blessings for the year to come. If you're looking for a fun festival, put Songkran at the top of your list.
Events and Festivals
If Songkran is the most fun holiday, Loi Krathong is perhaps the most beautiful. This is the Thai Festival of Lights, a time to ask forgiveness and give thanks to the river goddess. Wishes, sins, and misfortunes are placed on a "krathong", or a banana trunk boat decorated with flowers, incense sticks, and candles, and sent to float ("loi") down a river. In Chiang Mai, Loi Krathong is celebrated on the same day as Yi Peng, a lantern festival complete with fireworks and dance performances. The sky is alight with candle-lit lanterns bearing peoples wishes to the heavens, and the rivers are ablaze with prayers and sorrows floating away. Everything is lit up in gold.
Muay Thai
The "art of eight limbs" is Thailand's national sport, an internationally feared and respected combat art whose techniques have made their way into kickboxing rings around the world. There's nothing in the world like seeing a muay Thai fight in person. This is perhaps the most exciting thing to do in Chiang Mai, maybe even more than zip lining. The energy in the stadium is electric, and you are mere feet away from professional fighters giving it their all in the ring.
Many visitors are interested enough in the sport to train at one of the many muay Thai camps in the country. Most offer day passes for people who just want to pop in and try it out once, but it's also possible to train for months at a time, living at the camp with other foreign nak muay, or trainees. Muay Thai is unbelievably exhausting, requiring serious determination and dedication to fitness. It's a fantastic challenge and a unique way to experience an aspect of Thai culture.
Temples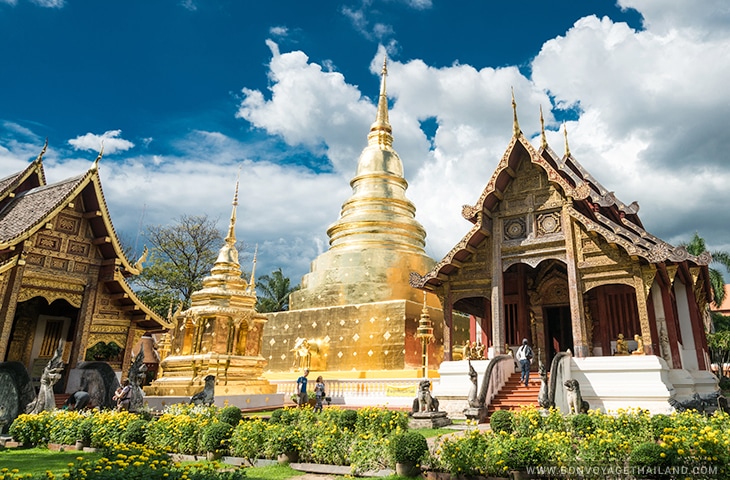 With more than 40,000 temples scattered throughout Thailand, it is no surprise that Chiang Mai itself is home to hundreds of temples, or "wats". Each of these temples is a special work of architecture, especially in the North, where Chiang Mai temples are built in the lovely Lanna style.
No two temples are alike, but there are a few spectacular standouts. Wat Phra That Doi Suthep Temple sits on the top of a mountain, overlooking the city and surrounding countryside through clouds and mist. The temple itself is as beautiful as the view, covered in well-kept gardens and sculptures. Wat Umong is another nature-meets-worship treasure, nestled in a forest, while other must-sees are closer to the city center, like gold-glittering Wat Phra Singh.
Join a Monk Chat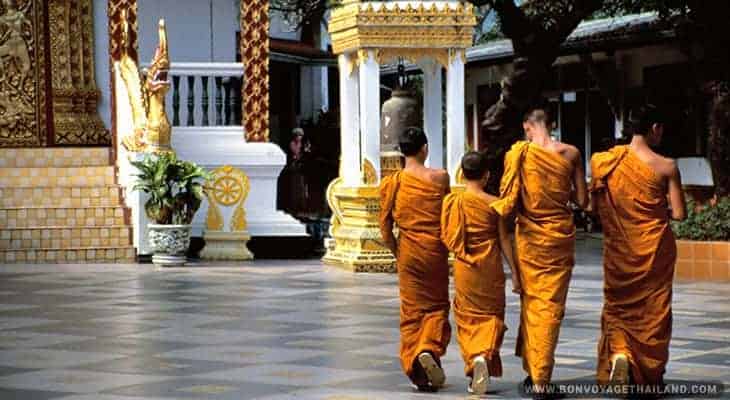 A monk chat is one of the most unique things you can do when visiting Thailand. It is an opportunity to have an informal chat with a young Buddhist monk and learn about Thai culture and their lifestyle in a Buddhist temple. For the young monks, it is a welcome opportunity to practice their English. Monk chats take place all over the city at different temples and at different times of the day. After speaking with the monks, they often give you a special blessing that includes religious chanting and tying a special white string around your wrist.
Nature and Rivers
Travel an hour from Chiang Mai city in any direction and you'll find waterfalls, rivers, hot springs, jungles, and awesome trekking opportunities at every level of difficulty. Waterfalls are perfect for photo opportunities and swimming away hot tropical days, while rivers like the Mae Wang flow past hill tribe villages and meander through the pretty countryside. Hop on board a bamboo raft or a whitewater raft to experience the river in motion! Other water-based nature activities include lounging in natural sulfur hot springs, perfect for relaxation and restoration.
All of the above activities are possible to experience in a single day, but multi-day trekking trips through the jungle are also possible to arrange. Hike through the jungle, and build a personalized itinerary of cultural landmarks to stop at along the way!
Markets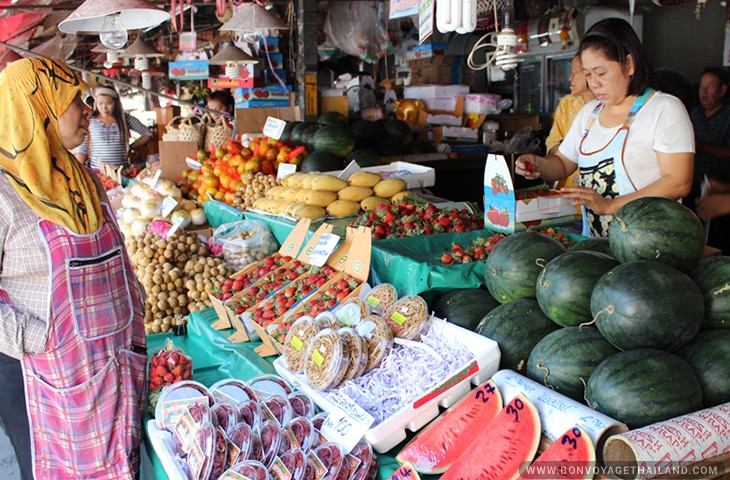 Perhaps the most authentic way to explore a city or country is through its markets. The experience is much more raw and fun than a supermarket or a shopping mall, with locals bustling about shoulder to shoulder, negotiating prices and chatting with neighbors. Every sense is heightened here, an uncountable array of smells and colours and sounds.
In the early morning, Chiang Mai's fresh markets sell fresh fruits, vegetables, and produce. One in particular sells flowers along the Ping River, and the fragrance of so many hundreds of blooms floats down the street at dawn. Others like JJ market or Warorot are open throughout the day, selling cooked food as well as everything from fabrics and furniture to spirit houses and plastic bric a brac.
Some markets are only open at night, or on certain days of the week. The Chiang Mai Night Bazaar is an extravaganza of food, shopping, and even live music at night, and food markets erupt around each gate on the moat walls every evening. Of all the things to do in Chiang Mai at night, between live music and riverside bars, don't miss out on the night markets, as they're an important piece of the city's cultural puzzle. Saturdays and Sundays each feature their very own Walking Street market, with vendors selling handicrafts, handmade souvenirs, and snacks.
Chiang Mai Old City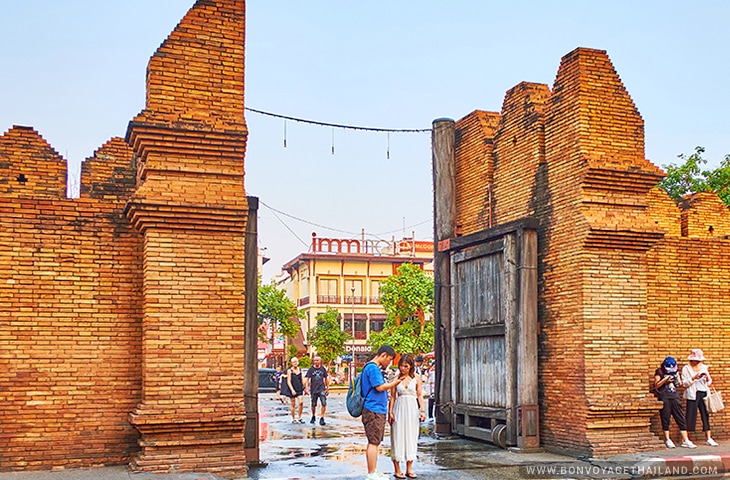 The center of Chiang Mai — both historically as well as geographically — is the Old City. Walled and moated on all four sides, this historic square is the remnants of a 700-year-old kingdom. Many of the temples inside its walls are just as ancient, and the atmosphere is an enchanting blend of traditional Lanna Kingdom culture and architecture and new-world modernity. Coffee shops are on every other corner, and tiny footpaths turn into hidden alleyways covered in street art. The city walls have four gates, one for each cardinal direction, and each is the keeper of its own unique neighbourhood complete with an evening food market. Take a walking tour through Chiang Mai Old City with a knowledgeable guide to understand the historical gems that wait around every corner.
Just outside the walls of Chiang Mai Old Town, the Ping River rolls patiently through the city, braced by snazzy restaurants and cafes overlooking the water. Take a cruise down the Ping to see its sights from the city center into the outskirts of urbanity, watching villagers go about their business and livestock roam the cheerful fields.
Nimmanhaemin
If Chiang Mai's Old City is royalty and history, its neighbour Nimmanhaemin is hipsters and modernity. This is the best place to stay in Chiang Mai if you're looking for what's happening in the city. Home to trendy Thai college students and foreign fashionistas, "Nimman" hosts an endless list of boutiques and bars, galleries and shopping opportunities. There are two malls quite close to each other: Kad Suan Kaew, which is the older and grittier of the two, and Maya Mall, the newer and the shinier. Both have at least one decent and inexpensive food court, but shopping options are fairly different. It's possible to spend days adventuring through Nimmanhaemin streets, where one secret cafe after another reveals itself on each new street traveled. Don't miss the night market on Huay Kaew Road nearby, packed with in-the-know students getting the best prices on the latest trends.
Attractions in Chiang Mai
Bua Thong Sticky Waterfalls in Chiang Mai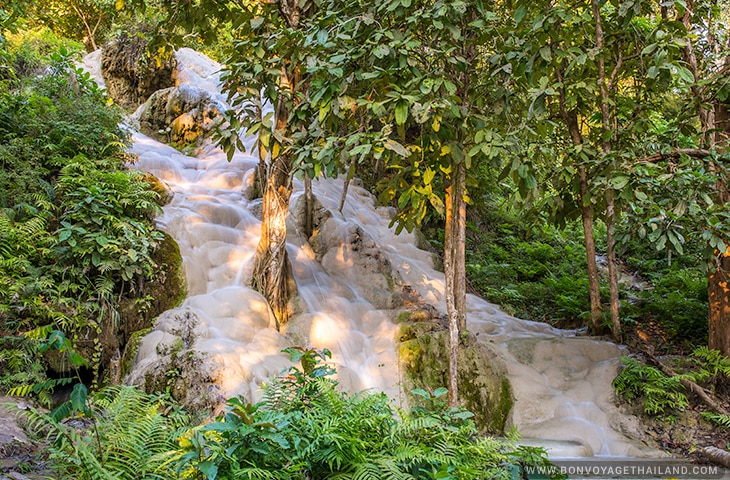 There are countless waterfalls to discover in Northern Thailand, but the Bua Tong Waterfall is especially popular with travelers. Located within the Bua Tong National Park, this 30-meter high waterfall is one of the highest in the area. Its strange name comes from the fact that the waterfall has a strong natural coating of sticky, talcum powder-like clay that was actually formed from limestone and mineral deposits, making it easy to walk up and down the waterfall, a fun place to spend the day.
Chiang Mai City Arts & Cultural Center
If you want to learn all about Chiang Mai's culture and history, The Chiang Mai City Arts & Cultural Center is the perfect place to start. Located in the center of the Old City, just behind the Three Kings Monument, this museum offers a wealth of information and sights including ancient artifacts, maps, replicas, photos, and an audio/visual display showcasing the history and heritage of the city. A ticket to the Arts & Cultural Center also includes access to several other nearby monuments and historical sites.
Three Kings Monument
The iconic Three Kings Monument stands in the heart of Chiang Mai's Old City. The famous bronze statue depicts King Mengrai, King Ramkamhaeng of Sukhothai and King Ngam Muang of Payao, three northern Kings who founded, built, and ruled over Chiang Mai. The statue and its surrounding square act as a popular venue for large city-wide events and festivals. Several other famous landmarks can be found nearby, including the Arts & Cultural Center.
Chiang Mai Women Correctional Institution Vocational Training Center
The Women's Correctional Institute is a famous training center for prison inmates transitioning back into public life. This center provides these inmates with important vocational skills like massage, hospitality or customer service as they prepare to enter back into civilian life and get a job. They are world famous for their exceptional massage skills. The environment is perfectly safe and hospitable, as the inmates have undergone months of training. You can help these women learn vital vocational skills while getting a world-class Thai massage!
Chiang Mai Zoo
Chiang Mai's zoo is exceptionally varied and interesting, and a great break from all your temple-seeing! Situated at the base of Doi Suthep, the zoo has nearly 400 species of animals, covers over 200 acres of land, and features attractions like a walk-through aviary, a freshwater aquarium, a snow dome, and two world-famous pandas, Chuang Chuang and Lin Hui! One of the best things to do in Chiang Mai for families with kids, Chiang Mai Zoo is beautifully arranged and educational for visitors of all ages. The zoo is focused primarily on conservation, so the environments are natural and spacious, and the animals are well taken care of.
Wiang Kum Kam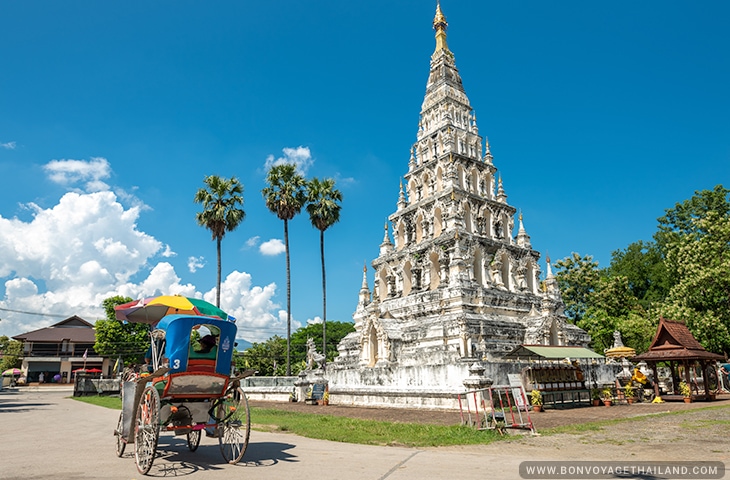 The ancient city of Wiang Kum Kam, the long-lost capital of Lanna Kingdom, is one of the most mysterious landmarks in Thailand. Thought to be a mere legend until its rediscovery in the 1980s, this extraordinary city is now a historical marvel, full of ancient artifacts including some of the earliest examples of Thai script. Explore this mythical kingdom, with its walls and moats, and learn about the flooding of the Ping River that forced its citizens to abandon their homes hundreds of years ago. Today, two of Wiang Kum Kam's temples have been restored and returned as places of worship for Hindus and Buddhists alike.
Art in Paradise
Did you know Chiang Mai houses a world-class 3D museum? Art in Paradise has over 130 different cleverly designed "illusion" images that visitors can walk through, admire, and take photos in. The museum is split between 6 themed "zones", which range from underwater world, to classic and abstract art, to ancient Egypt. The art is all surprisingly varied and takes around 2 hours to navigate through. It's the perfect place to take your friends or family for fun photo-ops.
Chiang Mai National Museum
Housing a beautiful variety of Lanna artifacts and history, the Chiang Mai National Museum is an important educational and preservation site within the city. The Lanna kingdom merged with Siam in 1775, and Lanna culture and identity is vital to the people of Chiang Mai. This museum, sporting traditional architecture, has a range of exhibitions exploring the history and culture of the city and Northern Thailand as a whole.
World Museum of Insects and Natural Wonders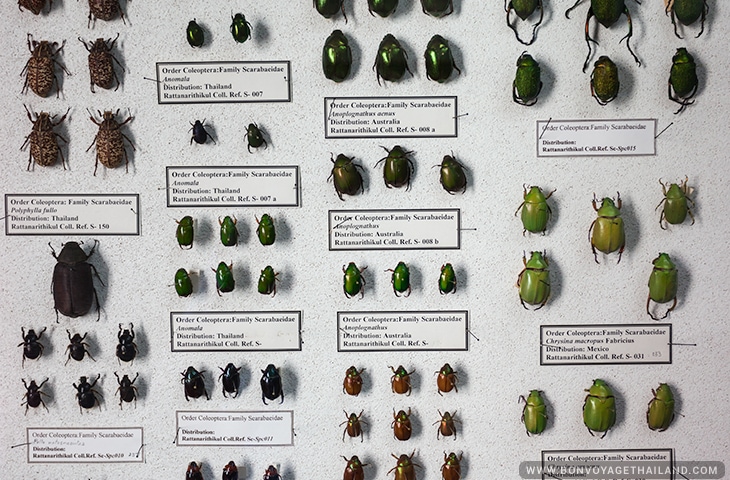 Chiang Mai's World Museum of Insects and Natural Wonders is truly a testament to how much two people can accomplish. This amazing collection of over 10,000 species of insects is run and curated by husband and wife Manop Ratana Rittirong Gul and Rattana Rumpa Rittirong Gul, both former contributors to the Smithsonian. You can meet these two super-collectors hanging around the museum, where they'll gladly show you their almost 500 different species of mosquitoes on display.
Wua Lai Road
Wua Lai is Chiang Mai's famous Saturday night walking street. It's a bit smaller and less crowded than the Sunday night and Night Bazaar streets, so it's a great alternative if you want to avoid the crowds. You can find a large assortment of hand-made goods, tasty snacks, and local handicraft souvenirs to take home. Make sure you hit at least one of these night markets to find the perfect gift; options are endless. The market begins in the late afternoon and generally ends around 10 or 11 PM.
Buak Hard Public Park
If you want a quiet, cozy park to relax in or stroll around, Suan Buak Haad is your best bet in Chiang Mai. This famous park wraps around the southwest corner of the old city, and is commonly used for city festivals and events. You can walk around the landscaped gardens, bridges, and beaches, feed the fish, or just sit back and enjoy some coconut ice cream from the local vendors. If you're feeling especially energetic you can join some group yoga or jogging!
Huay Tung Tao
Huay Tung Tao is a large lake just about 20 minutes north of Chiang Mai. This serene mountain lakeside is dotted with floating huts, which serve as dining and drinking areas for friend groups and families. It's a hugely popular day trip getaway for locals, who will sometimes spend the entire day just relaxing by the lakeside, swimming in the reservoir, ordering food, and drinking beers. Paddle boats, overnight huts, ATVs, and camping areas are all available for rent.
Orchid and Butterfly Farms
Stop at The Bai Orchid and Butterfly Farm to take in a stunning assortment of Thai orchids and butterflies. A varied and vibrant collection of colorful orchids surrounds an enclosure full of flitting butterflies. Visitors can also grab lunch and coffee from the buffet and cafe onsite, and purchase orchid-related souvenirs from the gift shop. It's located next to several other attractions including Tiger Kingdom and the Mae Sa Elephant Camp, so it makes for a great quick addition to these stops.
Siam Insect Zoo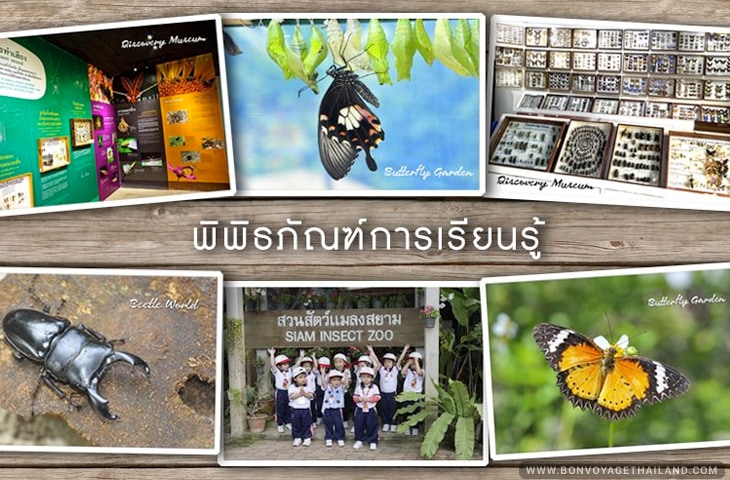 Most tourist attractions are about humans, and most zoos are for the bigger creatures, why not explore the micro-world of insects? The Siam Insect Zoo offers exactly this opportunity: come to meet rare, beautiful, and dangerous insects, learning about their lives and their importance to the environment. This is one of the coolest things to do in Chiang Mai, for families or for solo and curious travelers. Explore an insect museum, hunt with a flashlight for spiders and cockroaches, hold a live tarantula (if you dare!), and wander through a butterfly sanctuary — hold still and one of these fluttering treasures might land on you! The Siam Zoo even has reptiles like lizards and turtles that you can meet, hold, or take home. That's right, you can keep some of your new friends as pets!
Mae Sa Waterfall
The Mae Sa Waterfall is actually a series of 8 leveled waterfalls and pools that can be hiked and explored, swam in, or just enjoyed and relaxed by. Several charming restaurants can be found along the short hike between them. These varied waterfalls and pools are especially popular with local Thais, who will often spend a whole day swimming, eating, and relaxing with their families and friends. They can get quite crowded on the weekends, and we suggest bringing swimming clothes as well as some blankets to lounge on.
Queen Sirikit Botanical Garden and Canopy Walkway
The Queen Sirikit Botanical Garden is a stunning and surprisingly large series of gardens containing Thailand's most diverse collection of plants. Visitors can walk through and explore a variety of carefully tended and themed greenhouses. Doing so feels like getting transported all around the world, as the exhibitions feature truly global ecosystems. The park also contains a 400-metre "Canopy Walkway" where you can walk above and through the rainforest treetops. The park is huge, and you should plan to spend at least 3 hours walking around if you want to see everything.
Elephant PooPooPaper Park
Yes, you read that right: the Elephant PooPooPaper Park is an eco-friendly outdoor museum and park focused on making sustainable paper products out of… elephant poop! Visitors to the park can take a tour through the lush garden pavilions and learn all about this unique, nature-focused, artisan approach to making paper. The entire park is made of eco-friendly materials and is a testament to reuse and recycling. You'll never think of poop the same way again!
Baan Tong Luang Eco-Agricultural Village
Baan Tong Luang was created to preserve the cultural traditions of hill tribe minorities. Eight different hill tribe villages are established at Baan Tong Luang, including the Mhong, Lahu, Yao, Kayaw, Akha, Palong, White Karen, and the "Long-Neck" Karen, or the Padong or Paduang people.
The village is divided by rice paddies and stretches of farmland. Each hill tribe minority lives in a different section of the village. Stroll or drive down the main road to see traditional thatched-roof wooden houses, almost all of which display traditional handicrafts from each hill tribe. Aside from the entrance fee, this is how the tribes make an income: by selling the embroidery, carvings, and jewelry they have learned to make for generations.
Mae Wang National Park
Bordering Doi Inthanon, Mae Wang National Park is a 144-square-kilometer stretch of mountainous landscape known for its biodiversity. The national park boasts many different types of forests, each containing a unique treasure trove of plant and animal species. Three major rivers plunge through these mountains, feeding a huge number of waterfalls.
It's possible to trek through the national park, but perhaps most fun to raft through it. Hiking trails are available for every fitness level, and many of these trails lead to spectacular waterfalls that feel completely untouched by humanity. The Mae Wang river offers bamboo rafting opportunities to float peacefully through it all – read on for more!
Bamboo Rafting on the Mae Wang River
Float down the Mae Wang River on a bamboo raft, just as Thai people have done for centuries. The river is shallow and almost completely smooth, making for a lazy and picturesque trip through the jungle. Float past Hmong and Karen villages, wildlife, and even elephant sanctuaries – if you're lucky, you'll even catch elephants grazing and bathing by the river! Restaurants and stalls are scattered abundantly along the shoreline to provide refreshments for this relaxing expedition into nature.
Pha Choi or Pha Chor Grand Canyon of Chiang Mai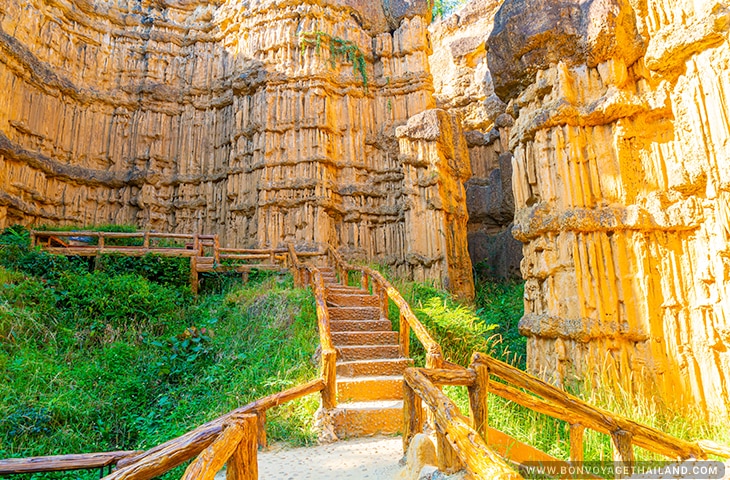 After the Ping River changed course, it eroded Pha Chor's rock sculptures and pillars into weird, enormous shapes and canyon formations that tower 30 meters in the air. These sculptures are all a reddish color and backed by greenery for stunning contrast. If you're looking for things to do in Chiang Mai that are "off the beaten path", Pha Chor is a fantastically strange option. Set in the heart of the Mae Wang National Park, Pha Chor is a great day trip and opportunity to be wowed by the power of nature over time.
Royal Flora Ratchaphruek
An annual flower festival that became so popular it expanded into a permanent exhibition, the Royal Flora Ratchaphruek is a botanical garden reigning over 400 rai of land. The gardens are decorated with tasteful pieces of art and architecture, blooming with countless plant and flower species. The park is separated into different themed gardens, including water ponds with lotus flowers and rare and exotic flower exhibitions. It's lovely to walk through the gardens, but the grounds are expansive, so if you're tired or unable, just rent a segway through the space.
Chiang Mai Night Safari
It should be no surprise, with all the weird, wonderful, and wild things to do in Chiang Mai, that nightlife includes the wildlife! Part zoo, part theme park, the Chiang Mai Night Safari is the closest most people will ever (hopefully) get to being out in the wild after dark. The park is separated into three primary sections. The Savanna Safari is occupied by prey animals and herbivores like zebras, elephants, llamas, and giraffes. The Predator Prowl is exactly what it sounds like, stalked by lions and tigers and bears…. And vultures, hyenas, pumas, and more! Jaguar Trail is where tropical creatures like jaguars and flamingos cohabit, as well as white-striped tigers and emus. An open-sided tram will take you through the different sections, and some of the more harmless animals might be waiting by the roadside to greet you along the way.
Chiang Mai Grand Canyon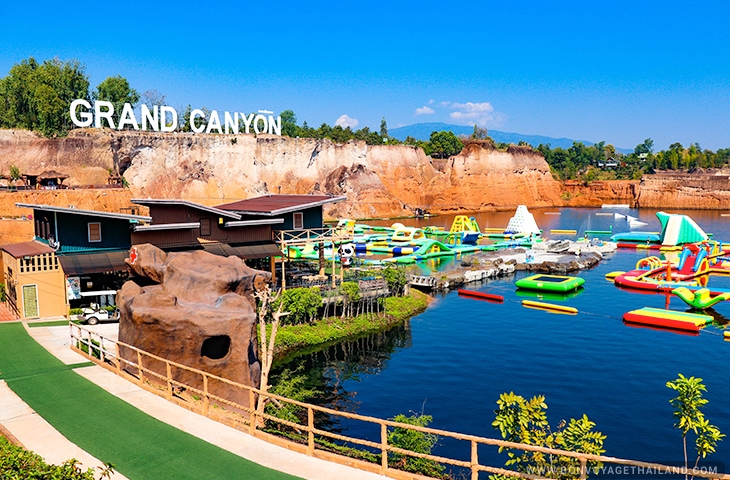 On a sweltering summer day in Chiang Mai, the Chiang Mai Grand Canyon Water Park promises a wet, refreshing adventure. This is Chiang Mai's most beautiful water park, an oasis set in a gorgeous location that resembles the American landmark by the same name. Cool out in the shade enjoying cold beer and snacks and paddle around in the shallows to relax …. or jump literally off a cliff, diving 8 meters down from the edge into the depths! Water slides, zip lines, wakeboarding, and an inflatable obstacle course await!
Baan Tawai Village
The wood-carving heritage of Baan Tawai is more than a hundred years old. This is the heart of wood carving in Northern Thailand, an art form that is visibly appreciated and displayed in homes, temples, and furniture throughout the country. Woodcarvers in Baan Tawai pass their skills down through generations, from parent to child, just as they learned from Burmese woodcarvers generations ago. Now, the skill has been adapted into a uniquely Thai style, and workshops showcase intricate pieces carved into a wide variety of mediums like teak, rosewood, and rattan.
San Kamphaeng Handicraft Village
Chiang Mai and the broader Northern region is famous for its focus on art and culture. San Kamphaeng Handicraft Village is no exception. Here, Thai artisans produce cotton, silk, ceramics, and their own wood carvings. Each factory specializes in a particular craft, and each is manned by an artisan painting, carving, or weaving through the day. Walk down the main road to see artisans creating furiously in their own workshops. Towards the end of the village, the finished handicrafts are all on sale, from the purest sterling silver jewelry to the finest handmade silk, and so much more.
Bo Sang Umbrella Village
The name reveals its gift: Bo Sang Umbrella Village is famous for delicate hand-painted paper umbrellas. Traditionally made with saa paper, which is made from mulberry tree bark, these pretty parasols are now produced with a variety of more durable materials like cotton and canvas. Visit the village to see the umbrellas adorning the streets in every color under the rainbow. The star of the show is the umbrella factory, where you can watch artisans producing them in an assembly line, from bamboo handles to painstaking hand-painted designs. Don't forget to order a custom-painted umbrella for yourself!
Muang On Cave
Walk up the 180 steps of the Naga serpent stairway to reach the mouth of this ancient cave. Inside you'll find thousands of stalagmite and stalactite formations, old as time itself, as well as a concrete pathway leading through Muang On's human history. The pathway is lined with dozens of Buddhist shrines and statues, including a giant reclining Buddha. It is said that Thai people stashed food and supplies here during Burmese invasions centuries ago, and Buddhists have visited the cave since then to worship at its various shrines. Keep an eye out for a giant stalagmite-turned-shrine, wrapped in orange and yellow silk by devotees.
San Kamphaeng Hot Springs
Perhaps the most relaxing day trip out of Chiang Mai City is San Kamphaeng Hot Springs, where natural mineral water shoots out from two primary geysers more than 20 meters into the air, then falls, cools, and disperses into a series of streams. These streams are dispersed through the park between trees, hills, and pretty flower gardens. Sit down anywhere and soak your feet – temperatures range between about 40° and 50°C in different places. As the hot springs do their work, grab a basket of eggs from a vendor. You'll notice metal hooks dispersed in every hot spring – hang the basket and cook to your liking for the perfect snack while you relax.
Tube Trek Water Park
This is not only a water park but rather a spaceship-themed water park! Here you'll find robots and rockets, water slides, and water guns. The park is split into kid-appropriate and adult-ready stations. Children will love the shallow pools surrounded by spaceships and age-appropriate activities. Grown-ups can enjoy adrenaline-focused attractions, as well as a wave pool that often doubles as a dance floor for DJs on an overhanging stage. Tube Trek Water Park and the Grand Canyon are two of the most fun things to do in Chiang Mai for families, and for single adults. There's no age limit here at all, but everyone gets to be a kid again!
How many days should I spend in Chiang Mai?
How much time you should spend in Chiang Mai depends on your interests and what you want to do during your stay. If you plan to visit the temples and cultural sites of the city and participate in activities such as trekking or visiting an elephant sanctuary, you should spend at least 3-4 days in Chiang Mai. This will give you enough time to see the main sights of the city and to relax and explore the city at your own pace. If you have more time and want to fully immerse yourself in the local culture, you might want to stay even longer. Ultimately, the right length of stay in Chiang Mai depends on your individual goals and priorities.
Day 1 : Take a walk in the old city and visit some temples
Day 2 : Visit an elephant sanctuary and take a food tour at night
Day 3 : In the morning Visit Wat Phra That Doi Suthep and during the afternoon enjoy a 2 hour massage, at night experience a Khantoke dinner
Day 4 : A cooking class is a great way to learn about Thai cuisine and prepare some of the local dishes yourself.
Visit Chiang Mai
Our team of experienced tour guides knows the best sights in the city and can help you create an itinerary tailored to your interests and preferences. Whether you want to immerse yourself in the local culture, try new and exciting activities, or just relax and enjoy the sights and sounds of Chiang Mai, we have something for everyone. We offer a variety of tours, from half-day excursions to multi-day packages, so you can choose the perfect experience for your needs. Contact us today to learn more and plan your dream trip to Chiang Mai or Chiang Rai.