When you hear of Thailand, you may immediately think of the beaches and the country's role as a major tourist destination. You may also think of the vibrant capital city of Bangkok. However, one of the best places to visit on your trip is undoubtedly Chiang Mai, located in Northern Thailand.
There are numerous different reasons that make Chiang Mai such a wonderful destination, but one in particular is the rich Buddhist history and the many temples that are located there.
I won't list them all, but here are 3 that we really like, "Wat" means temple in Thai.
Wat Phra That Doi Suthep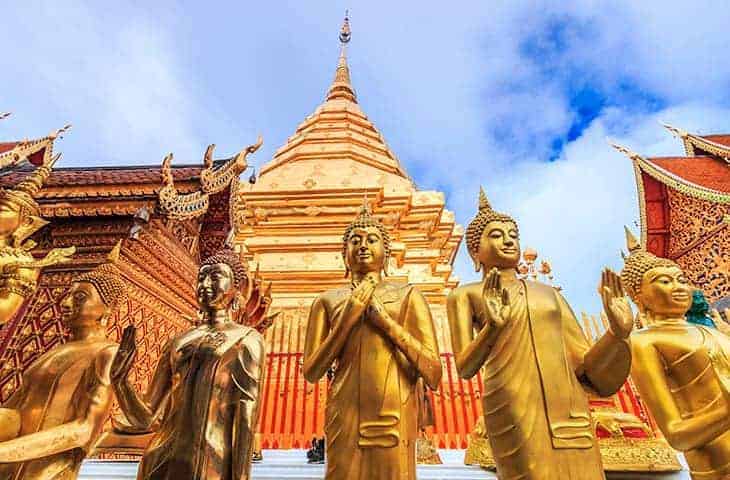 This temple is the most important temple in Chiang Mai and as you might have guessed, it is located on the top of Doi Suthep Mountain. Wat Doi Suthep is one of the holiest temples in all of Thailand and it houses some very important Buddha statues. It offers a great panoramic view of the city and is also a great place if you want to see an incredible sunrise or sunset.
Entrance Fee: 30 Thai Baht and a cable car ticket is 20 Thai Baht.
Opening Hours: 6:00 am to 8:00 pm. * A cable car closes at 6 pm.
Map Location: Google Map
Wat Umong Chiang Mai
It has been 700 years since Wat Umong was built, despite countless repairs over the years. Wat Umong is a forest temple located at the foot of the mountain Doi Suthep with underground tunnels. It is a peaceful place to walk and reflect. The Wat is large and there are many things to do; including a Buddha field with broken sculptures, a large stupa, take a walk around the "talking trees" that offer words of advice in both Thai and English or feed the fish and turtles in the main garden pond.
Entrance Fee: The entrance is free
Opening Hours: 5:00 am to 8:00 pm.
Map Location: Google Map
Wat Phra Singh in Chiang Mai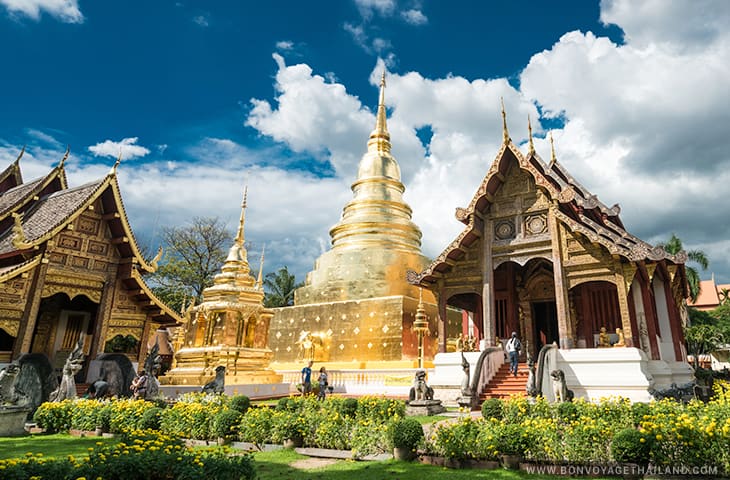 Built-in 1367 with unique Lanna style architecture and located within the city walls of Chiang Mai's old city, Wat Phra Singh houses a number of highly regarded and very old Buddha statues. The Wat has a very long history and contains many sites of historical significance. It features a copper and gold image of the Buddha Pra Sing as well as a large chedi and an ancient bell.
Entrance Fee: 20 Thai Baht
Opening Hours: 8:00 am to 5:00 pm.
Map Location: Google Map
Buddhist temples in Chiang Mai
These temples offer a great insight into Thai Buddhist culture and history and there are many different temple options to visit. It's also worth mentioning that there are a lot of temples and buildings dating back before Chiang Mai city was founded in 1296. We hope that you will visit them soon.
Buddhism in Chiang Mai
It was in the late thirteenth century that the rulers of Chiang Mai and Sukhothai made Theravada Buddhism the state religion of Thailand. Therefore, Chiang Mai became an important center for the spread of religion and a missionary enterprise was established until about the fifteenth century. At that time many temples were built and today there are about forty within the walls of the ancient city Chiang Mai.
Theravada Buddhism
Theravada Buddhism is often considered the purest version of this doctrine. In fact, Theravada is more than a religion, but a school of thought that aims to abolish suffering through human action. The community of followers of Theravada forms what is called the Sangha. Religious, members of the Sangha, are isolated in a monastery and lead an ascetic lifestyle to achieve nirvana.
Buddhist monks
From the age of 8 Thai children can become "novices" and be admitted to a monastery. But only at the age of 20, and only if the novice agrees to the 227 laws of the disciplinary code, can he be ordained. His life will follow a very monotonous rhythm: Alms from villagers, religious meditation, and daily classes. Even if the vows are not eternal, Buddhist monks remain so until death.