As one of the main tourist destinations in Thailand, Chiang Mai offers a variety of temples to explore. There are hundreds of temples in Chiang Mai Province, many of which are still actively worshipped today and that means a lot to see!
Once you have seen the first 5 temples in Chiang Mai, you might think you are done:
But no, there are more !
They all have their own unique characteristics !
There are numerous different reasons that make Chiang Mai such a wonderful destination, but one, in particular, is the rich Buddhist history and the many temples that are located here.
"Wat" means temple in Thai.
Wat Phra That Doi Suthep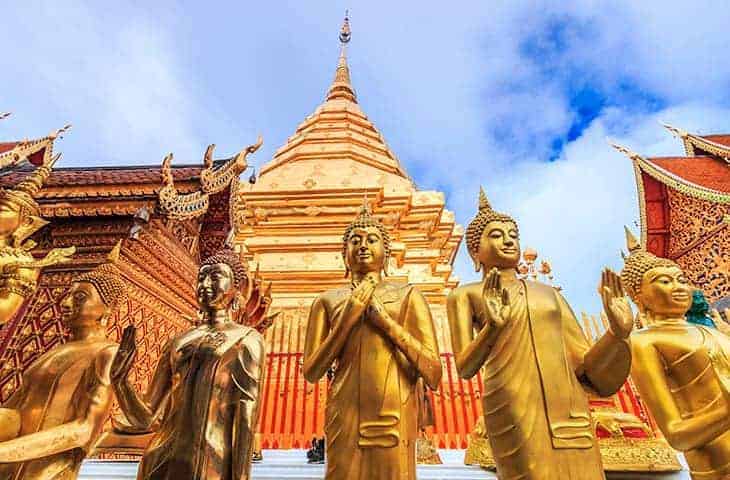 This temple is the most important Chiang Mai temple and is located, as you may have guessed, on top of Doi Suthep Mountain.
Doi Suthep Temple is one of the holiest temples in all of Thailand and it houses some very important Buddha statues. The golden Chedi is a great place to start your visit. The beautiful golden structure is an inviting sight amidst the green mountain and will get you excited for what is to come. If you make the pilgrimage to this mountain, you will find over 300 steps leading up to the temple.
Entrance Fee: 30 Thai Baht and a cable car ticket is 20 Thai Baht.
Opening Hours: 6:00 am to 8:00 pm. * A cable car closes at 6 pm.
Map Location: Google Map
Wat Umong Chiang Mai
It has been 700 years since Wat Umong was built, despite countless repairs over the years. Wat Umong is a forest temple located at the foot of the mountain Doi Suthep with underground tunnels. It is a peaceful place to walk and reflect. The Wat is large and there are many things to do; including a Buddha-field with broken sculptures, a large stupa, take a walk around the "talking trees" that offer words of advice in both Thai and English, or feed the fish and turtles in the main garden pond.
Entrance Fee: The entrance is free
Opening Hours: 5:00 am to 8:00 pm.
Map Location: Google Map
Wat Phra Singh in Chiang Mai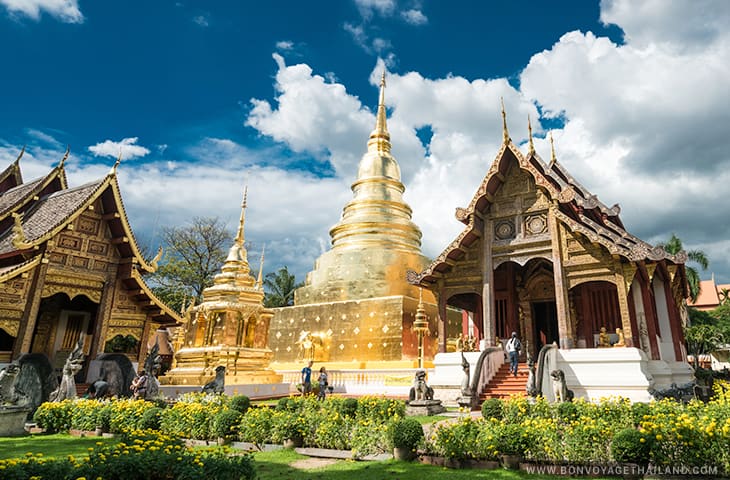 Built in 1367 with unique Lanna style architecture and located within the city walls of Chiang Mai's old city, Wat Phra Singh houses a number of highly regarded and very old Buddha statues. The Wat has a very long history and contains many sites of historical significance. It features a copper and gold image of the Buddha Pra Sing as well as a large chedi and an ancient bell.
Entrance Fee: 20 Thai Baht
Opening Hours: 8:00 am to 5:00 pm.
Map Location: Google Map
Wat Chedi Luang
Wat Chedi Luang, one of the most popular temples in the old city, originally stood at the top of the Lanna kingdom and was one of the tallest buildings in Chiang Mai. It dates from 1441 and was severely damaged by an earthquake in 1545.
Although it is not as golden and bright as the temples in the bigger cities, this temple has its own charm. I love the peace and serenity in this area, which includes many smaller temples.
If you go during Loy Krathong or New Year, it will be decorated with lanterns.
Entrance Fee: Free
Opening Hours: 5:00 am to 8:30 pm.
Wat Suan Dok
On the west side of the old city of Chiang Mai is Wat Suan Dok, a Buddhist temple. It was built in 1370 by King Kue Na. Within the complex, there is a row of gleaming white chedis containing the cremated ashes of the royal family of Chiang Mai, and next to them is a gleaming golden pagoda containing Buddha's relics from a temple in Sukhothai. The other half of the relics were transported on the back of a white elephant that climbed up to Wat Phra That Doi Suthep. On both sides of the main chedi, the temple is large and white. The wooden prayer hall is covered in shimmering gold leaf and the gilded statues inside are stunning, you will find a standing and a seated Buddha image
The other main attraction is the large gong which is rung three times a day, at sunrise, noon and sunset.
Behind Wat Suan Dok you will find a good vegetarian restaurant called PunPun. It is a pleasure to walk around there in the early morning when it is not too hot, or in the late afternoon when there is a cool breeze. It's quiet and peaceful there, and the sun seems to shine brighter there too. If you have time, take a walk to the back of the complex where the monks are studying in the classrooms and chatting with friends outside. People can talk to the monks through a service called Monk Chat where the monks can practice their English.
Wat Phra That Doi Kham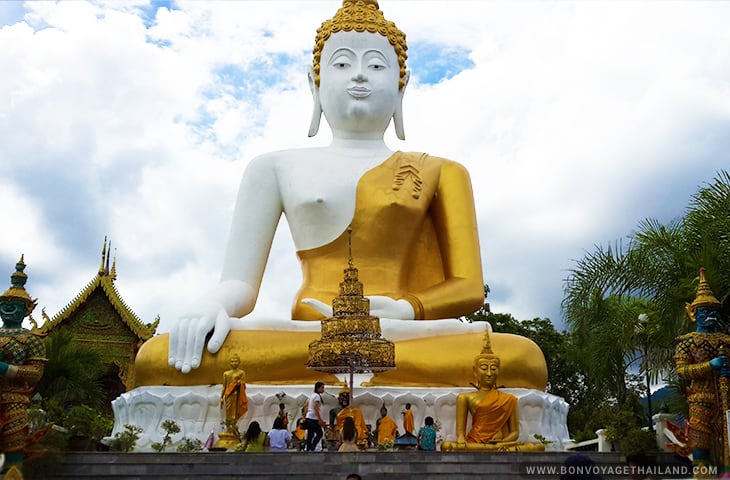 Wat Phra That Doi Kham is an interesting temple located on top of the mountain Doi Kham. It is one of my favorite temples. Outside the temple walls is a beautiful giant Buddha statue. Inside the temple walls there is a small glowing chedi, bells and often when we visit the temple the monks bless people. In June after January you have a great panoramic view of the city.
Visiting the temple grounds is a great experience.
Wat Sri Suphan – Silver Temple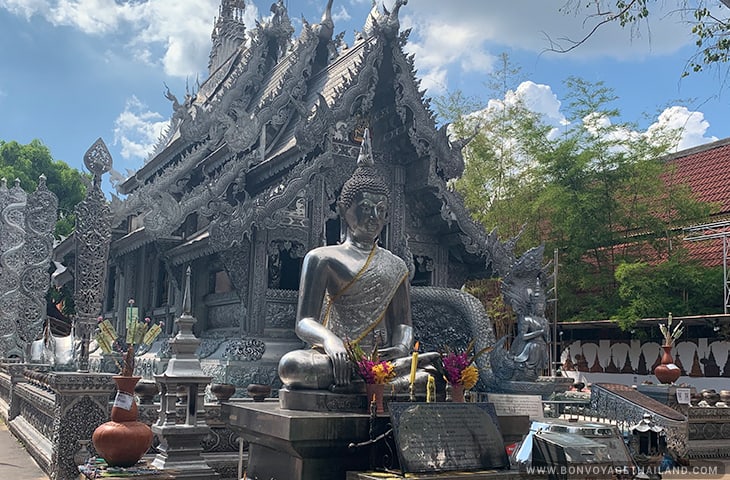 The temple is decorated with beautiful handcrafted silver ornaments, Wat Sri Suphan is also affectionately known as Silver Temple. The architecture of the temple reflects the Lanna style of more than three centuries ago. The temple is located on the historic Wualai road, where there are many silver factories and silver wholesalers. Unfortunately, women are not allowed to enter the silver temple.
Wat Chiang Man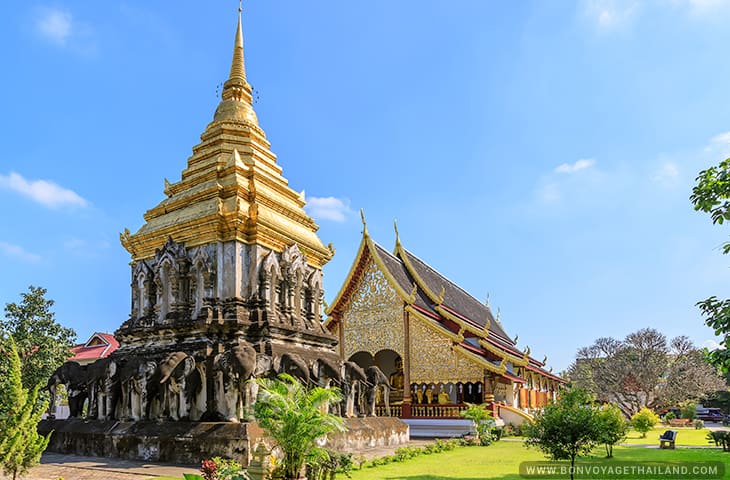 Wat Chiang Man is one of the Chiang Mai's oldest temple. In this temple, the murals are what stand out the most. The interior offers a wonderful collection of colorful and beautifully painted images. It is a pleasure to look at them. Behind the temple is a large gilded chedi supported by 15 elephant statues to represent the 15 kings who ruled from the city. With the light coming through the trees in the late afternoon, the area is very peaceful. Enjoy a fresh coconut drink from the vendor around the temple.
Wat Lok Molee
Unlike most of the other temples in the city, this one has less carved ornamentation and is less gilded. For this reason, I think it is well worth seeing. There is a lot of history here, including a large vihara, along with an ancient stupa in the back. A beautiful building with wooden architecture, with a deep history. A must see.
Wat Phan Tao
Wat Phan Tao is one of the most famous temples in the heart of the old city of Chiang Mai. The temple structure is beautifully carved from teak wood and gilded naga and houses a huge golden Buddha figure.
During Loy Krathong in November, Wat Phan Tao is lit with yellow and orange lanterns and during a religious ceremony at night, a multitude of candles illuminate the garden while novice monks meditate in front of the Buddha statue. The garden is separated from onlookers by a moat with tea lights floating on the water. After the ceremony, it is a magical sight when the sky lanterns are released into the night sky.
Chiang Mai Temple Tour
Chiang Mai is a great city that has so much to offer tourists from all over the world. The variety of temples and places of worship are part of the beauty of Chiang Mai. If you want to know more about it, our guides will help you organize your trip through Chiang Mai temples.
Visiting temples in Chiang Mai
Each type of Buddhist temple has its own peculiarities. There are many different temples and buildings. Visiting temples and learning about Thai Buddhist culture is a great way to learn about the history of Chiang Mai. It's also worth mentioning that there are a lot of temples and buildings dating back before Chiang Mai city was founded in 1296. We hope that you will visit them soon.
Buddhism in Chiang Mai
It was in the late thirteenth century that the rulers of Chiang Mai and Sukhothai made Theravada Buddhism the state religion of Thailand. Therefore, Chiang Mai became an important center for the spread of religion and a missionary enterprise was established until about the fifteenth century. At that time many temples were built and today there are about forty within the walls of the Chiang Mai old city.
Theravada Buddhism
Theravada Buddhism is often considered the purest version of this doctrine. In fact, Theravada is more than a religion, but a school of thought that aims to abolish suffering through human action. The community of followers of Theravada forms what is called the Sangha. Religious, members of the Sangha, are isolated in a monastery and lead an ascetic lifestyle to achieve nirvana.
Buddhist monks
From the age of 8 Thai children can become "novices" and be admitted to a monastery. But only at the age of 20, and only if the novice agrees to the 227 laws of the disciplinary code, can he be ordained. His life will follow a very monotonous rhythm: Alms from villagers, religious meditation, and daily classes. Even if the vows are not eternal, Buddhist monks remain so until death.