Thai food is bursting with sweet, spicy, tangy, and salty flavors. This exotic cuisine has evolved over the centuries by Eastern and Western influences but has managed to remain distinct among Southeast Asian countries. You'll find a wonderful array of stir-fry dishes, creamy curries, fresh tropical fruit, and sweet snacks that even the pickiest of eaters will enjoy. We've recommended five of our favorite Thai dishes as well as four restaurants you can't miss while in Chiang Mai.
5 Delicious Thai dishes you've got to try
Whether your visit to Chiang Mai is short or long, here are some Thai foods you can't miss while you're in town.
Pad Kra Pao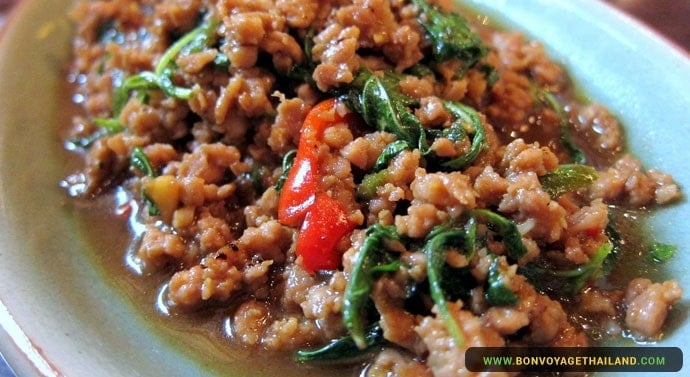 Pad Kra Pao is a crowd pleaser with its winning combination of Thai holy basil, garlic, and bird's-eye chilies along with fish, oyster, and soy sauces. This dish can be found on every menu in Thailand but it's usually best when eaten on the street. Although it is can be made with shrimp or tofu, it is most commonly made with minced or small slices of either pork or chicken. The ingredients are quickly stir-fried together resulting in a flavorful and slightly spicy dish. To top it off (quite literally), Pad Kra Pao is popularly served with a fried egg.
Mango with Sticky Rice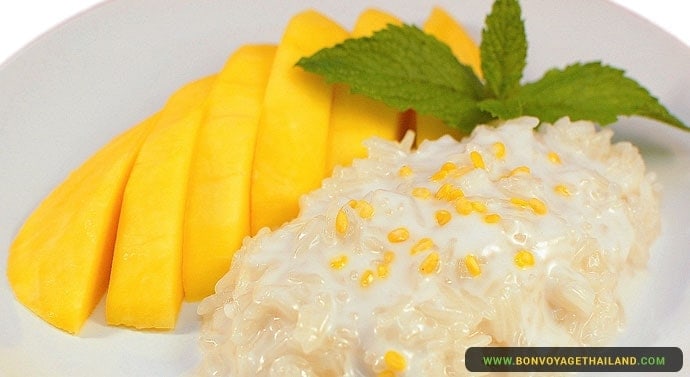 Thailand's tropical climate is perfect for growing mangos, so it should be no surprise to find variations of this sweet fruit snack from the humblest street vendors to the finest restaurants. This particular dish is made of slices of perfectly ripe, bright yellow mangos that are carefully arranged over a bed of glutinous sticky rice. When prepared using coconut milk and a bit of sugar, the sticky rice becomes delectably creamy. A spoonful of coconut rice and sweet mango is the perfect tropical flavor combination and can be guaranteed to melt in your mouth. Some vendors finish off the dish with a drizzle of sweet coconut cream or a sprinkling of crispy mung beans.
Khao Ka Moo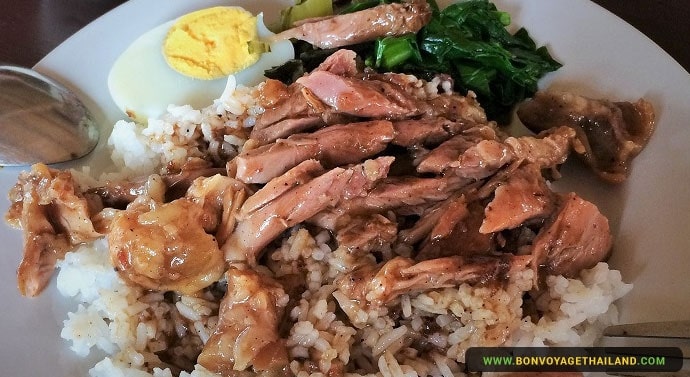 Khao ka moo, or braised pork leg with rice, is easily identifiable among food stalls and restaurant windows by steaming metal vats of dark aromatic broth and browned pork legs. The simmering broth is seasoned with soy sauce, garlic, star anise, and a few other exotic spices before the big meaty pork legs are added and slow-cooked for hours. This technique produces incredibly tender pieces of pork that slide right of the bone and easily onto awaiting customers' plates. This particular dish is not spicy at all, although a chili sauce typically occupancies it on the side along with some blanched greens.
Penang Curry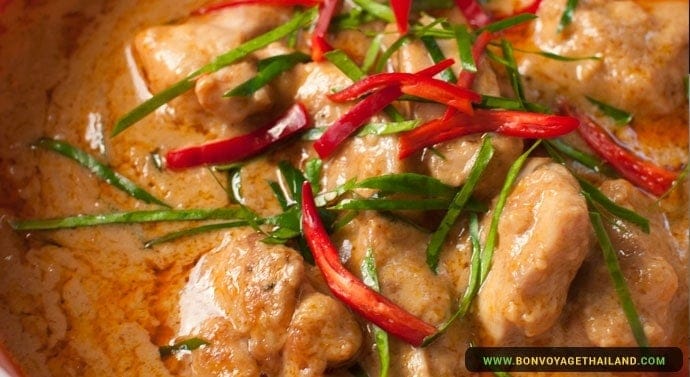 Penang curry is a thick, flavorful, and spicy red curry that is most often served with thin cuts of beef or chicken. Its popping flavor comes from a red curry paste composed of ground spices such as chilies, galangal, lemongrass, coriander root and seeds, cumin, and garlic. This paste is combined with a small amount of coconut milk or coconut cream and a splash of fish sauce to make a thick sauce that generously coats the stir-fried meat. A dollop of coconut cream and a tangle of thread-like strips of kaffir lime leaves on top of the penang curry finishes off this beautiful dish. Make sure to have a few tissues on hand in case you start to sweat!
Khao Soi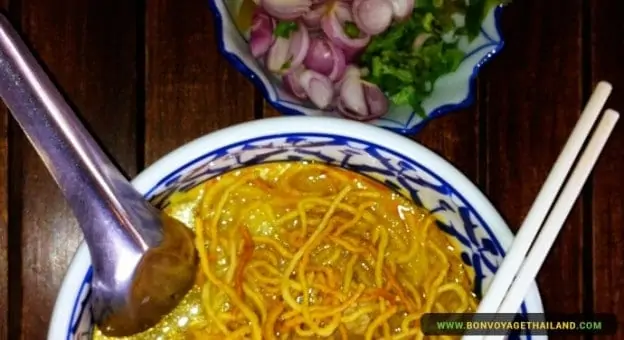 Khao soi is a mild yellow curry that's typically served with tender chicken and – rather than the ubiquitous steamed jasmine rice – yellow egg noodles. This dish is special to northern Thailand. Not only will you find many restaurants in Chiang offering khao soi on their menu, there are some shops that dedicate their entire menu to different variations of the dish. This curry, which is served in a soup bowl, begins with a handful of springy yellow egg noodles and a ladle of a creamy coconut milk-based 'broth.' A few pieces of slow-cooked chicken or a helping of sliced chicken is added and topped with a tangle of crispy fried egg noodles.
Where to eat in Chiang Mai – 8 Restaurants in Chiang Mai you can't miss
Great atmosphere, delicious food, and good locations make the following restaurants must-visit places to dine while you're visiting Chiang Mai, the 'Rose of the North.'
Riverside Bar & Restaurant on the Ping River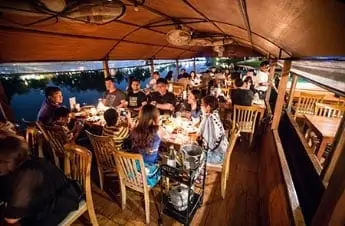 As its name suggests, the Riverside Bar & Restaurant has a front row seat on the Ping River and is an excellent place whether you come to enjoy a few cocktails or a sit-down dinner. Its bar area hosts live bands every night so the atmosphere gets quite. The Riverside's menu features many classic Thai dishes that are popular with Thai and international diners. You'll be happy to learn that the portions err on the larger side and there's attentive service, too.
Aroon Rai near Tha Pae Gate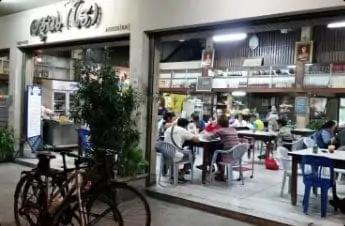 Aroon Rai has been serving their famous curry for many years. In fact, it serves the self-proclaimed best curry in Chiang Mai! This no-frills restaurant has a menu full of tasty versions of local northern Thai food and central Thai food that both travelers and local Thai people love. It's best to order several small dishes and share with friends. Try their gaeng hunglay (stewed pork curry with ginger) or khao soi (Northern yellow curry with egg noodles).
Tong Tem Toh in Nimman
This casual but trendy restaurant is popular among local Thais and is the perfect place to go if you want to dine on authentic northern Thai food. The outside dining area features shady trees, large umbrellas, and mist machines to keep you cool. You may even forget that you're dining in the city! Be sure to try a Thai chili dip which is served with boiled vegetables as well as the northern sausage known as sai oua.
Huen Phen in the Old City
Huen Phen can be found in the heart of the Old City and has been serving good northern Thai food for many years. As with many Thai restaurants, it is customary to order several dishes to share with friends so that you can sample many different rice dishes, soups, curries, and stir-fries.
Dash! Restaurant & Bar in the Old City
If you want to enjoy a special meal, go to Dash! Teak Restaurant. This beautiful wood restaurant is nestled on a quiet street in the Old City and is the perfect place to enjoy an upscale Thai meal with flavors that international travelers enjoy. The friendly owners are happy to make recommendations and the Western-trained servers will make sure you're taken care of. Be sure to try their chicken satay and mango cheesecake.
Chang Phuak Gate Night Market – Food Stalls
If you want street food, then go to the Chang Phuak Gate Night Market. Every day after 5 PM, vendors set up at the moat's north gate (Chang Phuak Gate) and serve grilled meats, hot noodle soups, stewed pork, stir-fried dishes, fruit smoothies, and more. It's among the cheapest places to enjoy a casual sit-down meal in town.
Traditional Khantoke Dinner + Dance
You'll only find khantoke dinner in Chiang Mai. It features delicious, all-you-can-eat spread of Thai curry, steamed vegetables, fried chicken, and dips as well as the city's famous Kaeng Hung Lae (Northern Pork curry with ginger). Combined with musicians and performers putting on a show of traditional dances while you eat, it's a truly unique way to enjoy the Lanna culture of Chiang Mai. Book your tickets for the Khantoke Dinner and Dance to be sure you get a front-row seat.
Book a traditional Khantoke Dinner
Western food at The Duke's Grill & Bar in the Night Bazaar
If you're craving Western food, then the one place we recommend going to is The Duke's. This American restaurant, which has several locations throughout the city, is famous for its pizza, burgers, and steaks. The portions are huge, the air conditioning is strong, and the servers speak good English.