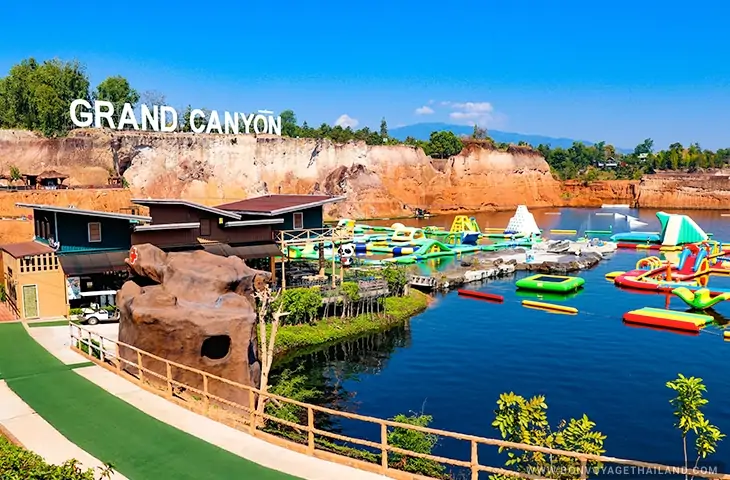 Chiang Mai in Northern Thailand may not have a beach, but it does have an unusual tourist attraction in the water: the Grand Canyon! Think canyon water dives, wakeboarding, and water slides, and head over for the perfect escape from a hot summer day in the city.

Chiang Mai's Grand Canyon was named after the U.S. attraction because the two places are similar. The site was once used as a source and sand to build the roads of Chiang Mai. After the roads were completed, the orange-red streams filled with water during the monsoon season, and locals soon flocked to the area for a swim. The growing popularity of the Grand Canyon led to its transformation into a real attraction.
Now, the site hosts two different water parks: the Grand Canyon Water Park and the GrandCanyon Chiang Mai. They have similar names but are two separate parks that require two separate tickets (note the missing spaces in the second name).

Both the Grand Canyon Water Park and the GrandCanyon promise a great day trip for all travelers. Take the plunge and dive into either park. For a full day of fun, be sure to visit both!

Whether you are looking for excitement or relaxation, Grand Canyon Chiang Mai, Thailand has it all.
Grand Canyon Water Park
If you want to experience extreme adventure, try the 8-meter cliff jump at the canyon edge then head straight over to the nearby water slides. The inflatable obstacle course brings out your inner child as you climb, jump, swim and crawl. There is no limit – you can jump up and down on all these attractions until your body tells you to stop! Each visitor receives a ticket for the zipline, which runs the entire length of the canyon from the entrance. For an additional fee, visitors can also wakeboard through the canyon.
If all this is too much action for you, Grand Canyon Water Park also has areas to relax. A well-shaded green area provides space and furniture for lounging.
What to do at Grand Canyon Water Park
Floating Adventure: A giant floating ride that combines fun, challenge and strength and water adventure.
Giant Slide: Test your nerves with this 10-meter slide.
Water Park for Kids (Kids Zone): Water park, swimming pool for kids with big fiberglass slides and rides. Fun all day long!
Floating Trampoline: Take the trampoline into the water for some fun.
Zipline: With three stations and more than 400 meters of distance, high safety standards and a set of safety equipment from Petzl from the USA.
Safety
Lifeguards watch over everything and visitors must wear life jackets in the water.
Staff are available to guide visitors through the water activities, and there is even a miniature water area suitable for children too young for the other facilities. 
Grand Canyon Water Park is safe and family friendly.
Local authorities have assured that the water is clean enough to swim in.
The services meet the standards of Chiang Mai – SHA, so you do not have to worry about hygiene.
Rental lockers are available for rent. They cost only 50 baht for one day.
Entrance Fee and Ticket Price 
Price:
Adult: 600 baht
Child (4-8 years): 450 baht
A full day of water activities including:
A life jacket is provided
Floating aqua park
Kid zone
Kayaking
Giant slider
1 round Zip line 
You can find out more about their promotion and package deals on their Facebook Page.
What to Eat at Grand Canyon Water Park
Affordable food and beverages are available on-site to keep you full and hydrated. The restaurant serves Western and Thai dishes, ice cream, cocktails, and drinks.
How to Get There?
The Grand Canyon is located south of Chiang Mai in Hang Dong. It is open daily from 10 am to 7 pm. Google Map: https://goo.gl/maps/KUESesGvFj2BYStf7
By Car or Motorcycle
The drive from Chiang Mai old city takes about 40 minutes. You can take a Songthaew or a cab for the round trip. It should cost about 500 baht each way.
GrandCanyon Chiang Mai
GrandCanyon Chiang Mai (again, note the one word!) has fewer facilities than its neighbor, but still offers more than enough to keep adventure lovers entertained all day. The former limestone quarry is home to a large swimming pool, now filled with natural rainwater.
Explore every corner of the park's waters with inflatables, kayaks, bamboo rafts, cliff jumping into deep water, and stand-up paddle boards. If your group is competitive, you can challenge your friends to a game of soccer on an inflatable field!
Entrance Fee and Ticket Price
50 baht per person. Promotions and pricing at Facebook: Grandcanyonchiangmai
How to get there from Chiang Mai City?
Hours of operation: 9 AM – 7 PM
What to Eat
The restaurant serves Thai food. The food starts at 50 baht, and it's worth it. A Coffee shop is also available.