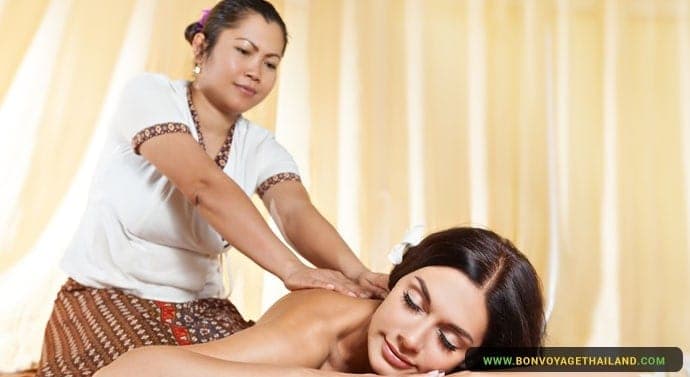 Did you know that, in Thailand, massages can be enjoyed for a fraction of the price back home? From hole-in-the-wall parlors to lavish spas, you can find a wide range of services including foot massages (reflexology), traditional Thai massages, coconut oil massages, and the one-of-a-kind tok sen massage.
Thailand's signature massage is the Thai massage. It's an ancient therapy that combines different techniques to improve blood circulation, increase the body's flexibility, and promote relaxation. It also releases muscle tension and rebalances vital energy levels, which promote the harmony of body and mind.
A Thai massage is very different from Swedish massages. It's more invigorating than relaxing, so if you're getting a Thai massage for the first time, here's what you can expect.
Massage Techniques
Based on the theory of energy lines, Thai massage combines different techniques such as foot reflexology, kneading, stretching, yoga and/or acupressure. All of these techniques are designed to unlock the energy lines in the event of a physical problem.
Thai massage is practiced on a mattress on the floor while you wear a comfortable, loose fitting outfit that is provided by your therapist. Rather than use gliding motions paired with oil (characteristics of a Swedish massage), the masseuse uses 'dry' rhythmic pressing, pulling, and rocking movements while you remain fully clothed. The session lasts two hours on average and works every part of the body.
Thai massage is sometimes referred to as 'lazy man's yoga.' It's characterized by a passive stretching in which the masseur is responsible for stretching the muscles of the patient to release tension and unblock the energy lines. Depending on their training, a therapist may use only their thumbs, fingers, and palms to massage a client or they may also incorporate knees, elbows, and feet.
The Benefits of Thai Massage
Practiced both in a preventive and therapeutic manner, Thai massage is very effective in treating blood circulation problems, joint pain, general fatigue, headaches, and even anxiety.
This comprehensive massage provides total wellness for the whole body and helps to free the mind of negative thoughts and muscles of tension.
Everyone can benefit from Thai massage regardless of age, size, weight, and physical condition. Before starting the massage, your therapist will ask some questions about your health to avoid counter-productive movements, especially if there are blood pressure problems.
Thai Massages in Chiang Mai
Getting a Thai massage is something you MUST DO while vacationing in Thailand. There are countless options in Chiang Mai, so here are a few of our favorite places:
Cheap Massage
The most affordable massage shops typically charge between 150 baht and 250 baht per hour. Two no-frills but excellent massage shops are Wat Sum Pow (also spelled Wat Samphao) in the Old City and Getthawha Thai Massage on the Ping River near the Iron Bridge.
GPS: 18.7882° N, 98.9905° E (Wat Sum Pow)
Address: 158/2 Ratchapakhinai Road, Si Phum, Mueang Chiang Mai, Chiang Mai 50200
GPS: 18.7839° N, 99.0052° E (Gettawha Thai Massage)
Address: Chiang Mai – Lampoon Road, Wat Gate, Mueang Chiang Mai, Chiang Mai 50000
Prison Massage Chiang Mai
For a one-of-a-kind massage experience, spend an hour or two at one of Lila Thai Massage's many locations throughout the Old City. You'll get an invigorating massage from a female ex-prisoner.
Website: www.chiangmaithaimassage.com
GPS Location: 18.7834° N, 98.9902° E
Address: 38 Ratchapakhinai Road, Phrasing, Mueang Chiang Mai, Chiang Mai 50200
Blind Massage
Blind therapists are known for tuning into your body's movements and muscle tensions and adjust their pressure and rhythm accordingly. At Supattra Blind Massage, the blind therapists as some of the best in town as they skillfully knead and bend your body.
Website: www.facebook.com/pages/Supattra-Blind-Massage/349790871710130
GPS Location: 18.7967° N, 98.9927° E
Address: Sri Poom Rd Lane 1, Si Phum, Mueang Chiang Mai, Chiang Mai 50300
Spa Massage
At the other end of the spectrum, pamper yourself with an array of professional spa treatments in a relaxing sanctuary such as Oasis Spa in the Old City. Add Thai herbs and essential oils for maximum benefits.
GPS Location: 18.7884° N, 98.9822° E
Address: 4 Samlarn Road, Phrasing, Mueang Chiang Mai, Chiang Mai 50200
Learning Thai Massage
If you want to take your massage experience one step further, learn this ancient art by joining an introductory course in Thai massage. Schools typically offer an express course that lasts one or two days as well as a complete course that lasts several weeks.
Although there are many schools that offer Thai massage classes, we recommend that you choose a school that has been accredited by the Ministry of Health. You can be sure that the course material is of the highest quality and the instructors are professional. For more information about Thai massage courses, please contact our partner Sabai De Ka.
Home Massage Service
Here is another tip in case you prefer a spa-quality massage delivered to your doorstep. RLAX mobile massage is a new service to enjoy a professional massage at the place of your choosing. Whether it's to your home, hotel or office. Order through a website or app with just a few clicks and a RLAX qualified massage therapist will confirm your order and arrive promptly at the time and day you've selected.