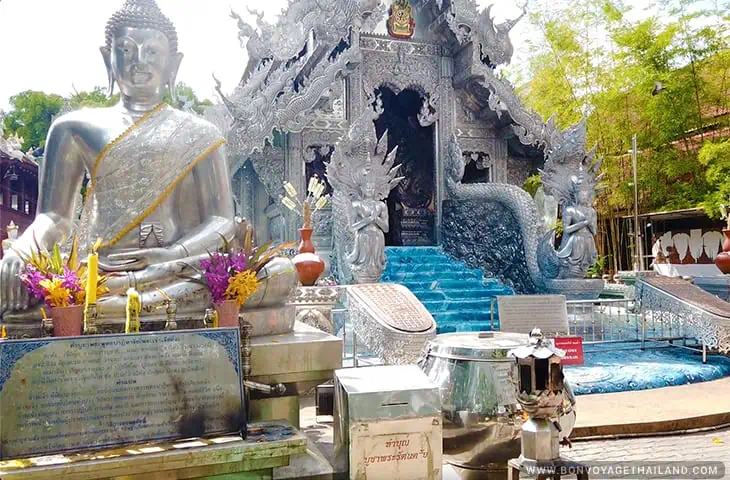 Come with me on a journey to the heart of Chiang Mai and discover the impressive buddhist temple of Wat Sri Suphan. This historic and remarkable "silver temple" on Wualai Road is known for its intricate details and shimmering silver ornaments that will take your breath away.
For hundreds of years, Wat Sri Suphan has been considered a symbol of liberation, both spiritual and physical. As you stroll through the breathtaking grounds, you'll feel the energy of the temple speak directly to your soul, awakening a deep-seated desire for freedom. The tranquil surroundings will make you feel that time has stopped and you'll lose yourself in this magical place.
Wat Sri Suphan isn't only a place of beauty and tranquility, but also a center of education and activity. On the grounds of Wat Sri Suphan are an elementary school, a silverware learning center and a workshop, as well as a center that provides information about local handicraft artisans. And don't forget the "monk chat" sessions,where you can talk with English-speaking monks and learn about Buddhism and the temple's rich history.
From traditional Buddhist ceremonies to modern artwork, there is so much more to discover at Wat Sri Suphan than meets the eye. So come with me on a quest to uncover the secrets of this unique silver temple and discover why it's such a special and unforgettable place. I promise you, it'll be a trip you'll not soon forget!
The History Of The Silver Temple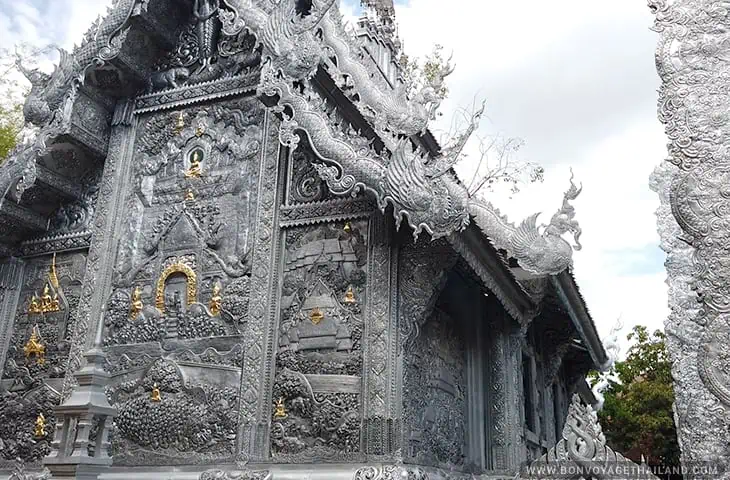 A stunning piece of Thai history and architecture built during the reign of King Mueang Kaeo of the Mangrai Dynasty in the 16th century between 1495 and 1525, this temple is a testament to the enduring spirit of the Thai people.
Under the direction of Abbot Phra Kru Phithatsuthikhun, Wat Sri Suphan underwent a remarkable rebirth in 2004, merging the old with the new in a truly enchanting way. The silver panels and decorations that adorn the temple's facade are very special, as they were made from melted down coins offered by the local community. This detail gives the temple a distinctive sense of community and cultural pride, making it a particularly meaningful place for visitors.
One of the most captivating aspects of Wat Sri Suphan is the dedication of the locals to their temple. Every day they gather here to pay respect, say prayers, and admire the beautiful facade, making the temple a truly inspiring symbol of resilience and perseverance in the face of adversity.
For visitors, Wat Sri Suphan is a must-see, attracting people from near and far who want to experience its unique atmosphere for themselves. Looking at the stunning architecture and ornate silver decorations, it's easy to see why this temple is one of Thailand's most beloved monuments, cherished by generations of Thais for centuries.
Architecture And Decoration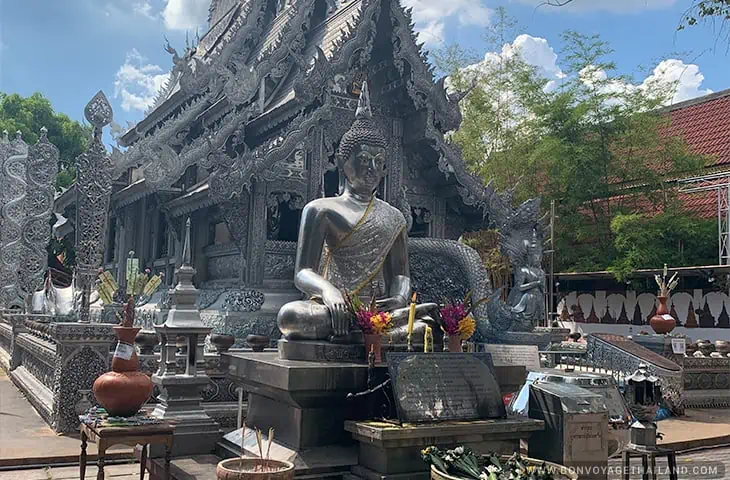 A magnificent work of art that shows the intricate beauty of Buddhist architecture and decoration. As you approach this sacred temple, your eyes will immediately be drawn to its gleaming exterior, made of real silver and decorated with gilded patterns that will take your breath away.
Let's take a look at what makes this temple so special:
The ornate gilded decorations are made of real silver, giving it a shine that can be seen from afar.
Carved stone sculptures depicting scenes from Buddhist teachings line the interior walls and columns.
Intricately painted murals in brilliant shades of red, blue, gold and green adorn the ceilings.
Glittering stained glass windows bring light into the room and make it even more beautiful.
This incredible combination of craftsmanship creates an atmosphere that encourages reflection and meditation. From the moment you enter through the carved wooden doors, your senses will be overwhelmed by all the visual stimuli you'll find in this sacred place. Every item has been carefully placed to create harmony between the man-made art and nature itself.
Every element of the temple has been carefully chosen to create harmony between man-made art and nature, making this an incredibly peaceful and tranquil place. It's a testament to humanity's relationship with faith, culture and creativity, and a reminder that anyone can achieve spiritual enlightenment, regardless of their background or beliefs.
The Silver Temple offers hands-on craftsmanship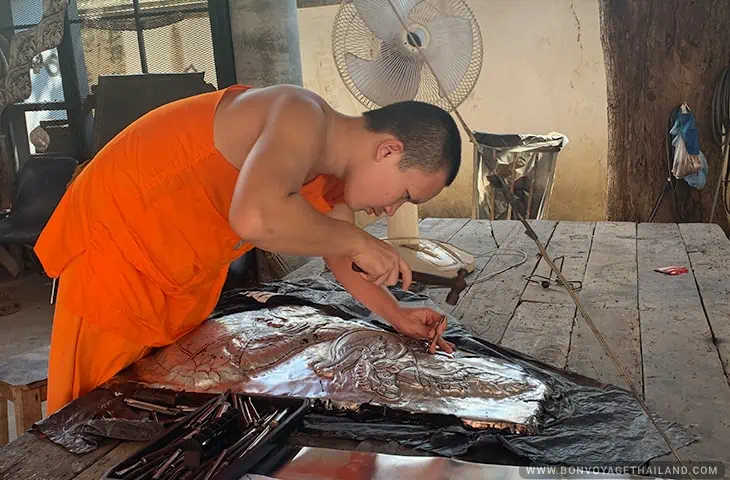 The temple isn't only a visual masterpiece, but also a center for traditional Thai arts and crafts. The temple offers visitors the opportunity to learn from local artisans and monks in a series of hands-on workshops, including silversmithing, traditional Thai painting and meditation.
These workshops offer a unique and intimate experience that allows you to get up close and personal with the artisans and gain a deeper understanding of the culture and traditions of Thailand. You'll learn the symbolism behind each piece and how it's made using traditional tools, techniques and materials.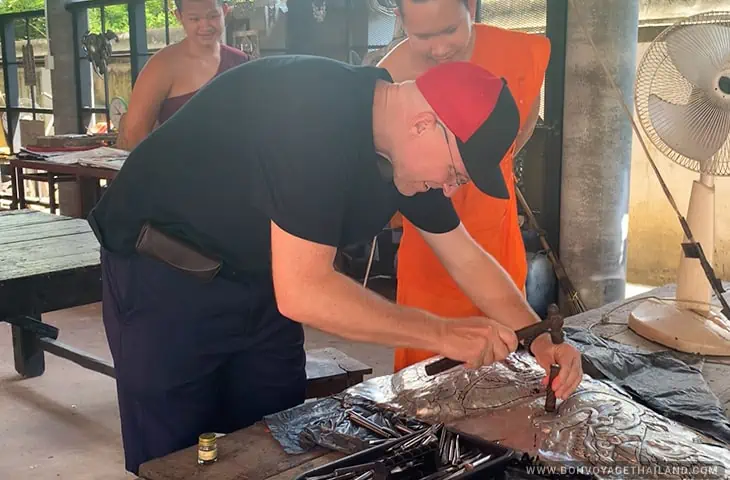 As you work with the artisans, you'll also learn about the rich history and significance of the Silver Temple and how it has been a source of inspiration and devotion for generations of Thai people. At the end of the workshop, you'll be able to take home a beautiful souvenir, a symbol of your time at Wat Sri Suphan and all that it represents.
The Silver Temple of Chiang Mai is much more than just a beautiful building – it's a living, breathing symbol of Thai culture and tradition. So take advantage of this unique opportunity to immerse yourself in the art and culture of Thailand and create something very special that you can cherish for a lifetime.
Women aren't allowed to enter the wat area
At Wat Sri Suphan, the silver temple of Chiang Mai, there is a rule that women aren't allowed in the silver ordination hall. This has been an unwritten law since the temple was founded hundreds of years ago and is still in effect today. Some may consider this rule unfair or sexist, but it's deeply embedded in many aspects of Thai culture and religion.
The restrictions on female visitors have made waves in both the local and international communities, which view such customs as outdated and oppressive. At its core, however, the rule reflects centuries-old beliefs about gender roles and social norms – something that is difficult for outsiders to understand or accept.
It's important to remember that while we may not agree with all cultural practices, it's important to respect traditions when we travel abroad. Here lies an opportunity for us to learn more about other cultures by observing them closely rather than judging them. In this way, we open our minds to new perspectives, experiences and ideas – things that will enrich our lives immeasurably.
TIP: Respect local customs, no matter how different they're from your own beliefs and values!
How To Get To The Silver Temple Chiang Mai?
To get to Wat Sri Suphan Silver Temple, there are several ways. First, you can travel from nearby attractions such as Tha Pae Gate or Warorot Market by public transportation. If you prefer to drive, you can also rent a car through various services like Grab Car or Uber. When you arrive at the temple, don't forget to bring your camera – here are four reasons why:
The intricate silver decorations will amaze even the most experienced photographers.
You'll have plenty of opportunities to photograph locals in traditional Thai dress.
There are many great photo opportunities with statues and sculptures lining the walls of the complex.
Visiting this wonderful temple gives visitors a sense of liberation and freedom – they can discover a completely different side of Thailand than they're used to. It also offers some peace and quiet away from the hustle and bustle of city life – something many people crave these days. With its stunning architecture and enchanting atmosphere, Wat Sri Suphan is definitely an attraction you shouldn't miss when visiting Chiang Mai.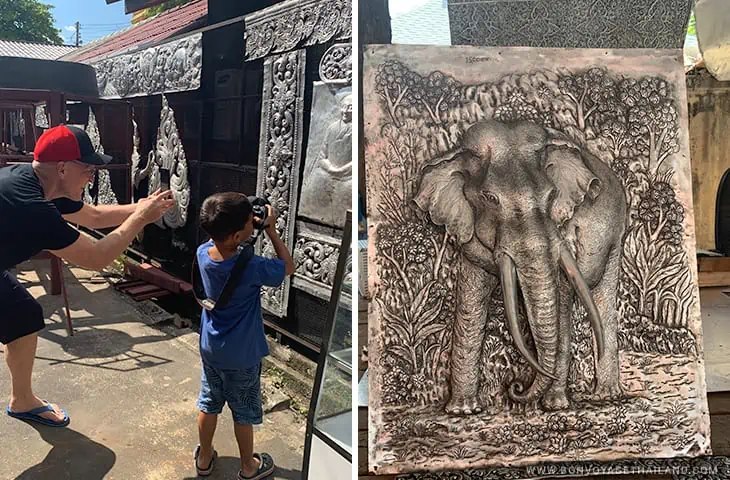 Unlock the secrets of Chiang Mai's timeless beauty
Visit the stunning silver temple Wat Sri Suphan and don't miss the opportunity to experience the beauty and wonder of Wat Sri Suphan on your next trip to the temples of Chiang Mai. Book your visit today and take home a memory that will stay with you for a lifetime. Your journey to enlightenment begins now!
Other Chiang Mai's Popular Temples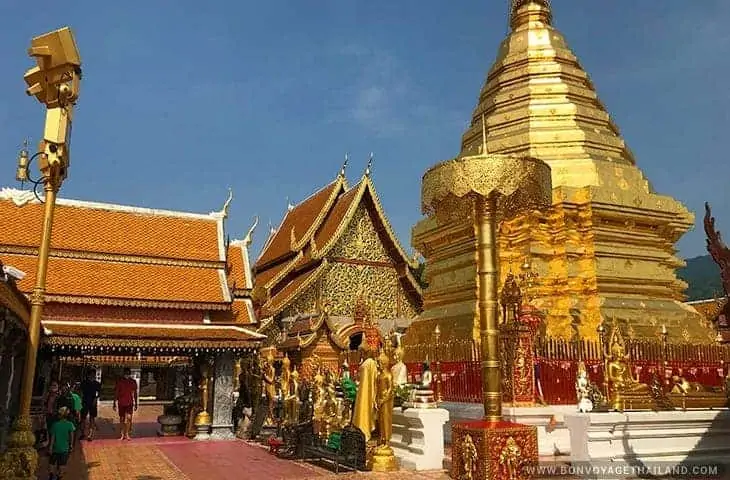 Wat Phra That Doi Suthep Temple
Lcated on Doi Suthep Mountain, is one of the most important and sacred temples in Chiang Mai. It's known for its breathtaking view and its golden pagoda.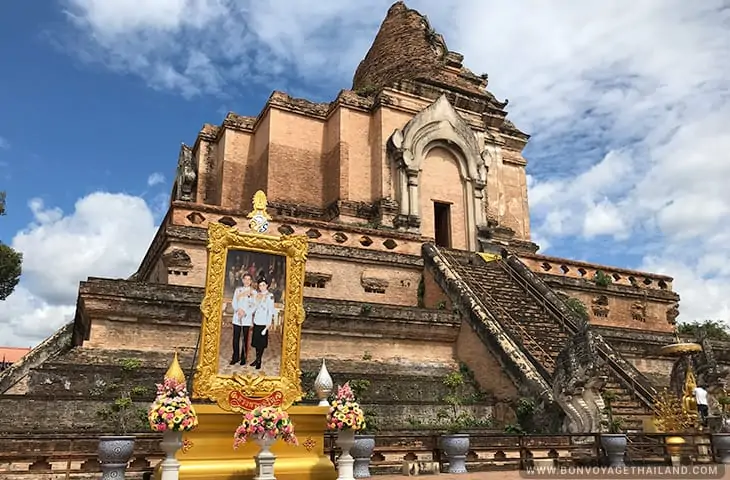 Wat Chedi Luang
This temple was built in 1441 and is located in the old city of Chiang Mai. It's famous for its large chedi.