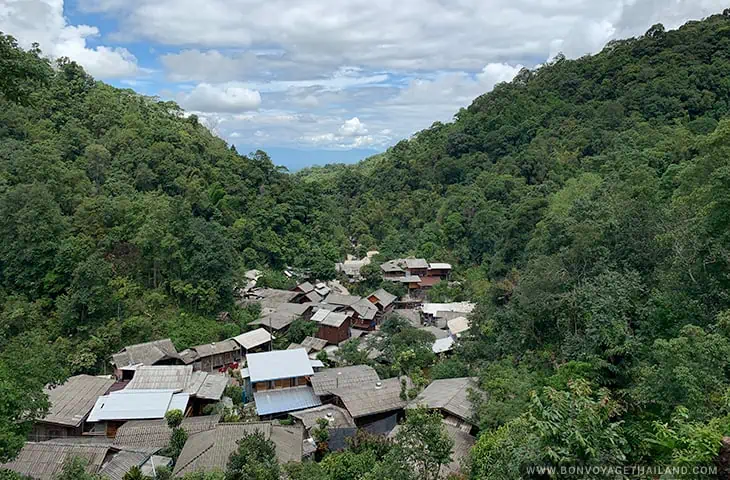 In the lush green mountains of Chiang Mai, Thailand, lies a hidden gem just waiting to be discovered. Mae Kampong Village offers a unique experience of sustainable tourism. In this village you will find a friendly community that has opened its doors to share its centuries-old traditions, tranquil landscapes and charming lodges with the rest of the world. Let us be your local travel agent and show you why Mae Kampong is a must-see, what activities to do, what cafes to visit and how to get there.
Join us on an exciting journey to discover the beauty and charm of Mae Kampong Village!
Origin of the Town and Its Ecotourism Transformation
The origins of Mae Kampong Village date back hundreds of years. It was once a sleepy village nestled in the mountains, unknown to the outside world. The villagers lived a simple life, subsisting on the fruits of their labor in tea and coffee cultivation and the harvest of miang (fermented tea leaves), a local delicacy.
The transformation of Mae Kampong into an ecotourism destination was a gradual process. Recognizing the immense potential of their idyllic surroundings and cultural heritage, the villagers decided to adopt a sustainable approach to tourism development in the 1990s and transformed their home into a center for ecotourism without disturbing the ecological balance.
The result of their efforts is a successful model of community-based tourism that has not compromised the authenticity and natural beauty of the village.
Visitors to Mae Kampong today can experience the perfect blend of tradition and tourism as the village continues to thrive while maintaining its original charm and ecology. The village has succeeded not only in boosting its economy through sustainable tourism but also in externalizing the importance of preserving the environment.
Immersive Homestays and Sustainable Tourism: Experiencing the Heart of Mae Kampong Village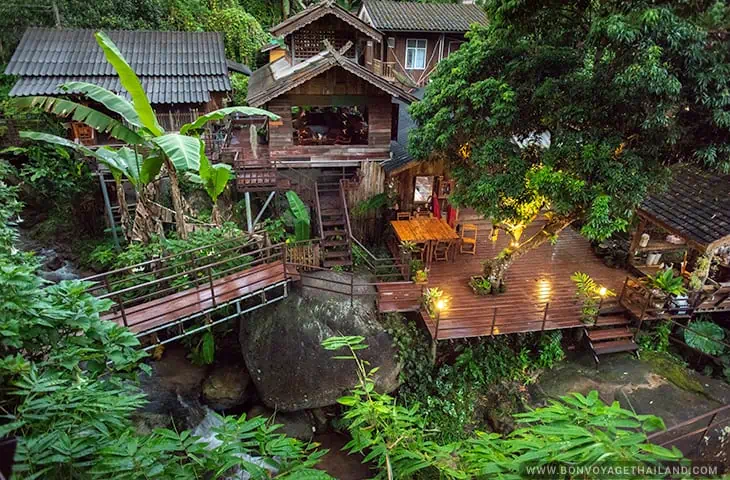 The soulful rhythm of Mae Kampong Village truly comes alive through its community-based, responsible tourism model and homestay accommodations. These interlinked aspects offer a fascinating glimpse into the local lifestyle and allow visitors to experience first-hand the warmth and hospitality of this Thai community.
At the heart of this experience are the host families, who give visitors the opportunity to immerse themselves in traditional Thai rural life, far from Thailand's commercialized tourist destinations. Nestled in the lush countryside of the village, these homestays are charming wooden homes that offer a blend of rustic charm and comfort. They're the cornerstone of sustainability in the village while providing an enriching cultural exchange for tourists and contributing to the local economy and community.
The cost of these homestays varies and generally ranges from 500 to 2000 THB per night, so there is something for every budget. Regardless of the price range, each stay promises an authentic and memorable experience, with every penny spent directly benefiting the local community.
Food is an essential part of the homestay experience. Host families often cook with fresh, organic ingredients grown right in the village, providing a wonderful opportunity to experience authentic northern Thai cuisine. A culinary treat not to be missed is sampling local delicacies such as miang, which are served with love and have a long tradition.
Although most villagers speak the local Thai dialect, the language barrier doesn't detract from the experience of a guest stay. The warm smiles, helpfulness and unspoken camaraderie overcome these barriers. As a guest in a host family in Mae Kampong, you will not only experience tourism, but also engage in a community that lives sustainable and responsible tourism
What To Do In Mae Kampong
Mae Kampong Village offers more than just a quiet getaway; it's a hub of activities that let you experience the culture, beauty and charm of this rural Thai village. From sipping local coffee in cozy cafes to exciting hikes through lush greenery, from the mesmerizing Mae Kampong waterfall to the breathtaking views at Kew Fin lookout, every corner of the village holds an adventure. Enrich your visit with a tour of the Teen Tok Royal Project and take your adventurous spirit to the extreme at The Giant Chiangmai. Immerse yourself in the diverse experiences that await you in Mae Kampong!
Rabeing View Cafe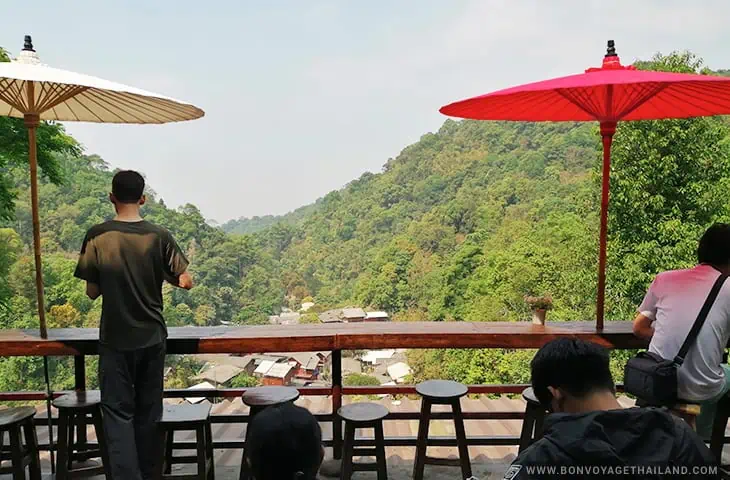 On the green slopes of Mae Kampong village is the charming Rabeing View Cafe. As the name suggests, this local gem offers unparalleled views of the village, making it a popular spot for visitors looking for a quiet place to relax amidst nature.
The café offers a delicious selection of drinks and snacks, ideal for a refreshing break after a walk through the village. The menu includes local teas and coffees, all perfectly prepared. If you love sweet treats, be sure to try the Ichigo Daifuku. This Japanese dessert, a sweet mochi-like treat filled with fresh strawberries, has become a surprising favorite among visitors.
One pro-tip for visiting Rabeing View Cafe: come early, especially in the morning hours. Not only will you escape the crowds, but you'll also be able to enjoy the magical sight of the morning mist slowly lifting to reveal the village in the heart of the mountains. Whether you're an early riser or a sunset lover, Rabeing View Cafe offers a tranquil place to enjoy the beauty of Mae Kampong Village.
Mae Kampong waterfall: a hike into the heart of the nature reserve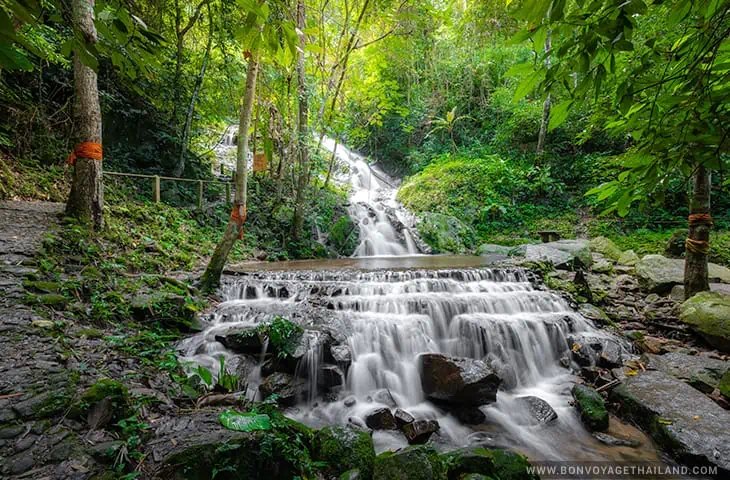 To fully appreciate the breathtaking beauty of nature in Mae Kampong, a hike to the majestic Mae Kampong Waterfall is a must. This waterfall, a jewel hidden amidst the village's lush forest, is just a short, impressive walk from the main village. Nestled in the dense jungle, it plunges down seven rocky steps, each revealing a different facet of this natural spectacle – a real feast for the eyes and a paradise for photography enthusiasts.
As you trek through the moss-covered rocks and ferns, the sound of the waterfall intensifies, mingling with bird songs and leading you into the heart of Mae Kampong's natural wilderness. Here you'll witness the diverse flora and fauna of the region, a delightful compilation of nature's wonders.
The highlight of this hike is the breathtaking sight of water cascading down the rocky steps into a clear, natural pool at the bottom. The pool may seem inviting, especially after the hike, but swimming isn't recommended for safety reasons. However, visitors are welcome to sit on the edge, dip their tired feet in the refreshingly cool water, and bask in the tranquility of the surroundings. It's the perfect place to rest, enjoy the breathtaking view and connect with the pristine beauty of nature.
Mae Kampong Waterfall is more than just a hiking destination; it's an oasis of pristine natural beauty that embodies the enchanting charm of Mae Kampong village. When enjoying this beautiful place, remember to respect the environment and adhere to the 'leave no trace' principle so that this natural wonder remains as pristine and beautiful for future visitors as it was for you.
Kew Fin Viewpoint
If you want to enjoy a panoramic view of the enchanting landscape of Mae Kampong village and beyond, you should definitely visit Kew Fin Viewpoint.
The viewpoint offers breathtaking, unobstructed views of Chiang Mai province. Lush green mountains stretch as far as the eye can see, and on clear days you can make out the silhouettes of distant villages nestled in the rolling hills. The legend of the past adds a unique depth to this picturesque place, making it even more fascinating.
Because of its elevation, it can be quite cool and windy at Kew Fin Viewpoint even in summer. So don't forget to pack warm clothes for your visit. The viewpoint is spectacular at any time of the day, but for an especially memorable experience, try to catch the sunrise or sunset. The colors of dawn and dusk, silhouetted against the sky and reflected off the mountain slopes, make for a fascinating spectacle.
Getting to the Kew Fin Viewpoint can be a bit of a hassle, so be sure to check with your hosts about transportation options. For photography enthusiasts, there are several strategic points at the viewpoint to get the best shots. From sweeping landscape shots to intimate close-ups of the unique flora, Kew Fin Viewpoint is a treasure trove of photo opportunities.
A visit to Kew Fin Viewpoint isn't only a breathtaking visual treat, but also offers the opportunity to learn about the rich history and natural beauty of Mae Kampong village. It's an experience that will leave you with unforgettable memories and stunning photos that you'll treasure for a lifetime.
Teen Tok Royal Project
In the midst of the idyllic village of Mae Kampong lies the Teen Tok Royal Project, an initiative that plays an important role in the development of sustainable agriculture in the region. The project was established with the aim of promoting diversified farming methods, reducing dependence on a single crop, and improving the livelihoods of local farmers.
The project has been dedicated to researching a variety of crops such as shiitake mushrooms, passion fruit, figs, grapes, avocados, mangoes, papayas, mulberries, cymbidiums, pomegranates and gloxinia. Through scientific methods and local knowledge, the project has succeeded in growing these crops in a way that maximizes yield while ensuring sustainable use of natural resources.
One of the highlights of a visit to the Teen Tok Royal Project is the opportunity to sample traditional Thai dishes made from these fresh plants. The on-site restaurant uses the project's own produce to prepare delicious dishes that will tempt your taste buds. Whether it's a salad of fresh avocado and passion fruit or a serving of traditional miang with shiitake mushrooms, a meal here is a delicious culinary experience that combines farm fresh ingredients with authentic Thai flavors.
Visiting the Teen Tok Royal Project is a unique opportunity to learn more about sustainable farming practices and how they contribute to the well-being of the local community. It is also a culinary adventure to try traditional Thai dishes prepared with the freshest ingredients. You do not want to miss out on this!
The Giant Chiangmai
If you're looking for a memorable cafe experience in Mae Kampong, put The Giant Chiangmai on your list. This popular treehouse cafe is located amidst the lush rainforest hills and offers breathtaking views of the surrounding green landscape. Its charming location and whimsical design have earned it a reputation as not only the most popular cafe in the village, but also one of the most sought-after in the entire city.
Giant Chiangmai offers not only picturesque views, but also a delicious selection of drinks and pastries. With the aroma of fresh coffee in the air and a selection of delicious pastries, this cafe is the perfect opportunity to indulge in the simple pleasures of life while basking in the splendor of nature.
The café also offers plenty of Instagram-worthy selfie spots. Whether you're perched on the swinging bridge, cozying up in the cozy tree house, or admiring the view from the spacious terrace, there are always plenty of opportunities for the perfect photo. Seamlessly blending the charm of a rustic treehouse with that of a chic cafe, Giant Chiangmai is a must-visit for anyone visiting Mae Kampong village.
Mae Kampong Village Street Food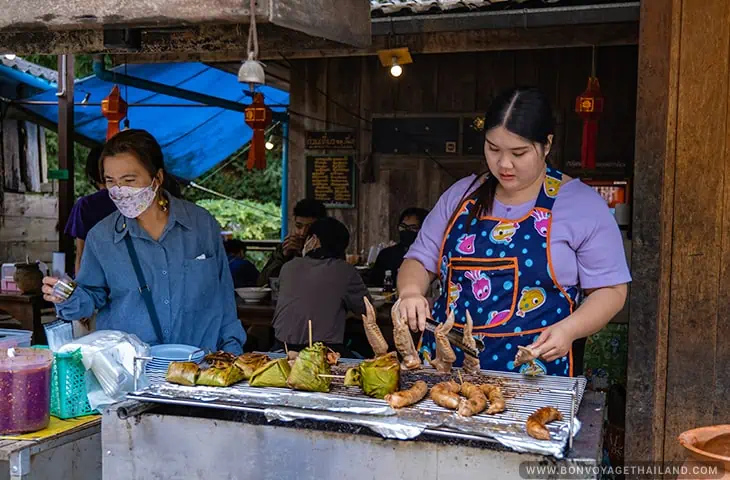 As you enter the heart of Mae Kampong Village, you'll be greeted by an enticing aroma that will lead you to a lively street food scene. As you stroll through the quaint streets, you'll come across a delicious array of Northern Thai staples that will satisfy your cravings.
Street food in Mae Kampong Village is a delicious array of local specialties such as sausage, khao soi (noodles in coconut curry), grilled meats and the always fresh papaya salad. These dishes aren't only tasty, but they also tell the story of the village's culinary heritage and the people's close relationship with the land.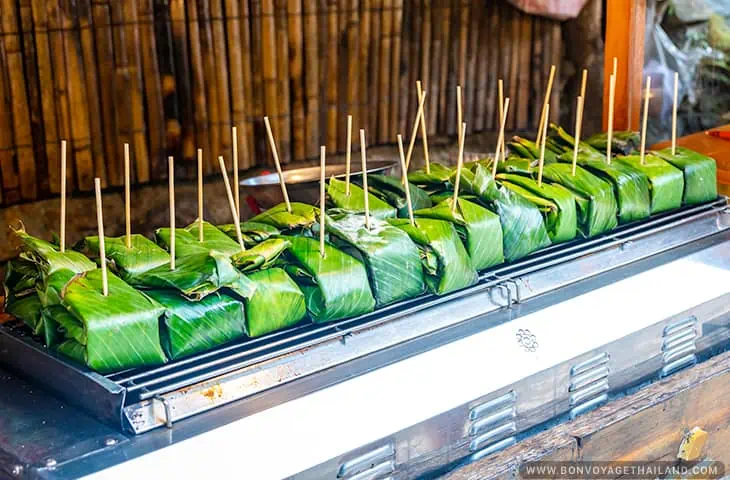 What makes the food here truly special are the authentic flavors that come from locally sourced, organic ingredients. Every dish you taste is a testament to the community's commitment to sustainable agriculture and preservation of the land's natural resources.
Your culinary journey at Mae Kampong Village isn't just about trying new dishes, but also exploring the local food culture. From the bustling street vendors to the warm conversations with locals, every aspect adds depth to your culinary adventure.
Don't forget to leave room for dessert, though! The village's street food scene also offers a variety of traditional Thai sweets and snacks. Savor the taste of sweet sticky rice, munch on crispy banana cakes, or if you're feeling adventurous, try the deep-fried insects – a delicacy that is sure to provide a unique culinary experience!
Street food in Mae Kampong village promises an unforgettable taste of Northern Thai cuisine served in the charming setting of this mountain village. So take a bite, savor the taste and let your taste buds guide you through this culinary paradise.
How to Get to Mae Kampong Village
Getting to the village of Mae Kampong may seem like a daunting task due to its mountainous location, but with the right knowledge, the journey can be as enjoyable as staying in the village itself.
The best way to reach Mae Kampong Village is to hire a driver or drive yourself. This way, you have the freedom and flexibility to explore all the attractions at your own pace. If you're traveling by car, Route 1317 will take you directly to the village. It's a scenic route that offers you impressive views of the Chiang Mai countryside.
Although the drive from Chiang Mai takes about an hour, plan on a longer drive as you may want to stop along the way to admire the scenery. Be prepared for a somewhat strenuous drive, as the road becomes increasingly mountainous and hilly, and there are several single-lane sections.
Why you should visit Mae Kampong Village
If you're looking for an authentic, affordable and unique Thai experience, Mae Kampong Village is the destination for you. This charming village is a hidden gem in the mountains of Chiang Mai and promises a range of activities and attractions that you're sure to remember.
From quaint cafes to awe-inspiring viewpoints, from the alluring Teen Tok Royal Project to the mesmerizing Mae Kampong Waterfall, the village offers a wealth of sights and experiences to discover. As part of community-based tourism, you can participate in the daily lives of villagers, enjoy locally grown coffee and tea at charming cafes, or immerse yourself in nature on hikes through the lush green hills.
A trip to Mae Kampong village is also a surprisingly affordable day trip that fits nicely into a family budget. Even the drive there is packed with attractions that add to its charm. You'll pass picturesque coffee plantations, refreshing hot springs and tranquil temples, all of which make for a delightful side trip.
You also have the freedom to choose your mode of travel. You can hire a driver for a relaxing and stress-free trip or drive yourself for a more customized and flexible experience. So pack your bags and get ready for an unforgettable adventure that perfectly combines nature, culture and hospitality in the heart of the Thai mountains. Mae Kampong Village welcomes you!
Choose Us: Your Compass to Mae Kampong Village
As a local travel agency, we pride ourselves on providing a reliable and knowledgeable guide to travelers who want to go to Mae Kampong Village. Our role goes beyond simply selling tours; we aim to provide an exceptional service that ensures your trip to this hidden gem is as smooth and enjoyable as possible.
With our years of experience and in-depth local knowledge, we'll help you navigate the winding roads to Mae Kampong Village. We provide clear and easy-to-understand directions that include all available transportation options and their costs. Our goal is to ensure that you can reach this charming village with ease and confidence.
We have taken the time to carefully compile a list of the top attractions in Mae Kampong village, from the beautiful Mae Kampong Waterfall to the nice local cafes and coffee shops. We'll let you know what makes each attraction unique and why it's worth adding to your itinerary. Our team does the homework so you can focus on the experience.
But what really sets us apart is our commitment to promoting responsible tourism. We highlight the community-based approach at Mae Kampong Village and help create memorable homestay experiences. In this way, we support the local community and give you the opportunity to experience the authentic Thai lifestyle.
With our expert guidance, we strive to make your trip to Mae Kampong Village a memorable one, filled with enriching experiences and unforgettable sights. Trust us to accompany you on this captivating adventure where you'll discover the charm and beauty of rural Thailand.