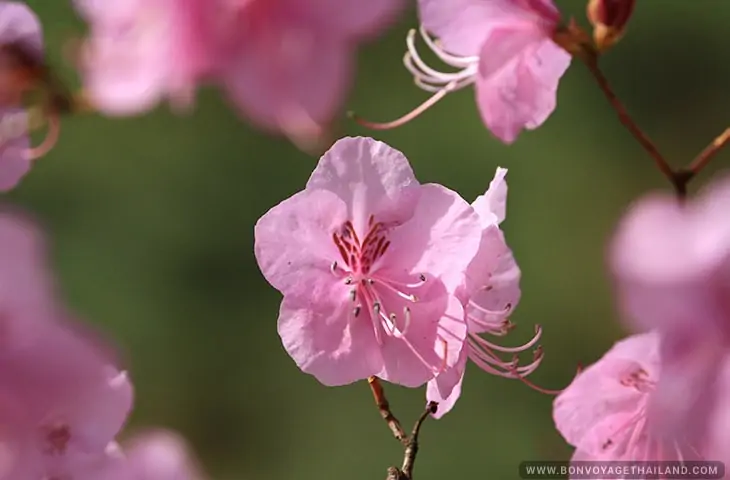 How does waking up to misty mountains, surrounded by blooming cherry blossom trees, with a cup of locally grown coffee and a bowl of fresh strawberries sound to you?
If any of those are up your alley, you'll love the unique and beautiful village of Ban Khun Chang Khian, a hidden mountain paradise tucked away in Doi Suthep. This quaint and quiet Hmong hill tribe village is surrounded by "Thai Sakura" trees, famous for their bright pink flowers.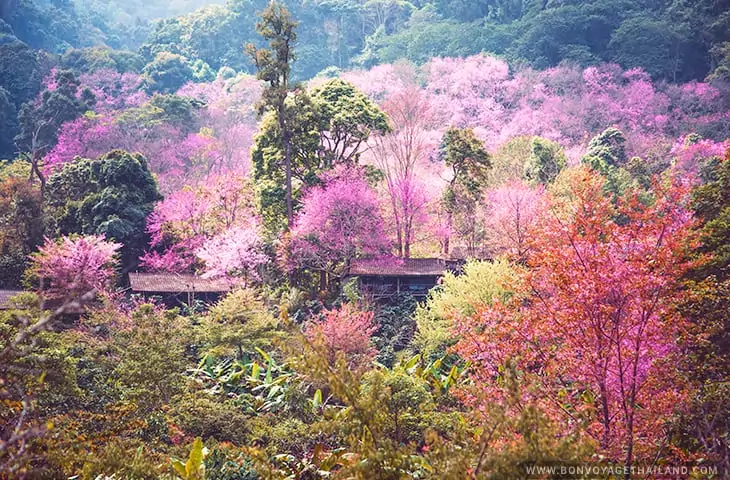 Visitors can stay in the local village, meet and play with Hmong tribes people, eat fresh strawberries and drink coffee grown in nearby hillsides, or just relax and take in the serene and stunning views.
Thailand's Very Own Cherry Blossom Trees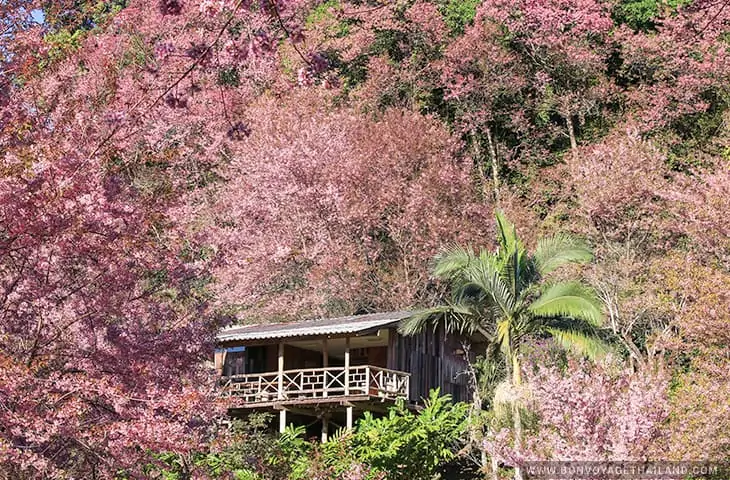 Cherry blossoms are not only found in Japan! These "Thai Sakura" trees can be seen just 20 kilometers from Chiang Mai, in the hill tribe village of Ban Khun Chang Khian. These trees, with their radiant pink flowers, are called "Nang Phaya Sua Krong" in Thai. They bloom in the winter time, generally from December to January (although it's best to ask in town if they're in bloom).
These pretty pink trees are also known as Wild Himalayan cherry trees. They were originally gifted and planted by the Chinese, but have since spread all along the mountainside. The area is now managed by the Highland Agriculture Research Center, associated with the local university.
A Quaint and Serene Hmong Village
The village of Ban Khun Chang Khian itself is simple, quiet, and not too touristy. It contains several rustic houses, shops selling local berries and gifts, and a cute little coffee shop. Coffee is grown right in the hills nearby. Visitors can stay overnight in local shelters, which are simple and rustic but comfortable. Housing books up quickly during the winter, so grab yours in advance! You can even bring and set up a tent in the camping areas, if you wish.
While you're there, hike around and explore the surrounding mountains of Doi Suthep and Doi Pui. As you walk around, you will notice agricultural fields where the local coffee is grown. You can buy fresh local strawberries and villager-made handicrafts at the shops. And most importantly, you can relax in this serene space and take in all the blooming scenery!
Best time to visit the Cherry Blossom in Chiang Mai
The best time to visit is, of course, when these trees are in bloom from December to January. But the serene village and it's beautiful surrounding area can be seen all year around. Why go all the way to Japan when you can see these world-famous cherry blossom trees right outside of Chiang Mai?
The park is open from 6:00 am to 8:00 pm, and admission is free. You can also book a tour that includes other nearby sites. Getting to the village is simple, but a bit of a journey. It's about a 30-40 minute trip from the city center. It's possible to take a motorbike here, but the roads are mostly unpaved and traffic is heavy — this is not recommended unless you are an experienced driver.