Wondering what to do in Chiang Mai during the evening? This city is filled with unique activities but some of the most memorable things to do can be found once the sun goes down. In fact, for such a small city in northern Thailand, Chiang Mai has a surprisingly good nightlife! The city stays awake until nearly midnight every night (and sometimes later) with a great selection of dining options, bars, music venues, and even family-friendly activities.
Shopping at a Night Market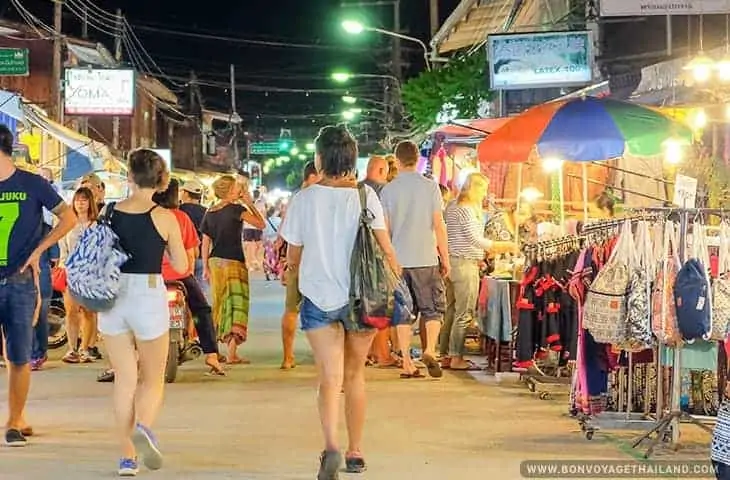 Every day after 5 PM, the Chiang Mai Night Bazaar and adjacent Anusarn Market come alive. You'll see stalls popping up and local vendors selling just about anything from kitschy key chains and Singha T-shirts to elaborate wood carvings and handmade purses. Plus, there's plenty of food! The market gets lively starting around 6 PM and stays open until roughly 11 PM. If you're in town on a Sunday, then don't miss the weekly Sunday Night Walking Street. It's a longtime favorite among both locals and tourists and can be found along Ratchadamnoen Road in the center of the Old City.
Eat Like A Local on a Food Tour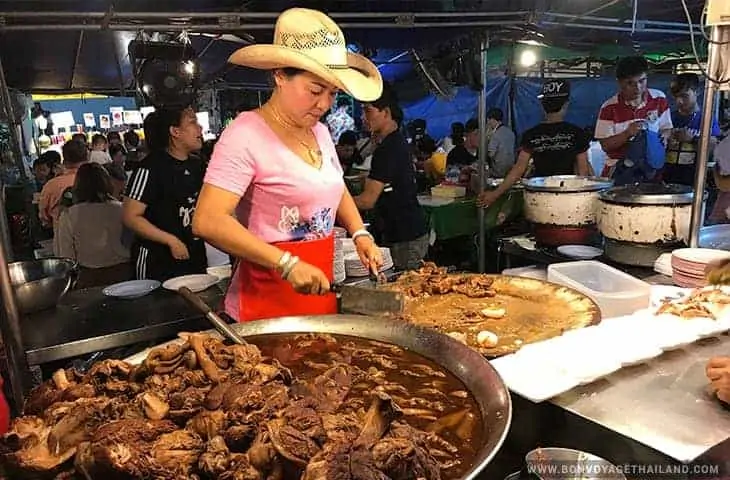 Chiang Mai is known far and wide as a haven for foodies, and an evening street food tour is the perfect way to discover why. Experience the city's culinary wonders from a new perspective, tasting some of the city's most famous dishes at the food markets and food stalls favored by locals. An English-speaking guide will show you where, what and how to eat, and even show you how to order your future favorite Thai food.
See the city's best food markets transform at night into bustling hubs serving up Northern Thailand delicacies. Try Thai staples with a Chiang Mai twist, Northern specialties found nowhere else, scrumptious snacks and delectable desserts. Along the way, walk through historic neighborhoods and backpacker districts and past old shops and glowing golden temples. The cultural element is a perfect addition to this culinary whirlwind, and will help keep your appetite up – you'll need it!
Experience a Traditional Khantoke Dinner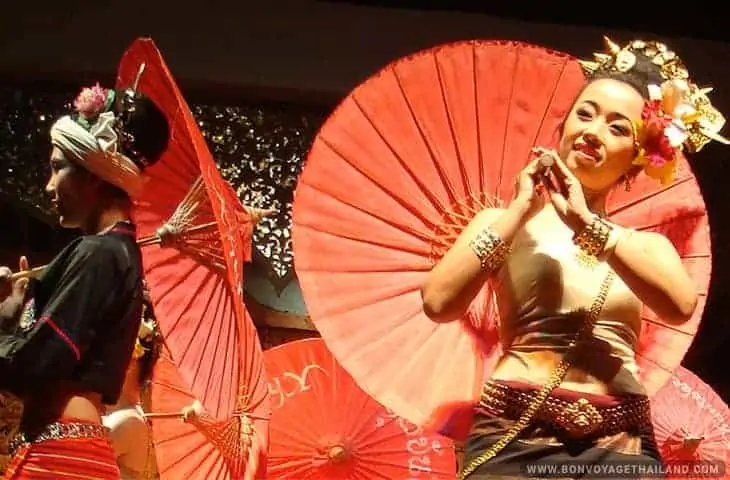 Part show, part dinner, part cultural celebration, Chiang Mai's traditional Khantoke dinner is a specialty of northern Thailand and an experience you'll never forget. Step back into time as you sit on the floor and are served an array of northern Thai delicacies like naam prik ong (a tasty dip made from tomatoes, roasted chilies, and minced pork) and gaeng hung lay (a rich curry with succulent pork belly). Sample the delicious dishes as you enjoy the show of traditional dances and energetic drumming and get to know Chiang Mai's culture just a little bit better. Buy your tickets for the Khantoke dinner guarantee your seat.
Be Captivated by a Ladyboy Cabaret Show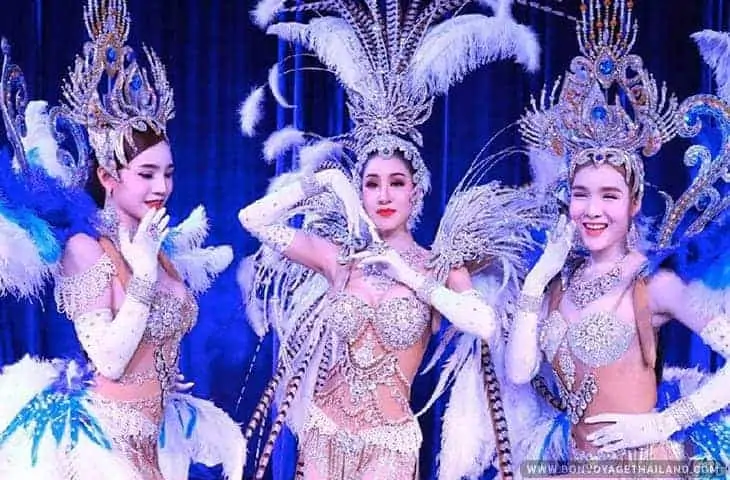 No trip to Thailand is complete without a cabaret show. Prepare to be dazzled and awed by Chiang Mai's best and brightest entertainers, enchanting masters of music, dance, and comedy dressed in beautiful and elaborate costumes.
Witness Chiang Mai's biggest cabaret show at The Miracle Cabaret, a spectacular showcase of more than 200 performers in a theater that can seat more than 450 people. The Miracle Cabaret show is a display of modern and traditional performance art, combining musical elements from cultures all over the world.
The Siam Dragon Cabaret is another exciting option. Watch unbelievably talented resident performers sing, dance, and act out a brilliant show, complete with both modern and regional styles that highlight the unique beauty of Northern Thailand.
Both cabaret shows feature professional light and sound, gorgeous stage design, and the most talented performers in the city!
Wat Phra That Doi Suthep Temple at Night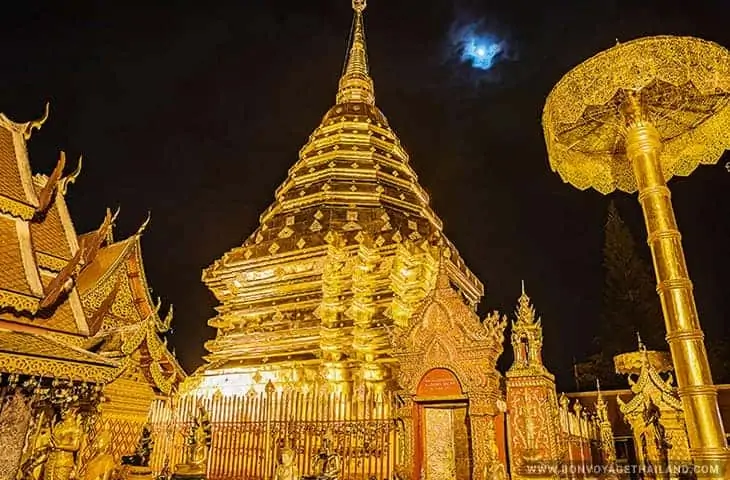 Climb into the sky while the sun sets behind the horizon with an evening trip to Wat Phra That Doi Suthep, one of the most important Buddhist temples in Thailand. This sprawling temple is situated at the top of Doi Suthep, the mountain for which it is named. Climb the 306 tile steps guarded by naga dragons and be rewarded with a panoramic view of Chiang Mai city below.
You can come at any time of day to explore the temple itself, decorated with statues, gardens, murals, and Buddhist relics. But the very best time to come is in the late afternoon or evening, during "golden hour" when the sun sinks down behind the mountains. Watch the world transform as bright daylight shifts into soft gold hues, and the city below twinkles slowly into night lights.
See the Doi Suthep Temple at night
Watch a Muay Thai Fight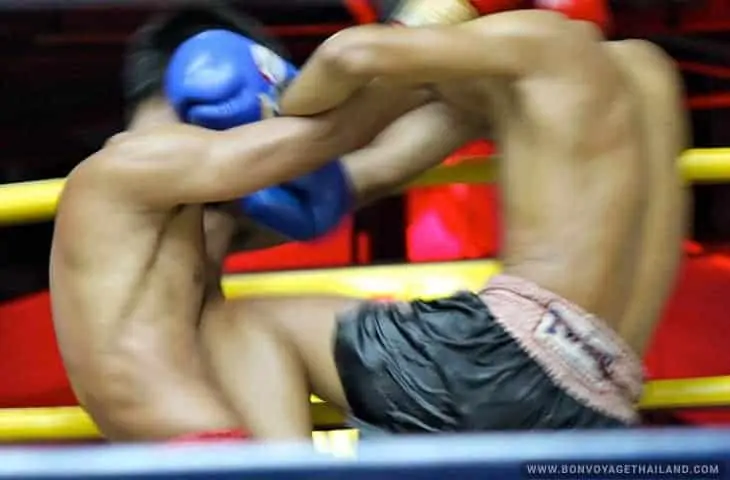 Thailand's national sport is known as the 'Dance of the eight limbs' as both fighters use their arms and legs to swing, strike, punch, and kick at their opponent. Fights run throughout the week at different stadiums around town and are always entertaining, especially if it's your first time witnessing this unique form of combat.
Watch the fight from your King VIP seat. See the beauty and danger together with the trained fighters of Thailand – though you may see a local take on a westerner. Every bout is an exciting one! You can even place bets on each round if you are in a betting mood.
There are alcoholic beverages available at the bars within the stadium. And if you need a cab or tuk tuk to get back to your hotel, you can easily find one after the night concludes in front of the stadium. The night outing lasts from 9 until around midnight.
Intrigued? Get your Muay Thai tickets now for the latest show.
Listen to Live Music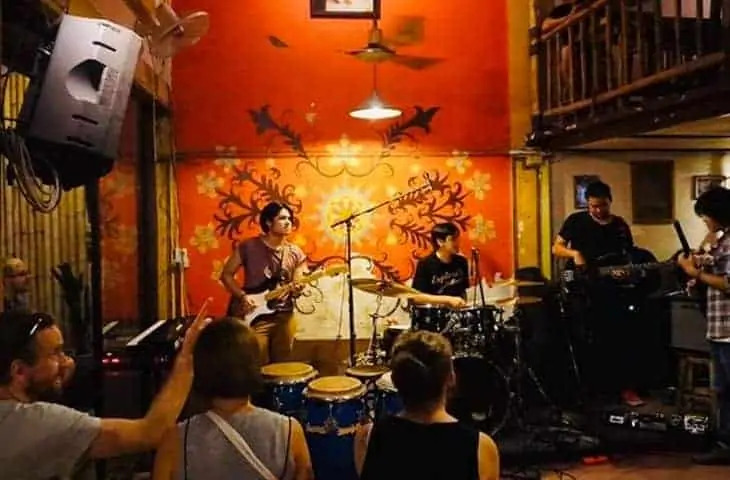 Although there is live music at many venues throughout the city, you can count on Boy Blues Band in the Night Bazaar and the Jazz Bar near Chang Phuak Gate to play every evening. While the musician's jam, mingle with a unique mix of locals, expats, backpackers, and students. The music usually starts around 9 PM, but we recommend getting there a little early if you want to snag a seat.
Website: www.facebook.com/northgate.jazzcoop
GPS Location: 18.7952° N, 98.9870° E
Address: 91/1-2 Sri Poom Road, Si Phum, Mueang Chiang Mai, Chiang Mai 50200
Wander Through the Nimmanhaemin Neighborhood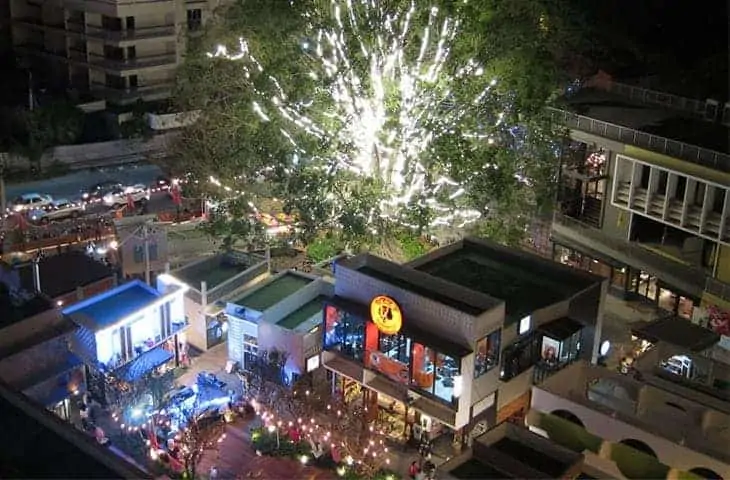 Chiang Mai's most trendy neighborhood is situated around Nimmanhaemin Road on the west side of town. It's chock full of small cafés, restaurants, boutiques, and bars. Whether you're looking for a crazy night out or simply a hip place to grab a bite to eat, you'll find something to suit your tastes and fill your stomach. Simply meander down the street and through the surrounding sois to find something that catches your eye!
GPS Location: 18.8007° N, 98.9676° E
Address: Nimmanhaemin Road, Suthep, Mueang Chiang Mai, Chiang Mai 50200
Enjoy a Sundowner at a Rooftop Bar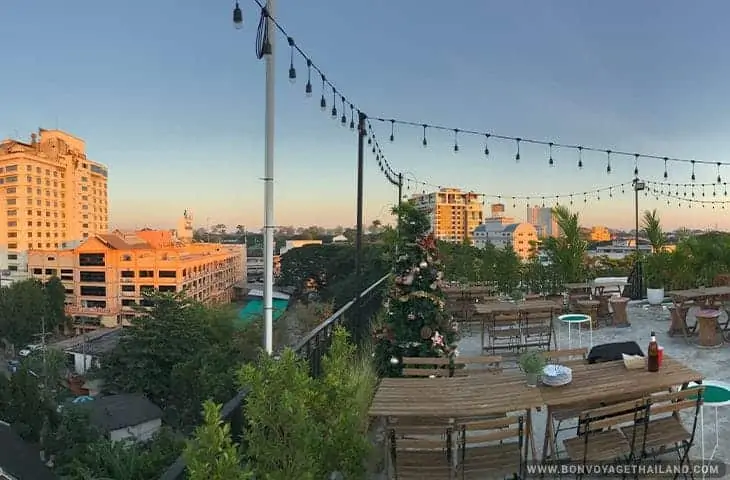 Some of the city's high-rise buildings have outdoor lounges where you can sip on cocktails while watching the sunset. If you're looking for a hip but casual bar, check out Woods. If you want somewhere classy that serves gourmet cocktails, we recommend going to Rise Rooftop Bar at Akyra Manor or Myst MAYA.
GPS Location: 18.7973° N, 98.9694° E
Address: 22/2 Nimmanhaemin Road Soi 9, Suthep, Mueang Chiang Mai, Chiang Mai 50200
Website: www.facebook.com/MystMAYA
GPS Location: 18.8024° N, 98.9673° E
Address: 55 Moo 5 5th Floor MAYA, Huay Kaew Road, Chang Phuak, Mueang Chiang Mai, Chiang Mai 50300
Enjoy a Dinner Cruise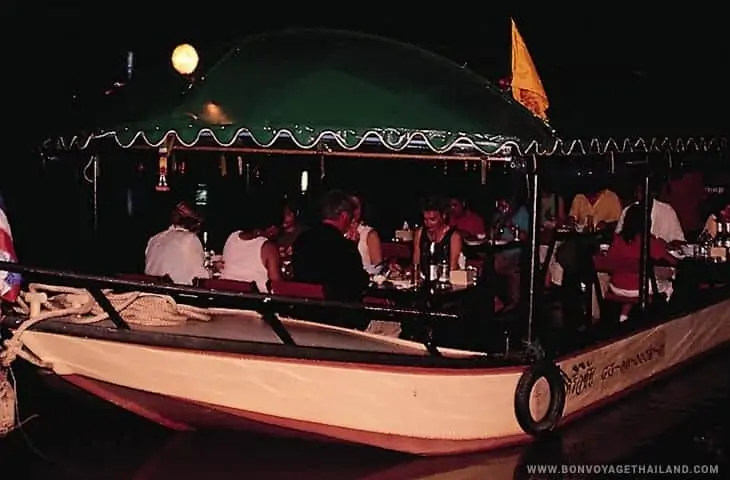 East of Chiang Mai's Old City area is the Ping River, home to many riverside bars and restaurants. Although eating dinner at one of these popular establishments is fun any time you go, you can't beat the experience of floating down the river on an intimate dinner cruise while enjoying traditional Thai dishes and excellent company. Seats are limited, so you'll want to book your dinner cruise tickets in advance.
Visit the Chiang Mai Night Safari
Come face-to-face with wild animals such as exotic animals such as fierce white tigers and lions and friendly zebra and deer at the Chiang Mai Night Safari. This tour is available every evening with complimentary pickup from your hotel around 6 PM. It's fantastic fun for the whole family, especially young animal lovers.
If you enjoyed this article, share it with your friends and colleagues!
Related Article: Things To Do In Chiang Mai