Think about a trip to Thailand, and pagodas might be one of the first images that come to mind. There are so many temples to visit in Southeast Asia that some tourists give up on them altogether. But there are a few essential temples in the region that every traveler absolutely must visit, and Wat Umong in Chiang Mai Thailand is at the top of that list.
Wat Umong (Wat Umong Suan Puthatham) sits at the foot of the Doi Suthep mountain range, on the outskirts of the city of Chiang Mai. Nestled in the greenery of the mountain, the temple is the only forest temple in the Chiang Mai region. Its balance of nature and ancient Buddhist temple architecture makes it the perfect day-trip for anyone looking to escape the busy city.
Tunnels, Tree-Lined Paths, and Turtles
Wat Umong Chiang Mai is known for its unusual interior design. As you enter the pagoda, you will notice the three unique tunnels built inside. Legend has it that these were constructed in the 16th century to prevent a visionary monk from wandering around in the forest. The tunnels are the primary reason for the temples' extraordinary silence. They are designed to prevent sound from entering, like the noise made by visitors.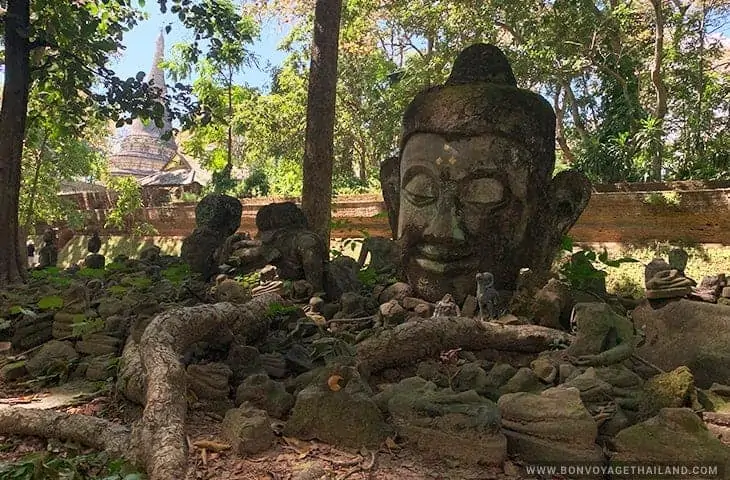 A Buddha statue with flowers and various other ornaments sits at the end of each tunnel, where visitors can kneel and pay their respects. Because of centuries of renovations and restorations, a journey through Wat Umong feels like gliding through Thai Buddhist history.
At the top of the hill is a large, round, bell-shaped chedi, a Lanna-style stupa. A stupa typically contains Buddha relics, and its structural design symbolizes his enlightenment. The monks will circle the stupa while reciting prayers in a clockwise direction.
The carefully tree-lined gardens outside the temple offer peace and solitude to visitors searching for a quiet place. Stroll the pathways past Buddhist proverbs written in Thai and English, dangling from overhead tree branches. An islet sits in the middle of an enormous lake in a corner of Wat Umong, accessible by bridge. A vendor on the islet sells food so visitors can bring themselves good luck by feeding the fish. Turtles also live in the lake, so keep an eye out – to see one is good luck!
Wat Umong is Living History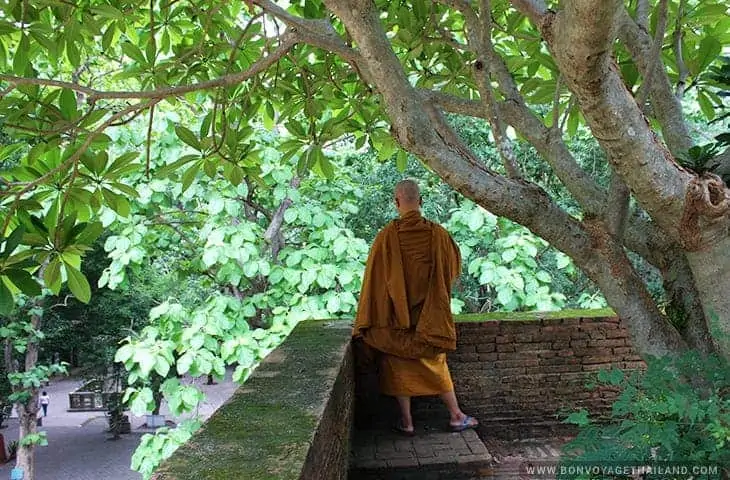 First built in 1297 by King Manglai, Wat Umong is still a fully functioning pagoda despite its age. Visitors here are a healthy mix of curious tourists and nearby families visiting for meditation and worship. Monks live at the pagoda and can be seen attending daily chores or scurrying between buildings. Despite its popularity, Wat Umong never feels crowded and there's always room for your visit. Those keen on a multi-day meditation retreat can arrange a stay at Wat Umong with the pagoda's administrators.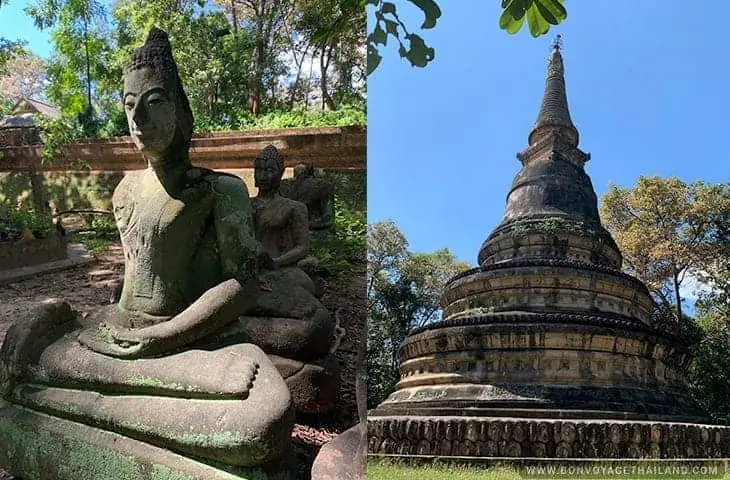 For visitors with a few days in Chiang Mai, Wat Umong is an ideal option for a few hours of therapeutic exploration in living cultural heritage. Toilets are available on location and food options are only a few streets away. When planning your trip to Wat Umong, be sure it isn't confused with the similarly named Wat Umong Maha Thera Chan located near the old city moat.
Temples in the Area
Learn more about Chiang Mai Temples
Tours Including Wat Umong Chiang Mai