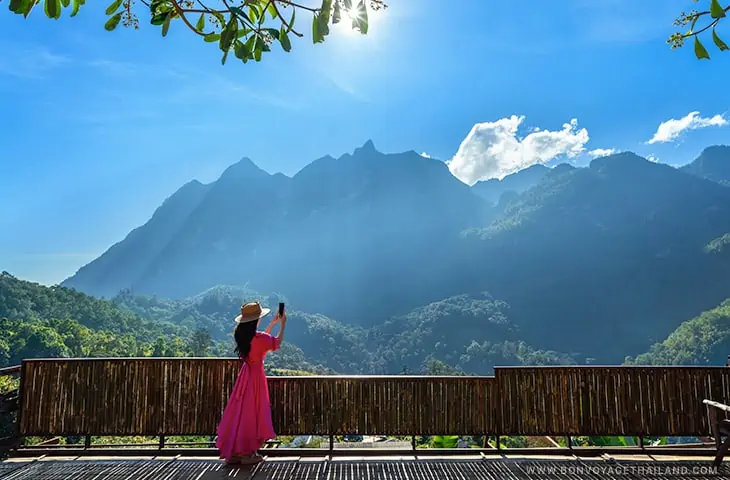 Chiang Dao is a great starting point into one of the more mountainous regions of northern Thailand. The district offers a variety of natural wonders to explore, including clifftops, waterfalls, caves, and jungles, as well as some minimalist bars and coffee shops for downtime. Chiang Dao is home to Lisu and Karen hill tribe village, farming communities, and Thai urbanites who escaped the city to live closer to nature in Chiang Dao. Chiang Dao offers visitors a secluded Chiang Mai, Thailand experience with a colorful touch of northern local life.
Chiang Mai's Doi Chiang Dao has been recognized as a new biosphere reserve by UNESCO. This biosphere reserve covers an area of 85,909.04 hectares. It's the only place in Thailand to have sub-alpine vegetation. Many rare, threatened or endangered species live there. These include the lar gibbon, the leaf monkey, the Chinese goral, the tiger, and the clouded leopard.
Chiang Dao Cave is an impressive natural wonder. It's located in the mountains of northern Thailand. Visitors come here to see the beautiful scenery and take photos. There are also some interesting facts about this place.
Farming with the traditional gravity-based irrigation system called Maung Fai is a remarkable act in this place, where the practices and knowledge of local people have been preserved for almost 800 years.
Chiang Dao Cave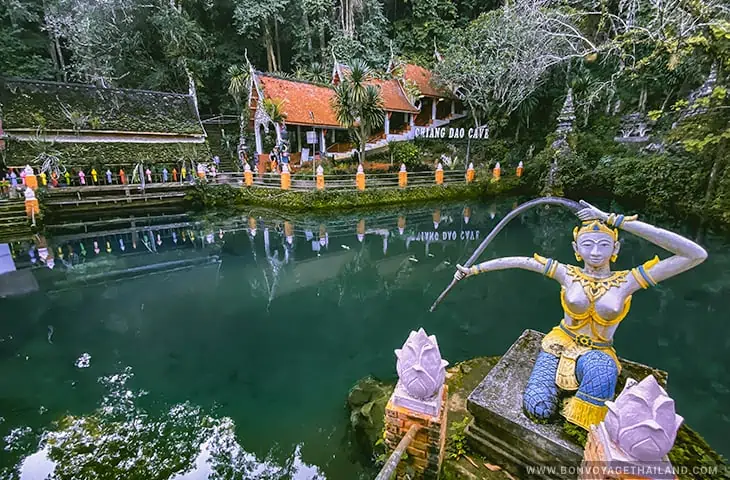 Chiang Dao Cave is the most popular tourist destination in the district and attracts location, attracting day-trip visitors out of Chiang Mai. The cave has two different routes that twist and turn through beautiful rock formations. The first route is more visitor-friendly with a well-lit that only extends 200 meters into the cave. The second route is for the more adventurous visitors who like a cave with a challenge! On this 800 meter route, you'll need a guide to lead you through the darkness with the help of a gas lamp! A guide is required because route 2 contains darkness as well as a more complex path with hidden drops.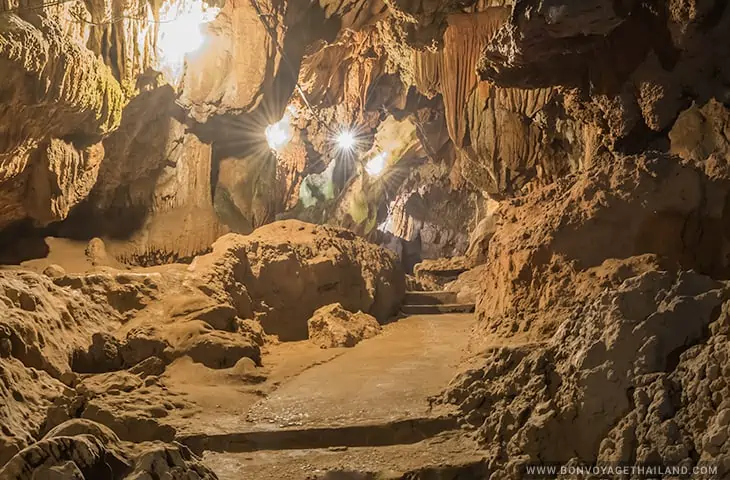 Many Thai legends surround the Chiang Dao cave. One legend says that visitors who try to steal their way out of the cave get lost in the tunnels and cannot leave. It's best to leave this legend untested!
Pha Daeng National Park
Pha Daeng National Park is ideal for those who want to explore the border of northern Thailand. Pha Daeng is one of Thailand's larger national parks, stretching over 1,225 square kilometers to the Myanmar border. A series of towering mountains reach heights of up to 1,794 meters above sea level. Pha Daeng National Park is home to a unique ecosystem with diverse flora and fauna. Take a trekking route through the Doi Khan Fah Mountains, passing waterfalls, rolling limestone hills, and the sights and smells of almost untouched nature.
Doi Luang Chiang Dao Mountain
Doi Luang Chiang Dao is an excellent place for a day hike. Doi Luang Chiang Dao is the third highest mountain in Thailand and has an altitude of 2,275 meters. There are two different routes to the summit, which differ in length and equipment. For one, you'll need a rented vehicle to take you to the starting point. The other offers a great place to stop at night. Consider which route best suits you and your group.
There are a few things you need to know before you start your trek to Doi Luang Chiang Dao.

The hiking trails to Doi Luang Chiang Dao will only be open from December 2, 2021, to February 15, 2022. Visit https://www.chiangdao-biosphere.com/ to book in advance.
The daily number of visitors is limited to 100 people.
Camping is the only way to spend the night.
Water and electricity aren't available on the mountain.
There are no stores or places to get basic necessities on Doi Luang Chiang Dao.
A guide is needed for the hike
In order to hike, tourists need to train 1 day in advance to prepare themselves physically and mentally.
Before you visit Doi Luang Chiang Dao, you should learn about the rules and regulations. You can choose between two training sessions in Mae Na Subdistrict Municipality, District Chiang Dao Chiang Mai: from 09:00 to 12:00 and from 13:00 to 16:00.
Kayaking
Kayaking is one of the most popular sports there. Paddlers can take a trip on the river, where they can see the beautiful scenery of mountains and forests.
Yang Pu To Hot Spring Hot Springs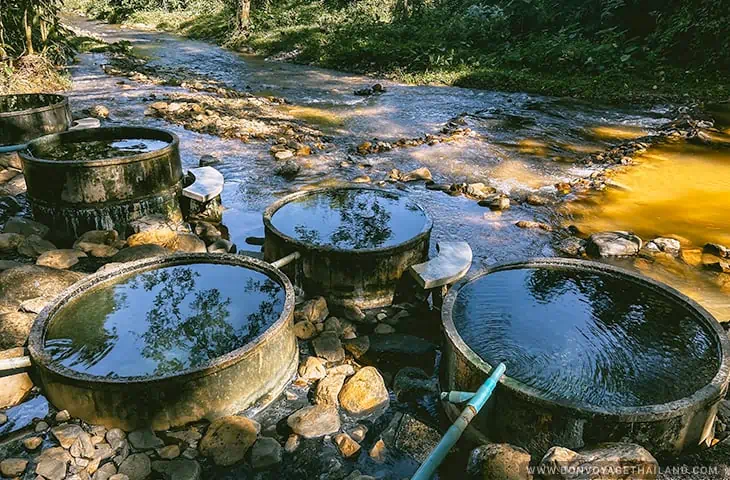 These hot springs are very popular with the locals and can be used by all free of charge. They're located only a few kilometers from Ban Tham. There's a stream next to the hot springs. The hot springs are equipped with tubs for bathing. Simple pipes lead the hot mountain water to these tubs. The temperature varies from tub to tub as the water flows between the tubs. Enjoy a relaxing bath in the tubs of the hot springs.
Pong Arng Hot Springs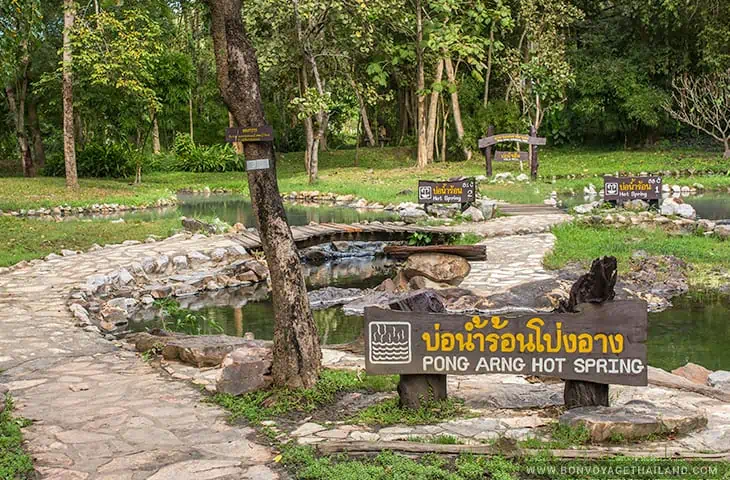 Natural hot springs bring relief to aching muscles after a hard trek through the mountains of Chiang Dao or even the normal stress of life on the road. The hot springs are located outdoors and are ideal for small groups to relax for a few hours. There are two pools with a temperature of 58°C and 52°C respectively. They're quite hot for a dip in the summer (although they do help the rest of the air feel cooler!), but they're best for the rainy season when temperatures are cooler.
Sri Sangwan Waterfalls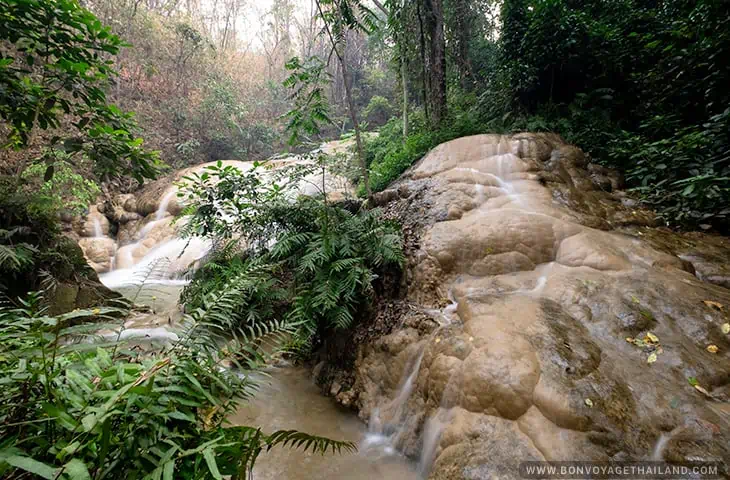 If the Pong Arng Hot Springs seem too … hot, Sri Sangwan is a better choice for you. A three-tiered waterfall sits within the flora of the northern Thai jungle. Flow and depth vary from season to season, but the waterfall rarely dries up completely. No step is off-limits to bathers and each offers a different temperature. Nearby is also a small flower garden where native plant species bloom.
Wat Tham Pha Plong
Wat Tham Pha Plong is informally known as the walking temple. Just a few kilometers from Chiang Dao Cave, this temple is perched on the side of a mountain, at the top of a staircase guarded by 500 Naga snakes. Pay attention to the words of wisdom posted on the trees along the way and allow the words of the Dhamma to light your journey. Look around at the top to see the peaceful forest world all around, and then enter the cave bored into the mountain wall. This is a sacred place where monks have studied and prayed, completely surrounded by nature.
Makhampom Art Space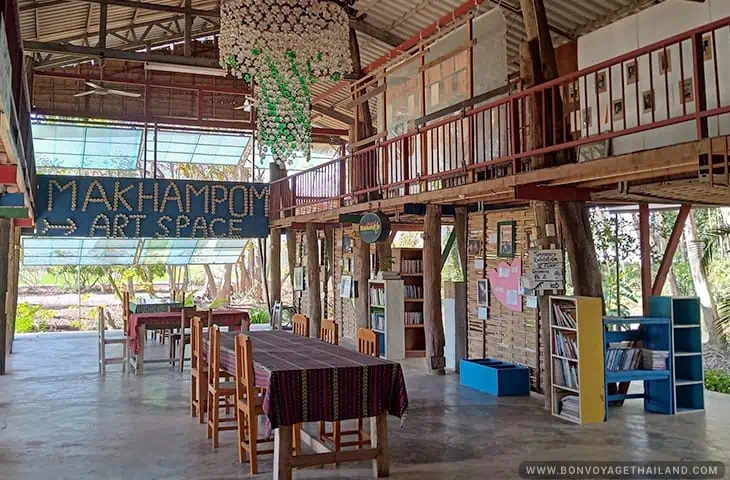 An extension of Chiang Mai's renowned art scene, Makhampom Art Space is a contemporary art studio that hosts exhibitions, performances, and workshops. It was founded in 1981 by a group of artists and activists as a theater group that used performance as an educational tool to explore social issues. Today it's a community space run by local artists, but it's maintained its radical and grassroots character, always rooted in theater, performance, and creative arts. Grab a coffee and check out what's happening here while you're visiting.
Baan Rabiang Dao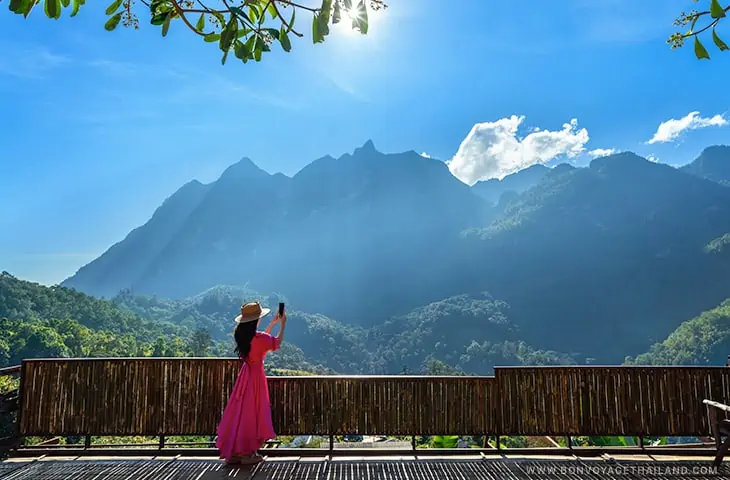 Enjoy the view and take pictures at Baan Rabiang Dao, Chiang Dao District, Chiang Mai Province. From this viewpoint, you can enjoy the view of Doi Luang Chiang Dao. Taking a selfie in front of the mountain while drinking coffee is the highlight.
Mueang Khong
Mueang Khong is located 30 km from the center of Chiang Dao city. Mueang Khong is a small community surrounded by the Chiang Dao mountain range. Here you can stay in a small bamboo hut, eat local food, and go trekking, bamboo rafting, or tubing.

The community still has its own folklore. Mueang Khong is known for its abundance of fish, wild vegetables, and herbs, as the villagers attach great importance to the protection of the forest. The villagers are able to provide for themselves. Several rivers flow through the village, including the Kong River. During the rice-growing season, you'll find rice fields on both sides of the road.
Ban Mae Mae
Ban Mae Mae is located in Chiang Dao district and is a popular destination for those who want to relax and unwind. The nature is still beautiful and complete. The best thing you can do in Ban Mae Mae is to stay here for at least one night. Activities in Ban Mae Mae, Thai massage, and spa treatment are available. There's a tour guide if you want to go hiking. The forest here's quite lush. There are various plants, animals, and flowers here. Discover the way of life around Mae Mae, including the temples, schools, and houses of the Lahu tribe.
How to Get to Chiang Dao from Chiang Mai
By Car or Motorbikes
The Chotana Road leads to Highway 107 the easiest way. Driving takes about an hour. Motorbikes are the best way to get around Chiang Dao.
By Bus
Bus tickets start at 44 Baht. They leave every 30 minutes from Chang Puek Bus station, Chiang Mai to the middle of Chiang Dao town.
Hire a Private Tour Guide
The easiest way to travel to Chiang Dao is with a private tour guide who can arrange everything for you. The cost depends on how many people will join you.
Where to Eat and Coffee Shop
Chiang Dao Nest 1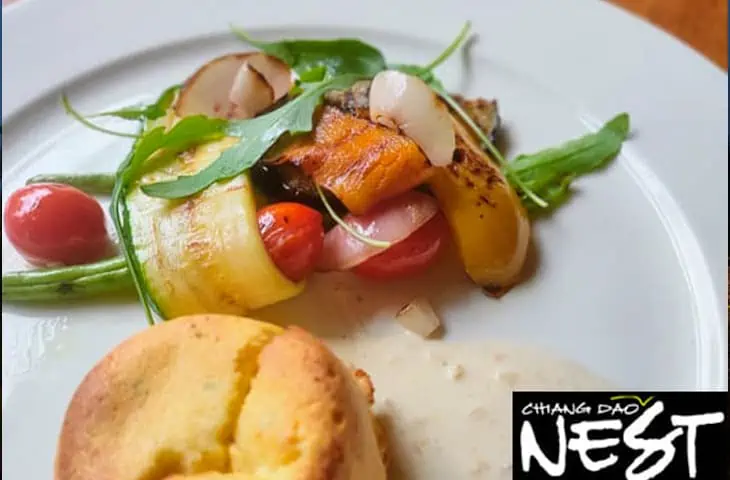 A gourmet restaurant offering European cuisine in the mountains of northern Thailand. The restaurant serves breakfast, lunch, dinner and snacks. It is surrounded by trees and a beautiful garden. You will feel like you are in the jungle when you eat there. The menu changes daily depending on what fresh ingredients they have available.
Facebook Page: https://www.facebook.com/chiangdaonest
Google Map: https://goo.gl/maps/QGobE9KZZvUnbpxZ6
Chiang Dao Nest 2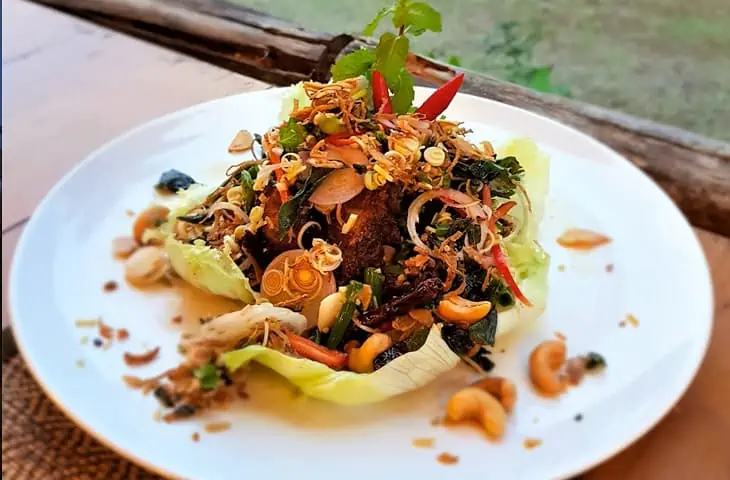 Chiang Dao Nest 2 is owned by the same family as Nest 1. Her sister serves lunch and dinner of Thai cuisine. The Thai dishes she prepares are fresh, tasty, and seasoned with Thai herbs. She also offers vegetarian options.
Facebook Page: https://www.facebook.com/chiangdaonest
Google Map: https://goo.gl/maps/ZrXCx9nHyhDLxw2e7
Chiang Dao Hut Resort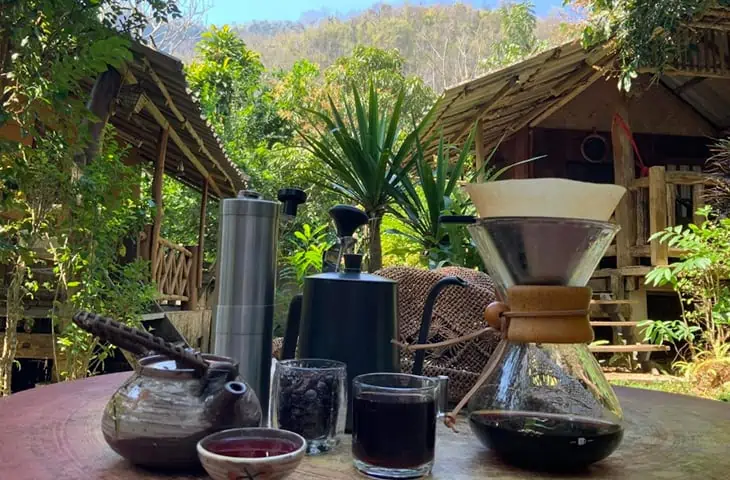 Serves simple Thai dishes, coffee, and desserts.
Facebook Page: https://www.facebook.com/chiangdaohutresort
Map: https://g.page/chiangdaohutresort?share
Aladin Chiang Dao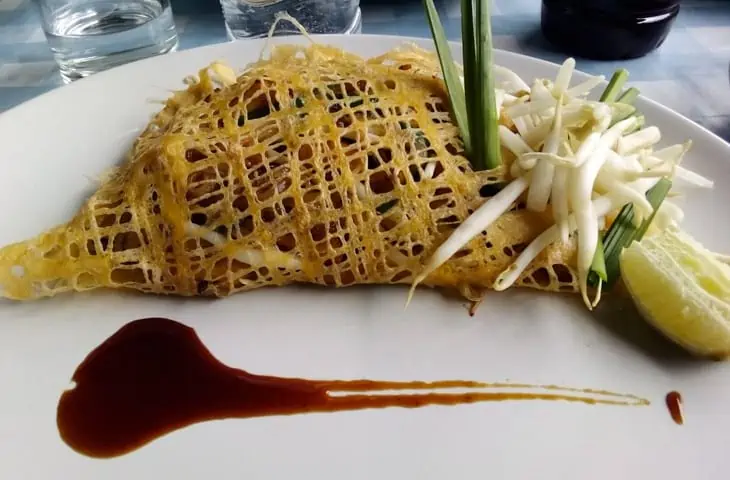 The former chef of a five-star hotel has opened a family restaurant in Chiang Dao serving Pad Thai for 30 baht a dish. It is open between 10:30 am and 5 pm and is closed on Wednesdays. On weekends, the food is usually gone before 2 pm.
Facebook Page: https://www.facebook.com/ChefdoungIntapan
Google Map: https://goo.gl/maps/ibBFgB11FnRxCZfo6
Pornpen Braised Pork Legs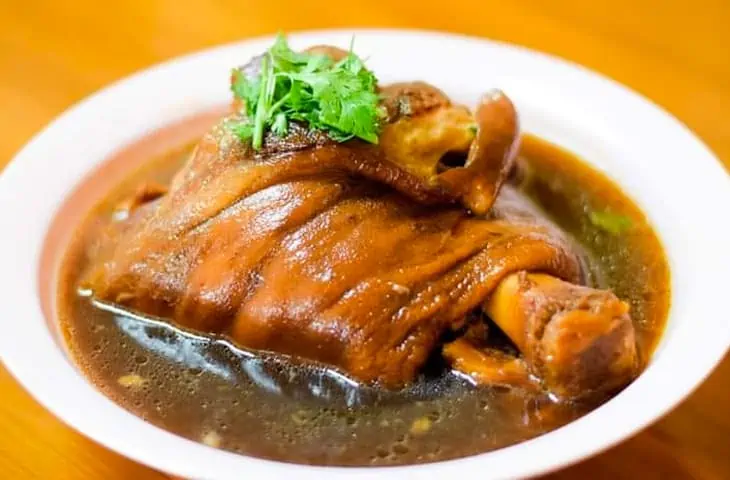 Braised pork leg served with rice or Chinese buns. A variety of Thai dishes are also available. Open from 7 am to 2:30 pm. Prices under 100 baht per dish.
Facebook Page: https://www.facebook.com/pornpenkhamoosavoey
Google Map: https://goo.gl/maps/yzd3kh5DxpkaDQgQ8
Saney Doi Lung Chiang Dao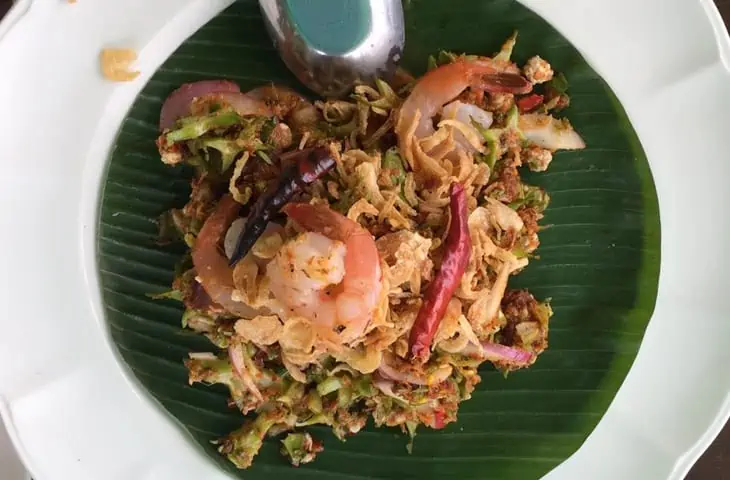 The restaurant serves Thai food and Northern Thai food, with nice decorations and many plants around the pond. A cup of coffee is also available. It is open from 8 AM to 9 PM.
Facebook Page: https://www.facebook.com/saneydoilungchiangdao
Google Map: https://goo.gl/maps/v6opnqM5AMXyVEQ67
Hoklhong Cafe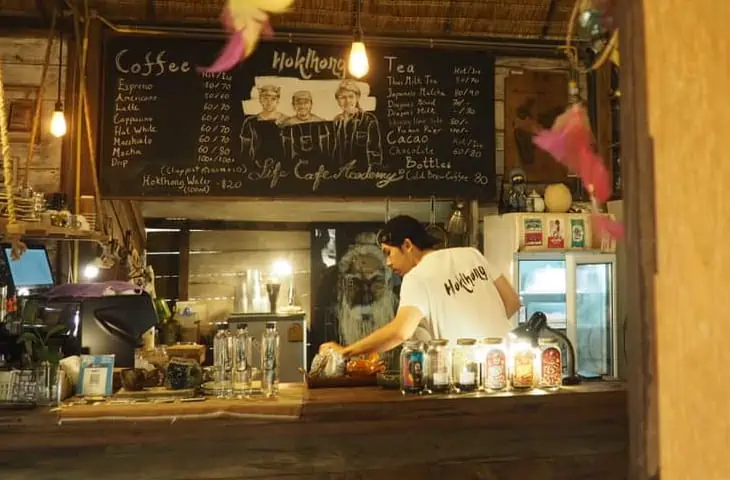 It is located on the main road at the entrance to Chiang Dao. You will receive a very warm welcome at this charming cafe. They also serve excellent coffee and sell some coffee beans that grow in Chiang Dao Mountain. Tea is also available. The homemade cheesecakes are delicious. The cafe is open from 9 am to 5 pm and is closed on Tuesdays during the first and third week of the month.
Facebook Page: https://www.facebook.com/Hoklhong-401206493405812
Google Map: https://goo.gl/maps/9sK2WEr7XU8P45vc7
Suan Bua Chompoo Na Jomkiree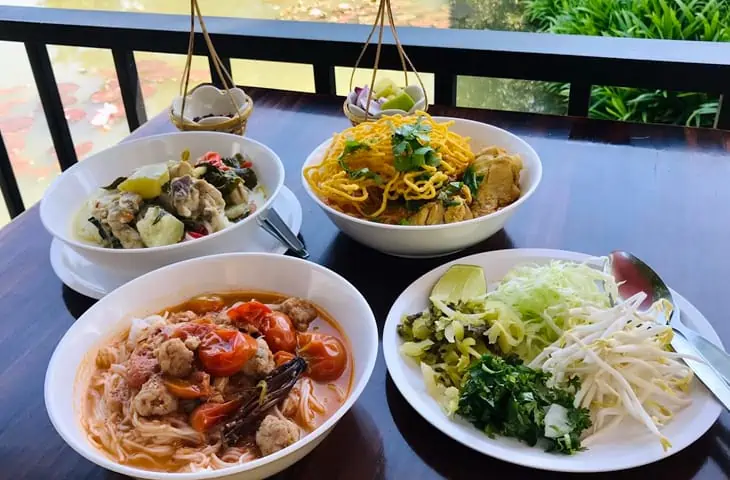 There are organic rose gardens and cafes that sell organic food, flowers, and organic fruits that are beneficial to the body. Find out more about how organic farming works. Cafe is open from 9 AM and 5 PM.
Facebook: https://www.facebook.com/suanbuachompoonajomkiree
Where to Stay in Chiang Dao
There are several resorts and guesthouses in Chiang Dao with beautiful mountain views of the surrounding mountains. Most of them offer rooms with air conditioning and hot water showers.
Chiang Dao Nest 1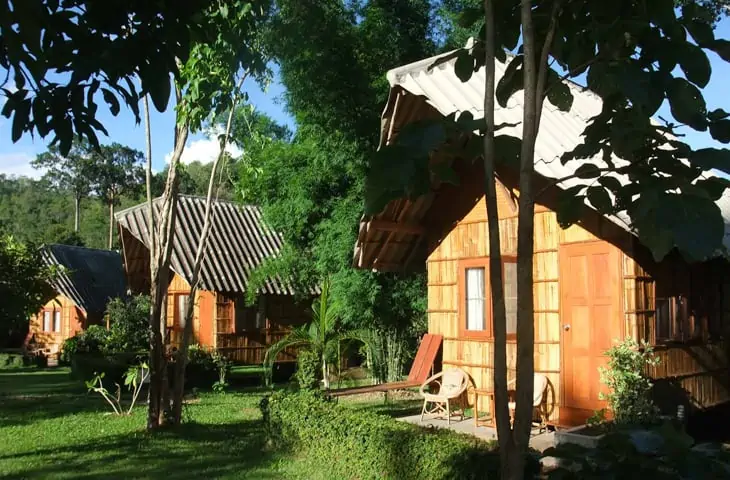 This is one of the most famous hotels in Doi Chiang Dao, nestled in the lush green mountainside. Rooms come with either a fan or air conditioner. Chiang Dao Nest 1 is hidden in the forest of Doi Chiang Dao. Rooms are simple and clean, with Western toilets, hot showers, and a swimming pool. Western food such as pizza, pasta, sandwiches, and burgers are all prepared freshly each day. Breakfast is included in the room rate. The owners are friendly and helpful.
Website: https://www.chiangdaonest.com/
Google Map: https://goo.gl/maps/QGobE9KZZvUnbpxZ6
Chiang Dao Nest 2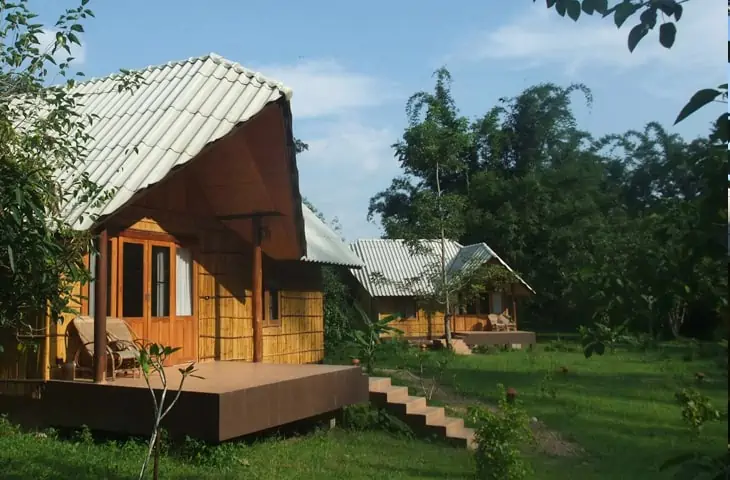 Chiang Dao Nest 2offers a wooden bungalow with a private bathroom, fans, air conditioning, and hot water shower. The restaurant serves traditional Thai dishes.
Website: https://www.chiangdaonest.com/
Google Map: https://goo.gl/maps/ZrXCx9nHyhDLxw2e7
Chiang Dao Hut Resort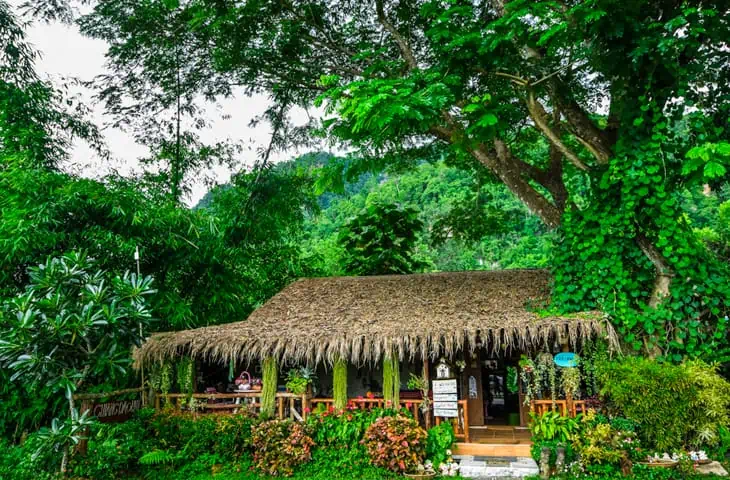 A traditional wooden house with a living room located in Ban Tham. There's also a cafe, bike rental, laundry facilities, and walking distance to Chiang Dao Cave nan Temple.
Check Availability: https://www.agoda.com/partners/partnersearch.aspx?pcs=1&cid=1622076&hid=306092
Google Map: https://g.page/chiangdaohutresort
Tree House Hideaway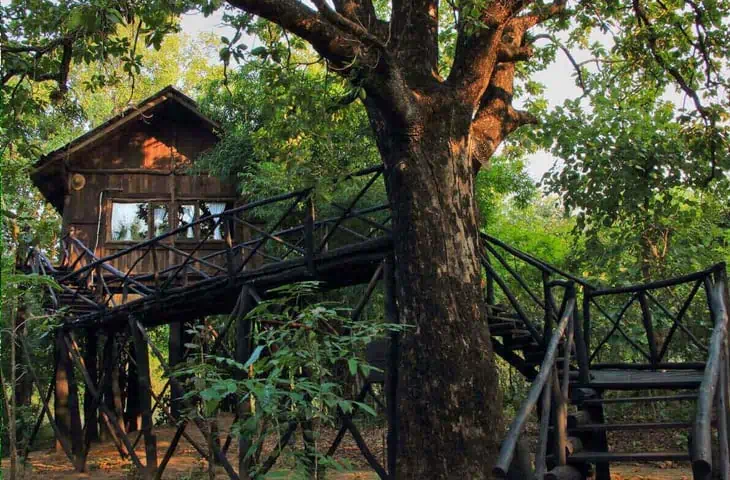 This an accommodation located in a green valley and forest, suitable for those who want to escape from the hustle and bustle of everyday life and live a slow life in a quiet environment. The accommodation consists of a three-story wooden house.
Facebook: https://www.facebook.com/TreeHouseHideaway
Google Map: https://g.page/TreeHouseHideaway
Ban Rabiang Nam Mae Mae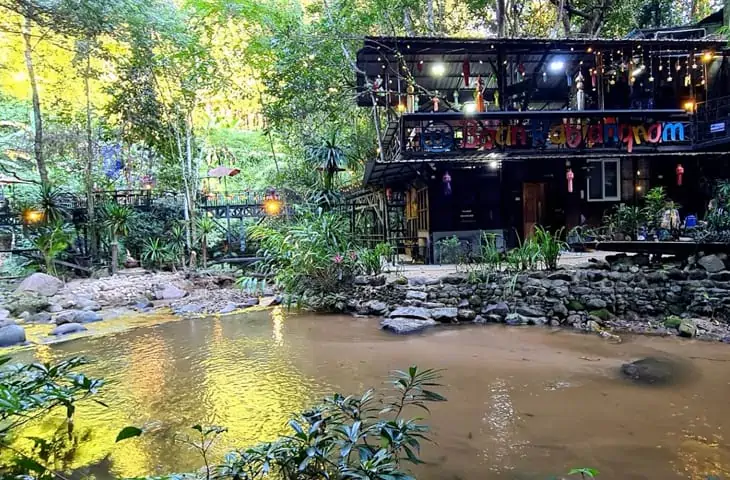 Located along the Ban Mae Mae stream, surrounded by mountains and lush greenery. There are both cottages and rooms here, equipped with all necessary amenities and a private bathroom with hot water. There are also restaurants and cafes. It can be said that a stay here offers nature, atmosphere, and comfort.
Facebook: https://www.facebook.com/Baanrabiangnam/
Google Map: https://goo.gl/maps/MSFXXGH6wwotU7C48
Dong Muang Khong Homestay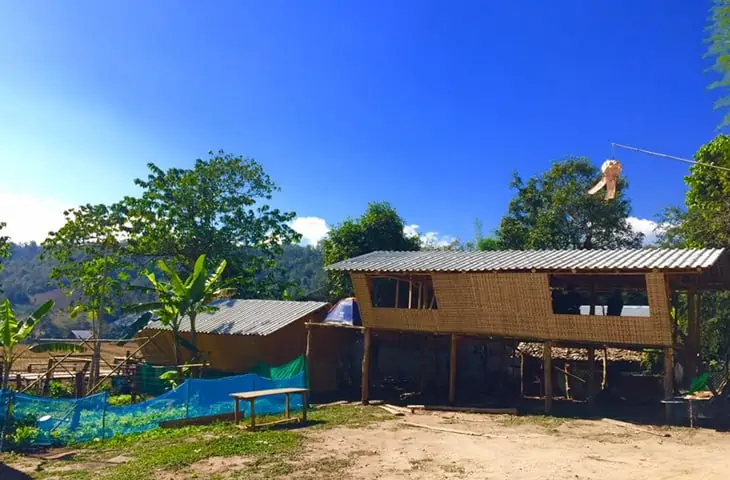 Experience the Simple Life! Mr. Dong provides basic accommodation with a private bathroom, rafting, tubing, and going fishing with the Muang Khong people.
Facebook: https://www.facebook.com/media/set/?set=a.1861384934107374&type=3
Google Map: https://goo.gl/maps/UKFWWZUwKmCY8oXy5