Dreaming of an adventure that will take you to the heart of a vibrant and exotic destination? Then look no further than Chiang Mai, Thailand. This exciting ancient city has something to offer everyone who wants to explore its fascinating culture and rich history. From amazing temples, bustling markets and delicious street food to outdoor activities such as trekking in the jungle or elephant bathing, there really is something for everyone!
But with so many sights and activities, it can be difficult to decide how best to experience this amazing place. That's why we're introducing our what to do in Chiang Mai for 3 days, which allows you to maximise your time in this incredible city while enjoying all its wonders at your own pace. With carefully planned stops along the way, you'll get the most out of your trip while still having plenty of time to relax and explore.
So if you're ready for an unforgettable experience that will leave lasting memories, pack your bags and join us for a 3 days Chiang Mai itinerary of captivating discovery in northern Thailand.
Day 1: Visiting An Elephant Sanctuary And Learning About Responsible Tourism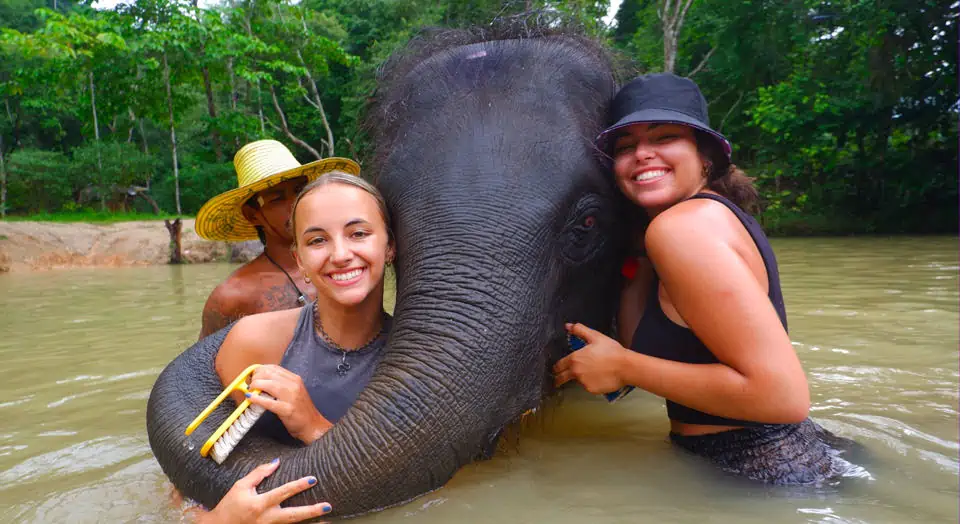 Visiting an ethical elephant sanctuary in Chiang Mai is a great way to learn about Thai culture while gaining valuable knowledge about responsible tourism. These majestic creatures are often mistreated and exploited, so it's important to become informed and educated about how these animals should be treated. By taking part in this type of adventure, we learn more about our own impact and how we can make wiser choices when visiting places like Thailand.
The sanctuaries offer visitors the unique opportunity to observe elephants up close and help care for them by feeding them or even taking part in activities, such as scrubbing mud off them during bath time. It's not only educational, but fun too! You get to see a beautiful environment that you wouldn't normally have access to and learn something new along the way.
It's a great feeling to know that you're helping to create a better environment for people and animals, while having unforgettable experiences. By taking part in this kind of activity, we can better understand why sustainable tourism is important for everyone – so that we can continue to enjoy these incredible destinations without compromising their beauty or endangering the species that live there. From here we move on to our next day, where we'll explore Doi Suthep Temple, walk around the city and eat delicious Thai food!
Day 2: Exploration At Doi Suthep Temple, Walk In The City, And Food Tour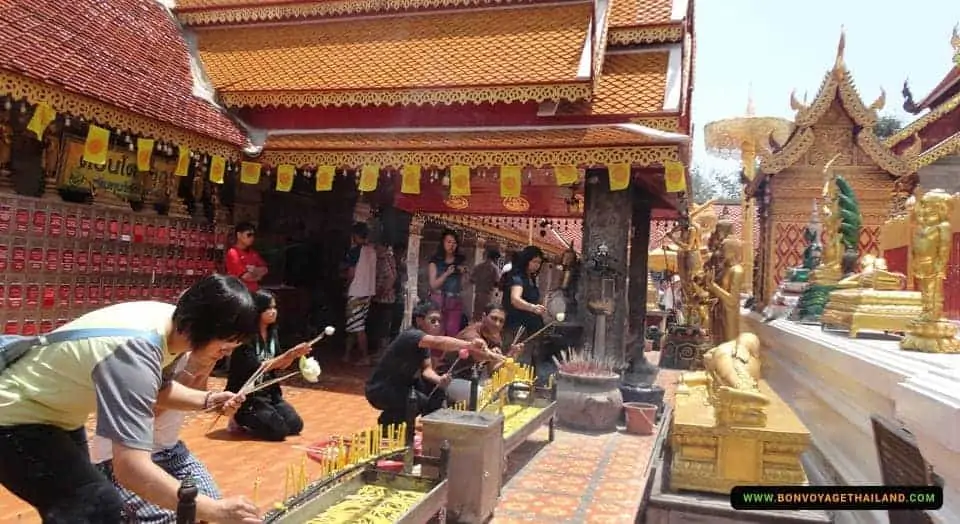 On the second day of your Chiang Mai itinerary, you can explore the city and its unique cultural sites all day. Start your day with a visit to Doi Suthep Temple, one of Thailand's most famous Buddhist temples. This incredible temple complex offers stunning views from the top and interesting statues and artefacts inside. Take some time to learn more about Thai culture and Buddhism at this sacred site.
Next, head back into town and take a walk along the old city walls. Here you'll find traditional markets selling everything from clothing to handmade crafts, as well as street stalls selling delicious local delicacies. Get lost in the winding streets and discover hidden treasures that the locals love!
End the day with a night food tour of Chiang Mai's signature dishes at the city's vibrant night markets and bustling street food stalls around the city. Try the delicious curry noodles, crispy fried pork belly or sweet mango sticky rice – whatever suits you! Learn how these dishes are prepared by talking to local vendors and find out why they have become so popular with visitors from all over the world.
As an option, you can take part in a half-day cooking class. This is a great way to get to know the local cuisine and culture and learn new culinary skills to take home with you. Many cooking courses offer a market tour beforehand, where you can learn about the ingredients used in traditional Thai dishes and pick your own fresh produce. You will then learn how to prepare different dishes such as Pad Thai, Tom Yum soup or green curry using traditional techniques and tools. Some cooking courses even offer the opportunity to cook in a traditional Thai kitchen, with an open flame and mortar and pestle. At the end of the course, you can enjoy the fruits of your labour and taste the dishes you have prepared. Overall, a cooking class is a fun and educational way to immerse yourself in the local culture and cuisine of Chiang Mai.
After satiating your taste buds, tomorrow will be even more adventurous: trekking adventures during the day and relaxing massages in the evening…
Day 3: Trekking Adventures By Day, Relaxing Massages By Night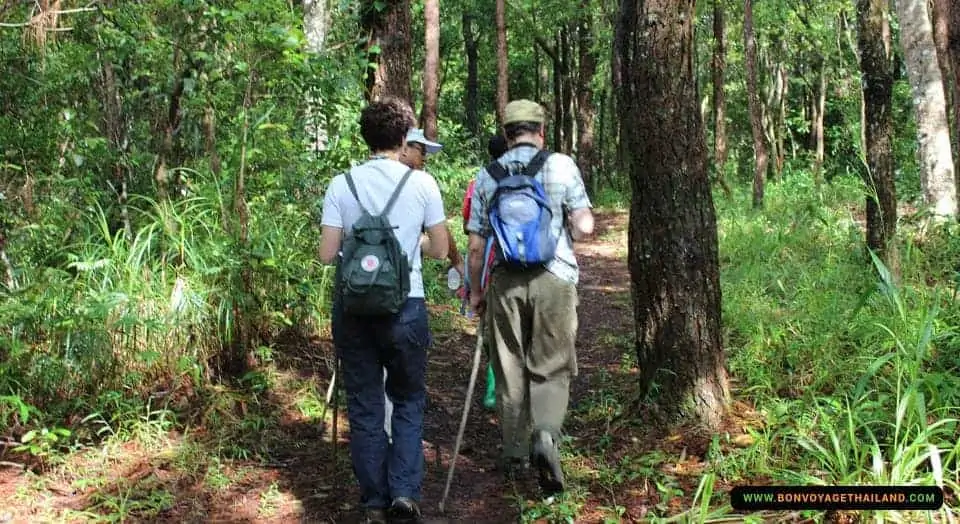 If you're looking for the perfect combination of outdoor adventure and relaxation, Doi Inthanon National Park in Chiang Mai is for you. This majestic mountain offers a variety of trekking trails that take you through lush forests, picturesque waterfalls, and quaint hill tribe villages.
During the day, you can explore the natural beauty of Doi Inthanon on a trekking tour. Depending on your fitness and interest, you can choose between different routes, ranging from easy walks to more challenging hikes. Along the way, you'll experience breathtaking views of the surrounding landscape, diverse flora and fauna and unique cultural experiences. Don't forget to pack your camera, as there are plenty of opportunities for stunning photo opportunities.
What better way to relax and rejuvenate after a day of trekking than with a soothing massage? Chiang Mai is famous for its traditional Thai massages, which use a combination of acupressure, stretching and aromatherapy to relieve tension, improve circulation and promote overall well-being. Many spas in the area offer special packages that include a massage, hot herbal compress and other therapeutic treatments to help you relax and recharge for your next adventure.
Whether you're an outdoor enthusiast or a lover of self-care, a trekking tour at Doi Inthanon and a relaxing massage in Chiang Mai are the perfect combination of both.
Are 3 Days Enough in Chiang Mai?
While it's possible to see and experience a lot in Chiang Mai in three days, it really depends on your interests and priorities. In three days you can explore the beautiful temples, have adventures in nature, sample the delicious cuisine and learn about the local culture. However, if you prefer a particular interest or activity, such as a longer trekking tour or a more in-depth cultural experience, you should consider a longer stay. Ultimately, it's up to you to decide how much time you want to spend in this vibrant city. If you're wondering how many days you should spend in Chiang Mai, our article "How Many Days To Spend In Chiang Mai?" provides a detailed guide to help you plan your itinerary.
Exploring Chiang Mai: An Unforgettable 3-Day Adventure
Chiang Mai is a city where adventure and culture come together, making it the perfect destination for those seeking an unforgettable experience. Whether you are trekking through the jungle to explore nature or visiting Doi Suthep Temple to learn more about Buddhism, there's something for everyone here. With its vibrant nightlife and delicious culinary scene, Chiang Mai can be enjoyed at any time of the day or night. From visiting an elephant sanctuary to exploring the mountains, this three-day itinerary has everything you need for a fantastic trip.
No matter which activities you choose during your stay in Chiang Mai, you will return home with lifelong memories, new friendships and plenty of stories to tell. To ensure that your trip is as rewarding as possible, always stick to responsible tourism so that these majestic animals are not harmed by tourists. So go ahead – pack your bags and start planning your next 3-day adventure in Chiang Mai!
How to Travel in Chiang Mai ?
We offer a variety of tour options so you can experience the best of Chiang Mai. Whether you prefer to join a group tour or embark on a private adventure, we have options to suit your needs and interests.

Our join-in tours are ideal for those who want to meet new people and explore the city in a group. These tours are led by experienced guides who will take you to some of Chiang Mai's most popular attractions, including temples, markets and cultural sites. You will have the opportunity to learn more about Thai culture and history while making new friends.

If you prefer a more personalised experience, we also offer private tours that can be customised to your preferences. With a private tour, you can choose the itinerary and pace, making it ideal for couples, families or small groups. Our knowledgeable tour guides will work with you to create a memorable experience that suits your specific needs and interests.

No matter which option you choose, we are committed to providing you with the best possible experience in Chiang Mai. Our tours are designed to be informative, entertaining and memorable, and we strive to exceed your expectations every step of the way. So why wait? Book your tour with us today and let us help you discover the wonders of Chiang Mai!
Is Chiang Mai Worth Seeing?
Absolutely Chiang Mai is a popular tourist destination for good reason. It offers a unique blend of cultural experiences, outdoor adventures and delicious cuisine. The city is home to numerous ancient impressive temples, such as Wat Phra That Doi Suthep, which reflect the rich history and spirituality of the region. The surrounding mountains and forests offer endless opportunities for trekking, ziplining and other outdoor activities. In addition, Chiang Mai is known for its delicious cuisine, ranging from street food stalls to upscale restaurants, offering a variety of flavours and ingredients unique to northern Thailand. Overall, Chiang Mai is definitely worth a visit for anyone looking for a unique and memorable travel experience.
What Types of Accommodations Can You Find in Chiang Mai?
Chiang Mai old city offers a wide range of hotels to suit all types of travellers and all budgets. From budget hostels to luxury resorts, there is something for everyone.
If you're looking for a budget alternative, you'll find many guesthouses and hostels throughout the city. These accommodations offer basic amenities such as shared bathrooms and basic furnishings, but they're a great way to save money and still enjoy the city's attractions.
If you're looking for more upscale accommodation, you'll find many luxurious hotels and resorts in Chiang Mai. Many of them offer spa services, infinity pools and stunning views of the surrounding mountains. Some of these properties are located outside the city centre and offer a peaceful escape from the hustle and bustle of the city.
For those seeking an authentic experience, there are also many inns and guesthouses run by locals. These accommodations offer a unique opportunity to get to know Thai culture first-hand and often offer home-cooked meals and cultural activities.
Overall, there is a wide range of accommodation in Chiang Mai and it's important to do your research to find the perfect accommodation for your needs and budget.