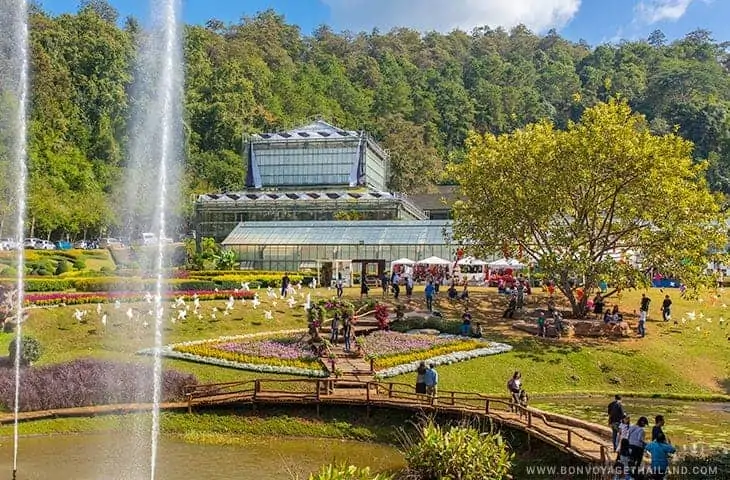 Experience one of the most beautiful sites in Northern Thailand with Bon Voyage Thailand's private tour to the Queen Sirikit Botanic Garden. This conservation center is home to hundreds of different species of flowers, trees, and bushes that are impeccably manicured and cared for in honor of Her Royal Majesty Queen Sirikit. It is roughly 20 kilometers north of Chiang Mai City and is a visually stimulating and educational day trip.
This botanical garden sprawls across 1000+ hectares of hills in Chiang Mai's countryside, so the most comfortable and practical way to explore it is by car. Once inside the lavish park, enjoy the colorful sights and lovely smells of the gardens. There are other attractions as well including a canopy walkway, a rainforest glasshouse, a museum of natural science, and an exhibition hall. Visiting this botanical garden is perfect if you love nature and want a relaxing way to experience the natural beauty of Thailand.
Exotic plants and flowers
The Queen Sirikit Botanical Gardens is not only home to a vast collection of flowers and plants indigenous to Thailand but tropical and temperate varieties from all over the world as well as. During your tour, you may see school children who are on a fun but educational visit or even scientists who are exploring the vast exhibit. It's not only a beautiful place to visit but it's used for botanical research, too.
Glasshouse Complex
One of the most popular features of the botanical gardens is the Glasshouse Complex. It is home to four different exhibition conservatories and eight greenhouses with different themes. Take your time wandering through each exhibition and examining an array of plant species that come from Thailand, while others are from other parts of the world.
Tropical Rainforest House
Arid House
Orchid and Ferns House
Limestone House
Aquatic House
Carnivorous Plant House
Aroid House
Variegated Plant House
Medicinal House
Water Lily and Lotus House
Bromeliad House
Canopy Walkway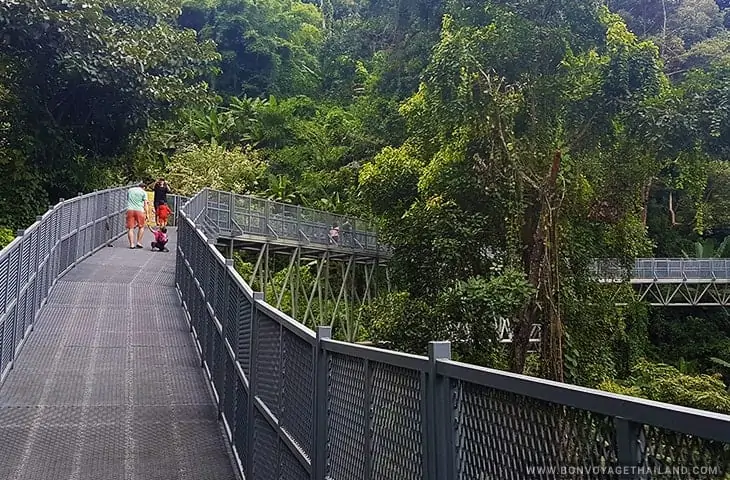 One of the most beautiful raised walkways in all of Thailand can be found at the Queen Sirikit Garden. Known as the Flying Draco Trail, it's also the country's longest canopy walkway and measures 400 meters long and 20 meters high. On top of its high platforms you can enjoy a bird's-eye view of the surrounding rainforest as well as a few glass floor areas that let you peer down to the gardens below.
Walking Trails and Gardens
Explore the outdoors and plants in their natural settings and beautiful arrangements in the more than a dozen walking trails and gardens throughout the Queen Sirikit Botanical Garden. Each has a unique theme or focus. Combine several together for a lengthy day of walking or choose one to visit for a short side trip in addition to visiting the Glasshouse Complex or Canopy Walkway.
The Waterfall Trail
Ornamental Garden
Arboretum Trail
Climber Trail
Fern Garden
Banana Avenue
While Flower Collection
Pill Millipede Trail
How to Get to Queen Sirikit Botanic Garden
From the city centre it takes about an hour to get here by car, depending on traffic.
The drive is pretty easy, you just go up Road 107 and turn left on 1096 Road.
It takes at least three hours to visit Queen Sirikit Botanic Garden, but you can stay all day if you want.
We provide private tours to Botanic Garden, we use a van with a driver, with or without a guide. Please contact us if you need any more information.
Google Map Location : https://goo.gl/maps/FfxtD33kVgRb2ErT6
Entrance fees to Queen Sirikit Botanic Garden:
Adults : 100 Baht (40 Baht for Thais)
Childrens : 50 Baht (10 Baht for Thais)
Seniors (over 60), disabled people, and monks: Free
Car entrance : 100 Baht
Motorcycle entrance : 30 Baht