Buckets of water splashing, super soakers squirting water, and people dressed in colorful clothing. What is it?! It's Songkran, Thailand's "Water Festival" that attracts millions of people every year to celebrate the wet and wild fun!
What is Songkran and what day is it celebrated?

Songkran is a three-day religious festival that's celebrated from 13 to 15 April every year all across Thailand. Depending on what city you're in, the celebrations may begin a day early or end a few days later. It will also vary in intensity and the celebrations will be slightly different.
This holiday is Thailand's official New Year. Traditionally, local people visit Buddhist temples to receive blessing and prayers from the residing monks. Visitors show their respects by pouring fragrant water over the temple's monks and Buddha statues in a cleansing ritual. They then collect the water, take it back to their village, and use it to bless elders and respected people of the community.
More recently, Songkran has evolved into a crazy fun mainstream holiday where people from all around the world celebrate it by dressing in colorful clothes and squirting water at everyone in sight.
Where to celebrate Songkran in Chiang Mai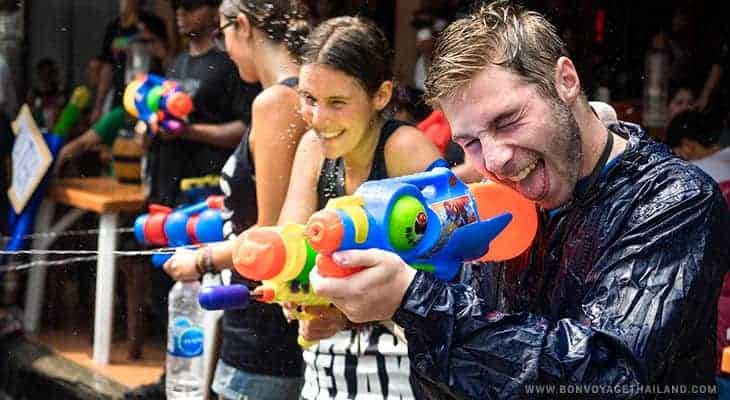 Songkran is celebrated all over Thailand with various traditions and events. Arguably the best place to celebrate this holiday is in Chiang Mai, where the entire city celebrates Songkran over a span of five or more days.
The best place to be is in the Old City moat, which measures one-mile by one-mile square. It's the perfect setting for people looking to fill up their buckets and water guns and be in the middle of all the action.
The heart of the city, which is filled with small streets and guesthouses, hosts groups of people wandering around looking for their next target to spray.
Thapae Gate is also a major entertaining spot. There you'll find many stages set up for entertainment and music. It is also an excellent spot to watch the Songkran parade come by.
What to wear and pack
Since the weather is hot during Songkran, wear quick-drying shorts and t-shirts. Many Thai people wear brightly colored shirts or floral-patterned shirts to be extra festive. Wear waterproof shoes because the streets flood and regular sandal may break. Don't walk around barefoot and don't wear sleeveless shirts or only your bathing suit outside because these are not polite in Thai society.
Be sure to bring or buy the following items:
Water gun*
Waterproof camera
Waterproof bag to put your keys, wallet, and cellphone in
Sunglasses or goggles*
Sunblock*
*Starred items can be bought at a 7-Eleven convenience store in town
Songkran etiquette and safety tips
Songkran is an unforgettable celebration, but to keep it that way, there is proper etiquette and safety to follow. Use these tips to enjoy this holiday to its max:
Never spray water directly in someone's eyes, ears, nose or mouth.
Don't spray or throw water at motorcyclist or drivers. This causes many road accidents because it shocks drivers and can cause them to lose control over their vehicles.
Drinking is allowed during this holiday, but don't get drunk in public. Drink lots of water because it's easy to get dehydrated even though water is all around you.
Wear sunblock and apply it regularly. The Thai sun is strong and many people get sunburned after staying outside all day. Be sure to re-apply sunblock often because it washes off in the water.
Stay at a hotel or guesthouse in the city center so you don't have to travel far to experience the fun.
Be happy! You WILL get wet no matter how hard you try to stay dry. We hope you enjoy the festivities during this unforgettable holiday celebration. Sawatdee Bpee Mai!