by Tassanawan Malai |
Doi Inthanon National Park is a breathtaking natural wonderland that offers visitors a unique experience. Located in northern Thailand's Chiang Mai province, the park is home to the country's highest mountain, Doi Inthanon, which stands an impressive 2,565 meters above sea level. The park also features lush forests and diverse wildlife, including over 300 species of birds and several endangered mammals.
The park is a popular destination for hikers and nature lovers alike. Visitors can explore the many hiking trails that wind through the forested hillsides and offer breathtaking views of the surrounding landscape. There are also several waterfalls in the park, including Mae Ya Waterfall, which is one of the most spectacular cascades in Thailand.
In addition to its natural beauty, Doi Inthanon National Park also has cultural and historical significance. The area was once home to various hill tribes that still live in some parts of the park. Visitors can learn about their culture by visiting the villages or participating in the traditional ceremonies that take place throughout the year.
In this guide, you will find everything you need to know to plan the perfect visit.
The Summit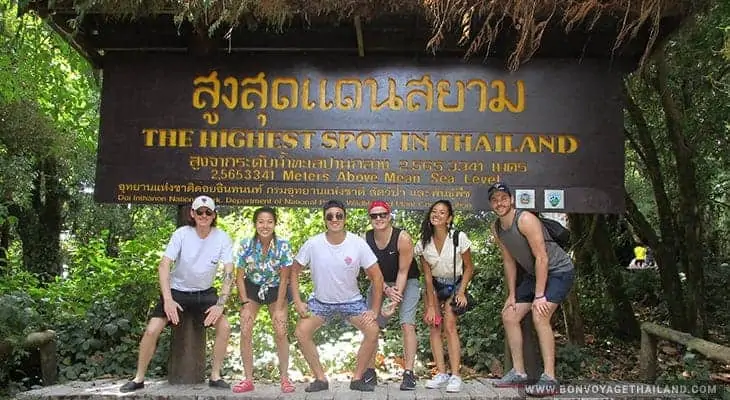 Doi Inthanon National Park Summit is known as the "Roof of Thailand" and marks the end of the Himalayan mountain range, being the highest peak in the country. The summit is surprisingly easy to reach, as you can drive most of the way and walk the remaining 50 meters to the top.
Here you will find the famous sign "Highest Point in Thailand" as well as a shrine to one of the last kings of Chiang Mai, Inthawichayanon. At the king's request, his remains were buried in the national park, which was renamed in his honor to honor his efforts to preserve the forests of Northern Thailand.
Views from the summit are often limited as it is shrouded in mist most of the time. For more rewarding views, you can head down to the terraces of the two chedis.
There is also a café near the summit trail where you can buy refreshments like tea, coffee, and snacks.
King and Queen Pagodas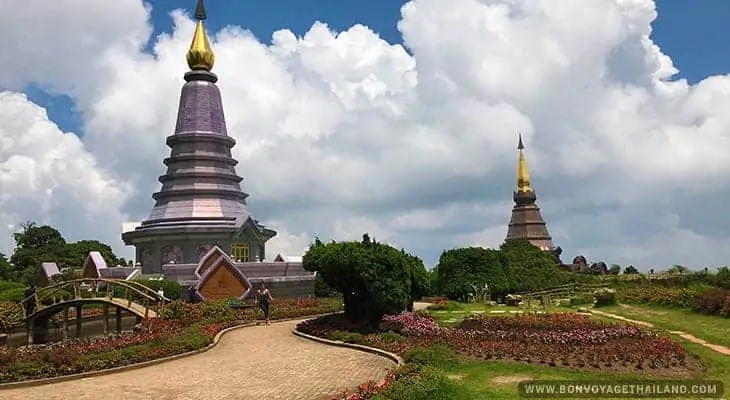 On the mountain Doi Inthanon, almost at the top, there are two pagodas, the King's Pagoda and the Queen's Pagoda. The Royal Thai Air Force built them in honor of King Bhumibol Adulyadej and Queen Sirikit of Thailand to commemorate their respective 60th birthdays.
The beautiful twin pagodas, known as Phra Mahathat Naphamethanidon and Nophamethanidon, face each other on a hill, about 100 meters apart. On a clear day, they offer the best view in the national park.
Trekking and Hiking
Due to its high altitude and cool temperatures, Doi Inthanon National Park offers some of the best hiking in Thailand. There is a wide variety of hiking trails ranging from easy hikes of less than an hour to full-day hikes and overnight treks.
Hiking in Doi Inthanon National Park is one of the most popular activities in the park.
Ang Ka Luang Nature Trail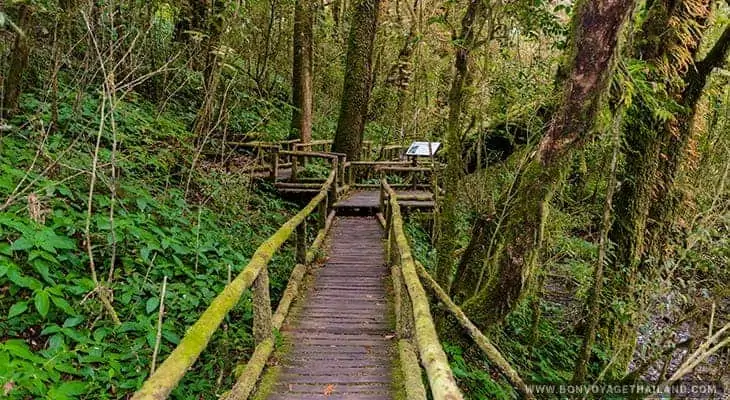 For the easiest access into the cloud forest, travel to the Ang Ka Luang Nature Trail, near the Km 48 marker. Take care as the 360-meter circular boardwalk can be slippery, but the reward is an enchanting, mossy, and lush forest. It is possible to spot several species of birds on the Ang Ka Nature Trail.
Kew Mae Pan Trail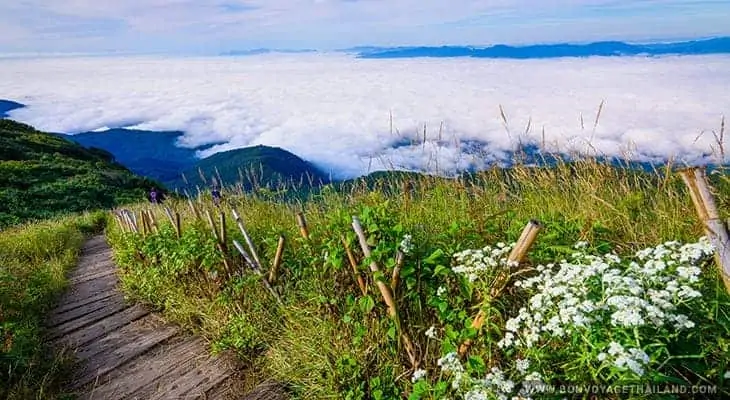 If you're interested in a more challenging walk, try the Kew Mae Pan Nature Trail. Although just 2.5km long, you can only walk this trail accompanied by a Hmong Tribe guide.
The trail starts from the main road, a few hundred meters north of the King and Queen Pagodas. At 2,200 meters above sea level, the views are some of the best in Thailand and are particularly magical at sunrise.
Be aware that the Kew Mae Pan nature trail is closed between June and October each year, reopening at the beginning of the dry season on 1st November.
Pha Dok Siew Mini Trekking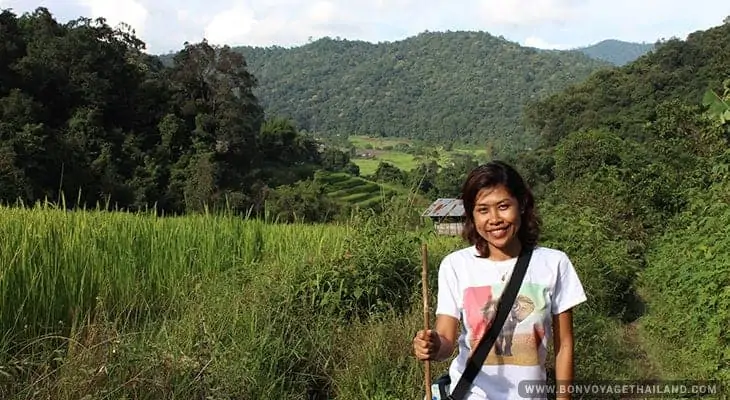 About halfway to the summit of Doi Inthanon mountain, Pha Dok Siew is another trail where it is compulsory to be accompanied by a hill tribe guide.
The trail encompasses several waterfalls and passes by rice fields, flower plantations, and coffee plantations. You will also get a chance to witness the daily life of the Karen people in a quaint village and enjoy a cup of coffee made from organic coffee beans.
Nature Conservation and Sustainability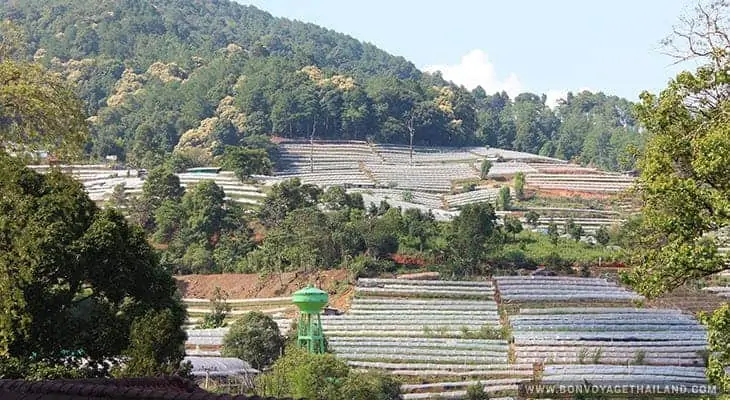 Doi Inthanon National Park, a jewel in Thailand's natural landscape, is a shining example of conservation and sustainability. The park's initiatives aim to preserve its diverse ecosystems, with a focus on environmental education and minimizing the impact of tourism through well-planned trails and protected areas. These efforts ensure that the park remains a vital sanctuary for its rich flora and fauna, as well as a treasured destination for future generations.
A key element in the park's conservation efforts is the Inthanon Royal Agricultural Station. Established in 1979 in the village of Ban Khun Klang Hmong, this project was an important step in transitioning the local community from opium cultivation to sustainable agriculture. The station, located not far from the park's headquarters, is a sprawling testament to sustainable agriculture with a variety of cultivated flowers, vegetables and special areas for ferns. It serves as a practical model for sustainable practices, strengthens the local economy and offers visitors a unique insight into the ecological balance. The station also features amenities such as a restaurant offering dishes made from freshly grown ingredients, a gift store and a café that enhance the overall experience for visitors. This integration of conservation, community development and ecotourism makes Doi Inthanon National Park a leading model for nature parks worldwide.
Cherry Blossoms at Khun Wang Royal Project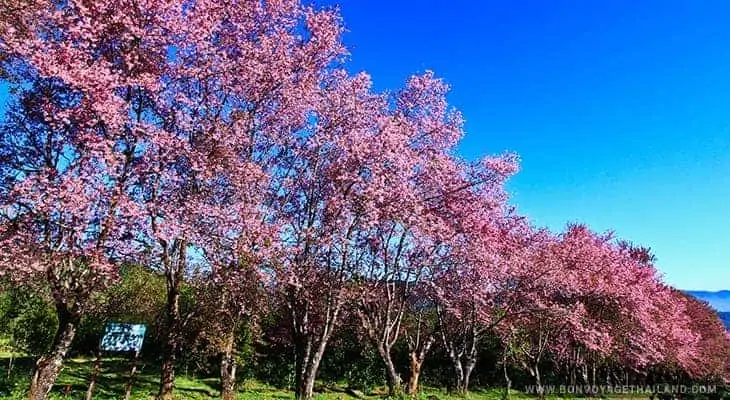 Khun Wang Royal Agricultural Research Centre is one of the lesser-known attractions on the slopes of Doi Inthanon mountain and another beautiful place to take a walk and enjoy the picturesque gardens.
Khun Wang is at its best from mid-January to early February, when the wild Himalayan cherry blossom (sakura) turns into a sea of pink. Cherry blossom season only lasts about two to three weeks, so cheque before you travel if this is your main reason for visiting.
Ban Mae Klang Luang Village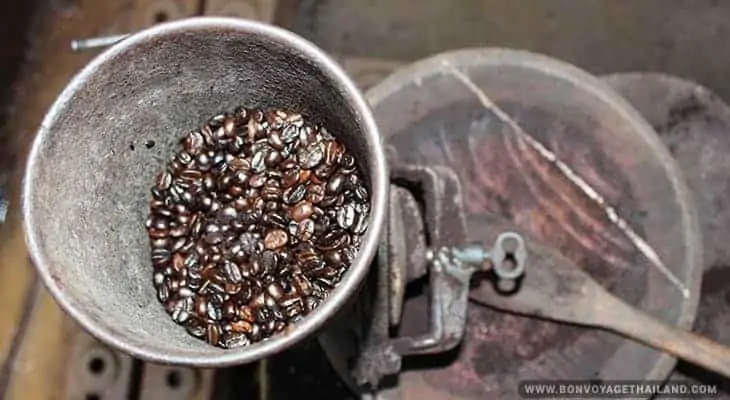 For possibly the freshest cup of coffee you'll ever have, go off the beaten track and pay a visit to the Karen hill tribe of Mae Klang Luang Village. Located inside the evergreen forest of Doi Inthanon National Park, the villagers grow organic coffee as well as vegetables and rice as part of Royal Project Inthanon.
Elephant Sanctuaries in Doi Inthanon National Park
Doi Inthanon National Park, known for its diverse landscapes, is also home to several elephant sanctuaries. Here, visitors can interact with Asian elephants in their natural environment, from feeding to mud baths. These sanctuaries not only offer unique experiences, but are also central to the conservation of endangered Asian elephants. Many are also committed to community initiatives, such as organic farming and English classes. Visiting these protected areas in Doi Inthanon is not only about interacting with wildlife, but also about supporting a meaningful cause.
Waterfalls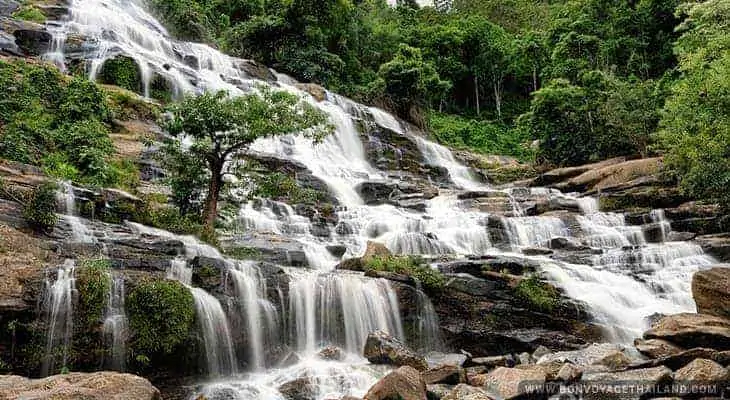 Doi Inthanon National Park has several well-known waterfalls that are easily accessible from the road and require only a short walk on nearby trails to reach. Although the falls are beautiful all year round, the best time to visit them is during the rainy season (May to November) when the water flow is at its peak.
Mae Ya Waterfall is a contender for Thailand's most impressive waterfall: Mae Ya Waterfall sends water plummeting 250 meters over several stages. The main stage is about 100 meters wide and 40 meters high. You can find Mae Ya about 17 km southwest of the main checkpoint to the national park.
Mae Klang Waterfall, not far from the turnoff to Route 108, Mae Klang is the most accessible cascade. For this reason, it is also one of the most visited waterfalls on weekends and holidays. The waterfall plunges almost 100 meters over several steps, with the highest step being about 25 meters high.
Wachirathan Waterfall is located in a forested basin and can be reached via a side road near kilometer 21. The waterfall, which is deafening after heavy rain, reveals a foaming cascade as the water plunges 50 meters into the basin below.
Sirithan Waterfall is another popular waterfall. It can be reached from the parking lot on the main road at kilometer 22, from where a 200-meter trail leads to the waterfall.
Flora and Fauna
Doi Inthanon National Park is a treasure trove of biodiversity and offers wildlife and nature lovers an unparalleled experience. The park is home to an impressive variety of bird species, with more than 300 species recorded, including the green-tailed sunbird and the giant nuthatch, making it a prime spot for birdwatching. Mammals such as the Asiatic black bear and bark deer roam the forests, along with smaller animals like the Malayan porcupine. The rich herpetofauna includes unique species such as the Doi Inthanon pit viper and the red-tailed newt, thriving in the park's cool, moist conditions. Additionally, the park's lush environment is a haven for a variety of insects, especially colorful butterflies such as the Rajah Brooke's Birdwing.
The vegetation of Doi Inthanon is as diverse as its wildlife. The lower altitudes are dominated by tropical mountain forests, transitioning to evergreen forests of oak and laurel with increasing altitude. Near the summit, the unique cloud forests are a world of mosses, ferns, and dwarf trees forming an ecosystem unique to the park. Pine forests predominate on the drier slopes, providing a contrasting landscape. Highlights include the park's diverse flora, with vibrant rhododendrons, a variety of orchids, and rare plants like the Siamese sakura. This rich diversity of flora and fauna makes Doi Inthanon National Park a microcosm of the ecological beauty of northern Thailand.
Cultural Insights: The Hill Tribes of Doi Inthanon National Park
Doi Inthanon National Park is a vibrant cultural mosaic, home to various hill tribes, each with their own unique traditions. The Hmong people are particularly known for their colorful clothing and intricate embroidery, skillfully blending traditional and modern ways of life, including farming and handicrafts. Their characteristic wooden houses with thatched roofs give an insight into their rich heritage.
Visitors have the opportunity to learn about these cultures through respectful interaction, such as village tours and homestays. Respectful interaction is essential – always ask permission before taking photos, dress modestly and support local crafts as a gesture of respect and sensitivity.
Doi Inthanon is also a center for various cultural festivals and events celebrating the traditions of these tribes. The Hmong New Year festival in December is particularly vibrant and features a kaleidoscope of colorful costumes, music and dances that reflect the cultural pride of the tribe. The seasonal agricultural festivals also play an important role, reflecting the tribes' deep connection with nature through planting and harvesting rituals. These events allow visitors to deeply immerse themselves in the cultural heritage of northern Thailand and enrich their experience amidst the natural splendor of Doi Inthanon.
Private Tour With a Local Guide
Booking a private guided tour or a Doi Inthanon National Park Tour as a join-in option is by far the easiest and most convenient way to explore Doi Inthanon National Park. These tours, which are also offered as day trips to join in with, are a popular option for those who want to experience the highlights of the park without a lot of planning. Our agency offer the convenience of picking you up directly from your hotel, taking you on a comprehensive tour of the park's main sights and attractions and returning you to your hotel at the end of the day.
The advantage of a private guided tour is the personal experience and in-depth knowledge of the local guides, who can provide insightful commentary on the natural and cultural history of the park. In addition, these tours include entrance fees to the park and even offer a complimentary lunch to enhance the visit with local delicacies. This service ensures that your visit is not only informative, but also comfortable and hassle-free, allowing you to enjoy the beauty and wonders of Doi Inthanon National Park to the fullest.
When is the Best Time to Visit?
Doi Inthanon National Park offers different experiences throughout the year, so the best time to come depends on your primary motivation for visiting.
If you want to experience trekking:
In May the jungle is still dry
June to July: it starts to rain and the jungle becomes green again
August and September: the rain becomes heavier
October to January: the weather is cool, sometimes it can get very cold at night.
February to April the jungle starts to be dry, and have forest fire in the neighborhood area, which bring smoke and poor air quality.
If you want to see the falls in all their glory, the best time to visit is between May and November, when it rains and the water is at its highest.
Between December and February is your best chance of having clear skies for photos of the view from the summit. Even then, due to its altitude, the peak is often shrouded in mist and cloud.
Facilities and Services for Visitors to Doi Inthanon National Park
At Doi Inthanon National Park, your comfort and convenience are paramount. The park offers a number of campsites for those who wish to immerse themselves in nature overnight. These campsites are well maintained and guarantee a pleasant stay. For day visitors, there are numerous picnic areas available, perfect for family reunions or a quiet break in nature.
For dining, there are several restaurants in the park that cater to a wide range of tastes, offering both delicious Thai specialties and international dishes. In addition to these dining establishments, the stores in the park offer souvenirs, local handicrafts, and outdoor essentials, making it easy to pick up a few last-minute items or souvenirs.
The park is open daily, usually from sunrise to sunset. Please note that certain facilities, such as restaurants, may have their own hours of operation. To enhance your experience, you can arrange guided tours with knowledgeable guides with us.
The park has facilities for visitors with disabilities, such as designated parking spaces and wheelchair-accessible paths in selected areas. These facilities ensure that all our visitors can enjoy the beauty and tranquility of Doi Inthanon National Park comfortably and easily.
Safety and Precautions in Doi Inthanon National Park
Preparation is Key
Stay Informed: Always keep an eye on the weather as conditions can change rapidly at high altitudes.
Essential Gear: Carry a map, a first aid kit, and plenty of water.
Wildlife Respect: Observe wildlife from a safe distance to respect their natural habitat and minimize disturbance.
Hiking Tips
Trail Safety: Stick to marked trails for your safety.
Dress Appropriately: Wear layers to adjust to changing temperatures. Bring a hat and use sunscreen and insect repellent.
Camping Guidelines
Fire Safety: Make sure all fires are completely extinguished.
Eco-friendly Practices: Follow the park's guidelines for waste disposal to maintain the environment.
For Longer Stays
Extra Supplies: Pack additional food, a sturdy tent, and extra clothing for cooler nights.
Communication
Stay Connected: Inform someone about your itinerary and expected return time.
Enjoy Responsibly
By following these tips and being well-prepared, you can enjoy Doi Inthanon's natural beauty and tranquility. This ensures both your well-being and the preservation of this magnificent ecosystem, making your experience memorable and safe.