Doi Inthanon National Park: The Essential Guide for Visitors
A highlight of the North, Doi Inthanon National Park is home to the highest point in Thailand, peaking at 2,565 meters above sea level. Scores of visitors flock to the park every year to enjoy its stunning waterfalls and scenic hiking trails, alongside epic jungle vistas, varied wildlife, and its charming cultural and historical significance.
In this guide, you will find everything you need to know to plan the perfect visit, including information on all the main attractions, plus essentials such as where to stay and eat. We have also included our best tips, to help you make the most of your time in the park.
You can use the 'table of contents' section to find exactly what you're looking for, or if you'd like to refer back to the guide later.
Attractions
As well as offering visitors extraordinary natural beauty, Doi Inthanon National Park is home to some of the most popular sights and attractions in Northern Thailand:
Doi Inthanon Summit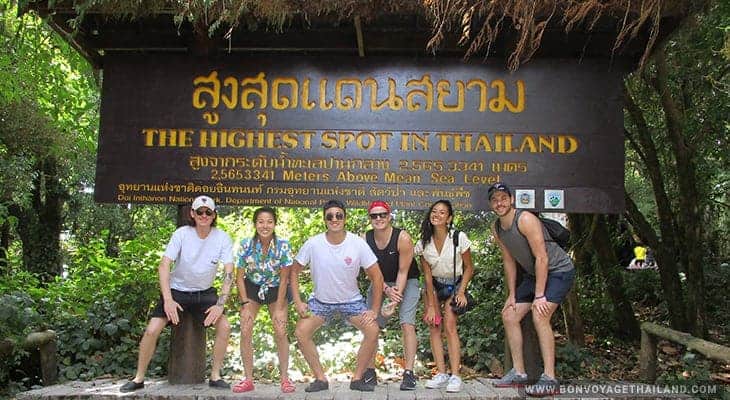 Doi Inthanon mountain, known as 'The Roof of Thailand', marks the end of the Himalayan mountain range and is the highest peak in the country. The summit is surprisingly easy to reach as you can drive most of the way, then walk the remaining 50 meters to the top.
Here, you will find the famous 'Highest Point in Thailand' sign, as well as a shrine to one of the last kings of Chiang Mai, Inthawichayanon. At the request of the King, his remains were buried in the national park, and it was renamed in his honor to mark his efforts to preserve the forests of Northern Thailand.
Views from the top are often limited as it spends much of its time shrouded in mist. For more rewarding vistas, you can head down to the terraces of the two chedi.
There is also a cafe near the summit trail where you can buy refreshments like tea, coffee, and snacks.
King and Queen Pagodas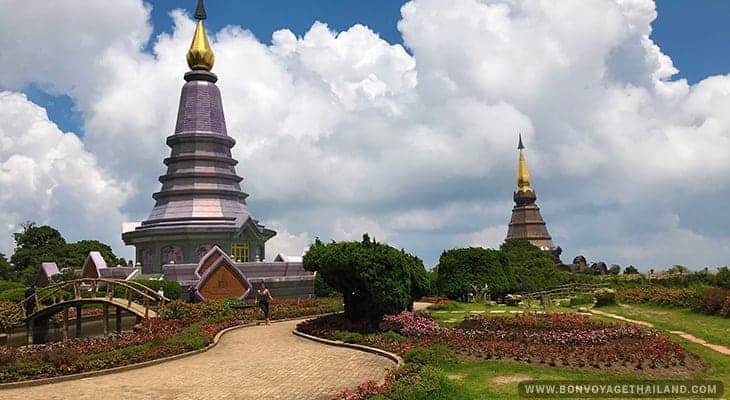 Sitting atop Doi Inthanon mountain, almost at the peak, are two chedis (pagodas) built by the Royal Thai Air Force to commemorate the 60th birthdays of Their Royal Majesties, the King and Queen of Thailand.
Exquisitely beautiful, the chedis known as Phra Mahathat Naphamethanidon and Nophamethanidon, face each other on hills about 100 meters apart. On a clear day, they are the setting for arguably the best views in the national park.
The Royal Agricultural Station Inthanon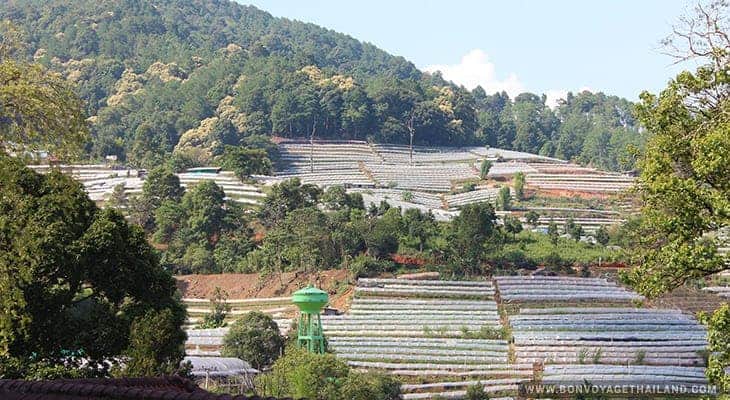 In 1979, Royal Project Inthanon was established to help educate the local communities and persuade them to produce vegetables and flowers, rather than obtaining their income from growing Opium.
You can now visit the project's beautiful flower garden, which measures almost 1km², located in the village of Khun Klang Hhong, about 1.5km north of the park's headquarters. The project garden produces flowering plants, and vegetables, as well as being home to a rhododendron garden, and greenhouses for growing ferns.
There is also a popular restaurant on site serving up a variety of meals, with ingredients brought in fresh from the project gardens, as well as a gift shop, and coffee shop.
Cherry Blossoms at Khun Wang Royal Project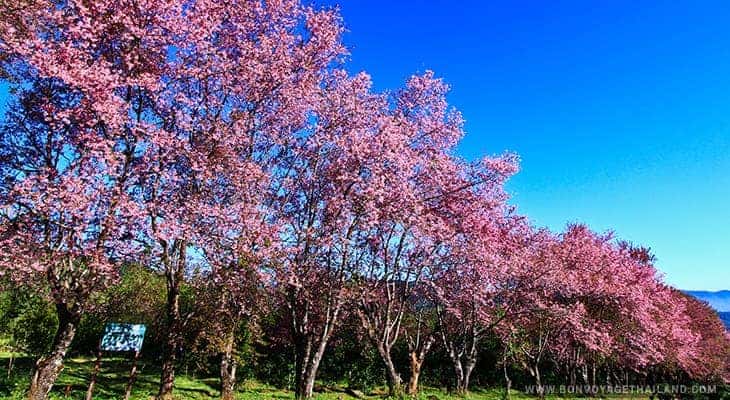 One of the lesser known attractions on the slopes of Doi Inthanon mountain, the Khun Wang Royal Agricultural Research Centre is another beautiful spot to take a gentle walk and enjoy the picturesque gardens.
Khun Wang really comes into its own around mid-January to early February when it is transformed into a sea of pink by wild Himalayan cherry blossom (Sakura). The season for the cherry blossom only lasts about two to three weeks, so check ahead before making the journey if this is your main reason for visiting.
Coffee drinking at Mae Klang Luang
For possibly the freshest cup of coffee you'll ever have, go off the beaten track and pay a visit to the Karen tribal community of Mae Klang Luang. Located inside the evergreen forest of Doi Inthanon National Park, the villagers grow organic coffee as well as vegetables and rice as part of Royal Project Inthanon.
Hmong Village, Khun Ya Noi
For something a little different, visit the Hmong Village of Khun Ya Noi, where you can browse the market and observe how the Hmong people live. The village has also been positively impacted by the work of the Royal Project.
Small Farm
If you are visiting Doi Inthanon National Park with young children, you may like to stop at Small Farm in Chom Thong to break up the sightseeing and keep them entertained. You can relax while your children take a pony ride, walk around the animal enclosures, or have fun in the play area.
Waterfalls
Most of the national park's popular waterfalls are easily accessible by road, requiring you to walk only a few hundred meters on trails to reach them. Although beautiful all year round, the best time to see the waterfalls is during the rainy season (May to November), when water flow is at its peak.
Mae Ya Waterfall
A contender for the most impressive waterfall in Thailand, Mae Ya Waterfall sends water cascading over several tiers for 250 meters. The main tier is around 100 meters wide and 40 meters high. You will find Mae Ya about 17km southwest of the main checkpoint into the national park.
Mae Pan Waterfall
At 100 meters high, Mae Pan is the highest non-cascading waterfall in Doi Inthanon National Park. Located at the end of a 2km dirt road leading from Mae Chaem Road, these falls are one of the least visited due to their more remote location. Mae Pan also has a campsite nearby.
Mae Klang Waterfall
Not far from the turning to Route 108, Mae Klang is the most accessible cascade. Because of this, however, you may find that it is also one of the more crowded waterfalls at weekends and public holidays. The falls cascade over several tiers for almost 100 meters, with the highest tier measuring around 25 meters.
Pha Khun Na Waterfall
You can reach Pha Khun with just a short walk from the visitor centre. Relatively speaking, it is one of the national park's smaller waterfalls, but can be combined with Wang Khwai Waterfall (below).
Wang Khwai Waterfall
Head 200 meters north from Pha Khun Na Waterfall for another of the national park's relatively small falls.
Wachirathan Waterfall
Wachirathan is tucked into a forested basin and can be reached from a side road near the Km 21 marker. The falls, deafening after heavy rain, reveal a frothy cascade as the water plummets 50 meters to the pool below.
Sirithan Waterfall
From the parking area on the main road at Km 22, take the 200 metre trail to reach the falls. Sirithan is another popular waterfall.
Siriphum Waterfall
Siriphum can be seen from nearby Ban Khun Klang village, or accessed by trails on the west side of the village.
Trekking and Hiking
The large selection of hiking trails in Doi Inthanon National Park means that even if you don't have exceptional fitness, you will still be able to find one to enjoy.
Ang Ka Luang Nature Trail
For the easiest access into the cloud forest, travel to the Ang Ka Luang Nature Trail, near the Km 48 marker. Take care as the 360 metre circular boardwalk can be slippery, but the reward is an enchanting, lush, mossy forest.
Kaew Mae Pan Nature Trail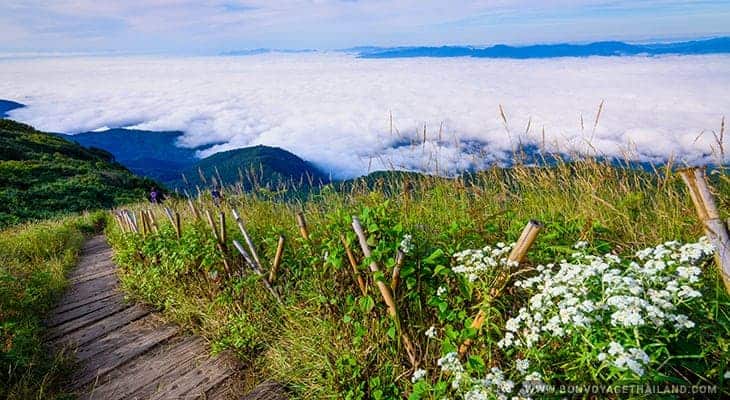 If you're interested in a more challenging walk, try the Kaew Mae Pan Nature Trail. Although just 2.5km long, you can only walk this trail accompanied by a Hmong Tribe guide.
The trail starts from the main road, a few hundred meters north of the King and Queen Pagodas. At 2,200 meters above sea level, the views are some of the best in Thailand and are particularly magical at sunrise.
Be aware that Kaew Mae Pan nature trail is closed between June and October each year, reopening at the beginning of the dry season on 1st November.
Pha Dok Siew Mini Trekking
About halfway to the summit of Doi Inthanon mountain, Pha Dok Siew is another trail where it is compulsory to be accompanied by a hill tribe guide.
The trail takes in a number of waterfalls as well as passing by flower plantations, coffee fields, and rice terraces. You will also have the opportunity to observe life for the Karen people in a small village.
Flora and Fauna
Due to its higher altitude, Doi Inthanon National Park boasts a rich and unique biodiversity. Carpeted in tropical forest which contains Pine and Moist Evergreen, the higher elevations of the park remain lush and green year round.
Doi Inthanon also produces an impressive array of flowers. Rhododendron and Phycastylis can be found all around the park, and the upper slopes of the mountain are abundant in orchids, moss, lichen, and epiphytes.
The park is also home to over 75 species of mammal. Chinese flying squirrels, barking deer, Asiatic black bears, and an array of bats live alongside primates such as gibbons, leaf monkeys, and macaques.
Birdwatching
The rich habitat also makes the national park one of the best locations in Thailand for birdwatching. Around 362 species of bird can be found here, with many unique to the park.
You will have the chance to see the green-tailed sunbird, green and purple cochoa, ashy-throated warbler, rufous-winged fulvetta and Sikkim treecreeper, along with chestnut-crowned laughingthrush, and speckled wood pigeons.
The best time of year for birdwatching in Doi Inthanon National Park, is between February and April. This is when breeding season is combined with the big winter migration, which brings many visiting species.
Topography and Climate
The national park is primarily made up of rugged, mountainous terrain and is the source of several rivers, including the Ping River which runs through Chiang Mai. This, of course, also means that you will find an abundance of waterfalls and the park boasts some of the most spectacular in Thailand.
The higher elevation of Doi Inthanon National Park means that it enjoys cooler temperatures year round, compared to the lower lying areas around Chiang Mai. During the peak of the cool season, you may even be lucky enough to find frost at the summit.
Planning Your Trip
A little planning can go a long way towards getting the most out of your visit. Use the following sections and map to help you:
How to Get There
The park is served by good road access and, as you can see from the map, is easy to get to. The drive from Chiang Mai takes about an hour and a half and you can choose from a variety of options to get there:
Private Car With or Without a Driver
You can easily rent a car in Chiang Mai, with or without a driver. If you're renting a car without a driver, you will need an International Driving Permit.
To get to Doi Inthanon National Park, leave Chiang Mai via Route 108 towards Chomthong. After about 35 miles (57km), turn right and join Route 1009. Travel on this road for about 19 miles (31km), until you arrive at the entrance to the park.
Private Tour With a Guide
By far the easiest way of seeing the national park, is to book a private guided tour (also available as a join-in tour). A popular option, many tour operators will pick you up from your hotel in Chiang Mai, take you to the park for the day and show you around the main sights and attractions. They will then return you to your hotel at the end of the day. Most tours include the park entrance fees, and some even include lunch.
Public Transport
It is possible to reach the park by songthaew from Chiang Mai, but it can be challenging. That being said, you may be able to negotiate a price to hire a songthaew for the day. The driver will then take you there, wait for you, and bring you back.
Motorcycle
It is possible to travel to the park by motorbike or scooter, but be aware that the route is more suited to experienced riders as the roads can be particularly steep and windy in places.
Where to Stay
As well as a multitude of choices in Chiang Mai, there are also several options to stay overnight closer to the park:
Near the Park Entrance
If you are looking for accommodation near the entrance to Doi Inthanon National Park, there are plenty of homestays overlooking the rice terraces in the Karen village of Ban Mae Klang Luang. The wood cabins at Mae Klang Luang View are particularly nice.
Junction of Route 1009 and Route 108
You will also find accommodation about 40km from the summit of Doi Inthanon mountain, near the junction of Routes 1009 and 108. Inthanon Highland Resort is thought of as one of the most charming.
Camping
There are several options for camping in and around Doi Inthanon National Park.
You can rent a tent and camping equipment from the campsite located about 500 meters from the main park headquarters. The campsite has basic facilities such as hot showers and bathrooms.
The cost of renting a tent for three people is around 225 THB (US$7.60) per day, and equipment such as a sleeping bag, mat, and pillow is around 60 THB (US$1.80).
If you have your own camping equipment, you can also camp at Nam Tok Mae Pan.
Where to Eat
There is not a huge array of options for eating at the park, but you will find something to keep you going in each of these places:
At the Park Entrance
Near the park headquarters there are a few restaurants, plus a large outdoor market selling fruits, vegetables, and Thai street food. The restaurants are open daily from 7am until 8pm.
At the Summit
You will find two small cafes at the summit where you can buy tea, coffee and snacks.
At Inthanon Royal Project Restaurant
The popular restaurant at the Royal Agricultural Station serves up a selection of tasty Thai dishes made from ingredients taken fresh from the project gardens. Western dishes are also available for breakfast. The restaurant is located near the Inthanon Royal Project accommodation, and is open daily from 7am until 9pm.
At Wachirathan Waterfall
There are restaurants located along the edge of the car park for Wachirathan Waterfall, serving authentic Thai food. The restaurants are open from 8am until 5pm.
When is the Best Time to Visit?
Doi Inthanon National Park offers different experiences throughout the year, so the best time to come depends on your primary motivation for visiting.
If you want to see the waterfalls at their most magnificent, the best time to come is between May and November as rainfall, and therefore waterflow, are at their highest level.
Between December and February is your best chance of having clear skies for photos of the view from the summit. Even then, due to its altitude, the peak is often shrouded in mist and cloud.
February to April sees the winter migration of birds to Thailand, and is also breeding season, so it's a great time to come if you are interested in birdwatching.
What to Pack for a Doi Inthanon Day Trip
What you'll need for a day trip to Doi Inthanon depends on the time of year you are visiting and the activities you plan to do, but a good rule of thumb is to take:
Money
Snacks
Drink
Camera
Light jacket
Comfortable footwear
You might not expect a mountain in Thailand to be cold, but in the cool season (October to February), temperatures on the summit can fall below freezing and people are often caught out. You'll want something warm, in addition to your jacket.
In the rainy season (May/June to October/November), you should take a rain jacket, and shoes with a good grip. If you are hiking, consider waterproof hiking boots.
Helpful Tips for a Great Trip to Doi Inthanon National Park
Here are a few more tips to help you enjoy your time in Doi Inthanon National Park to the fullest:
Start early: It's best to stay overnight to fully appreciate everything that the park has to offer. If you only have time for a day trip, arrive early to make the most of your time. The park opens at 5am and closes at 6pm.
Holidays: Unless you're partial to crowds, longer holidays are best avoided when planning your visit to the park. New Year's Day alone can see as many as 12,000 visitors making their way to the summit.
Entrance fee: The entrance fee to the national park is 300 THB (US$9.10) per adult, and 150 THB (US$4.55) per child. Thai nationals pay a reduced fee of 50 THB (US$1.50) for adults, and 20 THB (US$0.60) for children. This entrance fee will be taken at the first checkpoint into the park, and a separate fee of 40 THB (approx US$1.20) per person is payable for entrance to the twin pagodas.
ATMs: You will find an ATM next to the park headquarters.
Climate: The higher altitude means that the park offers a refreshing change from the city heat year round, and the summit of Doi Inthanon can be quite chilly. Temperatures average around 10 to 12 degrees celsius at higher elevations so bring a jacket, especially if you are visiting in the early morning.
Swimming: You are not advised to swim in most of the waterfalls due to the risk of flash floods.
Distances: There are large distances to travel between the main sights and attractions which means that walking between them is not feasible.
Food and drink: Although there are places to eat inside the park, there isn't a huge choice, so bring plenty of snacks and enough water to see you through the day.