by Tassanawan Malai |
If there's one animal that first comes to your mind when you hear or read the word "Thailand," it's the elephant. So it's no surprise that ethical elephant sanctuaries are one of the most popular activities for travelers in Southeast Asia. With over 70 elephant sanctuaries in Thailand, most of which are located in northern Thailand, you'll be spoiled for choice when choosing an elephant sanctuary in Chiang Mai.
Our clients 3 Most Populars Elephant Sanctuary in Chiang Mai
| | Chiang Mai Elephant Sanctuary | Hug Elephant Sanctuary | Kanta Elephant Sanctuary |
| --- | --- | --- | --- |
| Feeding | ✔ | ✔ | ✔ |
| Bathing | ✔ | ✔ | ✔ |
| Mud Spa | ✔ | ✔ | — |
| Waterfall | ✔ | ✔ | — |
| Other Activities | Bamboo Rafting | — | Making herbal medicine/ Vitamin for the elephants |
| Walking | In the jungle | In the jungle | Around the sanctuary |
| Transportation | Pickup Truck | Pickup Truck | Van |
| Price | ฿2,000 / person | ฿2,500 / person | ฿2,500 / person |
| | Book Now | Book Now | Book Now |
However, you will soon discover that not all elephant sanctuaries are the same and that a little research is required to ensure a pleasant experience for both you and the elephants. Fortunately, we have done the hard work for you. So if you are eager to have a once-in-a-lifetime experience with these gentle, majestic animals, take the next few minutes to learn more about what to expect on your trip and read our tips on how to choose the right tour for you.
Browse our ethical elephant tours and join us in an experience of a lifetime.
Hug Elephant Sanctuary
Highlights :
Learn about the history of elephants and their behavior.
Feed, touch and observe the elephants – no riding
Bathing elephants in a local river and give them a mud bath 
Hug Elephant Sanctuary was founded by a small group of local people to improve the quality of life for the elephants they rescued from all over Thailand and for the people in the community.
This unforgettable tour is all about how to safely and sustainably interact with elephants without riding them. You and your family can look forward to a personalized experience as you spend the day learning about the elephants' unique history and then feeding and playing with them in the beautiful jungle.
After a scenic drive through the Chiang Mai countryside, you'll take a short walk through the local forest and meet with a local English-speaking guide and a mahout of the Karen hill tribes. He'll briefly talk about the general history of elephants in Thailand and then give you traditional Karen clothing to wear.
After that, you'll be introduced to each elephant in small, private groups. While you feed them their afternoon snack of bananas and sugar cane, the guide will tell you stories about each elephant. As you get to know them better, you'll notice their different personalities. Some are relaxed and shy, while others are playful and curious!
After a traditional Thai lunch and a short break with a view of the nearby hillside, the afternoon continues by reuniting with your elephant friends near the local river. Don't be afraid to get wet, as the elephants love to cool off with a midday bath. Using water buckets and large scrub brushes, you can help the elephants wash before assisting them with an elephant mud bath.
Before the tour ends, rinse off upstream and change back into dry clothes. Don't forget to take a few last photos of the elephants before returning to your hotel in Chiang Mai.
What're you waiting for? Check out more details or book the No Riding Tour now!
Chiang Mai Elephant Sanctuary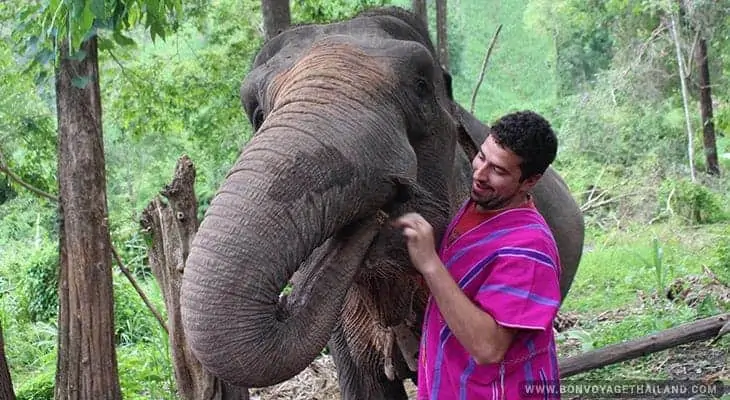 Highlights:
Learn more about the history of Thai elephants
Give the elephants a mud bath
Swimming with the elephants in the local river
Trekking on a scenic jungle trail – no riding
Float down the river on a bamboo raft
If you're looking for a trip full of elephant activities and jungle wonders, this tour offers two memorable tours: one with trekking and one without.
A typical day begins with a picturesque drive through Thailand's countryside toward Mae Wang, a district about an hour and a half southwest of Chiang Mai City. Depending on the arrival time of your group and its size, the order of the day's activities will be adjusted accordingly.
Once you've arrived at the Chiang Mai Elephant Sanctuary, you'll meet your local Karen hill tribe guide, who will teach you about the history of elephants in Thailand and how these gentle giants came to be at the sanctuary. Afterward, put on your mahout (elephant trainer) clothing because it's time to meet the elephants!
Elephants love getting dirty, so the first thing you'll do with them is giving them a mud spa. Slather cool, smooth mud on their massive bodies because it helps protect their skin from the sun and insects. Next, accompany these amazing animals to a field by the forest where they'll graze on grass and bamboo leaves. Once the elephants have had their lunch, it's time to take them to a local river where you will give them a bath and take a refreshing swim.
Afterward, say goodbye to the elephants and sit down for a satisfying Thai lunch in the jungle. Once you've rested, go on a short trek through the cool jungle. End the day with a relaxing trip down the Mae Wang River on a handmade bamboo raft before changing into clean, dry clothes and riding back to Chiang Mai.
If you prefer a less strenuous day, you don't have to go on the trek or the bamboo raft ride. Instead, spend more time with the elephants feeding them their favorite snacks and learning how to make a special Karen hill tribe herbal medicine for the elephants. Overnight stay is available. Whichever tour you choose, you'll have an incredible experience!
Kanta Elephant Sanctuary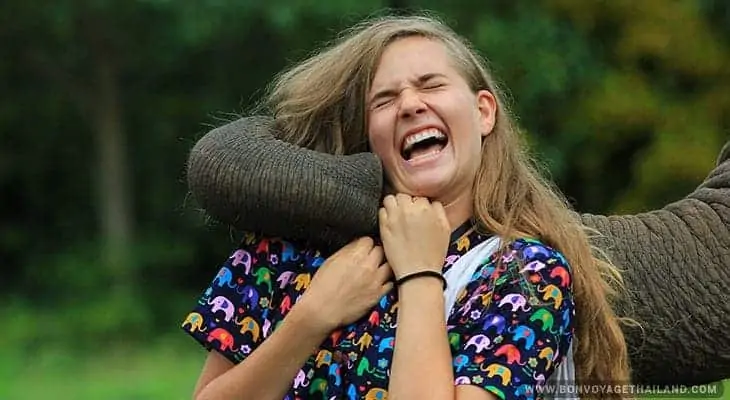 Highlights:
Learning about elephant behavior and its importance to Thailand's culture.
Preparing medicine rice balls (full day tour only) and tropical fruits to feed the elephants.
Playing with the elephants in their natural home in the jungle
Pampering the elephants with a mud bath
Bathing, brushing and swimming with the elephants in a local river
No elephant riding
One of the top things to do in Chiang Mai is to spend a day with a herd of elephants. The Kanta Elephant Sanctuary is a magical place where you can spend the day with these happy, healthy creatures in their natural jungle habitat doing what they love doing most.
After a scenic drive through the hillsides of Chiang Mai, you'll arrive at the sanctuary deep in the mountainous jungle. You'll be greeted by your English-speaking guide and have a short lesson about Thailand's most revered animal and why they are so important to Thai culture.
Afterward, prepare some tasty snacks for the elephants. This will include cutting tropical fruit, gathering sugar cane, and making elephant medicine balls of rice and special herbs (full-day tour only). Then, meet each elephant one by one and win them over with their favorite treats.
Now comes the fun but wet and muddy part! Help give the elephants a mud spa by slathering smooth mud all over their skin. They love to lay in the mud pit and wiggle around but they will need some help covering their entire bodies. Be sure to take some photos! Afterward, lead them to a cool river where you can rinse off and swim and splash around in the water with them.
This tour is available as a full day and half day tour in the morning (pick up from hotel at 6:30 am) or in the afternoon (pick up from hotel at 1:00 pm). The morning half-day program is best for families with young children or for people who are not comfortable in the hot afternoon heat.
Learn more details or book a Kanta Elephant Sanctuary tour by clicking the links below.
Elephant Rescue Park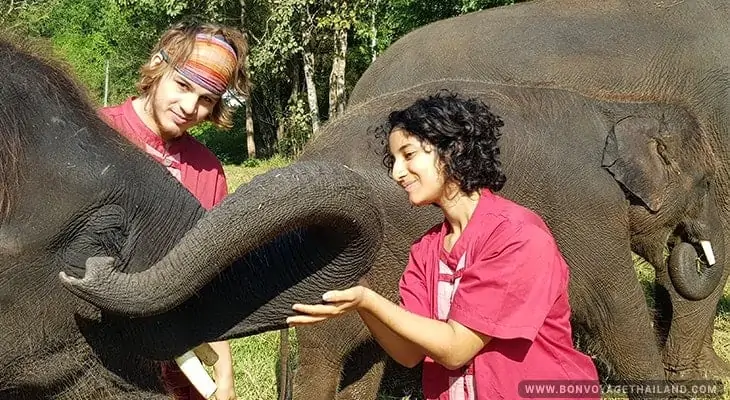 Highlights:
An introductory lesson on Thailand's elephants.
Preparing special snacks for the elephants
Feeding the elephants in a natural jungle home
Walking the elephants to a scenic viewpoint – no riding
Giving the elephants a mud bath
Bathing and brushing the elephants in a natural pool
Visit to the Elephant POOPOOPAPER Park ( full day program only )
The Elephant Rescue Park is a newly established sanctuary that provides a safe home for elephants that have been rescued from circus shows, logging, and elephant riding. In the hills of Chiang Mai, you'll have the once-in-a-lifetime opportunity to play with, bathe, and feed these rescued elephants at this park. There is a full-day program that showcases adult elephants as well as a shorter tour that is dedicated to spending time with rescued baby elephants.
A typical full-day program begins the day with a visit to the interesting yet educational Elephant POOPOOPAPER Park. This eco-friendly company teaches how paper is made from elephant poop fibers in a sustainable, chemical-free way.
Once you've arrived at the park, you'll get a short lesson about elephants in Thailand, their importance to Thai culture, and their traditional involvement in the tourism and logging industries. This is included in both programs. After changing into an elephant training uniform, you'll be shown how to prepare the elephant's favorite snacks such as tropical fruit, sugar cane, and special herbal medicine.
Next comes the part you've been eagerly waiting for! Your guide will take you to the elephants where you will meet them one by one. As you feed and pet them, notice their different personalities. Some are shy while others are playful and curious.
After getting to know them, you'll walk with the elephants through a field to a scenic viewpoint and then treat them to a mud spa. Help spread the cool mud all over their bodies as they lay in it for a little rest. Afterward, accompany the elephants to a natural freshwater swimming pool where they will splash around and eagerly wait for a bath. Scrub them off, and when everyone is clean, say goodbye to your new elephant friends.
Maerim Elephant Sanctuary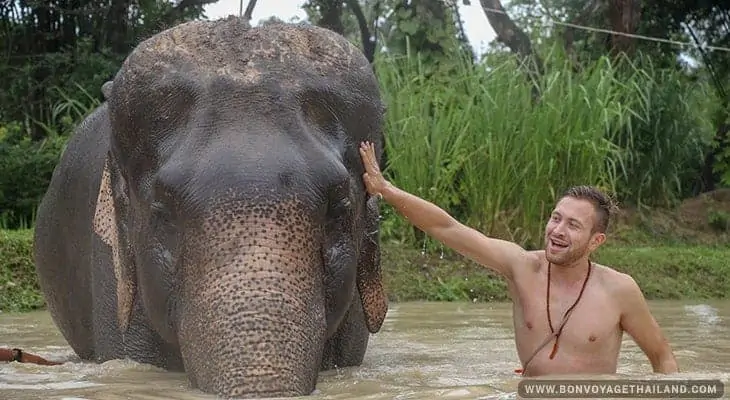 Highlights:
Learning about elephant behavior and history.
Feeding them their favorite banana snacks.
Walking with them through the picturesque jungle
Give them a mud bath and bathe in a local stream
The Maerim Elephant Sanctuary combines the one-of-a-kind experience of getting up close with elephants with the satisfaction of knowing that you are supporting an ethical non-riding elephant sanctuary. This tour is a family-friendly activity but it's also the perfect thing to do with a friend or even by yourself!
After a scenic drive into the countryside north of Chiang Mai, arrive at the elephant camp, meet your tour guide, and change into traditional mahout (elephant trainer) clothing. Then it's time to meet the elephant family! Your English-speaking guide will teach you the elephant's names and tell you how they came to be at the sanctuary. Then, you will be given a basket of bananas so that you can become friends with the elephants by feeding them their favorite snacks.
The tour continues with a scenic walk through the jungle along a nature path, past a local farm, and down to a cool stream. Enjoy a refreshing dip in the water and then give the elephants a bath! Splash and play with the elephants to your heart's content. Whether you choose to partake in a full-day or half-day tour at the Maerim Elephant Sanctuary, everyone will have the chance to make a bowl of traditional Thai noodle soup. The day wraps up with some time to relax and swim in a pool before heading back to your hotel or guesthouse in Chiang Mai.
Which tour best suits your travel plans: the half-day morning or afternoon tours or the full day tour for the ultimate elephant experience?
Happy Elephant Home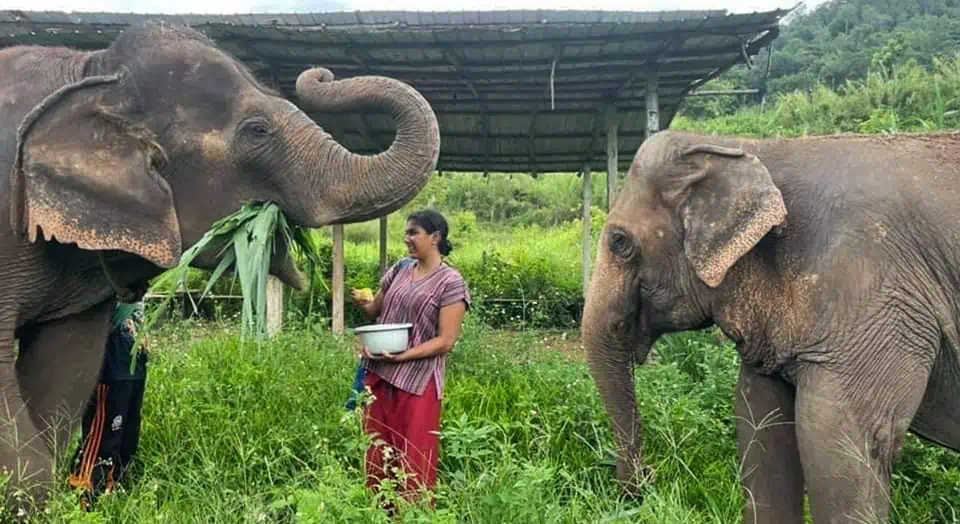 Highlights:
Watching elephants roam free
Feeding the elephants their favorite snacks, bananas
Make a mud bath for them ( full-day visit).
Enjoy watching them bathe and play in the water
Prepare your own Thai lunch
Happy Elephant Home is a pretty little elephant sanctuary in northern Thailand's Mae Taeng District, home to 2 Asian elephants, 42 and 48 years old, rescued from elephant riding tourism. The owner has built a sanctuary where she feeds and cares for the animals. It's amazing to see how much love they've.
When visiting this ethical sanctuary, you can feed the elephants or watch these amazing animals bathing in the river. In the process, you'll learn about the personalities of the elephants.
You'll prepare food for the elephants, feed them and take them to the river to bathe. You'll have time to relax and enjoy the scenery.
For lunch, you can prepare your own Thai food or enjoy delicious local cuisine prepared especially for you.
This is a wonderful opportunity to spend time with elephants in a safe environment.
Patara Elephant Farm
Highlights:
Learning about the history of the Thai elephant.
Understanding the significance of the elephant in Thai culture and Buddhism.
Learn training techniques, overview of health care, and daily routines
Establish a respectful relationship with the elephants
Feed, wash and ride elephants
This tour is well-known for offering an unforgettable opportunity to develop a trusting relationship with an elephant for an entire day. In fact, it's one of the most popular tours in Chiang Mai because it's a once-in-a-lifetime chance to deeply connect with one of Thailand's gentle giants.
The Patara Elephant Farm tour begins with a short talk about the history of domesticated and wild elephants, their anatomy, and their life cycle. This introduction also provides educational information about the long-lived tradition of domesticated elephants in Thailand's culture, the country's repopulation program, and the mission of Patara Elephant Farm.
Next, you will get an up-close and personal look at how elephants are cared for and the intricacies of training and giving commands. Since building a trusting relationship is key during this tour, you will learn how to interpret an elephant's body language to better understand its mood, learn about the safe way to interact with elephants, and how to keep them healthy and happy.
Once you've been paired with your very own elephant and have become acquainted with him or her, the excitement continues by going on a scenic trail ride through the local jungle to visit waterfalls or temples. Along the way, use the commands you've learned back at the farm and have a friendly competition by encouraging your elephant to spray water on fellow group members along the trail.
Take a midday break with a picnic lunch of traditional Thai food and enjoy short rest. Afterward wash your elephant in a local river, brush it, and go swimming together.
-> Full Day: 5800 Baht per person
Ethical Visit to the Elephant Nature Park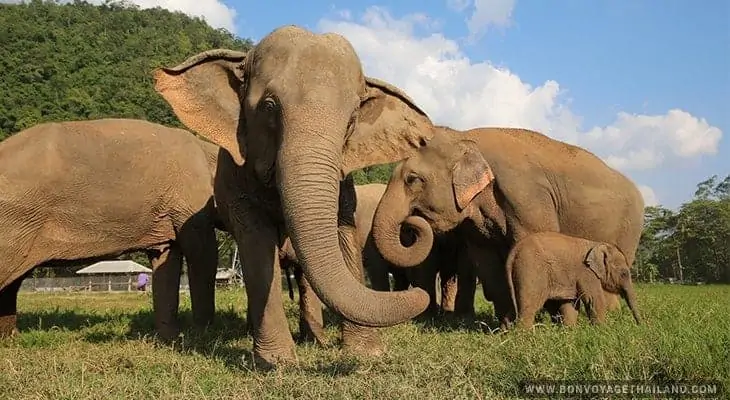 Highlights:
Learn about the history of Thai elephants.
Meeting the elephants and feeding them with tropical fruits
Walking with the elephants through a picturesque forest
Watching the elephants playing and bathing in a local river
One of the most anticipated things to do in Thailand is to spend a day with elephants! The Elephant Nature Park was the first establishment in Chiang Mai to rescue elephants and to create a peaceful sanctuary where people could visit them and see them in their natural jungle habitat.
This tour begins with a pick-up at your guesthouse at 8 AM (full-day visit) or at 8:30 AM (short park visit). After you've driven through the softly rolling mountains and arrived at the park about one hour outside of the city, you'll be greeted by the park's staff. Your English-speaking guide will tell you about the rescued elephants and what their lives are like at the Elephant Nature Park.
Next, you'll meet the herd of elephants and enjoy some quality time with them from a safe viewing platform. You'll also earn their trust by feeding them their favorite fruit. Afterward, enjoy a short rest and a vegetarian buffet lunch before joining the elephants for a scenic walk through the jungle. The walk ends at a refreshing river where the elephants will play together while you watch from the river banks. This is a great time to take photos while the elephants are splashing around in the water!
The tour ends with the opportunity to clean up and change into fresh clothes before riding back to your hotel or guesthouse and smiling at the thought of your elephant adventure. You will arrive back in Chiang Mai around at 5 PM (full-day visit) or at 3:30 PM (short park visit).
Check out more details or book a trip to the Elephant Nature Park now!
Thai Elephant Home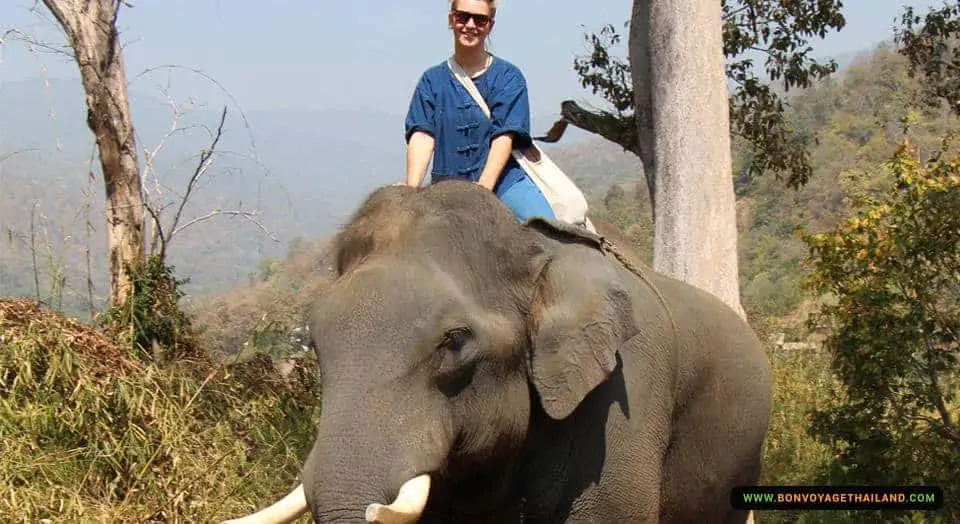 Highlights:
Feeding elephants fresh tropical fruit.
Learning how to give commands and ride elephants through the jungle
Swimming with elephants in a local river
The half-day bareback elephant riding tour is the ideal choice if you aren't available for a full day trip or prefer a short but memorable experience with elephants while you're visiting Thailand. This tour is available either in the morning (6:30 am hotel pickup) or in the afternoon (1:30 pm hotel pickup) and is roughly five hours long. Keep in mind that these pickup times are approximate and depend on the number of people who require pickup services in your tour group.
A typical half-day tour begins with a scenic drive into the mountains directly north of Chiang Mai City. Along the way, your group will stop at a local market to grab snacks for the elephants and then you will receive a light Thai breakfast upon arriving at the Thai Elephant Home.
To prepare for your ride, first, you'll be provided with a traditional elephant trainer (mahout) uniform to wear over your clothing and then you will be given a brief but informative talk about the history of Asian elephants. A local English-speaking mahout will teach you the proper way to safely approach an elephant, give you the commands that will be used during the ride, and show you the proper way to sit on an elephant so that you and the elephant are both comfortable.
Next comes the most exciting part! You'll be given fresh fruit to feed the elephants and win them over before taking them for a ride through several scenic fields. Take a break from riding and allow the elephants to refuel on bamboo and grass (they eat A LOT) before continuing to the river to give them a bath. Don't forget to bring a waterproof camera!
So which half-day tour best suits your travel plans – the early morning half-day elephant ride or the let-me-sleep-in afternoon half-day elephant ride?
-> Full Day at Thai Elephant Home: 4900 Baht per person
-> Half Day at Thai Elephant Home: 2500 Baht per Person
Which Elephant Sanctuaries in Chiang Mai Will You Be Going To?
While there are many contenders for the best elephant sanctuaries in Chiang Mai, which one sparked your interest the most? Whatever you decide, you'll never forget the experience! Check out all ethical elephant tours in Chiang Mai.
Provided on the tour
English-speaking guide
Driver and transportation
Local Thai meal, vegetarian lunch available
Mahout clothing
Hotel transfer (within 3 km of the Chiang Mai City Moat)
Accident insurance
Full-day trip include a meal of local Thai cuisine. Visitors participating in half-day trip will only receive light snacks and refreshments. If you've special dietary needs, such as vegetarian or halal meals, or if you've food restrictions or allergies, please let's know before your trip. Bottled water is also provided.
Responsible Tourism
Many people who visit Thailand agree that riding an elephant is the ultimate bucket list activity. However, some travelers are concerned about the welfare of the elephants and are hesitant to participate in activities where the elephants are outside of their natural habitat in the jungle.
Increasing tourist concern for the health and happiness of Thai elephants has led to a demand for ethically responsible elephant sanctuaries and elephant conservation centers. Today, visitors can participate in gentler, less stressful activities with elephants, such as swimming with them in the river, feeding them their favorite treats, and giving them mud baths.
If riding an elephant is a dream of yours, the best method is bareback riding. This involves a single rider sitting on the elephant's neck (behind the ears) without the aid of a chair or saddle. Contrary to popular belief, an elephant's spine isn't strong enough to safely support the weight of several people on its back.
In addition, responsible elephant sanctuaries in Chiang Mai ensure that their gentle giants have shorter, less strenuous days trekking through fields and jungles and are given plenty of water, food and rest throughout the day. This helps keep the elephants mentally and physically healthy.
What to Wear and Pack
As the climate in Chiang Mai is generally hot and humid, we recommend that all guests signing up for an ethical elephant experience wear breathable, comfortable clothing, such as short-sleeved cotton shirts and shorts.
Wear comfortable shoes that you can walk in safely on uneven surfaces and that are easy to clean. Also, since some areas are muddy, you should bring shoes that can get dirty. Although flip-flops or thongs aren't the best choice, you can still do all the activities.
During the activity, you'll have the opportunity to swim and bathe with the elephants in a river. We recommend that you wear a swimsuit under your regular clothes so that you're comfortable in case you get wet.
Don't forget to pack an extra pair of dry clothes to change into before heading back to your hotel. You can also pack a light towel to dry off after your adventures. This is especially advisable if you come during the rainy season, which usually occurs between July and October. Rain showers usually last an hour or two, but you can prevent getting wet by packing a light rain jacket or thin plastic poncho. Rain or shine, the tour will go on as planned.
Also pack a small zippered bag with small bottles of sunscreen and mosquito repellent, as well as wet wipes or soap. If you've prescription medications with you, such as asthma inhalers or epi-pens, don't forget those, too.
Chiang Mai is the best place to visit an ethical elephant sanctuary in Thailand.