See the beauty of Northern Thailand from the sky. Forget hiking through or bussing by, zipline in Chiang Mai to get a bird's-eye perspective you'll never forget!
Dozens of different tour operators can help you zipline in Chiang Mai. Adventurers can get an adrenaline kick rappelling down cliffs. Nature lovers can zoom through the green leaves of giant trees.
A few operators, like the Eagle Track Zipline, offer a balance between price and features. This is the best choice out of all the options, for the huge variety of extra options at an excellent price point.
Eagle Track Zipline (GOLD Package) – Best Overall
Eagle Track has 3 different package options (bronze, silver, and gold), each offering many more activities than the last at a really small price increase
All three packages offer a huge diversity of extra features and attractions. There's just so much to do, from sky bridges and flying skateboards to climbing nets and balancing beams!
The Gold Package comes with the most extra features out of the three, and offers them cheaper than most of its competitors
Available Experience at Eagle Track Zipline
Flight of the Gibbon – Most Eco-Friendly
Flight of the Gibbon is an advocate for ecotourism. They sponsor projects that support local communities and the environment.
You'll get a chance to see gibbons in the wild as you zip through their natural habitat
The tour includes an hour long trek through the jungle to a beautiful waterfall
Available Experience at Flight of the Gibbon
Skyline Adventure Chiang Mai – Budget Option
Skyline Adventure is almost 20% cheaper than the next cheapest option
The tour may be the budget option, but the company doesn't skimp. The longest zipline is 900m long — almost as long as the longest one in the city!
After ziplining, the guides will provide a buffet lunch, fresh and juicy tropical fruits, plus coffee or tea.
Available Experience at Skyline Adventure Chiang Mai
Jungle Flight Longest Single Zipline
The longest single zipline on the Jungle Flight JF2 and JF3 tours is an insane 1000 meters… an entire kilometer of line.
This is the guaranteed longest zipline in Chiang Mai
With such a great selling point, they could have compromised on the rest. But instead, Jungle Flight still offers a lot of extra features like rappelling and a roller coaster.
Available Experience at Jungle Flight Chiang Mai
Pongyang Zipline & Jungle Coaster – Most Adventurous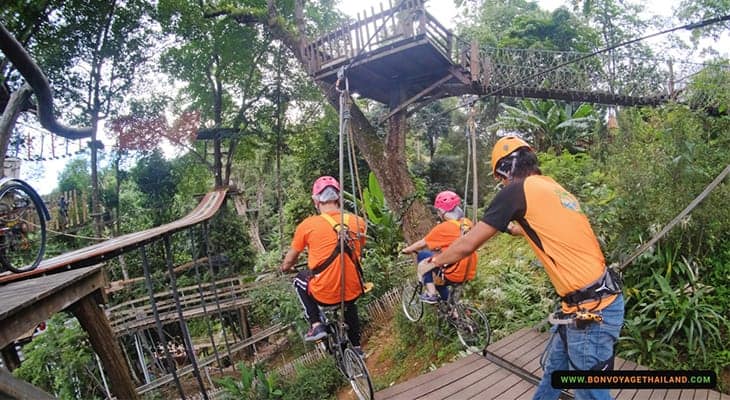 Pongyang has the only jungle roller coaster in Thailand. Riders take a speeding bobsled through jumps, twists, and roundabouts. You can control your own speed with a brake stick.
Take a Quick Jump down a mountain. This 14 metre freefall is similar to a bungee jump.
If you've ever thought of joining the circus, the Jungle Bicycle is for you. Cycle across a 200-metre cable high in the air for an adrenaline pumping birds eye view of the surrounding forest
Available Experience at Pongyang Zipline & Jungle Coaster
Is it Safe?
All of these companies advertise a strong commitment to safety. Most use Petzl brand equipment imported from France, which is the industry leader in sports and adventure equipment.
Jungle Flight and Eagle Track both use a double safety line, though single cable lines are already rated for two tonnes.
The Flight of the Gibbon is the only course in Thailand to have been inspected by a certified ERCA representative (European Ropes Course Association).
Aside from these small distinctions, all seven companies use strong equipment, well-designed courses, and expert guides.
Is it Ethical?
It's important to know that your adventure doesn't harm people or the environment. Ziplines can be environmentally destructive, since many of them are based in the jungle. Fortunately, several zipline Chiang Mai companies make eco-friendliness a priority.
Flight of the Gibbon sponsors and works on a variety of conservation projects including tree planting and the rehabilitation and repopulation of endangered gibbon species. They also provide support to needy communities like underprivileged children and orphans.
Eagle Track Zipline operates cooperatively with a social responsibility program that protects the environment and provides employment, housing, and meals for local Hmong and Karen hill tribe people.
Is it Fun?
If whizzing through treetops at top speeds doesn't sound fun to you, what will? What about a jungle roller coaster that takes you screaming down hills and turns? A free fall jump? Rappelling down mountainsides?
The ziplines by themselves are already an adventurous day, but it's really all the additional features that make these tours so special. A true zipline Chiang Mai adventure comes complete with walkways and ladders, balancing beams and bridges. You can hop off the line and hike to waterfalls, or climb to the top of viewpoints for panoramic views of the jungle.
Which Experience is Right for You?
If you're looking for the best zipline Chiang Mai has to offer at an affordable price, the Eagle Track Gold Package is the clear winner here. It's almost as cheap as the budget option alternative, and it's packed with so many different extra features.
Flight of the Gibbon and Pongyang are definitely the runner ups, depending on whether you're looking for an adventure or an eco-friendly tour.
Book with Flight of the Gibbon if you're interested in seeing gibbons in the wild and want to support a company that does great work in Chiang Mai Thailand. If it's an adrenaline fix that you're after, Pongyang Zipline is the one for you. If all this information doesn't prove it, you'll be sure when you're screaming down that Jungle Coaster at 40 kilometers an hour!