Lantern Festival during Loy Krathong
Perhaps the most magical and most recognizable festival in the Land of Smiles is the Thailand Lantern Festival. Locally known as the Yee Peng Festival (Yi Peng Festival), this celebration is marked by the thousands of floating lanterns released into the night sky. It's a festival that's celebrated across Northern Thailand, but one city in particular draws visitors from all over the world: Chiang Mai.
On the same day as the Yee Peng Festival, another similar but slightly different holiday is celebrated by Thais all across the country. This national Thai festival is known as Loy Krathong. It is recognized by the candle-lit floats that drift down waterways and fireworks that light up the night sky.
If you happen to be in Chiang Mai on the twelfth full moon of the lunar calendar, which traditionally occurs in November, you can celebrate both holidays together as one enormous festival of lights that make for an unforgettable holiday!
What is Yee Peng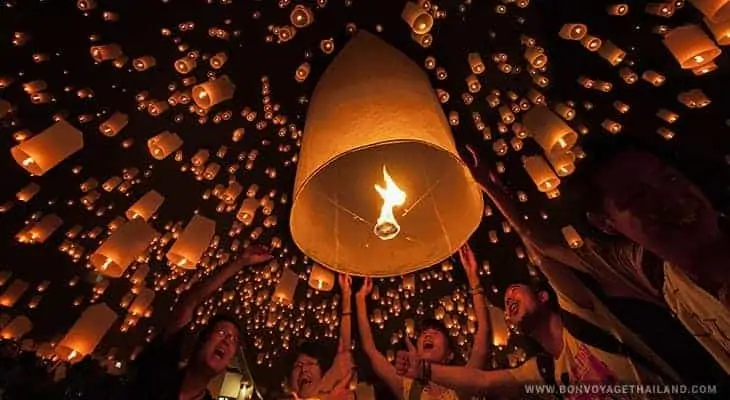 The Yi Peng Lantern Festival is a religious holiday celebrated in the northern region of Thailand. Traditions go back to the ancient times of the Lanna Kingdom. Once a year, people gathered to honor Buddha and ask for good fortune and wisdom before lighting the lanterns or "khom loy" and gently releasing them into the night sky. These floating lanterns create a magical landscape of soft, glowing lights as far as the eye can see.
Local Thai people also dress up for this occasion and wear their best Lanna outfits. Many go to their local temple and make merit and show respect to Buddha. All over the city, you can find beautifully decorated temples and homes adorned with small tea candles, hanging lanterns, and colorful streamers in anticipation of this event.
What is Loy Krathong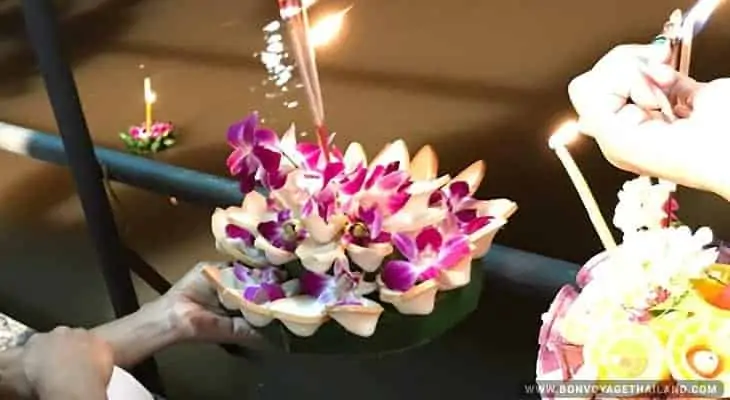 Loy Krathong, which is also often spelled Loi Krathong, originates from an ancient harvest festival that honors the Water Goddess and the importance of local rivers in sustaining village life.
One of the major aspects of this festival is releasing a floating vessel decorated with beautiful arrangements of flowers, incense, and candles or a "krathong." This is believed to free you of the past year's sins and burdens and usher in luck and fortune.
This holiday is celebrated nationwide. However, within each region, local people observe the traditions differently. In the provinces of Northern Thailand such as Chiang Mai, krathongs are made of intricately folded banana leaves in the shape of a boat or bowl. Further south, such as in Trak province, locals hollow out coconut shells and fill them with wax before sending them down the river with a wish.
Where to Celebrate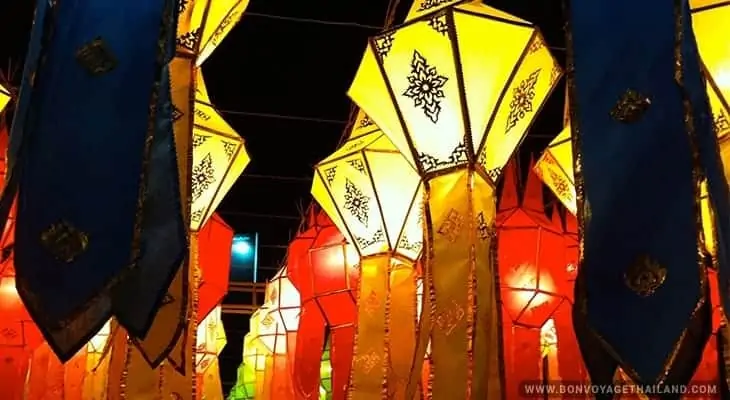 Yee Peng and Loy Krathong are celebrated all over Thailand, but Chiang Mai is among the best places to celebrate these holidays. Both Loy Krathong Chiang Mai and Yee Peng Chiang Mai coincide for a spectacular celebration that lasts several days.
Very close to Chiang Mai's city center, in the area between Tha Pae Gate and the Mae Ping River, visitors can watch stunning parades and beauty contests free of charge. There are also hundreds of vendors set up selling delicious Thai food, beautiful handmade krathongs, and packets of lanterns.
If you are looking for an organized event to celebrate this festival of lights, there are several main venues not far from the city center. Read more about the Yee Peng Lanna International, Mae Ping River, Mae Rim, and Doi Saket events below.
Yee Peng Lanna International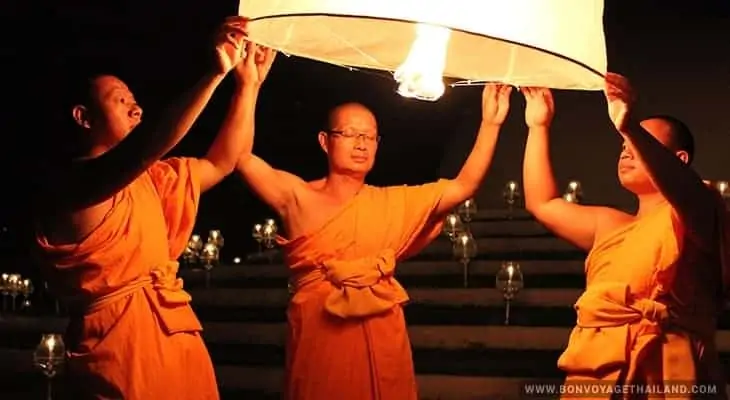 Perhaps the greatest number of people simultaneously releasing lanterns at one time is the Yee Peng Lanna International event. It is hosted at the Lanna Dhutanka Temple behind Mae Jo University roughly 15 kilometers north of Chiang Mai's Old City. Upwards of 4,000 people are invited to the event, which begins with a traditional Thai khantoke dinner accompanied by dancers and musicians. Later in the evening, Buddhist monks recite traditional prayers and offer everyone blessings of health and prosperity before everyone lets go of their lanterns into the sky in a coordinated mass release.
Near the Mae Ping River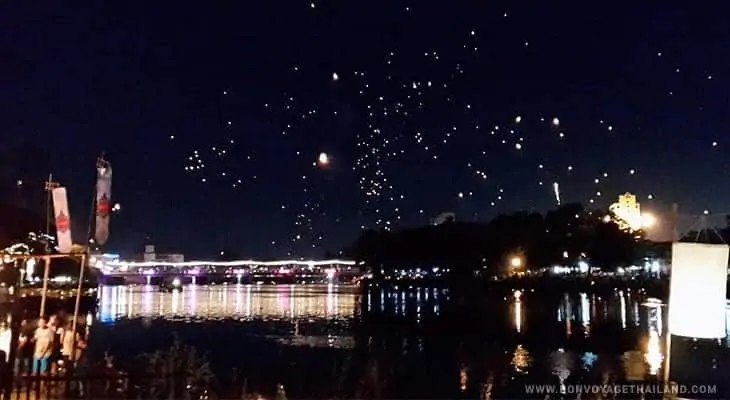 Along the banks of the Mae Ping River, especially the areas surrounding the Narawat and Iron Bridges just east of the city center's Tha Pae Gate, crowds of people gather together and release banana leaf krathongs into the water and paper lanterns into the sky at varying times throughout the night. It has a particularly enchanting atmosphere thanks to the lights gently floating both in the water and the sky.
Mae Rim
Visitors interested in participating in an alternative mass lantern release can go to the CAD Khom Loi Lantern Festival. This event is hosted by the Cowboy Army Riding Club in Chiang Mai's Mae Rim district, roughly 10 kilometers northwest of the city. Between 3,000 to 4,000 people attend, creating a spectacular view. Visitors can watch chanting and meditating monks on a circular stage, similar to the one set up at the Yee Peng Lanna International event.
Doi Saket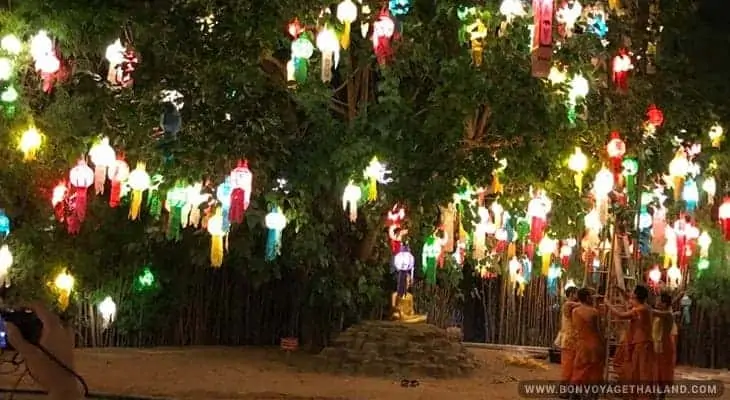 Doi Saket is the countryside 30 kilometers northeast of the city center of Chiang Mai. There you will find a smaller venue hosted at the Doi Saket Hot Springs. Vendors sell Thai food, and there is a small river nearby to float krathongs. Lanterns are also released together in a more intimate celebration.
When is yi peng celebrated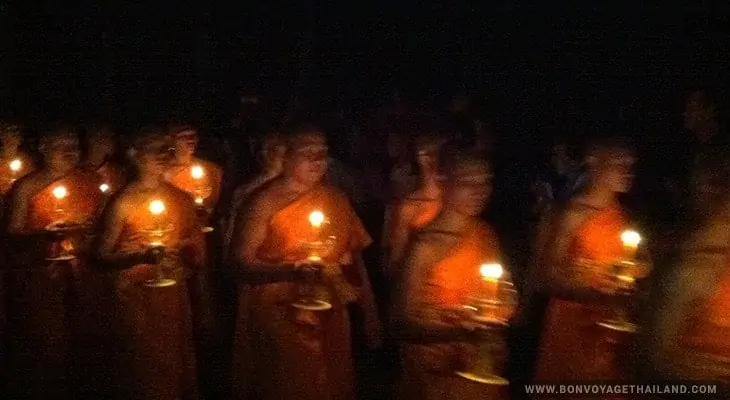 Yee Peng and Loi Krathong are celebrated annually, although the dates change depending on the lunar calendar. In 2021, the celebrations will be on the 19th of November, the night of the full moon. In some cities, celebrations begin and end several days before and after. Be sure to mark your calendars!