Chiang Rai is a culturally rich province in northern Thailand with cool mountains, lush jungles, and quiet, picturesque towns. It also serves as a gateway to neighboring provinces and neighboring Southeast Asian countries.
For this reason, we have listed the best things to do in Chiang Rai. The province is often visited by adventurous travelers seeking less explored areas. Although it is often overlooked by visitors traveling to its livelier sister province Chiang Mai, there are many worthwhile surprises and hidden treasures to discover here if you include it in your itinerary.
For a provincial city, Chiang Rai is pretty laid back, with fewer nightlife and shopping options compared to other touristy towns in Thailand. Once the capital of the Lanna Kingdom, Chiang Rai is still rich in Lanna culture, evident today in Buddhist temples, art exhibits and museums, and restaurants serving Northern Thai cuisine. Farther into the countryside, you'll find ethnic hill tribe villages, sleepy towns lining the Mekong and Kok River, and terraced farmlands that produce fruit, vegetables, rice, and flowers in abundance.
One of the most notable things about Chiang Rai is its infamous Golden Triangle. This was the world's largest supplier of opium nearly a century ago. Thailand's local hill tribe villagers tended the peaceful poppy fields that stretched over northern Thailand and into the neighboring countries of Laos and Myanmar. The opium empire devastated the region, which was plagued by addiction and wars before it was eradicated by His Royal Highness The King and replaced with more sustainable, non-addictive crops.
Activities and Sites in Chiang Rai
Chiang Rai has many natural attractions and cultural activities that can be enjoyed across its gorgeous countryside. Some of the best things to do include visiting temples in Chiang Rai and viewpoints, learning how the opium trade shaped the region's history and talking to villagers of local hill tribes.
Read on to learn more about some of the best activities and attractions you'll experience on a Bon Voyage Thailand tour to Chiang Rai.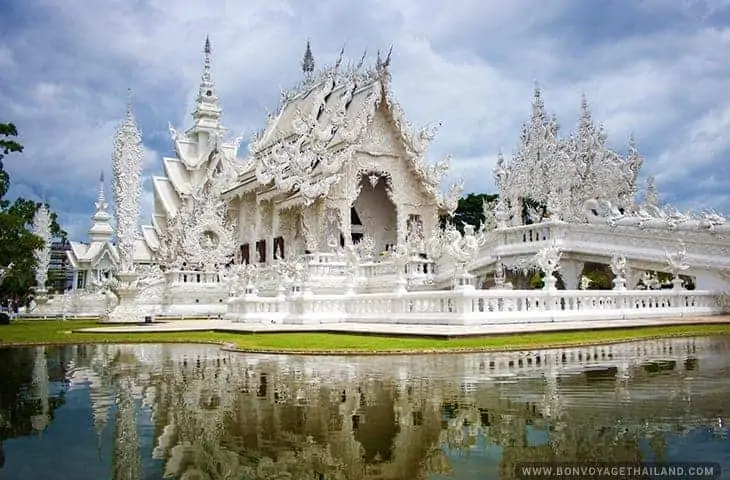 The White Temple is one of the most iconic landmarks of Chiang Rai. This spectacular all-white temple shimmers with mirrors and is covered with strange and intricate carvings and sculptures. The inside of this bizarre building houses huge murals that use contemporary art and cartoon characters to tell stories of the Buddha's teachings through a modern lens.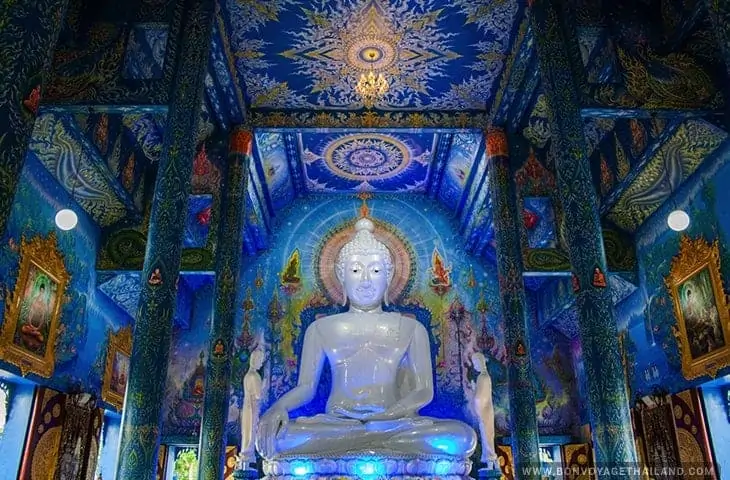 This beautiful Buddhist temple is easily identified by its entirely bright blue building. It's adorned with gold trim, religious murals, and intricate carvings. Built by a student of the artist who built the White Temple, much of the art and décor is reminiscent of that style. Yet the Blue Temple is entirely unique, and all of its adornments seem extremely contemporary and modern compared to other temples in the region.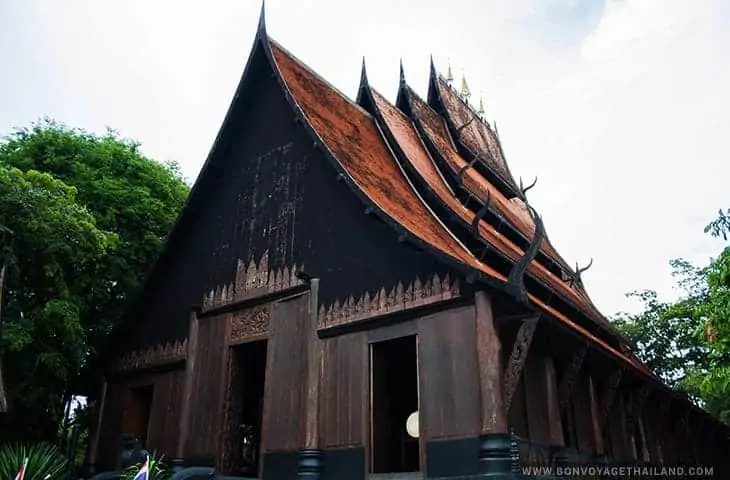 The Black House is a large museum housing the works of a famous local Thai artist. The many buildings are all built of heavy dark wood and metal and arranged around a garden. Each building is full of strange and haunting collections of art and installations built almost entirely out of animal skins and skeletons. All of the art is arranged artistically and symbolically, rather than for mere shock value. Each piece is thought to illustrate Buddhist philosophy, and the collection is well worth seeing, especially in contrast with the White Temple.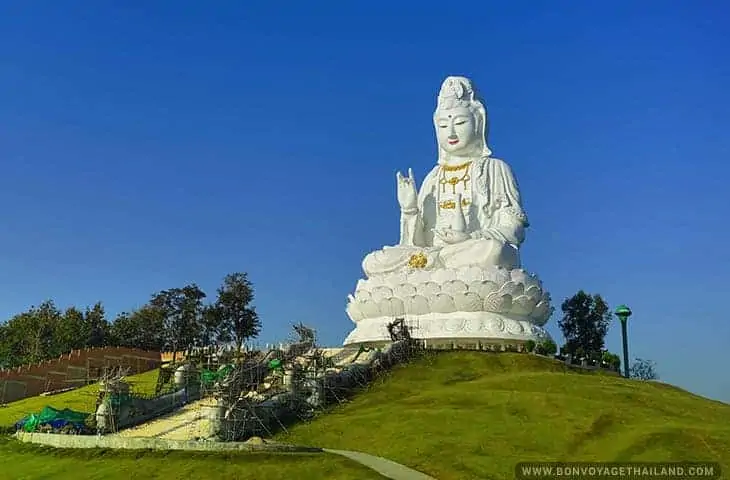 Wat Huai Pla Kang is home to Chiang Rai's "Big Buddha" (which is actually a statue of Guan Yin, the Goddess of Mercy) and a temple with a nine-tiered chedi. Ride an elevator to the forehead of the Guan Yin statue or climb the nine flights of stairs at the top of the pagoda for beautiful views of the surrounding countryside.
King Mengrai Monument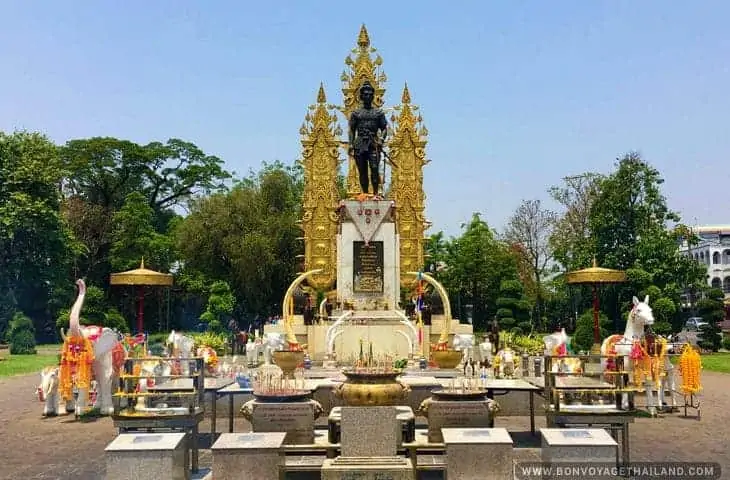 The King Mengrai Monument is a must-see location when travelling to Chiang Rai. King Mengrai is revered as the founder of Chiang Rai, who unified the surrounding territory into the Kingdom of Lanna. This large bronze statue is dressed to the nines in royal attire and accessories, complete with a sword. Located right in downtown Chiang Rai, this is a place of reverence and respect for many people, so be sure to dress respectfully for your visit.
Wat Saeng Kaeo Phothiyan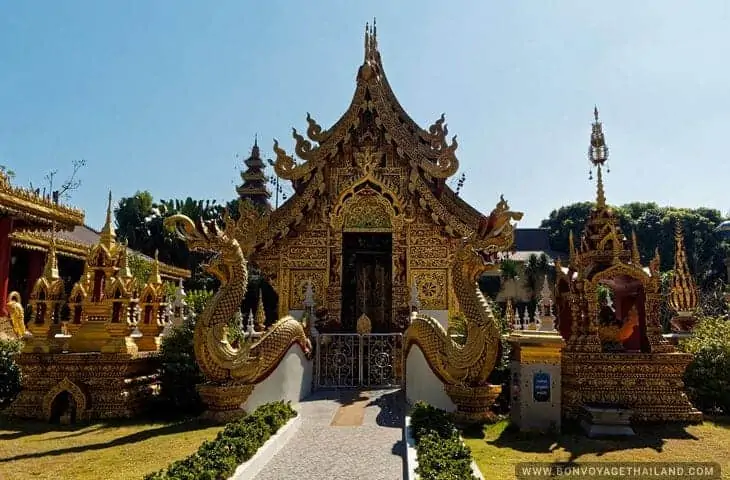 This temple is one of Chiang Rai's best-kept secrets, visited very infrequently by tourists. The temple is covered with enormous statues of Hindu deities, especially Ganesha. A staircase leads to a giant door that opens into a central hall covered with statues. Just in front of the main prayer hall, four deities attempt to carry a large bell. Two of them are demons complete with beer, cigarettes, and a cell phone full of social media apps. Explore this unique temple, passing by nagas with elephant heads and three golden statues of venerated monks. Climb to the top of the bell tower for a great view of the entire region!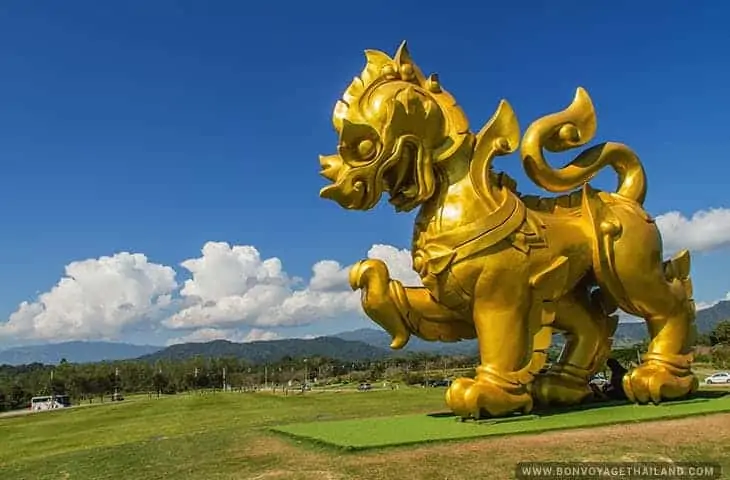 Once used to grow barley for Singha beer in an off-limits farm, this scenic park is now home to an oolong tea plantation, orchards, and a small petting zoo all open to the public. Explore the grounds on foot, by tram, or ride a bicycle to learn how tea is grown and harvested. Large areas of the park are still used as a working farms, with plantations, barley fields, and fruit orchards, while others have been carefully curated with meadows and walking trails for visitors.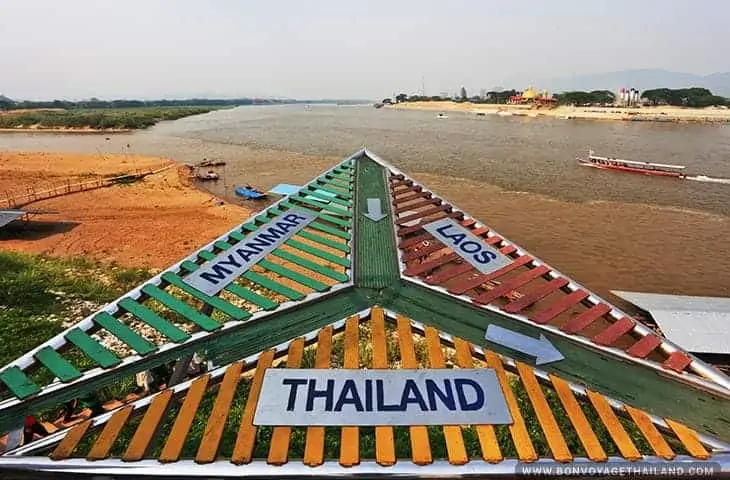 The Golden Triangle is famous for its dark history as well as its present-day status as a beautiful travel destination. Once a hub of opium production and distribution, the Golden Triangle is now full of green jungles, towering mountains, hill tribe villages, and opium-free farmland. Come here to feel how history and humans shift over time and see how the natural landscape remains healthy and unchanged along two ever-flowing rivers. 
Wat Phra That Doi Pu Khao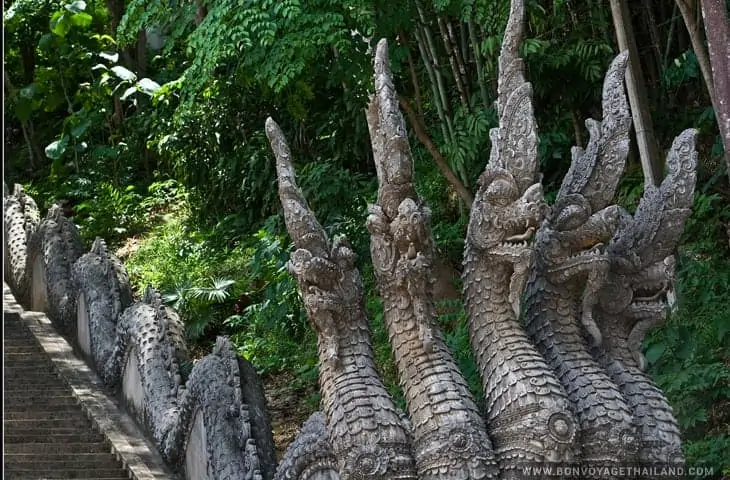 This riverside temple is believed to have been built by an 8th-century king, the ruler of Wiang Hiran Nakhon Ngoen Yang, the capital of the Lanna kingdom. Today, the chapel and crumbling chedis are all that remains of this ancient piece of architecture. But the surrounding area is still beautiful, complete with a view of the Mekong River and the Golden Triangle beyond. 
Hall of Opium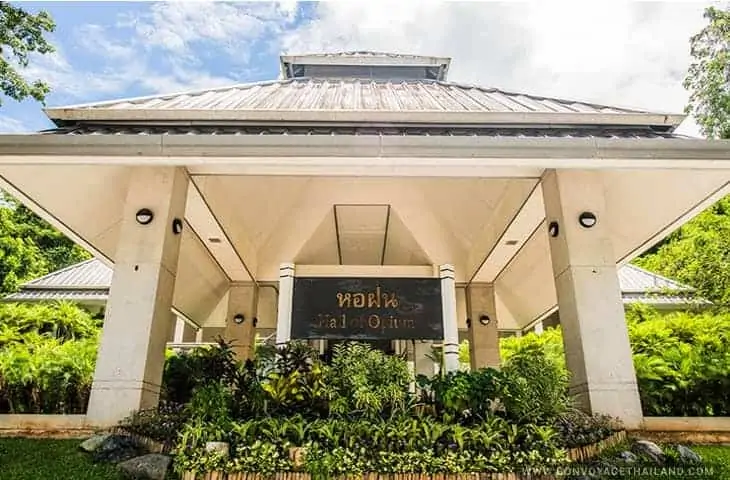 The Hall of Opium is an excellently curated museum built to teach people about the dangers of opium and the history of the drug in Southeast Asia. It features a collection of opium paraphernalia and memorabilia, collected by a woman named Patcharee Srimatyakul as a personal passion. Exhibits include tools for planting, harvesting, and trading opium-like pipes and scales, as well as interactive displays to educate visitors about the medicinal use of opium, opium abuse, and the Opium Wars that followed. This is the best place to learn how the Royal Thai family intervened in the opium crisis and taught hill tribe villagers to grow sustainable crop alternatives instead.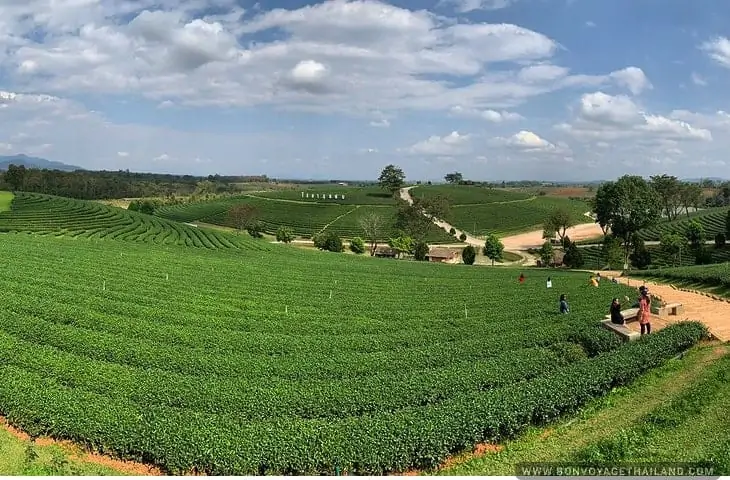 This gorgeous tea plantation is a famous landmark of Chiang Rai. It's a must-see for anyone interested in either tea or scenery. A variety of teas are grown here, from green and black to oolong. Taste a hot cup or three of high-quality, incredibly fresh tea while gazing out onto the breathtaking landscape. Don't forget to grab a few packets of tea on your way out — it's truly the best tea in Thailand.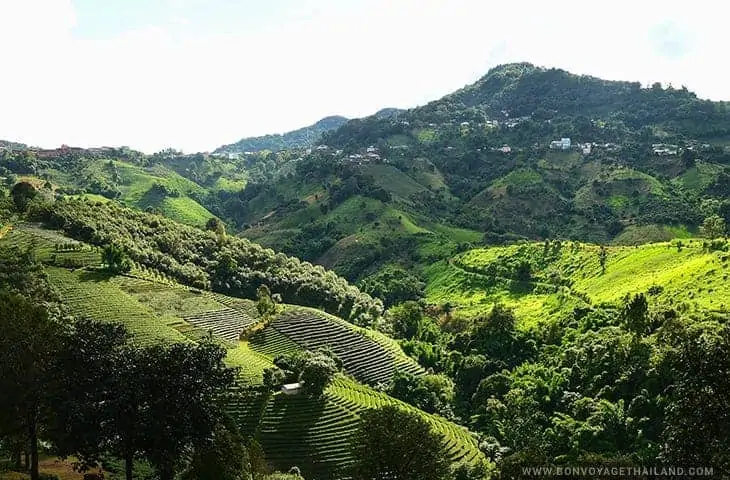 One of the most fascinating villages in Northern Thailand, Doi Mae Salong is settled by a community of Chinese soldiers, alongside the Chin Haw ethnic minority. The culture is completely different than the rest of the country — everything here has a distinctly Chinese flavor, especially the food! Don't miss the chance to do a tea tasting here. The community is famous for growing oolong tea, which you can see cascading beautifully green down the mountainsides.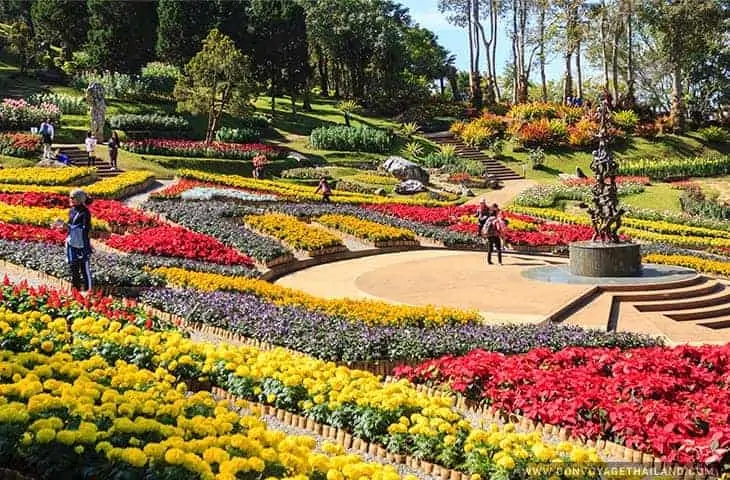 This elegant palace was built in a combination of Swiss and Lanna architectural styles, with an exterior decorated with discarded teak slabs. The Doi Tung Palace served as the home of the Princess Mother while she worked on the Doi Tung Development Project. The villa is simple, elegant, and functionally beautiful, with tasteful and special design choices throughout. Look out for a constellation map overhead, made of tiny lights, to represent the night sky on the day the Princess Mother was born.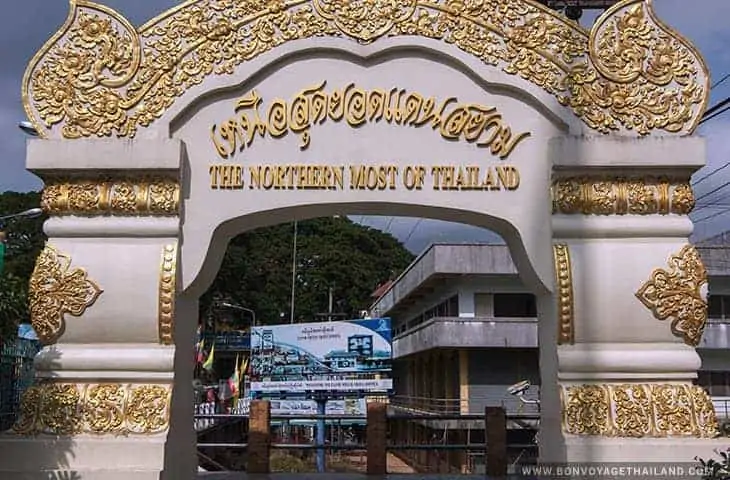 Mae Sai is a small Thai town on the border with Burma. Some people come here to cross over the border to visit Tachileik, the Burmese town just on the other side, and beyond. Many people also come here to visit the busy markets, where goods of all kinds are on sale for very cheap. More than just a small border town, Mae Sai is also full of cultural activities and natural beauty. Spend some time here to visit the Scorpion Temple, Doi Wao, and Wat Thamphajoen, all famous for their unique monuments and statues of scorpions and deities. Alternatively, visit Tham Luang Cave, one of the largest caves in Thailand, or visit Khun Nam Nang Norn Forest Park for an escape into nature.
Chiang Rai Clock Tower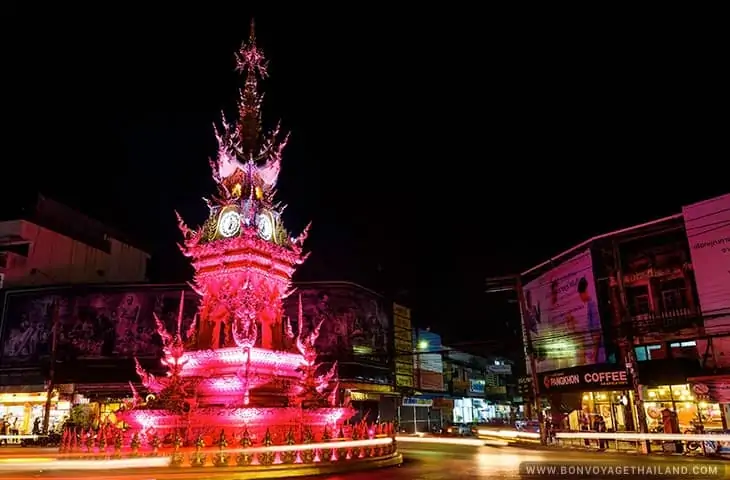 The clock tower in Chiang Rai was designed and built-in 2008 by Chalermchai Kositpipat in honor of King Bhumibol Adulyadej, the same artist who built the White Temple. During the day, the Chiang Rai clock tower is quite shiny, all gold and huge in size. When the clock tower is illuminated at night, it is even more impressive. Every day, from 7 pm to 9 pm, the clock tower transforms into a piece of art for 10 minutes at a time. Music is played, and the lights do beautiful things. It's pretty amazing.
Chiang Rai Walking Street
Chiang Rai Walking Street opens every Saturday night right in downtown Chiang Rai. This is a family-friendly landmark, where you can buy handicrafts made by locals and hill tribe villagers as well as products from royal projects that uplift marginalized communities and ethnic groups. Get a massage, gorge on an abundance of street foods, or just ogle at the variety of quality goods and crafts on display. This is a great night market to get souvenirs to bring back home!
Chiang Rai Night Bazaar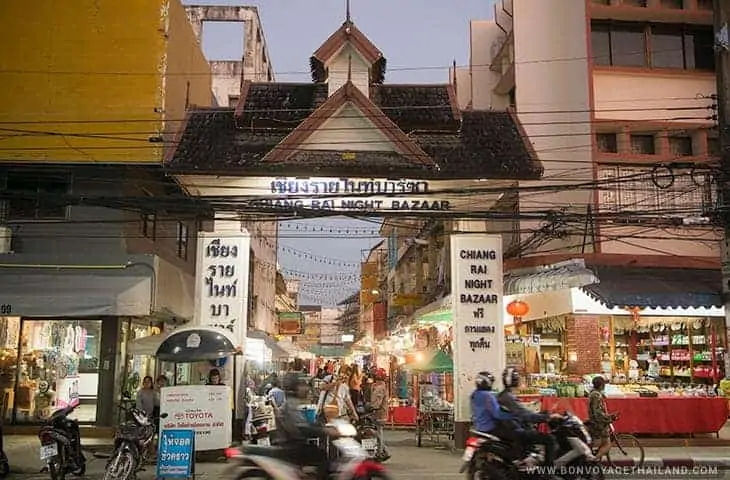 The Night Bazaar, open every evening from 6 pm, is one of the busiest Chiang Rai night markets in the city, especially later in the evening. There are over 300 stalls selling street food, clothing, jewelry, and gifts as well as live entertainment. Restaurants and beer gardens are available near two stages for shows, the first stage is for traditional Thai dance and classical music by Chiang Rai University students. The second stage of the beer garden is for cabaret shows, singing, and performances of hill tribes.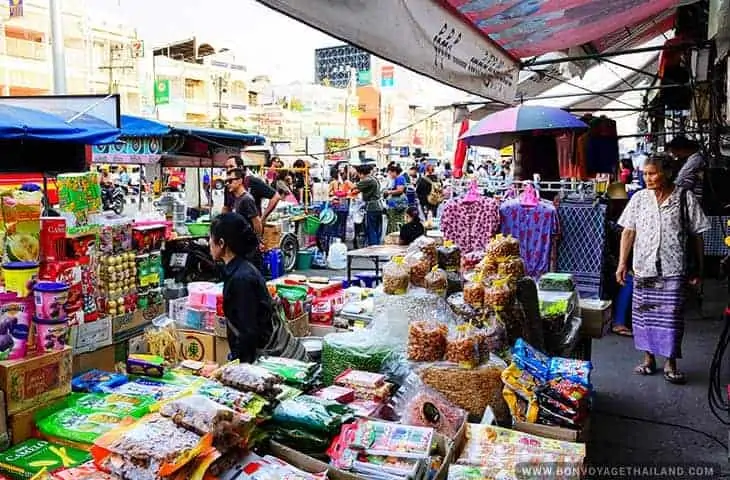 No visit to Mae Sai is complete without a visit to Mae Sai Market. This bustling market is a blend of Thai and Burmese culture and goods, where people from both countries and beyond shop for everything from clothing to home goods to electronics and power tools. Pick through this giant, open-air market to find the best deals, or take a break at one of the many cafes and restaurants threaded through the covered alleyways. Buy some souvenirs to take home or just people watch to get a sense of the cultural exchange between determined and thrifty travelers and visitors from different countries.
Oub Kham Museum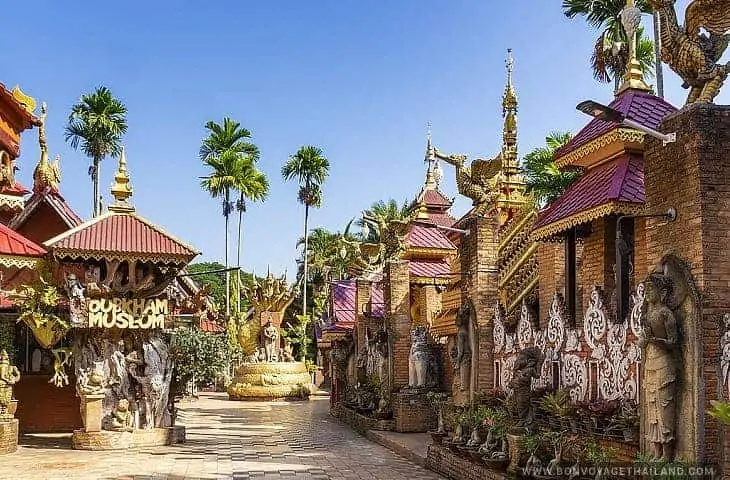 The Oub Kham Museum is all about Lanna's history and heritage. The museum curator, Julasak Suriyachai, is a descendant of Burmese royalty and a devout lover of Lanna culture. He has carefully amassed an impressive collection of items from every corner of the Lanna Kingdom. Here, you will find Lanna textiles and jewelry, sculptures and statues, pottery, and antiques. Many of these objects are one-of-a-kind curios, like a monkey-bone food taster and a gold-coated bamboo bowl used by monks and kings.
Khun Korn Waterfall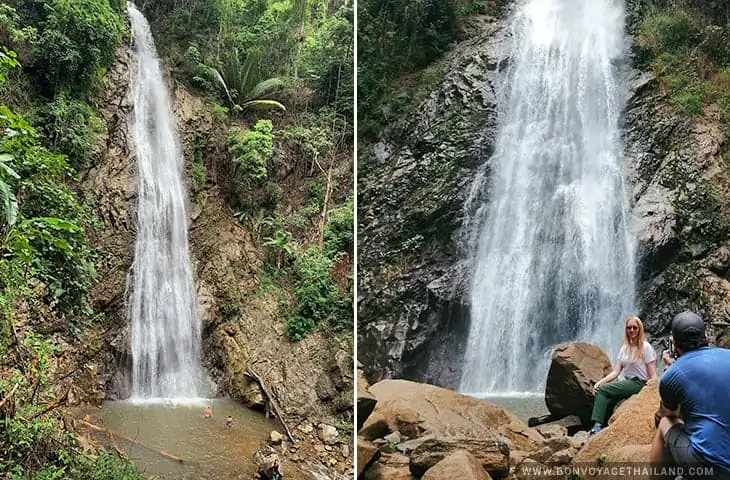 Khun Korn Waterfall is the highest waterfall in Chiang Rai and is located in the beautiful Namtok Khun Korn Forest Park. Make the two-hour hike through a dense bamboo jungle and past a small stream to the 70-meter waterfall at its source. If you are lucky, your hike will be accompanied by native animals such as butterflies, lizards, and birds.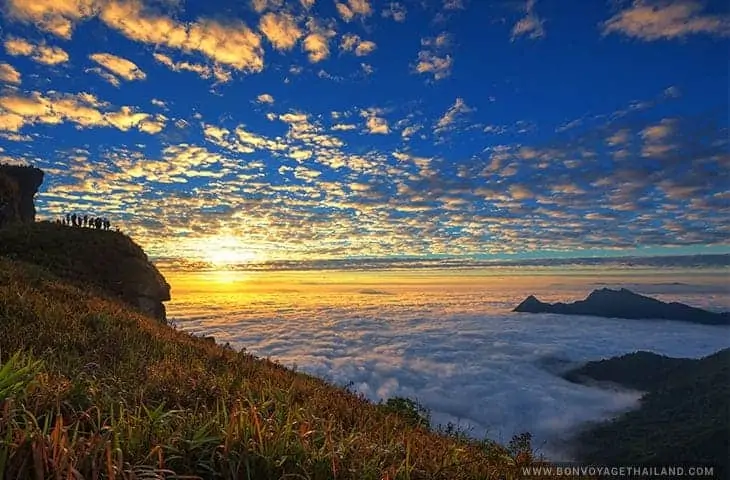 Phu Chi Fah translates to "the Mountain that Points at the Sky". With one foot in Laos and the other in Thailand, this towering mountain sits more than 1600 feet above sea level with its peak indeed pointing at the clouds. Head to the top of a nearby peak to see the jagged silhouette of Phu Chi Fah jutting out into the sky and dropping down dramatically into the valley below.
Rai Mae Fah Luang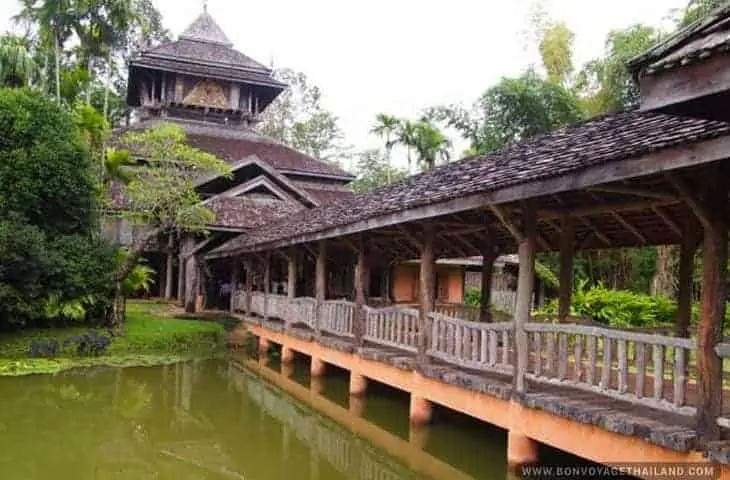 Mae Fah Luang Art & Cultural Park is home to Northern Thailand's largest collection of art and teak artifacts from the Lanna Kingdom and has won awards as an outstanding Arts and Culture tourism destination. This extraordinary destination is part museum, part landscape, as it is set in a beautiful garden that is lovely to stroll through at every time of day. Peruse the Haw Kaew pavilion to see its exhibition of teak artifacts from traditional household utensils to religious objects and statues. Nearby, check out the Haw Kham, or the Golden Pavilion, which was built in traditional Lanna style out of the remains of crumbling and abandoned wooden homes. Don't miss Haw Kham Noi, which houses a collection of incredible Buddhist murals believed to be from an abandoned teak temple in Phrae.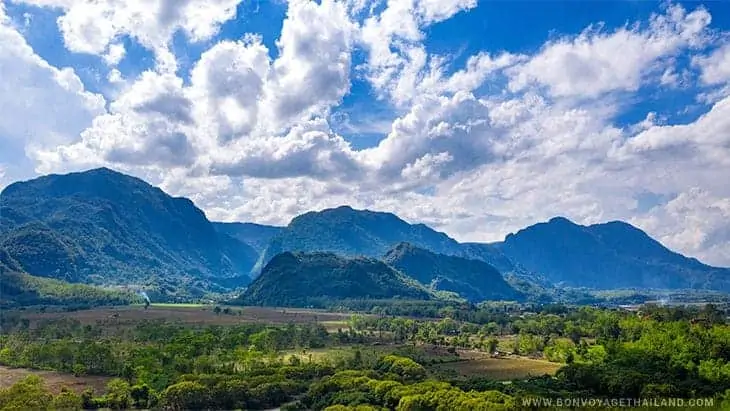 Doi Nang Non, or "Sleeping Woman Mountain", looks like a woman on her back with a long lock of hair flowing from her head. Legend has it that a heartbroken princess died from grief here, with her body transforming into the mountainside and her blood flowing into the water in the cave. Visitors can head straight inside the cave by a set of steep stairs, or hike right up to various parts of the mountainside. 
Mae Kok River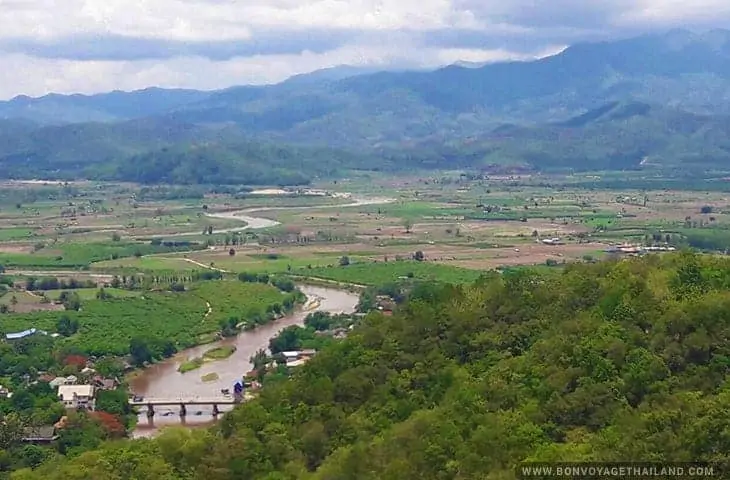 The Mae Kok River begins in Myanmar and flows South to Mae Ai, with most of its length in Thailand crossing through Chiang Rai Province. Boat travel along this river is a prominent method of transportation in the region, with traditional long-tail boats making daily trips between Chiang Rai and the Myanmar border. It's possible to take this trip to Thaton to enjoy the gorgeous natural scenery and visit the many hill tribe villages dotting the river banks. If you don't want to go all the way to Thaton, it's possible to take a long-tail boat ride through the local region to enjoy sightseeing of mountains, jungles, villages, and temples.
Huay Mark Liam Hot Spring
Escape Chiang Rai city and unwind at a natural hot spring! This mineral bath averages an extraordinary 67⁰C, hot enough to boil an egg but too hot to soak human bodies in. Take a retreat here to experience the extremes of nature and enjoy the beauty of Nam Kok National Park, covered in thick forest and a peaceful atmosphere.
Lam Nam Kok National Park
This gorgeous national park is embraced by a multitude of mountain ridges, through which the Kok River flows. Hike the trails which alternate between steep slopes and narrow low plains to discover powerful waterfalls charging down from mountain ridges past thick bamboo groves. This wild wonderland climbs as high as 1,720 meters above sea level, to the peak of Doi Chang.
Chiang Rai Beach (Haad Chiang Rai)
Chiang Rai is known primarily for its collection of temples and cultural landmarks. Though some travelers know about the region's beautiful natural landscapes, very few are aware of Chiang Rai Beach! This sandy river beach is dotted with wood and bamboo huts where locals come to splash and swim and escape city life. Come here to escape the crowds of tourists, eat fresh Thai food, and enjoy mountain views.
Visit Chiang Rai – Day Trip and Multi-Day Trip
Explore our Chiang Rai Tours section
Related Articles