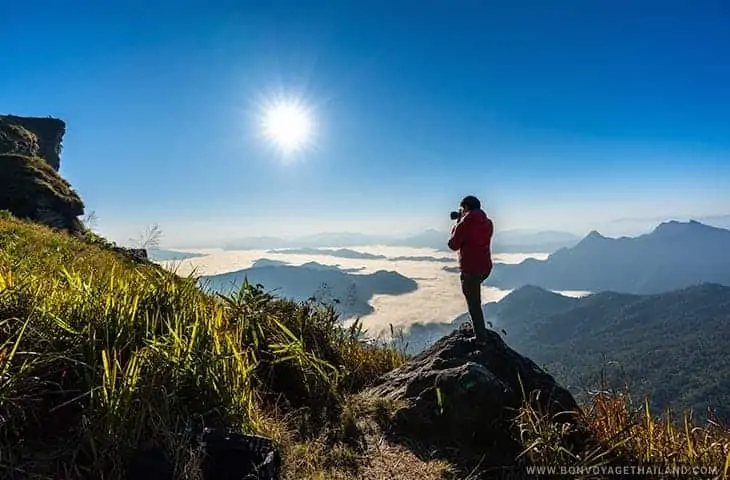 The silhouette of a mountain hangs over the horizon, overlooking the nearby country of Laos. The name of this prominent mountain, called Phu Chi Fah in Thai, literally means "the mountain that points to the sky."
As the air drifts over the cliffs and the sun rises, take a deep breath and relax on the incredible summit of Phu Chi Fah. When you reach the top, it's like standing on top of the world.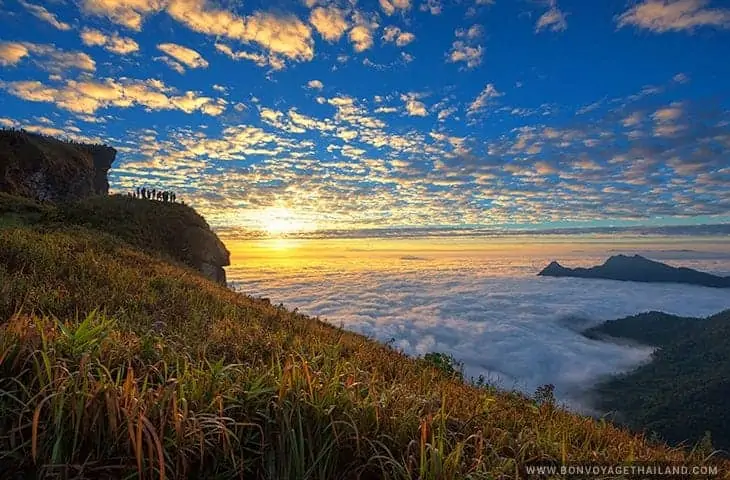 Adventurous travelers creep to the top of the cliff just before sunrise to catch the "sea of mist" with views of the fog and rocky hills. The elevation is high enough that it feels like you could cradle a cloud in your arms.
Because of its forestry, Phu Chi Fah is home to animals like deer, wild boar, and singing canaries. It is a viewpoint overlooking rolling hills, verdant valleys and elegant peaks with a variety of landscapes appearing on its body, from farmlands and orchards at ground level to bushes and grass at the summit. Although it's technically on a tourist trail, you won't find many tourists here at all, other than Thai locals who are very fond of the place.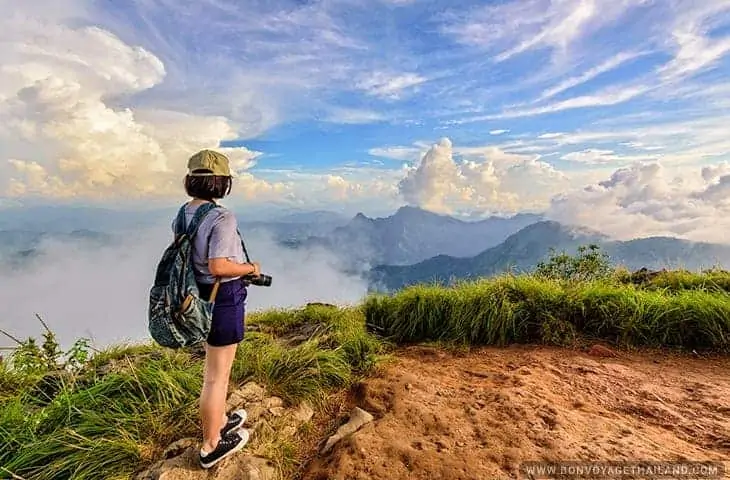 Phu Chi Fah is in a Hmong village, so a trip here often includes an opportunity to see villagers around the area.
Preparing for Phu Chi Fah
A few words of advice: Begin the trek to the summit well before sunrise. Once you reach the top, you will be just in time to see the sun stretch across the horizon. It's possible, of course, to come at any time of day, but this is the best time to witness the start of the day as the mist clears away.
Although the country as a whole is known for its tropical climate, the top of the mountain can be chilly, so be sure to dress in warm and comfortable clothes. The hike can be rocky and sometimes muddy if you're going in rainy season, so closed-toed shoes are best. In case you need more layers, vendors line the main street at the bottom of the hill selling warmer items.
Pack food to eat along the way, or stop by an early-morning food stall for a bowl of rice porridge, a common Thai breakfast.
Climb to Phu Chi Fah Peak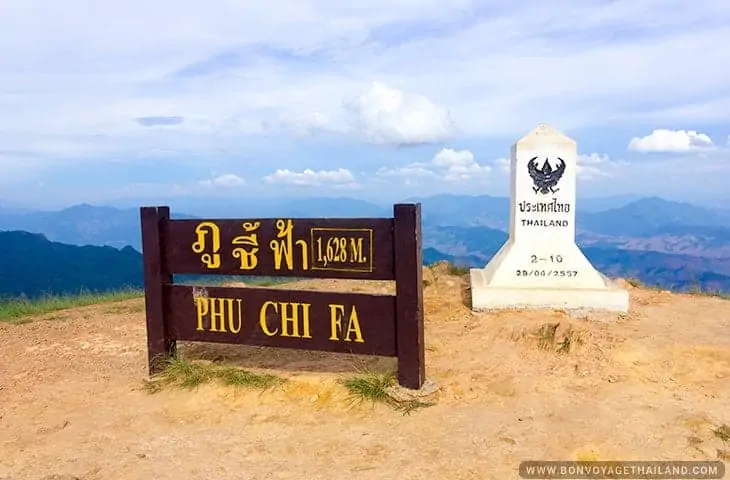 There are a number of guesthouses nearby that are lovely to stay at during a trip to the region. If hiking isn't your thing, it's possible to take a bike or scooter to the top or rent a car for maximum comfort.
Phu Chi Fah may not be a common travel destination, but the views are breathtaking and well worth the trip.
Near This Place
Near This Place
Read more about Things To Do in Chiang Rai