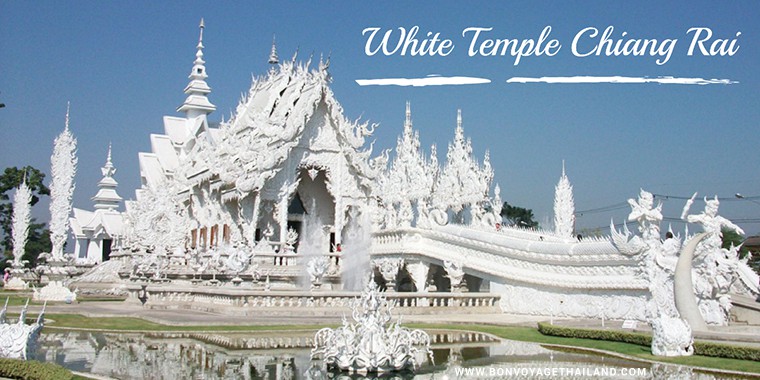 As one of the most unique and somewhat bizarre destinations in Southeast Asia, the White Temple in Chiang Rai province is a place you should not miss on your trip to Thailand!
Known as Wat Rong Khun for Thais, the White Temple is a stunning example of contemporary and traditional Thai architecture. The building mixes modern architectural elements and colors with traditional Thai motifs to create a temple unlike any other in northern Thailand.
You may have seen pictures of the glittering white facade, but there's a lot most people don't know about the White Temple.
The White Temple is designed and financed by the same person
The breathtaking architecture and design of the White Temple was created by the Thai artist Ajarn Chalermchai Kositpipat. Born in Chiang Rai, the same city where the temple was built, Chalermchai Kositpipat has dedicated his life to the restoration and improvement of White Temple, known locally as Wat Rong Khun.
The White Temple has a three-tiered roof
Visitors may not notice it on first glance, but the White Temple has more than one roof. Inspired by the traditional design of Buddhist temples in Thailand, the building has a three-tiered roof. It is decorated with unusually intricate Naga serpents and makes for an incredible sight from afar.
The color white symbolizes the purity of the Buddha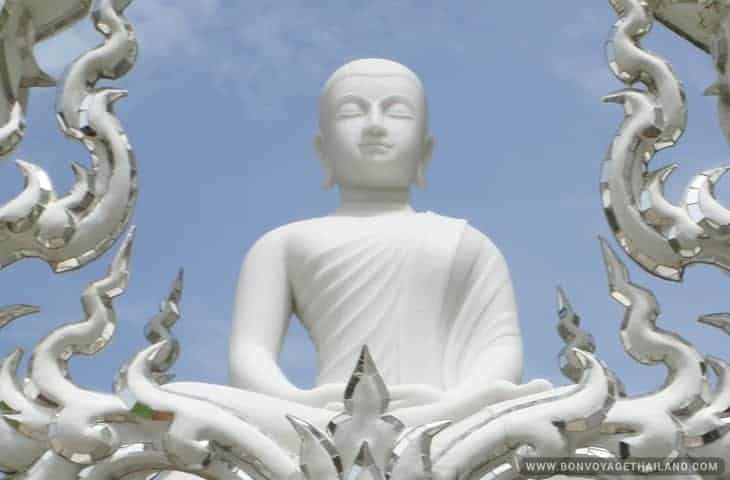 Temples in Thailand are very often decorated or adorned in gold trim but the creator chose to use white instead. And rather than white be used as an accent color, the brilliant color (or lack thereof) envelopes the buildings from roof to footer, as well as the surrounding bridges, fences, and statues.
Nearly everything about the temple depicts a religious or symbolic message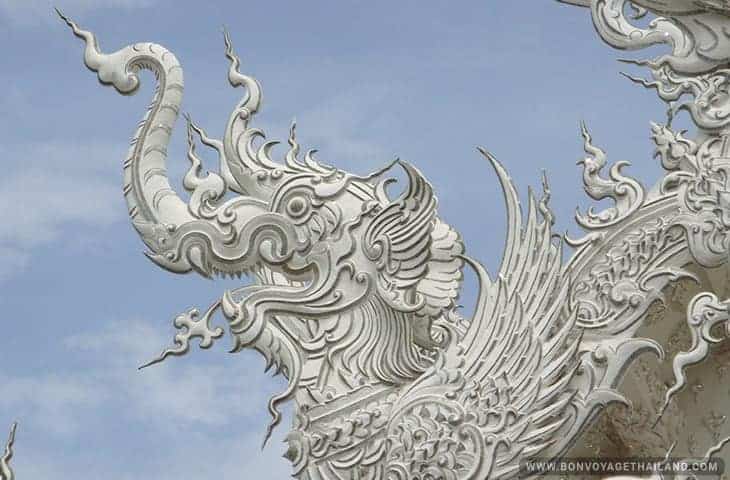 In addition to the pure white color choice, much of the structural choices, mythical creatures, and positions of the White Temple's guardians and deities depict a religious or symbolic meaning. The common theme of this Buddhist temple is of escaping greed and desire and moving towards enlightenment through Buddha's teachings.
Thailand's most beautiful restroom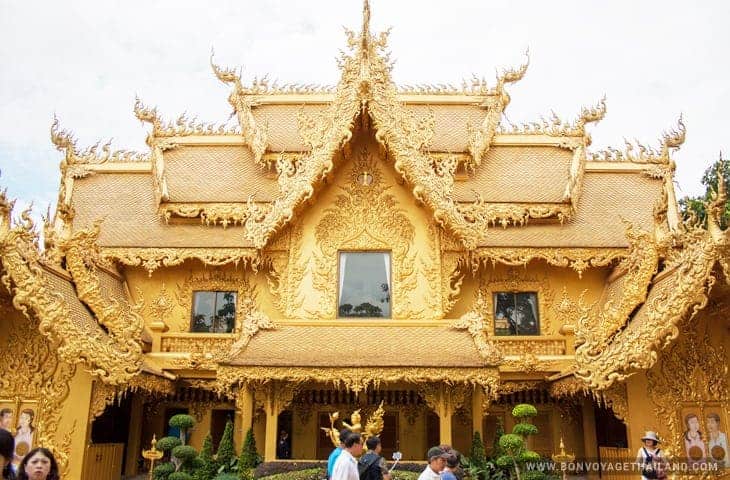 Considered the most beautiful of its kind in Thailand, the toilet building is both breathtaking and symbolic.
Visitors can look forward to relieving themselves in a bathroom housed in an entirely golden building, featuring ornate and gleaming exterior decorations. While the white color of the temple represents Buddhist purity, the gold color here represents humanity's focus on worldly nonsense.
The White Temple is a work in progress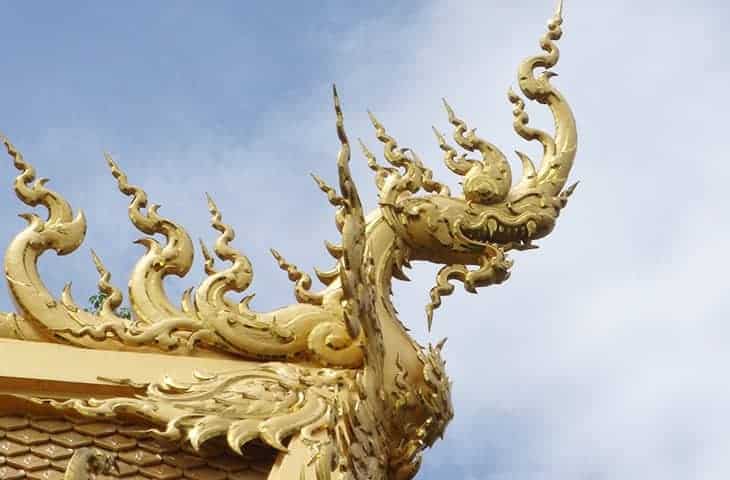 Although the Wat Rong Khun temple construction began in 1997, changes are constantly being made to the buildings and the surrounding gardens. The artist continues to make small additions and alterations to the nine buildings that make up the compound. In fact, it is estimated that his work will not be finished for several more decades and will be carried on by others after his death.
Artwork features famous people, superheroes, and cartoons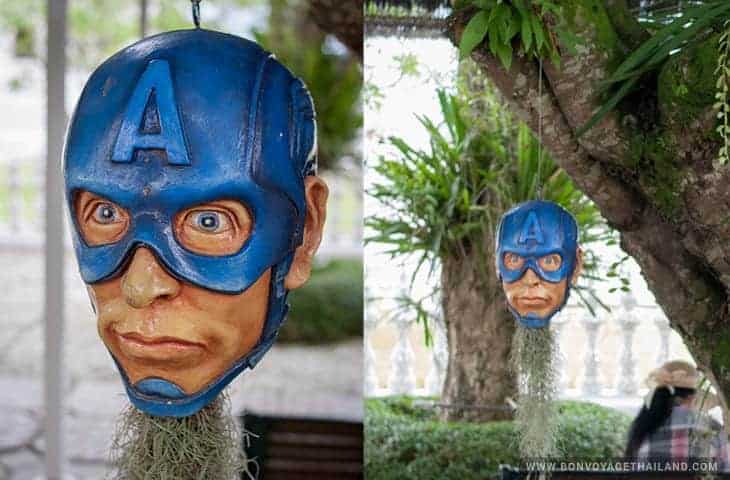 A striking contrast to its traditional Thai structure and beautiful Buddhist motifs are paintings featuring iconic people and modern creations on the interior walls of the main building. There are depictions of Spiderman, Darth Vader, Michael Jackson, Hello Kitty, and even Angry Birds characters intermingled with flames, demons and tragic scenes in history.
The Wat Rong Khun survived an earthquake
On May 5, 2012, the White Temple was damaged by an earthquake that struck Thailand's Mae Lao District of the Chiang Rai Province. However, after being inspected by a team of engineers, it was announced that the Wat Rong Khun had no major structural damage and was reopened to the public for viewing.
How to Visit Chiang Rai White Temple
The White Temple is open every day from 6:30 AM to 6 PM, the entrance fee is 100฿ Thai baht. Plan to give yourself at least 40 minutes to explore the grounds and various buildings that make up the entire White Temple complex.
Touring the White Temple independently
The White Temple is located 15 minutes outside of Chiang Rai City, in the village of Ban Tha Klang (about 228 kilometers from Chiang Mai).
The White Temple is located 15 minutes outside Chiang Rai City, in the village of Ban Tha Klang (about 228 kilometers from Chiang Mai ).
From Downtown Chiang Rai
You can reach Wat Rong Khun by taking a songthaew (local pickup taxi) from Chiang Rai's old town for 50 baht per person or by driving yourself.
From Chiang Mai
You have the choice to travel by bus, plane, rental scooter or car. If you choose the bus or plane, you can still rent a scooter or car in Chiang Rai, taxis are also available.
A bus to Chiang Rai bus station takes about 4 hours and costs about 220 baht per person, once you arrive at Chiang Rai Bus Terminal 1 you have the option of taking a taxi to your accommodation or directly to the temple, you can even take a motorbike taxi.
Guided Tours
Guided tours are available from Chiang Mai and Chiang Rai. A tour guide will be able to answer many questions and give you very interesting facts about the history, construction and operation of the temple Wat Rong Khun. You have the choice of joining either a group tour or a private tour. A private tour offers more privacy and time to reflect and relax.
After your tour of the Wat Rong Khun grounds, stop by the nearby art gallery as well as the small gift shop to purchase souvenirs of the visit. There is also an onsite café that serves iced beverages and Thai food for thirsty and hungry patrons.
A tour to the White Temple can include visits to neighbouring sites, such as the completely opposite but equally fascinating Black House (Baan Dam Museum), with a darker, more sinister side. The Blue Temple (Wat Rong Suea Ten) is worth a visit for its beautiful blue design. The temple Wat Huay Pla Kang also offers beautiful and tranquil views of the mountains.
Good to Know
Because the White Temple Chiang Rai holds religious and cultural significance, visitors are encouraged to wear polite attire that covers shoulders and knees, especially women.
If you have any questions about Wat Rong Khun temple or the upcoming visit to Chiang Rai please contact us it will a pleasure to assist you, please contact us.
Temples Near Wat Rong Khun Chiang Rai
Read more about Temples in Chiang Rai.