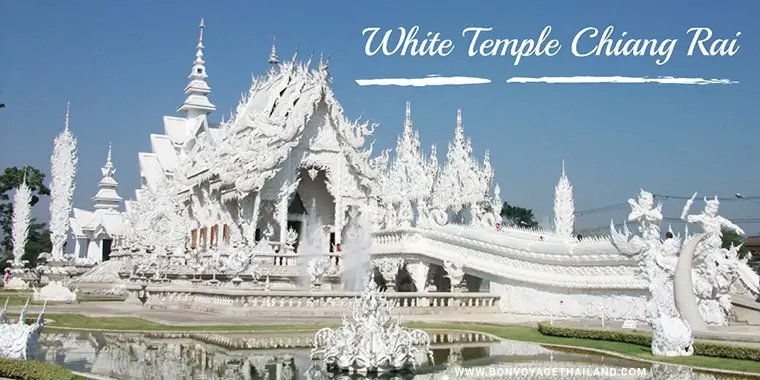 As one of the most unique and somewhat bizarre destinations in Southeast Asia, the White Temple in Chiang Rai province is a place you should not miss on your trip to Thailand!
The White Temple, known to Thais as Wat Rong Khun, is a masterpiece of artistic brilliance and spiritual devotion that awaits travelers from around the world. Wat Rong Khun, popularly known as the White Temple, is a testament to the transformative power of passion and devotion. This iconic landmark not only tells the story of its own founding and reconstruction, but also makes Chiang Rai a must-see tourist destination.
The Fascinating Story of Wat Rong Khun's Restoration and Symbolism
At first glance, Wat Rong Khun captivates with its bright white exterior, adorned with stunning ornamental details. However, beneath its surface lies a fascinating historical background that reveals a remarkable journey of revival and creativity.
The origins of Wat Rong Khun can be traced back to the late 20th century, when the original temple became dilapidated. It was in a state of disrepair until local artist Chalermchai Kositpipat embarked on a visionary reconstruction project. His deep admiration for traditional Thai architecture and his desire to create a spiritual sanctuary led to the revival of the temple.
Chalermchai's dedication to the restoration of Wat Rong Khun was an awe-inspiring undertaking. He put his heart and soul into every detail, ensuring that the temple not only reflected traditional esthetics, but also contained deep symbolism. His artistic vision aimed to depict the journey from darkness to enlightenment, with the pure white exterior symbolizing purity, while shards of glass embedded in the plaster reflect wisdom and the search for inner truth.
The reconstruction of Wat Rong Khun not only breathed new life into the temple, but also catapulted Chiang Rai onto the international tourism stage. Today, the temple is a landmark that attracts visitors from all over the world. The temple's grandeur and ethereal beauty have become synonymous with Chiang Rai, and its appeal continues to grow year after year.
In addition to its esthetic appeal, Wat Rong Khun also has great symbolic significance. As visitors step through the temple's ornate gates, they are confronted with a variety of impressive sculptures and murals depicting various elements of Buddhism, Hinduism, and pop culture. Each structure and work of art carries a profound message and invites contemplation and introspection.
A Fascinating Journey Through Symbolism and Art
Embark on an exciting journey of discovery through symbolism and art at the captivating White Temple. This Thai temple takes visitors on a captivating journey through intricate symbolism and breathtaking artistic expressions. From its three-tiered roof to its thought-provoking contemporary artworks, the White Temple offers a unique and unforgettable experience that transcends the boundaries of traditional Thai temples. Discover the profound messages and creative wonders that await you in this extraordinary architectural masterpiece.
The White Temple has a three-tiered roof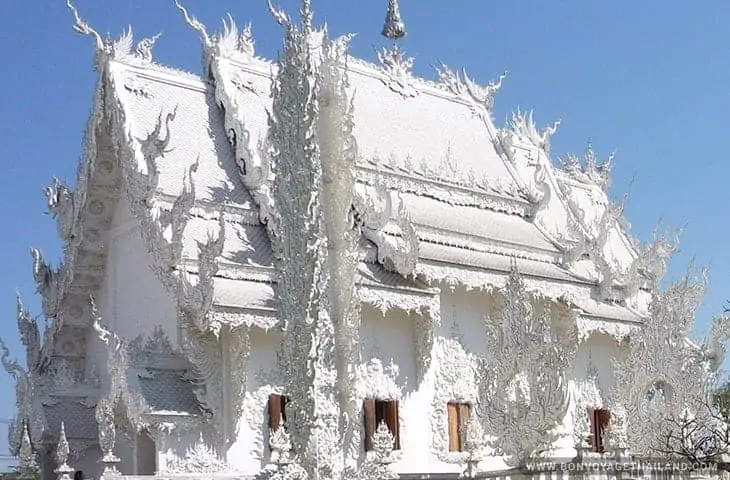 Visitors may not notice it at first glance, but the White Temple has more than one roof. Inspired by the traditional design of Buddhist temples in Thailand, the building has a three-tiered roof. It is decorated with unusually intricate Naga serpents and makes for an incredible sight from afar. The first thing that visitors do notice is the unusual color of the temple, painted top to bottom in a brilliant white.
The color white symbolizes the purity of the Buddha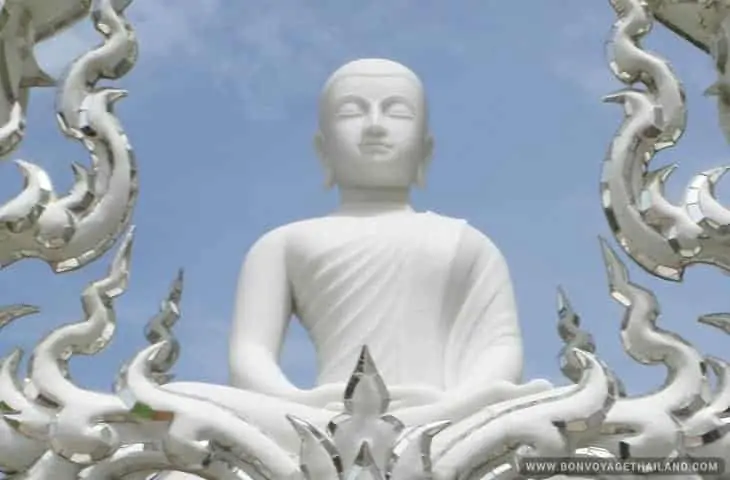 Temples in Thailand are very often decorated or adorned in gold trim but the creator chose to use white instead. And rather than white being used as an accent color, the brilliant color (or lack thereof) envelopes the buildings from roof to footer, as well as the surrounding bridges, fences, and statues.
Nearly everything about the temple depicts a religious or symbolic message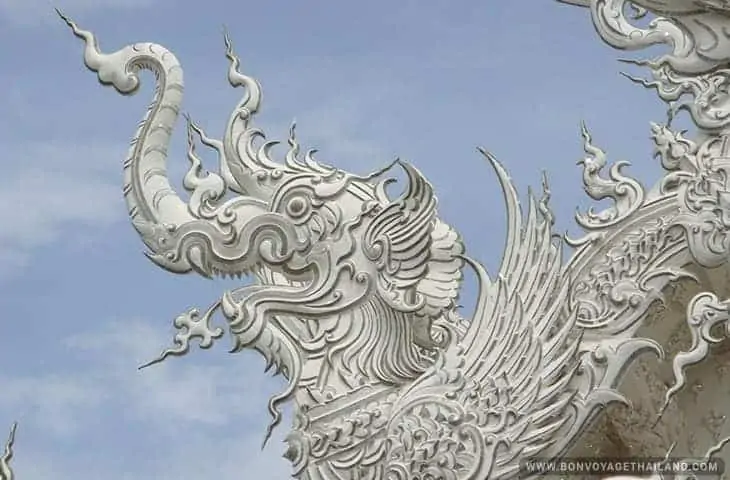 In addition to the pure white color choice, much of the structural choices, mythical creatures, and positions of the White Temple's guardians and deities depict a religious or symbolic meaning. The common theme of this Buddhist temple is of escaping greed and desire and moving towards enlightenment through Buddha's teachings.
Thailand's most beautiful restroom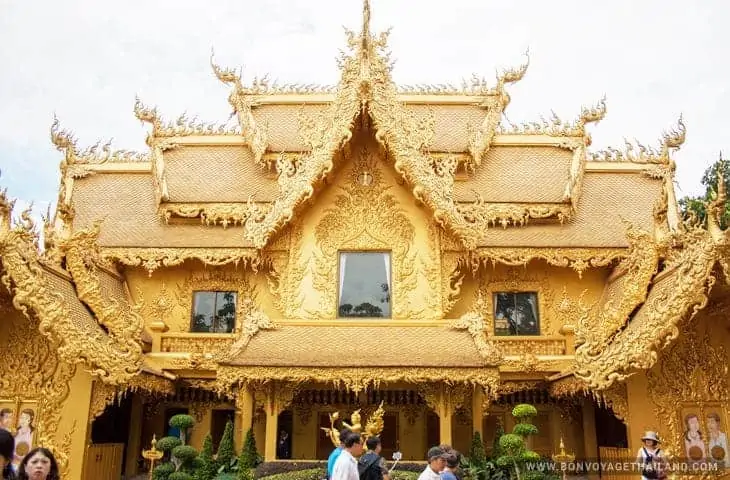 Considered the most beautiful of its kind in Thailand, the toilet building is both breathtaking and symbolic.
Visitors can look forward to relieving themselves in a bathroom housed in an entirely golden building, featuring ornate and gleaming exterior decorations. While the white color of the temple represents Buddhist purity, the gold color here represents humanity's focus on worldly nonsense.
The White Temple is a work in progress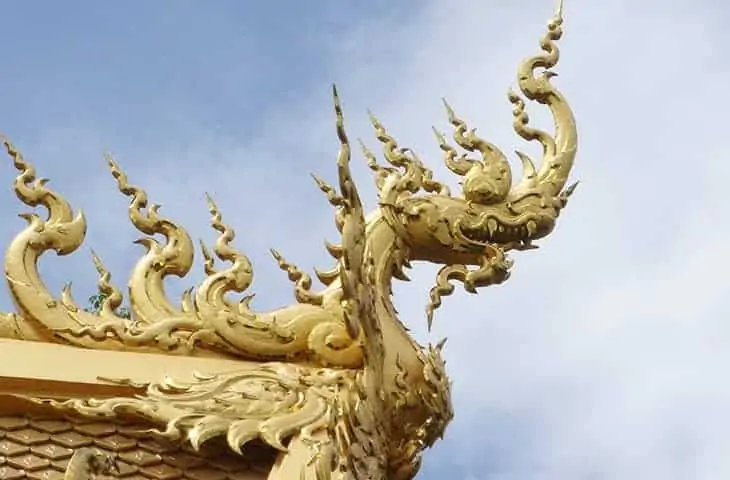 Although the Wat Rong Khun temple construction began in 1997, changes are constantly being made to the buildings and the surrounding gardens. The artist continues to make small additions and alterations to the nine buildings that make up the compound. In fact, it is estimated that his work will not be finished for several more decades and will be carried on by others after his death.
Artwork features famous people, superheroes, and cartoons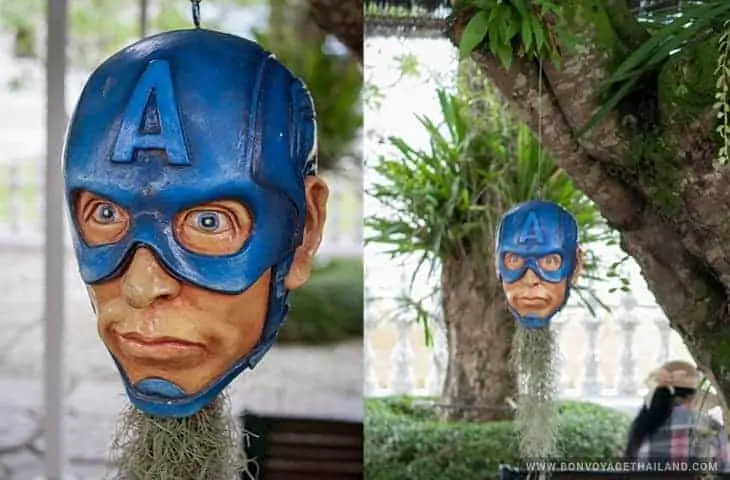 A striking contrast to its traditional Thai structure and beautiful Buddhist motifs are paintings featuring iconic people and modern creations on the interior walls of the main building. There are depictions of Spiderman, Darth Vader, Michael Jackson, Hello Kitty, and even Angry Birds characters intermingled with flames, demons, and tragic scenes in history. Though laughable and lighthearted at first glance, these paintings fit right in with the temple's overall theme: disavow the evils, greed, and excess of the human condition and follow the Buddha's teachings to enlightenment.
The Wat Rong Khun survived an earthquake
On May 5, 2012, the White Temple was damaged by an earthquake that struck Thailand's Mae Lao District of the Chiang Rai Province. However, after being inspected by a team of engineers, it was announced that the Wat Rong Khun had no major structural damage and was reopened to the public for viewing.
Tips for an Unforgettable Visit to the White Temple
Arrive early to avoid the crowds
To make the most of your visit to the White Temple, it is recommended that you arrive early in the morning or late in the afternoon. This way, you can avoid the rush hours and enjoy a quieter and more intense experience at this popular tourist destination in Chiang Rai.
Respect the dress code
Since the White Temple is a religious site, visitors must dress respectfully. Remember to cover your shoulders and knees to show reverence. If you are not dressed appropriately, do not worry; sarongs will be provided for you to wear during your visit.
Take off your shoes
Upon entering the White Temple, you must remove your shoes as a sign of respect. Shoe racks are available outside the temple where you can safely store your shoes. Walking barefoot or with socks will allow you to fully soak up the spiritual atmosphere of the temple.
Show respect for the temple and its surroundings
The White Temple is not only an architectural masterpiece, but also an artistic representation of sacred themes. To show your appreciation, do not climb statues or walls, and do not leave litter. Treat the temple and its surroundings with utmost respect to preserve its beauty for future visitors.
Take time for your exploration
The White Temple, with its intricate details and profound symbolism, is best explored at leisure. Take ample time to immerse yourself in the unique atmosphere, admire the breathtaking artwork, and understand the deeper meanings behind each element. Do not rush, but enjoy every moment of this remarkable journey.
Important Information:
Opening Hours: The White Temple welcomes visitors from open every day from 6:30 AM to 6 PM. Plan your visit accordingly and consider coming earlier to enjoy a more peaceful atmosphere and avoid the crowds.
Photography is allowed: photography is generally allowed at the White Temple. However, be aware of specific areas or exhibits where photography may be restricted. Follow the signage and guidelines to capture memories while preserving the sanctity of the temple.
Admission Fee: The admission is 100฿ Thai baht donations to support the maintenance and preservation of the temple are greatly appreciated.
Comfortable clothing: Since the White Temple must be explored on foot, it is advisable to wear comfortable clothing and shoes in which you can move easily.
How to Get to Wat Rong Khun
Located just 15 minutes outside of Chiang Rai City, in the village of Ban Tha Klang, the White Temple (Wat Rong Khun) captivates visitors with its impressive beauty. It is about 228 kilometers from Chiang Mai, another popular destination in northern Thailand.
From Chiang Rai City Center
To reach Wat Rong Khun from Chiang Rai city center, you have several options. One convenient option is to take a songthaew, a local pickup taxi, from Chiang Rai's Old Town. The fare per person is about 50 baht.
From Chiang Mai
If you are traveling to Wat Rong Khun from Chiang Mai, there are several transportation options available. You can take a bus or a plane, or even rent a motorcycle or car.
Taking a bus to Chiang Rai bus station is a popular choice, as it takes about 4 hours and costs around 220 baht per person. Once you arrive at Chiang Rai Bus Station 1, you have the option of taking a taxi to your accommodation or directly to the temple. For shorter distances, there are also motorcycle cabs.
If you prefer a stress-free trip and need help getting to Chiang Rai, you can hire a transportation service to pick you up from your place of residence in Chiang Mai or Chiang Rai and ensure a smooth and comfortable journey to the fascinating Wat Rong Khun.
Guided Tours
Guided tours are available from Chiang Mai and Chiang Rai. A tour guide will be able to answer any questions and give you very interesting facts about the history, construction, and operation of the temple Wat Rong Khun. You have the choice of joining either a group tour or a private tour. A private tour offers more privacy and time to reflect and relax.
After your tour of the Wat Rong Khun grounds, stop by the nearby art gallery as well as the small gift shop to purchase souvenirs of the visit. There is also an onsite café that serves iced beverages and Thai food for thirsty and hungry patrons.
A tour to the White Temple can include visits to neighbouring sites, such as the complete opposite but equally fascinating Black House (Baan Dam Museum), with a darker, more sinister side. The Blue Temple (Wat Rong Suea Ten) is worth a visit for its beautiful blue design. The temple Wat Huay Pla Kang also offers beautiful and tranquil views of the mountains.
Good to Know
Because the White Temple Chiang Rai holds religious and cultural significance, visitors are encouraged to wear polite attire that covers the shoulders and knees, especially women.
If you have any questions about Wat Rong Khun temple or the upcoming visit to Chiang Rai please contact us it will a pleasure to assist you, please contact us.
Temples Near Wat Rong Khun Chiang Rai
While the White Temple (Wat Rong Khun) undoubtedly steals the spotlight in Chiang Rai, the region is blessed with a treasure trove of other remarkable temples that deserve exploration. Embark on a journey that goes beyond the ethereal realm of Wat Rong Khun, and you'll discover a tapestry of architectural wonders and cultural treasures waiting to be explored. Here are a few notable temples near Wat Rong Khun that are worth visiting:
Read more about Temples in Chiang Rai.