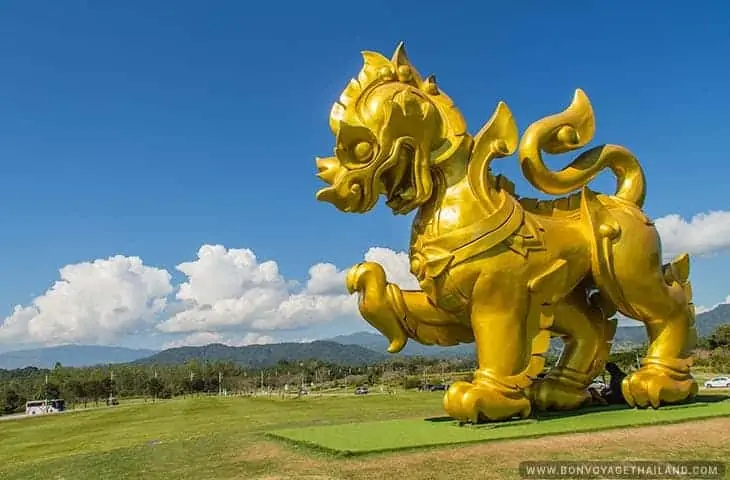 Singha Park offers fun-filled activities and attractions in a beautiful, natural environment. Situated in Chiang Rai, the Park is a popular place for local Thais, who go there to exercise and relax at the weekends. You can spend a whole day or a few hours to explore this huge park and all it has to offer. Singha Park is worth a visit for all ages and is a great place for the whole family.
History
Formerly known as Boon Rawd Farm, the Singha Park was once a family-run farm, owned by Boon Rawd Brewery. The founding family produces Singha Beer, a famous beer from Thailand. The land on Singha Park was where the family once grew barley to produce their beer. Singha beer was Thailand's first brewery beginning in 1929. The company is now run by third and fourth generations of the Bhirom Bhakdi family. The word Singha means lion, which is the logo for Singha beer. The King of the jungle is considered a powerful beast in Thai and South-East Asian mythology.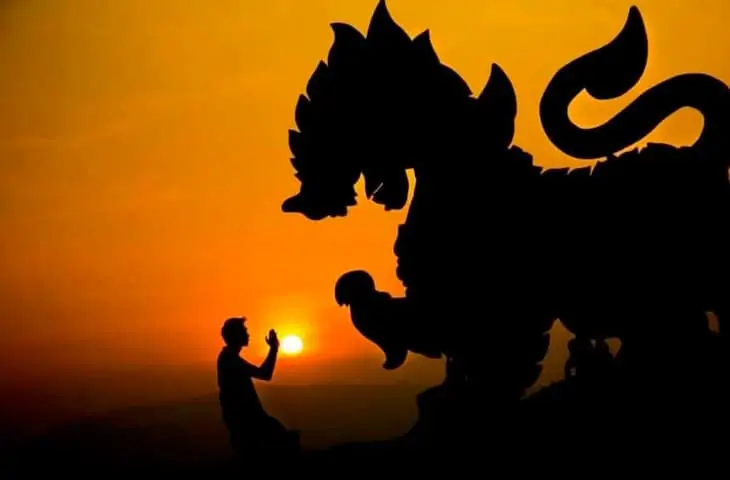 A lion symbolizes power, strength, courage, leadership, dignity, loyalty, perseverance, and endurance. When you first arrive, you will see a giant golden lion statue at the entrance of the park. This is a very popular selfie spot for tourists who visit. The family decided to transform the farmlands into a sustainable agricultural tourism park. Singha park opened to the public in December 2012. Many of the old farms still remain where barley, fruit orchards, and tea plantations are grown. The Oolong tea grown here has become world-renowned, and taking a tour will show visitors how the tea is grown.
About Singha Park
Singha Park is located in Mae Kon countryside, 12kms from Chiang Rai city. The park features flower gardens, lakes, meadows, plantations, orchids, and vegetable crops. If you feel like a peaceful day out away from traffic and noise, Singha Park is the place to visit. Its gardens are well maintained with blossoming flowers and vast green landscapes. There are plenty of quiet places to relax and enjoy the fresh air in peace. The agro-tourism park works closely with schools and colleges in Thailand. College students come here to learn, and make up a large percentage of visitors during the week. The weekends are popular with Thai families and cyclists, who come to enjoy the scenery. The whole park is enormous, consisting of different zones to explore. All which you can enjoy within the harmony of nature.
Getting around Singha Park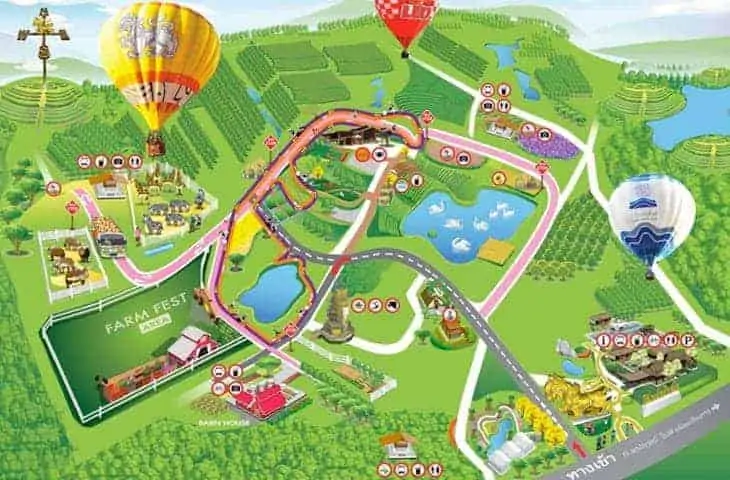 There are many places to see and enjoy at Singha Park. Walk around the gardens, and landscapes along the pathways provided. Or take a picnic and stroll around the lawns. If you would like to explore more, there are bicycles for hire where you can follow the many bike trails. Along the cycle paths, there are information maps. The maps also inform you of the length of the ride and the level of difficulty of each route, as some are a little hilly. By taking the electric tram you can relax and enjoy the scenery without much effort. The tram stops at different spots giving you time to explore and walk around in nature at your own pace. Trams run every half hour around the park where you can hop on and off.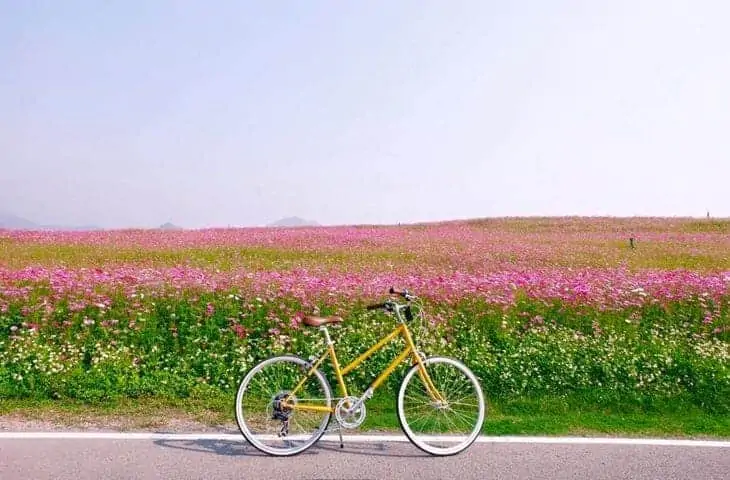 Bike costs are per hour (All include helmets)
Tandem Bike 150 Baht
Mountain Bike 100 Baht
Children's Bike 50 Baht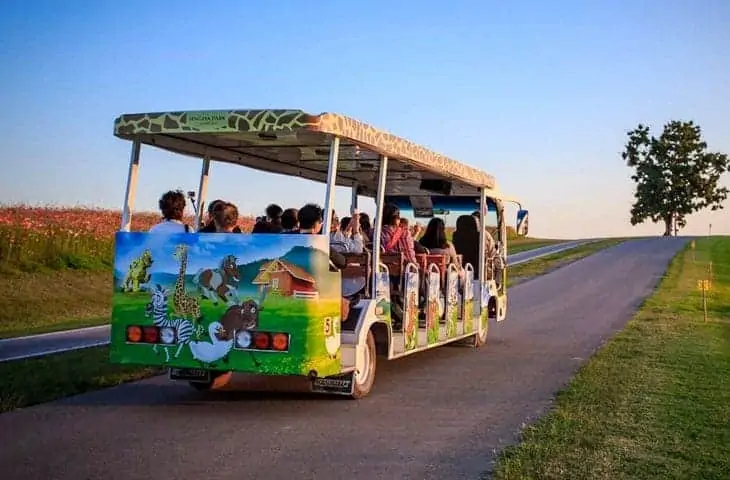 Trams:
Adults: 100 Baht
Children: 50 Baht
Activities at Singha Park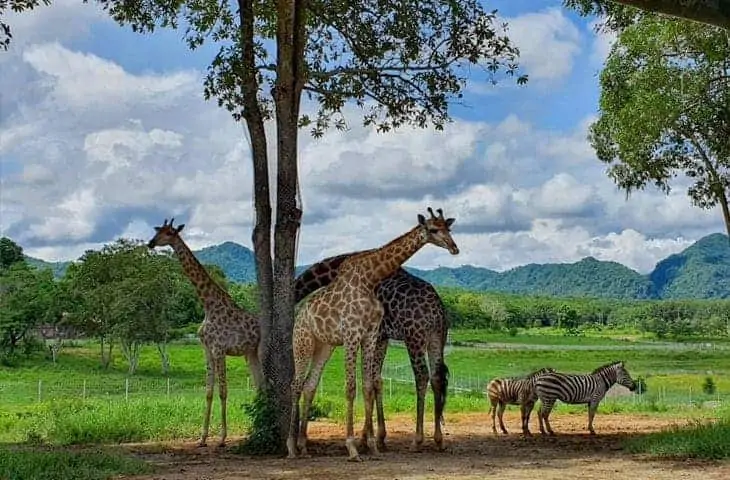 Singha Park has a range of activities for all different ages. Children will love it and there are many fun attractions to explore. Whether you spend a few hours, half a day or a full day you are sure to enjoy the natural surroundings. There are many different zones in the park, and to look at all the sights may take several hours. The petting zoo will keep children entertained.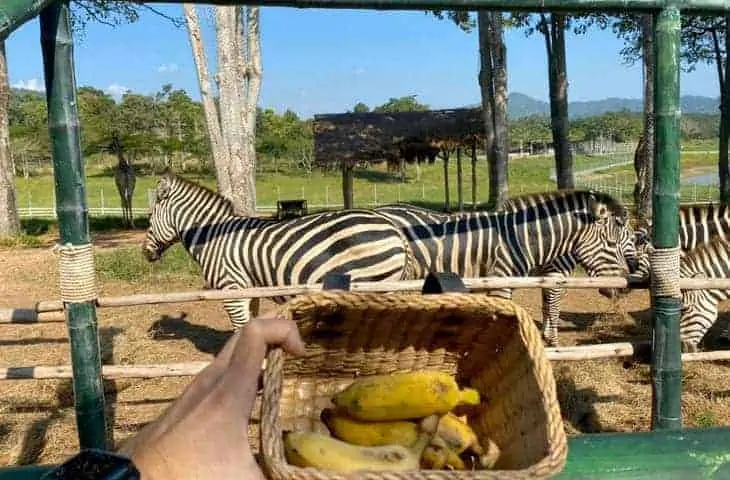 They can feed the giraffes and zebras, play dress-ups and take pony rides. Take a farm tour on an open-air bus. The tour takes an hour around the valley and allows you to capture all the beautiful scenery. If you like adventure, zip-line over the landscapes and enjoy the views, rock climb or sling off the Tower. Or simply walk around the lush, green landscapes, or take a bike ride and breathe in the sunshine and fresh air.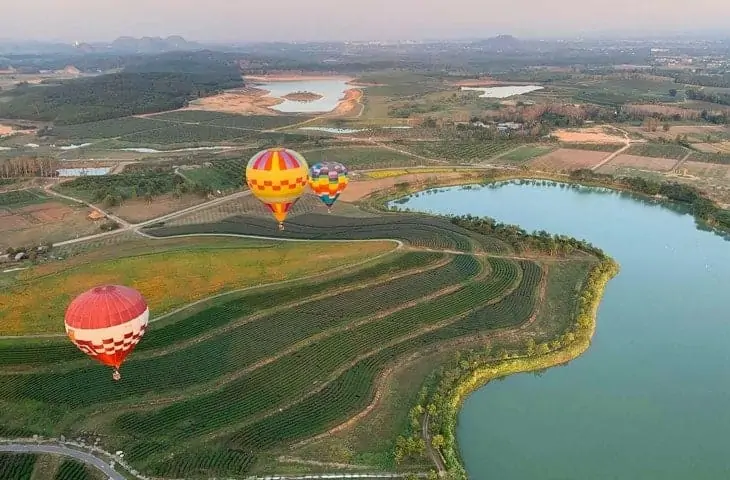 Singha Park Zones.
The park is enormous so allow some time to visit all the areas
Cosmas Field and Swan Lake: See a variety of colorful flower gardens. Lush green landscapes. Swans floating on the lake. There are fruits and vegetables too.
Sunn Hemp and Heart-Shaped Tree: See amazing heart-shaped trees and lovely, yellow flowers.
Zipline Platform: Feeling adventurous? You will need to take a pickup to get to the site. Sweep 1.5km over the lakes and plantations on a sling. The scenery is beautiful with a view from Chiang Doi. Costs 800 Baht per person.
Fruit and Vegetable Garden: Children can dress up like the Hill Tribes. Fill traditional woven baskets with Thailand's delicious fruit. Pick fresh fruits and vegetables, and learn how farmers grow their plants.
Barn House Pizzeria (Zipline Tower): For those who like an adventure. Hang on a sling from a 5 story or 9-story building and climb an artificial mountain. Enjoy pizzas and drinks at the Barn House. Animal Zoo: See zebras, giraffes, cows, horses and ponies that you can feed and pet. Dress up like a cowboy for the pony rides.
Sports and Recreation Centre: Rent a bicycle, both single or double are available. Children must be accompanied by an adult. You can also take your own bicycle here free of charge. There is a shop to buy Singha-brand souvenirs, snacks and drinks. The centre is open daily from 8:00-18:00. On Weekends, from 8:00-19:00.
Bhu Bhirom Restaurant: Enjoy Thai or Western food at a good price.
Food and drink
Singha Park doesn't leave you without choices for places to eat and drink.
Bhu Bhirom Restaurant: Highly recommended and comes with very good reviews. The restaurant is elevated and has breathtaking views over the park and plantations. The menu offers Western and Thai food, with delicious specialities from Northern Thailand. The food is appetising and healthy using fresh vegetables and fruits from the farm. Bhu Bhirom also fuses oolong tea leaves into their dishes. Their tasty spicy tea-leaf salad, a dish originating from Burma, is a must to try. You can also buy their fresh produce at the Singha Park shop. Bhu Bhirom Restaurant is open daily from 11 am -10 pm.
Barn House Pizzeria Another popular restaurant to dine is for pizza and beer. The restaurant opens daily from 11 am -8 pm.
Phupirom restaurant: Named for its signature dishes. Prices are not so cheap.
Farm Design: A bakery and coffee shop. They have a variety of cheesecakes, soft serves, and tasty Japanese-style flavors.
Cafes: There are many good coffee shops situated around the park.
Food Stalls: opposite the main entrance are some local restaurants and food stalls.
Events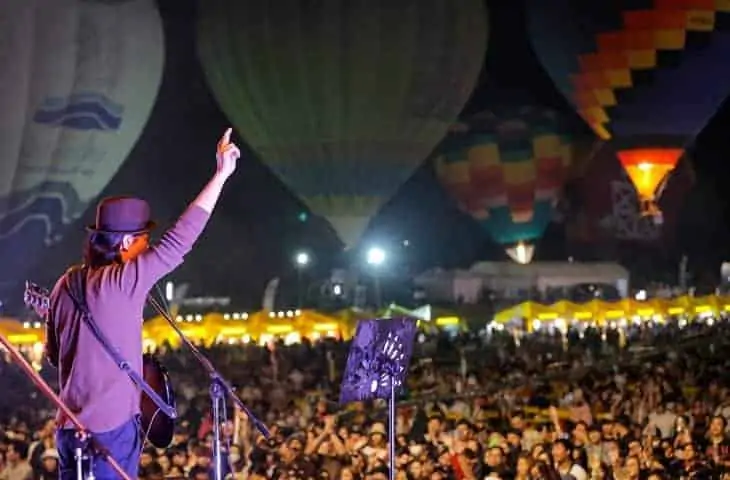 Singha Park holds many events throughout the year. Watch out for music concerts with some well-known Thai bands. During the year there are cycling events which locals and visitors can join in. See colorful hot-air balloons at the balloon festival, held every second month.
Highlights
Explore: Buddha Pavillion. Tea and Rubber Plantations. Restaurants. Exhibitions. Sports and Recreation Centre.
Activities: Cycling. Farm Tour. Rock Climbing. Adventure Rope Course. Ziplining – with a spectacular view of Chiang Doi.
Events: Catch up on all the adventure and fun with Singha Park's special events for all the family. There are balloon festivals every two months. Farm festivals. Sports and bicycle events.
Things to Know
Mid-November to the end of January the flowers are blooming. During the day can get hot, so make sure you have water. The park is open all year round and is open 7 days a week. It is recommended to look at Singha Park's map so you don't miss out on all the activities to explore.
Singha Park has Wheelchair access, hand-railed toilet and parking.
Get in Touch
Don't forget to look out for special events and adventure activities.
For further details, visit the official website www.singhapark.com. On the website, you can purchase products from Singha Corporation.
Visit their Facebook page 'Singha Park Chiangrai' to check out their latest news.
Near This Place
Read more about Things To Do in Chiang Rai