Chiang Rai is better known for its natural beauty, artistic heritage, and cultural treasures than it is for its bars and clubs. There is absolutely a nightlife scene here that comes alive after sunset, it just isn't as relentless or flashy as what you might find in Bangkok. This is a city that encourages visitors to slow down and really soak things in, to chill out and relish in the cooler evening temperatures.
This is a guide to the best of Chiang Rai's nightlife, from markets and traditional dinners to live music and nightclubs. There's something here for everyone if you know where to look!
Traditional and Cultural
Khantoke Dinner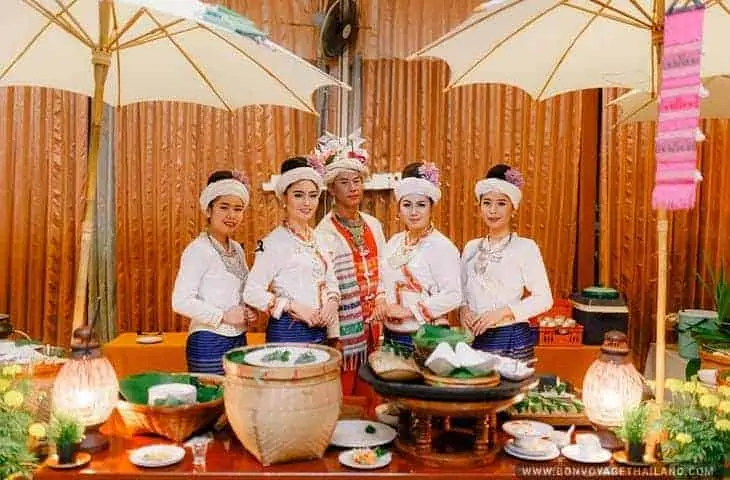 A khantoke dinner is an ancient Lanna tradition, where food is served on a "khantoke," or small pedestal tray. Sit on the floor around the khantoke table to enjoy a show that usually includes traditional Lanna dances and Northern Thai music. This is a beautiful way to indulge in a feast of Northern Thai food – different than what is eaten in the rest of the country – while enjoying truly unique regional art forms. Dinner and dancing, a feast of the senses, what more could you want?
Chiang Rai Night Bazaar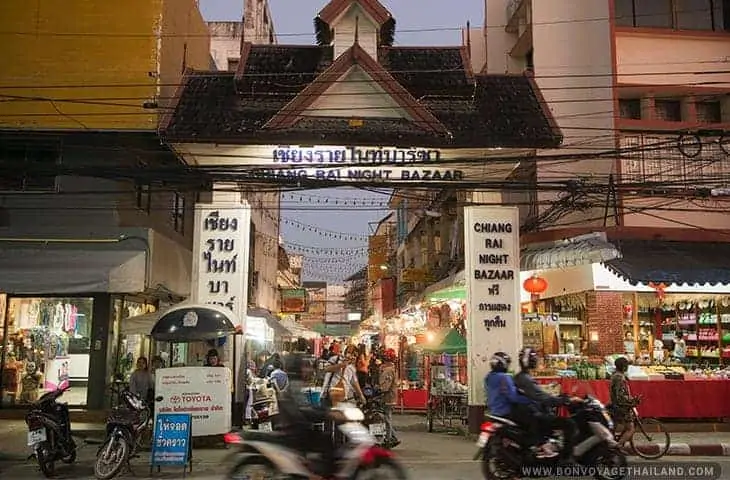 This large market covers four blocks of downtown Chiang Rai. It opens at sunset and starts to get busier after 7 PM. Shop for handcrafts made by hill tribe villagers, like bags, scarves, wallets as well as artistic objects like sculptures, paintings and genuine silver jewelry. All of these make good souvenirs to bring back home for yourself or for family and friends. The Chiang Rai Night Bazaar is also a good place to purchase more mundane or practical goods like T-shirts and shoes, but be sure to bargain hard for a good price—that's half the fun!
When you're done shopping, head over to the food court and beer garden to enjoy a cold beer and some live performances on two different outdoor stages.
Chiang Rai Saturday Walking Street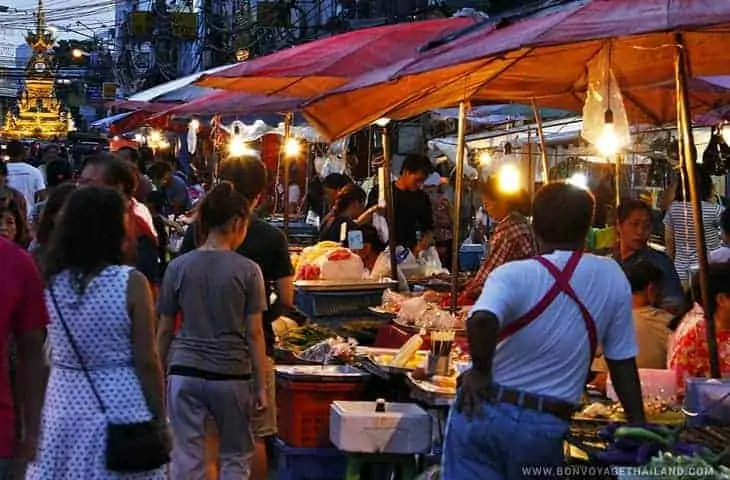 The alternative to the Night Bazaar, the Saturday Walking Street is worth a visit for any travelers in Chiang Rai for the weekend. There are far more handicrafts and souvenirs on offer here than at the Night Bazaar, and the selection of street food is far more extensive and varied. Head here in the late afternoon or early evening, when the road closes to vehicle traffic and opens to pedestrians. Indulge in the abundance of snacks, cheap and fresh hot meals, and savory desserts!
Thanon Jed Yod or Jet Yod Road
Many of the below venues are located on Thanon Jed Yod, or Jed Yod Road. This is the "Pub Street" of Chiang Rai, though quieter and far less intense than places like Khao San Road or the original "Pub Street" in Siem Reap. Instead, Jet Yod is home to a steadily increasing number of restaurants, pubs, and Thai-style bars, some of which offer live music at night. It's not a long street, and it's possible to hop from venue to venue until you've seen it all. Come here to grab a cold beer after a day of touring temples and meet other tourists looking to relax and let loose. Most venues offer a similar menu of beers and cocktails, so browse around to find the one that suits the atmosphere you're looking for.
Live Music
Reggae Home Bar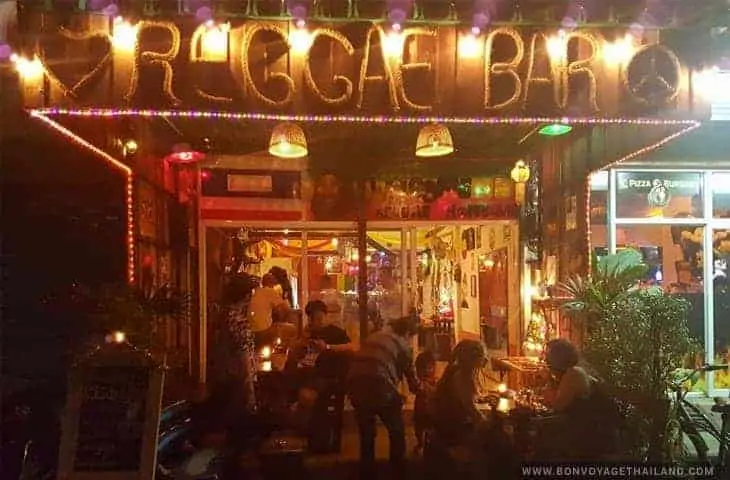 Feeling more like reggae, and less like jazz? Head over to the Reggae Home Bar, which has live bands and frequent open mics and jam sessions. The atmosphere is lively and social, and travelers from around the world come to play pool or meet and hang out in the outdoor area out back. When the band isn't playing, the sound system plays great tunes. Drink prices are low and the vibe is good. Come sit down and chill out.
Peace Bar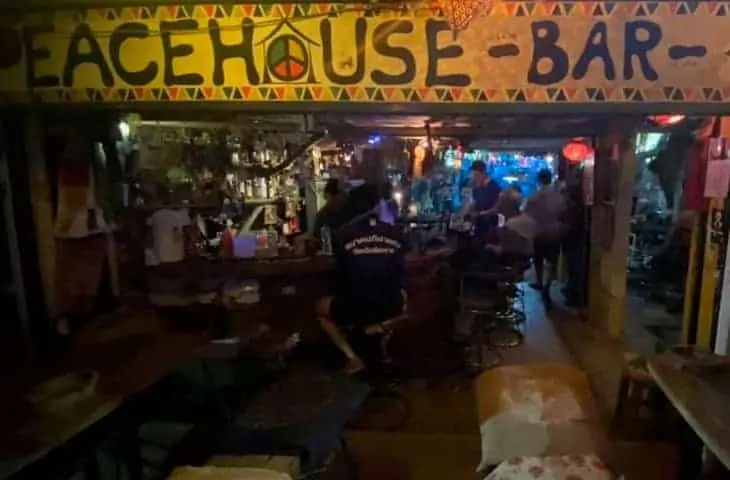 Chiang Rai has more reggae on offer than you'd think. Peace Bar – also called the Peace House – is another Rasta joint to get down in where you can hear live music a few nights a week, or get up on stage yourself at one of the spontaneous jam sessions that sometimes arise. Come any night to hang out in the back garden, where the vibe is chill and relaxed. Hop on the pool table or grab a drink and mellow out with the hippies.
Hangover's Bar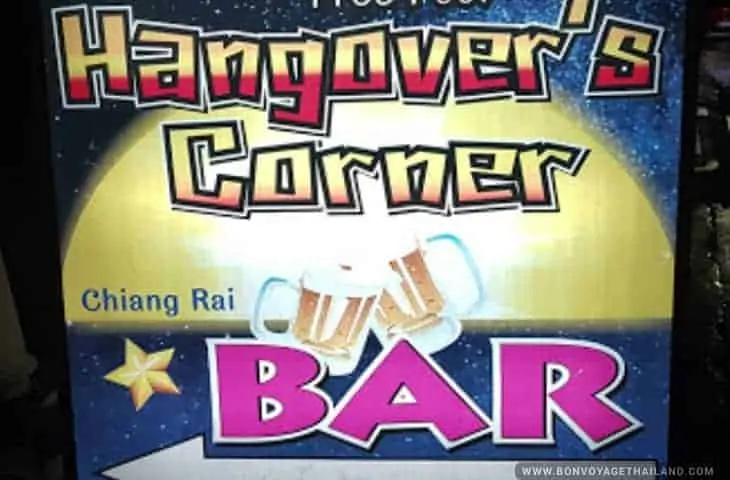 Hangover Bar features live bands hailing from local and international destinations at least twice a week. This Jed Yod Road bar was recently refurbished and is within walking distance of every other bar and hotel on the strip. It's a buzzing hub of tourists and Thais alike, all letting their hair down and rocking out.
Leelawadee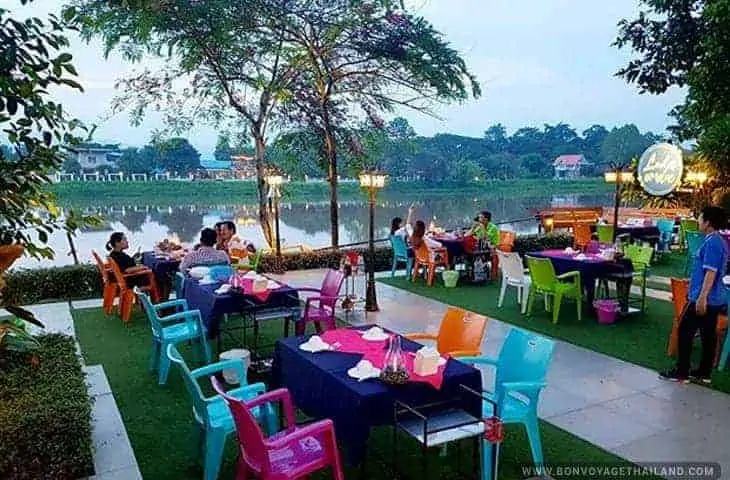 Most of Chiang Rai's nightlife is on the Jed Yod strip, but Leelavadee is special because it's one of the very few establishments of any kind sitting right on the Mae Kok riverside. This modern restaurant bar serves food and drinks either in the garden or underneath a canopy, all of which offer views of the river. Grab a table, order a drink and some Thai food, and enjoy the show! Live bands start at night, playing a range of local and international contemporary music as well as Thai folk songs to set the pace of the evening. Leelavadee is the perfect break from the Jed Yod bar scene and a gem of a venue on the otherwise mostly undeveloped riverside.
Nightclubs
Par Club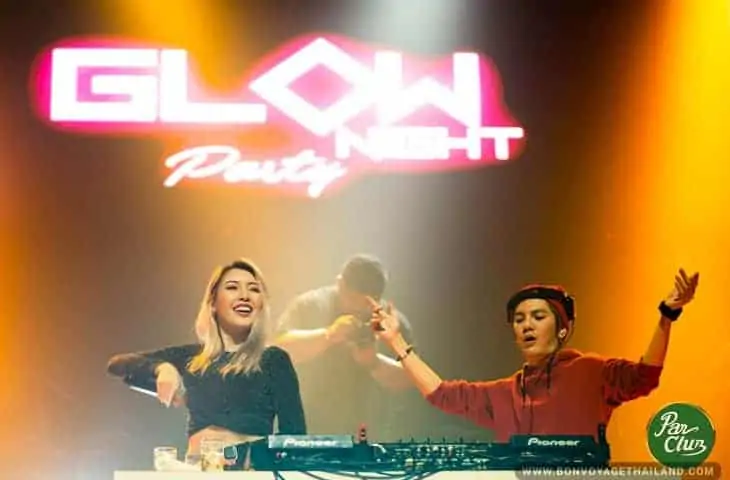 Beyond pubs and music bars, Chiang Rai also has a handful of proper nightclubs to let loose in. One of the best of these is Par Club, which is of a different breed than the tackier, tourist-oriented "clubs" that can be found around Khao San Road or similar backpacker strips. The crowd here is heavily integrated between Thai and Farang, and music alternates between live shows and DJs playing an eclectic international mix. The music is upbeat and fun, the liquor is comparatively inexpensive, and they run frequent promotions for drinks or free mixers. Overall Par Club provides a fun, lighthearted atmosphere to let your hair down and dance the day away.
Suksaran The Retro Chiang Rai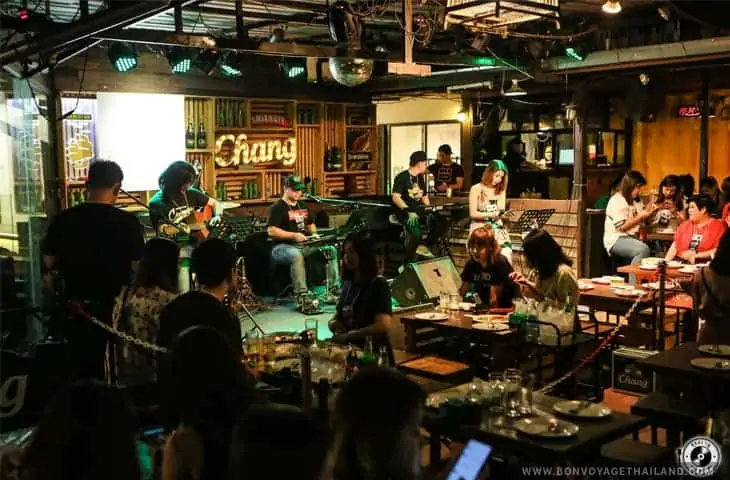 This club has been improving consistently and now features karaoke rooms! If you've never tried Thai karaoke, this is the place to do it. If that's not your thing, Retro is still worth a visit, as it also offers live music performances and singers, together with Thai food and local and international beers. It's a casual place to spend an evening, especially if you come on a night where they're playing Retro Thai music.
Tawan Daeng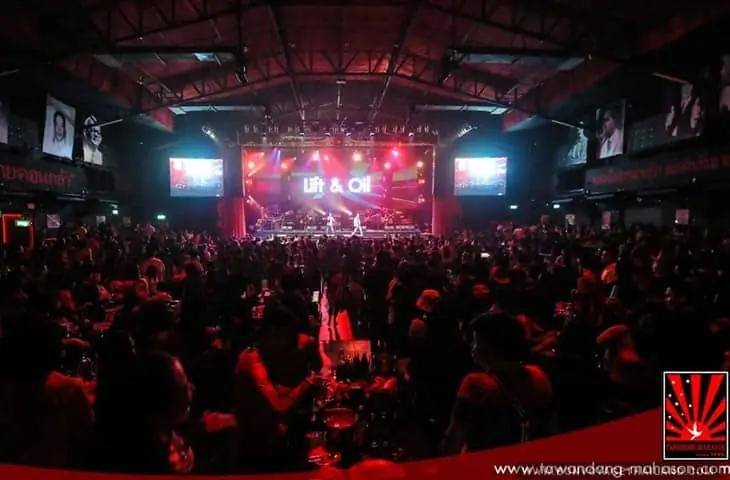 Tawan Daeng is a hugely popular Thai style night club that combines excellent food and a wide variety of drinks with epic live singing and dancing performances. This giant music hall is open "after hours" and is a must-visit place for anyone that wants to continue the night after the Jed Yod bars close. The atmosphere is a true party, and the entertainment changes over seamlessly from one superstar to another. Drink well, eat well, and sing and dance your heart out with a seemingly endless rotation of unbelievably talented performers that just keep on going all night long.
Related Articles