The Black House, or "Baan Dam" in Thai, is one of the strangest and most interesting landmarks in Northern Thailand. There's nothing else like it, making it a true must-see for anyone on a tour of Chiang Rai.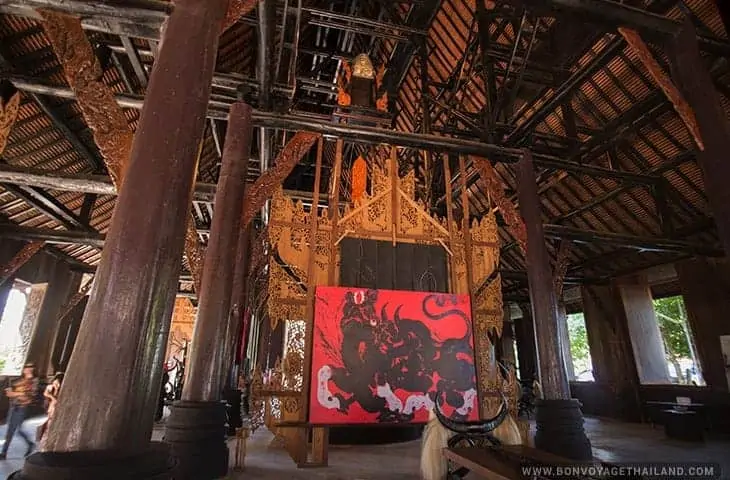 Often referred to as the "Black Temple", this building is not really a temple at all. It's actually more like an art museum and studio. Its construction is a blend of traditional Thai architecture with a contemporary and unorthodox flair. It does look much like an ordinary temple on the outside, but with a dark and unplaceable air of mystery that expands the minute, you walk inside. Covered in art and installations made of taxidermied animals, the Black House is the world's largest collection of animal remains made into furniture and art installations.
The nearby White Temple (wat rong khun) is much better known to tourists and is often described as "heavenly". The Black House is its opposite, a construction of darkness, filled with death. But it isn't really a "Hell Temple", and it isn't designed to be evil or frightening at all. Come here to see an extraordinary showcase of meaningful art that leaves a powerful impression on every visitor.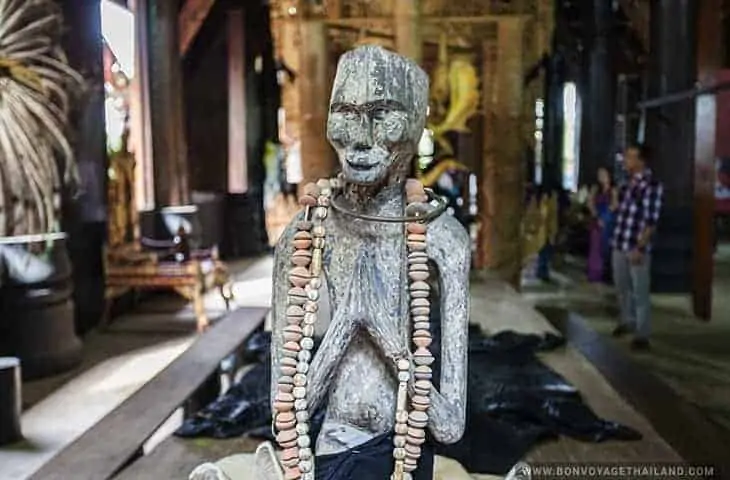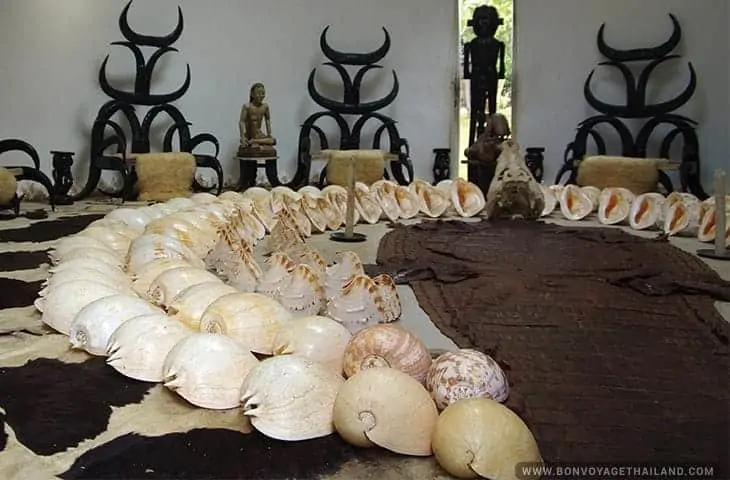 Black House Art and Architecture
Rather than a single structure, the Black House is actually made up of about 40 buildings built in heavy wood and metal in a variety of shapes and sizes. Everything is painted black and deep brown with big, intimidating-looking doors.
The main building is the largest and most photographed. At first glance, it looks like a traditional Lanna-style Buddhist temple, from its external structure to its statues and carvings the Buddha and naga serpents. Yet the architect changed course from the norm in a few subtle and surreal ways, giving the whole building a frightening aura. The gables are steep, like a haunted house, with sharp metal blades at the tips. The face of the building stabs upwards above you like a threat as you walk towards it.
A mighty wooden table stretches across the entrance room, draped with table runners made out of snake and crocodile skins. Enormous black chairs haunt the table like malevolent guests. The walls, floors, and even ceilings of this building and all the others are covered with paintings, sculptures, installations, and furniture made almost entirely out of animal skins, bones, and horns, as well as large canvases painted in blood red with slashing black brushstrokes.
The Cheerful Outdoors
The buildings of the Baan Dam Black House are gathered around a large garden. The outdoors are delightfully bright and calming, in stark contrast to the dark buildings and their shadowy indoors.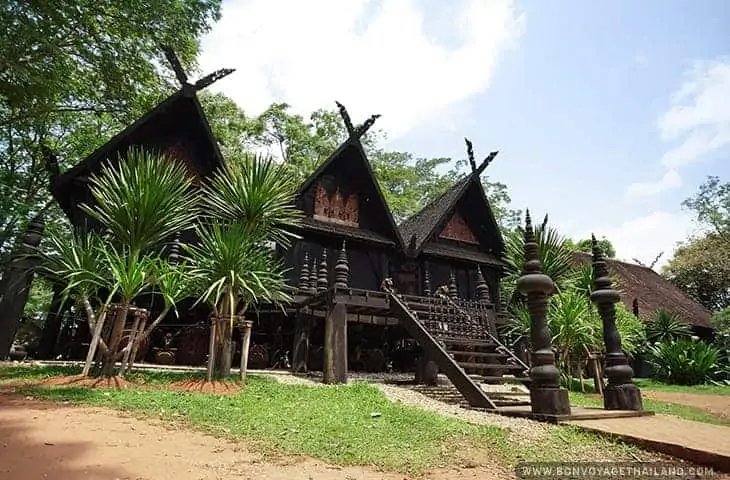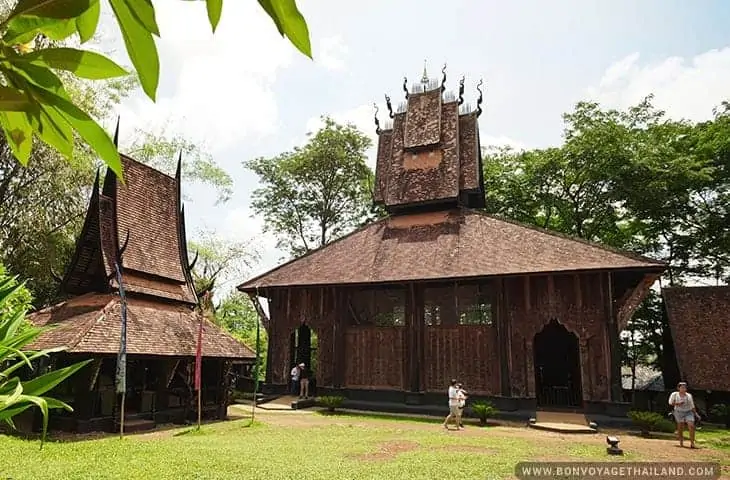 Take a look around at the other interesting constructions on the property, from a whale-like building that serves as the artist's bedroom to other structures used by members of the Thai royal family for meditation. In one area, a set of futuristic white domes that look like igloos stands out next to the black buildings. These are the artist's abstract interpretation of chedis or stupas, the monuments where sacred relics are housed in every temple complex.
Even the toilets here are unusual, complete with a backdrop of buffalo horns and animal skins.
Background and Buddhism
A Thai artist Thawan Duchanee began construction on Baan Dam in 1976, and it is still a work in progress. Once the artist's home and art studio, the Black House museum now serve as a showcase for his work and collections.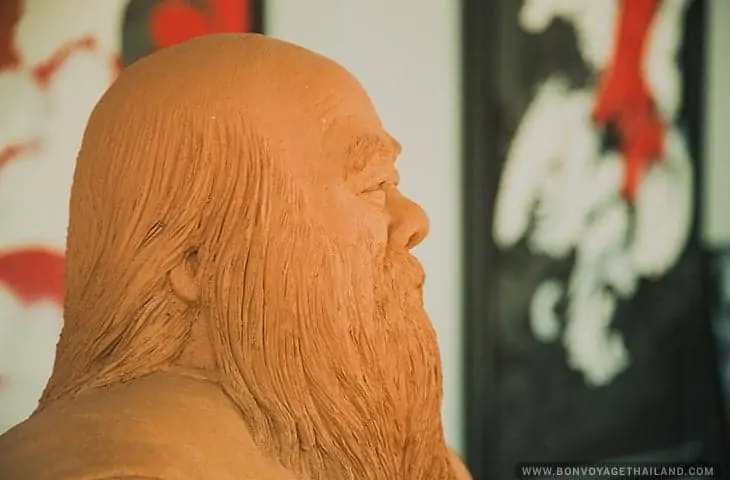 It is thought that all of Duchanee's work represents the human suffering due to desire and greed that the Buddha saw along his travels. Death and mortality are on display everywhere, reiterating the impermanence of life which is central to Buddhist thought and philosophy. Indeed, Duchanee was a devout Buddhist, and it is likely that all of the work displayed at the Black House portrays the cycle of life, death, and rebirth known as Samsara, which necessarily includes suffering.
Thawan Duchanee was not always popular. In fact, his art was once considered highly controversial, drawing accusations of disrespect and even physical attacks and vandalism at one point in time. But his art was defended by certain public figures, and eventually, Thawan was recognized on a national level for his talent. Today, his murals can be found at embassies and prominent companies in Thailand and overseas.
The Black House and its Neighbours
The Black House is well worth a visit on its own, but it also gains comparative context when paired with a visit to the White Temple.
Often hailed as opposites, and referred to as the "Heaven and Hell Temples", there is far more to these buildings than meets the eye. Both are hugely important religious and artistic landmarks in Northern Thailand. Both are works of art first, and pieces of architecture second, that use unconventional symbolism to teach Buddhist philosophy. And critically, both have the same goal: to steer humanity away from desire, greed, and suffering and towards enlightenment through the Buddha's teachings.
Temples Near The Black House Chiang Rai
Read more about Temples in Chiang Rai.
Visit the Black House
Our Clients at the Black House