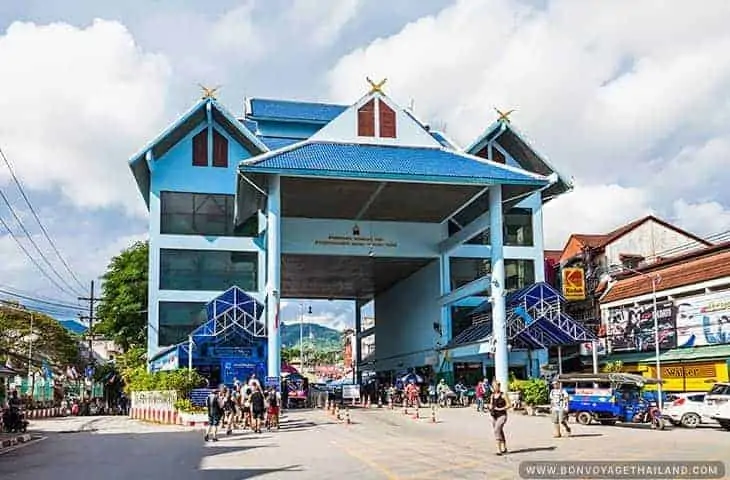 Get intimate with the bustling border town of Mae Sai, a city right on the edge of Myanmar busy with locals and tourists. Situated in the Chiang Rai province, it is the best-known town in the Golden Triangle region, the mountainous terrain where Thailand, Myanmar, and Laos meet. In Mae Sai, Thailand is geographically separated from Myanmar by the Ruak River, but culture and trade flow in both directions. Come here for a glimpse and taste of both Burmese and Thai heritage in one setting. 
Mae Sai is full of busy traffic, open air food stalls, and the usual outdoor market fares. Burmese citizens cross the bridge at the border to work in Mae Sai and then jet back to Myanmar by nightfall.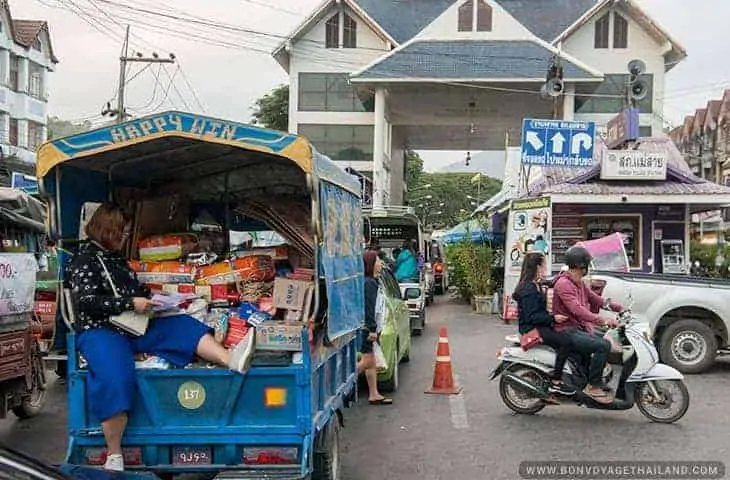 For a small fee, you can walk across the bridge into Myanmar to shop at their local markets, or to make a quick visa run, as many travelers do. Myanmar immigration will allow you to shop and look around for a few hours with a 500 THB temporary pass.
Shopping and Scorpions
There's plenty to do, and more to buy. The Mae Sai Market stretches along the river selling an endless assortment of goods like tea, clothing, home appliances, gemstones, and knockoffs dispersed throughout their stalls. Walk deeper into the winding covered alleyways to stumble upon small cafes and restaurants.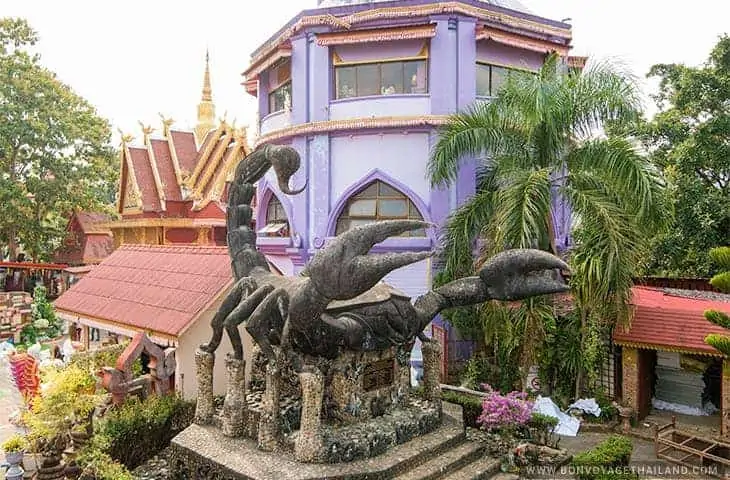 After exploring Mae Sai Market, get off the beaten path at Wat Phra That Doi Wao. This is the infamous Scorpion Temple that instantly stuns new visitors. Legend has it that the King of Chiang Saen kept scorpions as pets while reigning over the sanctuary. As soon as you reach the top of the temple's hill, a giant black scorpion statue towers overhead, threatening the northeastern border with its claws.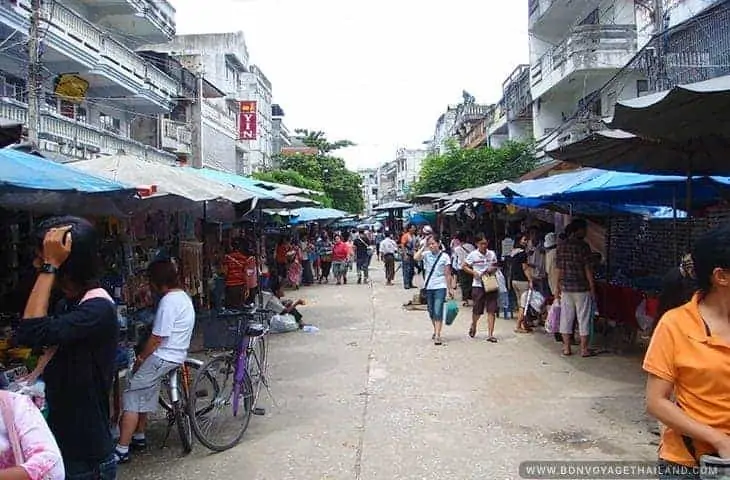 Views from the temple overlook Myanmar and Tachileik, the Burmese border counterpart to Mae Sai. There is a bit of a hike up the hill, so grab an ice-cold drink at Mae Sai Market before trekking up to the temple.
Beyond the Border
Mae Sai draws some travellers in with its unique products and others with its reputation for being the country's northernmost district in the Chiang Rai province. Instead of breezing past, take a moment (or many) to explore an often-overlooked city that can easily become an interesting day trip. Be sure to check on current Thai immigration policies if you're interested in crossing over the border into Burma and back for shopping, sightseeing, or a new adventure.
Near This Place
Read more about Things To Do in Chiang Rai