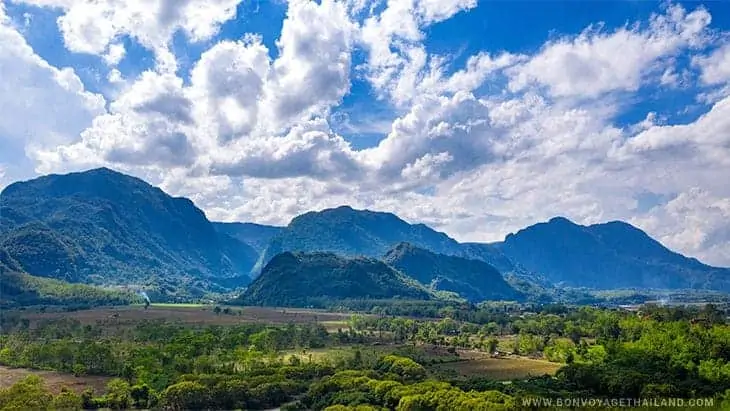 The Doi Nang Non mountain region extends through the highlands of Chiang Rai from Mae Sai to the border of Myanmar. Waterfalls, cave systems, and extensive hiking trails are hidden within. The highest point of the mountain is Doi Tung. A solitary temple sits on its summit, overlooking forests, valleys, and villages as far as the eye can see.
Market stalls and street food can be found all around the Buddhist monastery, which is primarily populated by worshippers rather than tourists. Though songthaews are available, a scooter is the best way to access the most beautiful parts of the region, like remote hill tribe villages.
A number of caves span across the underground length of the mountainous area. Tham Luang Nang Non, or "The Great Cave of the Sleeping Lady," is one of these, stretching for miles through narrow passages and tunnels made of limestone and granite.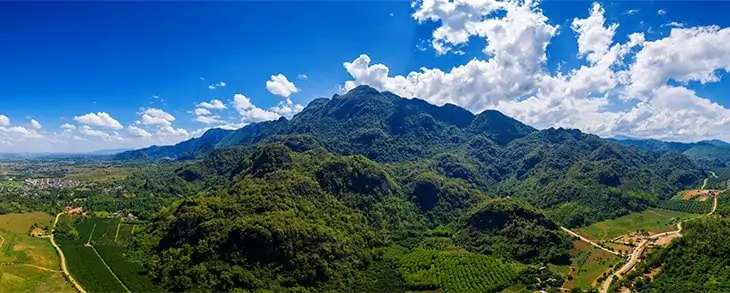 The Legend of the Sleeping Woman
The namesake of Doi Nang Non, or "Sleeping Woman Mountain", is found in its shape. The outline of the mountain looks just like a sleeping woman, laid on her back with a long lock of hair flowing down from her crown. As legend has it, a beautiful princess fell in love with a farm boy and became pregnant. They ran away into the Tham Luang Nan Non cave to protect their forbidden love. While out on a search for food, the boy was killed by the princess's father's army. In her grief, she stabbed herself and died.
Her blood became what is now the water that flows through the cave, and her body became the surrounding mountain. Khum Nam Nang Non, "The Headwaters of the Sleeping Lady," is a natural pond that was formed from her tears. Locals believe that her spirit now guards the cave. Next to the entrance of Tham Luang Cave is a statue of the princess where locals pay respects when entering the cave.
Into The Belly of the Mythical Mountain
Different difficulty levels of trails are available to beginners and experienced hikers alike. It can be gratifying to observe the beauty of the caves from the outside, but even more intense hikes exist on the inside. It's possible to climb staircases into the belly of the caves, but this isn't for the faint of heart. Some of these hollow cavities span for miles and reach depths of 279 feet.
The rich history and mythology of Doi Nang Non mountain have made it a notorious attraction. Recent and increasing popularity with visitors has encouraged talks about restoring and protecting parts of the landscape.
Doi Nang Non can be spotted on the highway from Chiang Rai to Mae Sai if all you want is a glimpse from afar, but an adventure deeper into the landscape is enormously rewarding.