Chiang Rai has many temples to offer, but here are the 4 most beautiful temples that you should visit for their beauty, colors, design, and artwork. Temples are an essential part of Thai culture and have a deep spiritual meaning that leaves awe in your heart, making them a must-see for almost every traveler. Chiang Rai province is located near the Thai border with Burma in the northern part of Thailand, north of Chiang Mai.
Take lots of great photos to share with friends and family.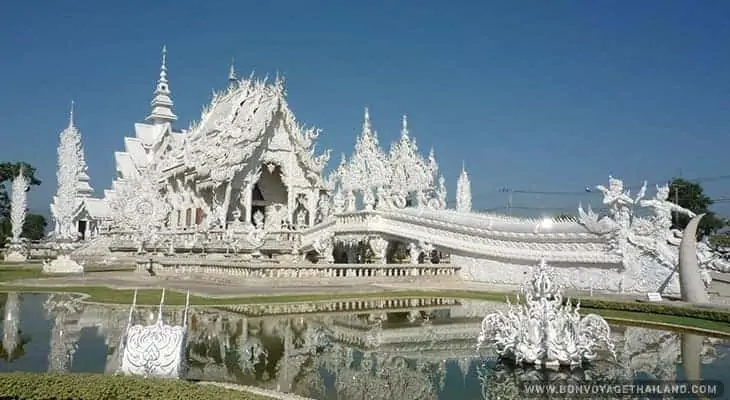 The White Temple is the most famous temple in Chiang Rai. The outside of the temple Wat Rong Khun is completely covered in white tiles, you can spend hours just looking at it, it is an absolutely fascinating place. There is so much to learn about the Thai artist Chalermchai Kositpipat who created Wat Rong Khun, and we love how he incorporated unusual items into the temple.
A trip to The White Temple is a great sightseeing experience while visiting Chiang Rai.
Also known as the Blue Temple, the blue of this temple is as enchanting as that of the White Temple. The temple was built to represent heaven on earth, right here in Chiang Rai province. The artist who created the temple was also inspired by the story of heaven and hell, with the shades of blue representing life after death. As soon as you enter this colorful temple, a sense of tranquility sets in. You will be amazed by the detail and beauty of the mosaic work. The experience is unforgettable.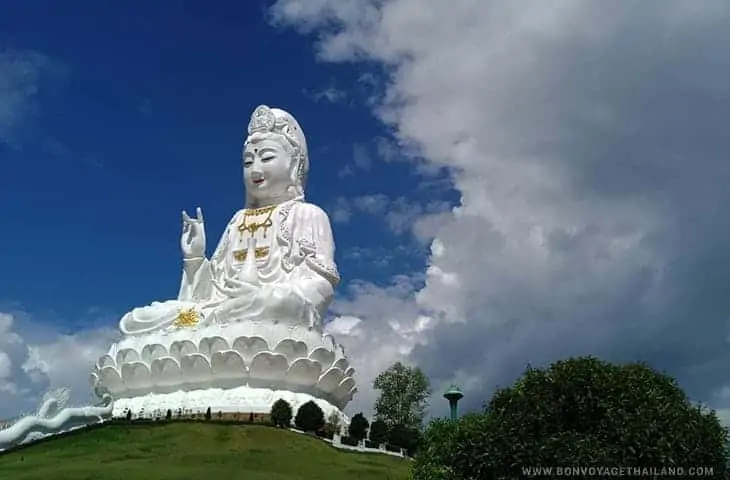 This temple is dedicated to Guan Yin, a female Buddha, the Chinese Goddess of mercy. The statue is behind Wat Huay Pla Kang in Chiang Rai, Thailand. The Guan Yin white statue is 9 stories high and is often referred to as "The Big Buddha of Chiang Rai", but it is not a Buddha. The view from the top of the mountain is breathtaking. You will get amazing pictures when you climb to the top and take photos of this statue and the surrounding area.
Wat Huay Pla Kang, which is best experienced when it is lit up at night, you will also get a view of the night sky above.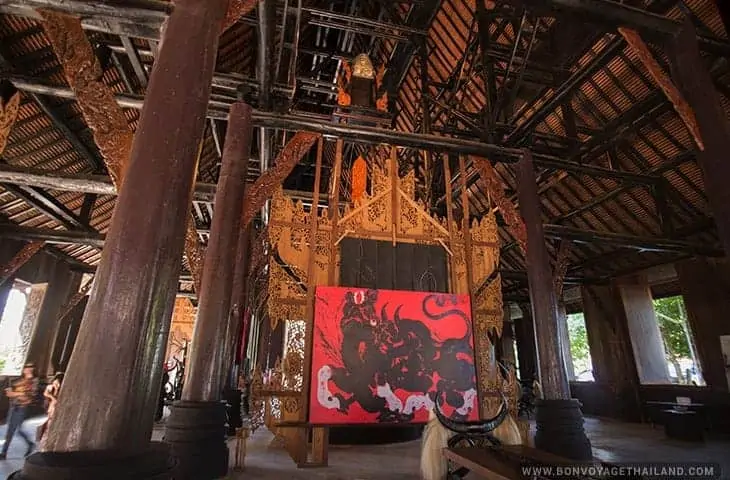 The Black House in Chiang Rai is not actually a temple, but we have included it in this article because many of you are interested in visiting it. The famous Thai artist Thawan Duchanee created Black House in Chiang Rai, a collection of about 40 buildings scattered around the grounds of his last residence. A unique combination of traditional northern Thai buildings and modern art. The main theme of Baan Dam is "The Darkness in the Heart of Man". It is an unforgettable and strange experience.
How To Get There From Chiang Mai
From Chiang Mai to Chiang Rai is about three hours by car. There are many means of transportation available: Plane, car, minibus, bus, and motorbike. You can also book a day trip or rent a car with a driver. If you need more information about the best way in your current situation, do not hesitate to contact us
Chiang Rai A Little Corner of Heaven on Earth
The whole of Northern Thailand is a stunning area for adventure, nature, relaxation, and fun. Chiang Rai city is surrounded by lush green mountains yet easy to get to, not too hot and not too cold. It is a city where exotic nature and modern Thai culture collide. We hope our article about these iconic temples in Chiang Rai will help you plan your vacation better.