Choui Fong Tea Plantation is one of the biggest tea producers in in Chiang Rai province in the Mae Chan district, situated at the top of a hill with a bird's eye view of the surrounding fields. Experienced travelers find themselves straying further from the beaches of the south and instead travel directly to the Thai mountains for gems like this.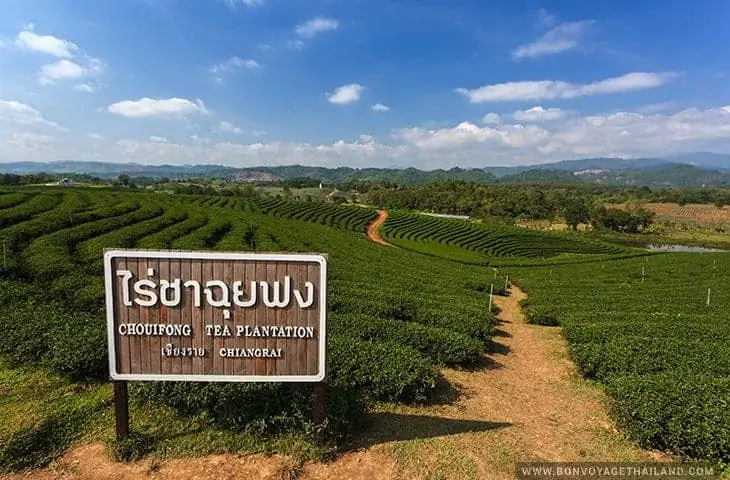 On the premises are a tea shop called Choui Fong Tea Cafe, a restaurant serving delicious food and a souvenir shop, all offering panoramic views of the rolling hills and distant mountains. The building is modern, clean and lavishly designed with a terrace and large windows overlooking the breathtaking scenery. Visitors can wander through numerous tea fields, participate in tea tastings and discover a menu with a diverse selection of teas.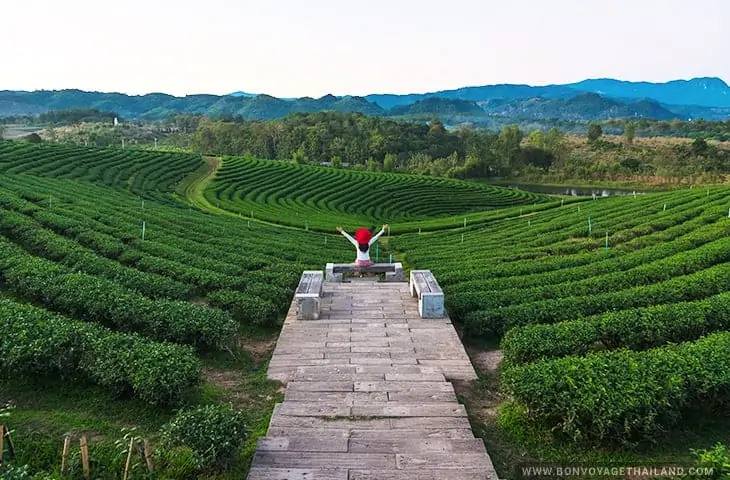 Something For Everyone
Choui Fong grows some of the finest quality teas in the country and upon arrival you'll immediately see the millions of tea plants descending down the mountainside as endless hills of greenery. A variety of teas are grown and harvested here. Sip on an oolong, a fresh matcha, or a Ti Kuan Yim, the "Iron Goddess of Mercy". Other exotic possibilities include Dragon Pearl and Rose, but simple Chinese black tea is also available.
Not just for tea connoisseurs, Choui Fong Tea Plantation is for anyone that takes pride in quality, because an unmistakably rich and aromatic flavour lies in every cup. Depending on preference, hot or cold tea is available alongside plenty of cakes and other delectable snacks and sweets. For visitors that aren't interested in tea at all, there's also a selection of coffee on the menu. With plenty of tea treats and activities to sample, like the green tea cakes, a visit to Choui Fong can be as short as 30 minutes or as long as a few hours.
Culture, Celebration, Ceremony
Tea drinking is an ancient practice for many Asian cultures, and it is used as both celebration and ceremony. Not only does the beverage itself carry an array of physical health benefits, drinking it is also a ceremonial moment of rejuvenation.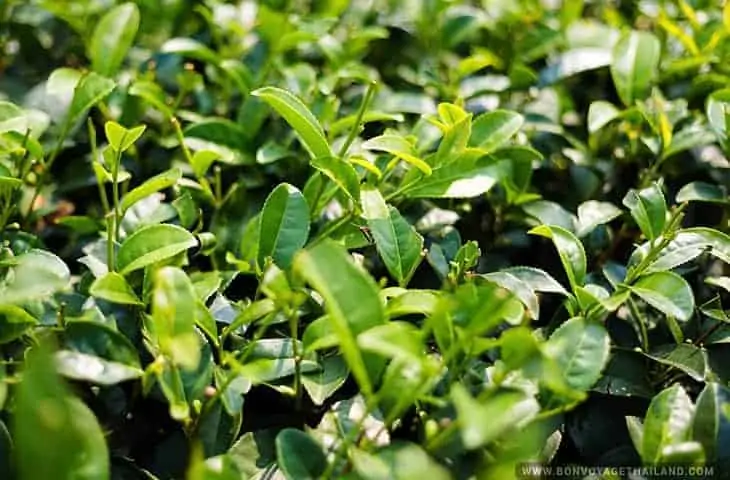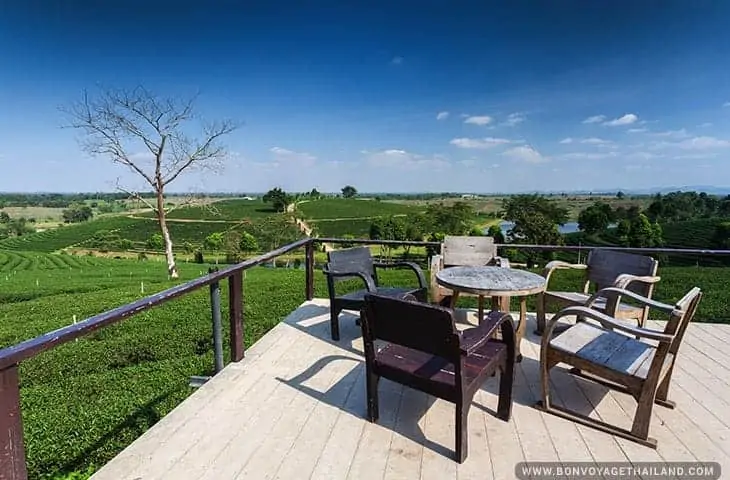 It's possible to participate in a tea ceremony here in Choui Fong. It is believed that a cup of tea can bring joy into your life as you sit, reflect, enjoy, and relax. The experience reminds us to appreciate silence and sensory pleasures. In Choui Fong, it's easy to notice and soften into the tranquility of the atmosphere.
The Freshest and The Fanciest
The plantation uses some of the best and most cutting-edge methods for planting, harvesting, and processing tea. The company's techniques have created a name for themselves within the tea industry and won several awards for the quality of tea they produce.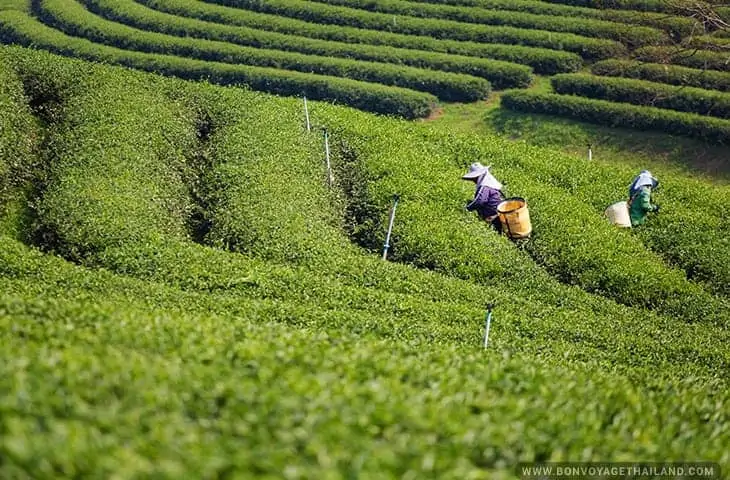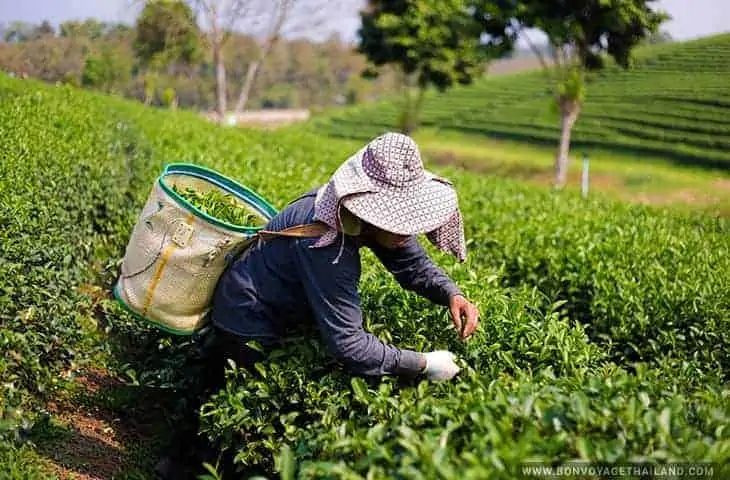 There is an abundance of ways to enjoy tea, but no better way than to see how it's made while you experience the exquisite finished product. Fresh loose-leaf tea and related products are available for purchase, once you've sampled it all and decided what you like.
Visit Choui Fong Tea Plantation
A trip to Choui Fong is a tasty chance to sip on some of the best tea in Thailand and spend a day in a peaceful environment away from the fast pace of everyday life.
In between your stays in Chiang Rai City, visit Choui Fong to indulge the senses: Savor delicate aromas, breathe in the cool air, and immerse yourself in a picturesque landscape filled with the aroma of fresh tea and mountain breezes.
Contact Us and speak with with us to tailor made your trip to Choui Fong Tea Plantation and nearby landmarks.
Near This Place
Read more about Things To Do in Chiang Rai