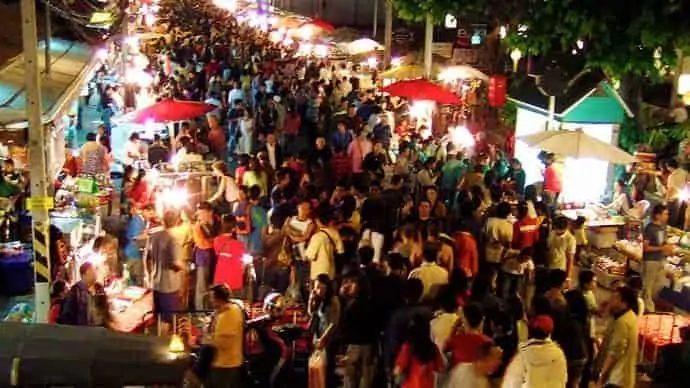 Tourists and locals agree, if you want to buy local Thai products, you want to head to the Sunday Walking Street Market. The market is in Old Town on Rachadamnoen Road, and might be the best place to find crafts, clothes, shoes, snacks, bath products, toys, art and just about anything you can think of. And best of all, the prices are so reasonable that you'll want to take more than you can carry. You will see things at the Sunday Walking Street Market that you can't find anywhere else. It's also a great spot to take in local culture, get a drink and grab a bite to eat – the region is filled with cafes, bars and restaurants and food stalls serving delicious street food.
Old town in Chiang Mai is where the old city wall and moat still remain from ages ago. The city closes off Rachadamnoen Road and some side streets to car traffic every Sunday afternoon, so that movable stores and stalls can set up. It's more than a mile of shopping. You'll see home goods and décor made by local hill tribes, jewelry and clothes made by local artisans, and plenty of things that you'll want to purchase as souvenirs from your time in Thailand.
You'll find unique OTOP (One Tambon, One Product) items that you cannot find anywhere else. OTOP is a government endorsed program that encourages local entrepreneurs from different regions, called Tambons, to market and make superior products as a means to economic growth. The unique OTOP items can only be found in northern Thailand, and are all for sale at the Sunday Walking Street Market.
Unlike many markets that cater to tourists, the Sunday Walking Street Market sells products for the price that locals expect – you'll be able to buy your souvenirs at the Thai price!
Because of the way the market is set up, the best way to see every stall without missing anything is to walk up one side of the main street, and then down the other. Don't forget to check out the side streets when you walk past – there are even more goods for sale that you don't want to miss. There's also four beautiful temples that are a must see – stop in for a visit and pay respects to the monks.
When you visit Chiang Mai, you should schedule a Sunday afternoon for the specific purpose of visiting Old Town and the Sunday Walking Street Market. You'll know you are headed in the right direction when you see the street performers who sing, dance and perform their shows right outside the city walls.
You may think it's the market because of the amount of people, but it's just an overflow area. When you walk through the old city gates, you'll be entering the Sunday Walking Street Market. Make sure you have enough time to see everything – the Market ends around 11 PM – and enough money to purchase food and goods!
As with any crowded area, keep your eyes open for pickpockets and try to keep your bag close to your body. Don't be afraid to try new things to eat and drink, and don't forget to stop to see the local temples that are lit up for night time worship.