Thailand has really made a name for itself within Southeast Asia because of its national food. Dishes such as stir-fried pad Thai noodles, hot and sour tom yum soup, and creamy curries of yellow, green, or red hues have people falling in love with Thai cuisine after just one bite.
If you're in Chiang Mai, the only thing better than eating its delicious Thai food is making it yourself! One of the best things to do is to join a cooking class and a let friendly Thai chef teach you about the ingredients and guide you through the cooking process so you can make your own meal. Are you getting hungry yet? Keep reading for a list of the best cooking classes in Chiang Mai!
Experience the best cooking class or food tour in Chiang Mai.
Add a little spice to your Chiang Mai holiday with an authentic Thai cooking class or a guided food tour. Here's a look at the top-rated Thai cooking schools in Chiang Mai, which offer half and full-day packages as well as tours in town and out in the countryside.
The Best cooking classes with Bon Voyage Thailand.
Baan Thai Cookery School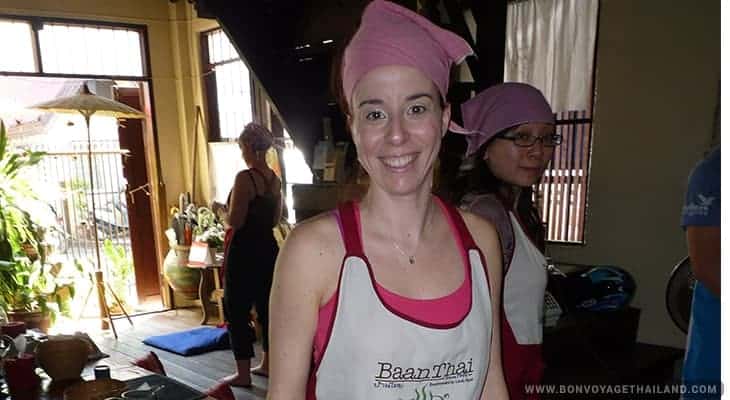 Highlights of this cookery school include:
Touring a local fresh produce market
Cooking in a traditional open-air Thai kitchen
Learning hands-on how to slice, dice, and chop fresh ingredients
Joining a daytime class (6 courses) or evening class (5 courses)
If you've ever wanted to know how Thai cuisine is made, then you'll learn about the special ingredients and cooking techniques to create these delicious dishes in this cooking class.
The Baan Thai Cookery School starts with a trip to the local market where your English-speaking instructor will lead you through fresh produce stalls and show you what the Thai vegetables, herbs, and rice look like in their uncooked form. Afterward, take a scenic drive through the country to the Thai cooking school. Once you've arrived, grab an apron and claim your own cooking station equipped with cooking utensils, a wok, and seasonings.
Then the fun begins! Learn Thai cooking technique such as steaming rice the Thai way, pounding herbs using a mortar and pestle, and stir-frying in a wok. Courses included making homemade curry paste, an appetizer, a soup, a stir-fry, a curry dish, and a dessert. This class caters to people of all ability levels, so it's exciting whether you're a beginner or a skilled cook.
If you sign up for the daytime class, you'll make six courses. If you sign up for the evening class, you'll make five courses because of the shorter class time. You will also learn how to make Thailand's famous sticky rice and steamed rice the old-fashioned way.
Are you ready to cook?! Choose from either a daytime or evening class to begin your fun (and delicious) experience.
Half Or Full Day Grandma's Home Cooking School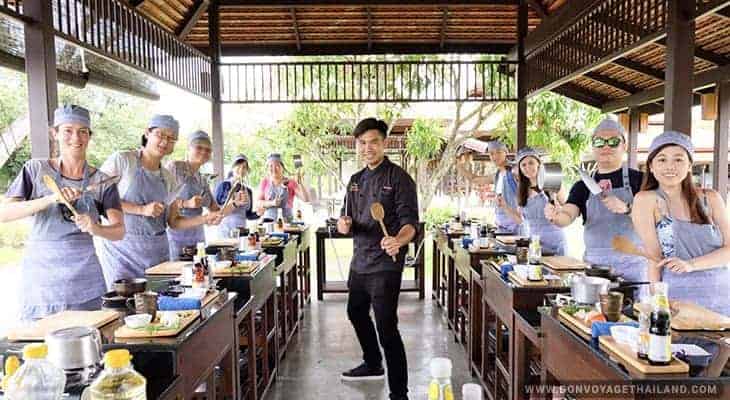 Highlights of Grandma's Home Cooking School are:
Touring a local produce market full of fresh fruits and vegetables
Visiting an organic farm where you'll pick herbs and gather eggs
Cooking in the shade of an open-air Thai style pavilion
Learning how to make sticky rice, a Thai drink, and several classic dishes
Join us and cook traditional Thai recipes just how Grandma makes them! At Grandma's Home Cooking School, not only will you learn about the history and health benefits of Thai food, you'll learn all about the special ingredients and traditional cooking techniques used to make it, too.
This educational but fun activity begins with an enlightening visit to a local Thai market in the countryside of Chiang Mai. There you'll meet your English-speaking instructor and together browse through the many stalls of exotic fruits and vegetables.
Then, go to Grandma's Home Cooking School. Explore the organic farm and gather a few fresh Thai herbs, vegetables, and chicken eggs to use in your cooking class. Then grab an apron, pick a cooking station, and begin making your very own Thai food!
Everyone will learn how to cook a variety of Thai dishes such as soup, stir-fry, curry, and dessert. You'll also learn how to make sticky rice and steamed rice as well as a non-alcoholic Thai iced drink. The half day morning, half day afternoon, and full day cooking classes will teach you how to make three, four, and six courses, respectively. Just ask yourself, "How hungry will I be?" because after you've finished cooking, you'll get to eat the delicious Thai meal you made yourself!
Which Thai dishes do you want to cook? Be sure to check out the menu at Grandma's Home Cooking School because it's different every day of the week.
Half Day Pantawan Cooking Class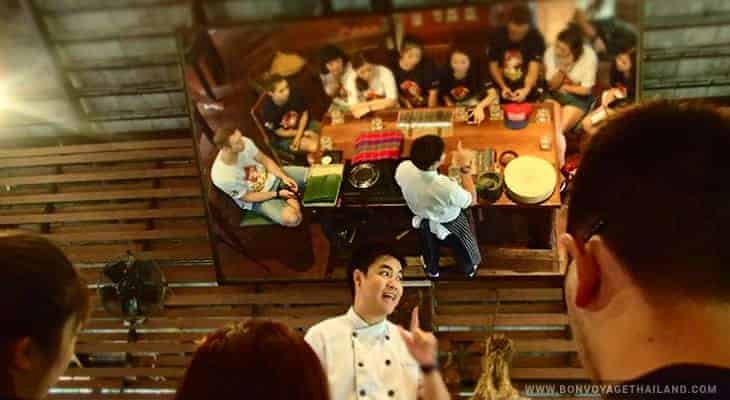 Highlights of this luxury cooking class include:
Exploring a local fresh fruit and vegetable market
Cooking Thai food in a beautiful teakwood home
Learning how to cook classic Thai soups curries, stir-fries, and desserts
Receiving an easy-to-follow cookbook fill with the class's recipes
If you want a luxurious Thai cooking experience, look no further than Pantawan Cooking Class. Choose from a daytime or evening class that features high-end service, cooking in a gorgeous traditional Thai teak house, and sitting on a balcony that overlooks a garden while enjoying the four-course meal you've created yourself.
This experience starts with a visit to an outdoor Thai market with your English-speaking instructor, who will walk with you through rows upon rows of tropical fruits and vegetables and teach you about the fresh ingredients used in Thai recipes. Afterward, enjoy a short ride through Chiang Mai's scenic countryside before arriving at the cooking school, which is in a classic teakwood house near an organic garden. Then, at your own luxury wooden cooking station equipped with the proper cooking utensils, you'll learn how to make several traditional Thai dishes the same way luxury restaurants do.
Your cooking instructor is excited to teach you how to make traditional Thai food and they will make sure to guide you and answer your questions every step of the way. No matter if you're a beginner cook or a skilled chef, you'll see how much fun it can be to chop, saute, and stir-fry. After you've eaten your four-course meal, your instructor will give you a free recipe book to take home with you.
Pantawan Cooking class has a revolving menu, so the dishes change depending on what day of the week it is: Northern Dishes (Monday), Famous E-Sarn Dishes (Tuesday), Healthy Dishes (Wednesday), Thai Homestyle (Thursday), Royal Thai Cuisine (Friday), All-Time Favorites (Saturday), and Chef's Choices (Sunday).
So, would you prefer to experience a fancy Thai lunch in the countryside or a luxurious dinner?
Asia Scenic Thai Cooking School – Half or Full Day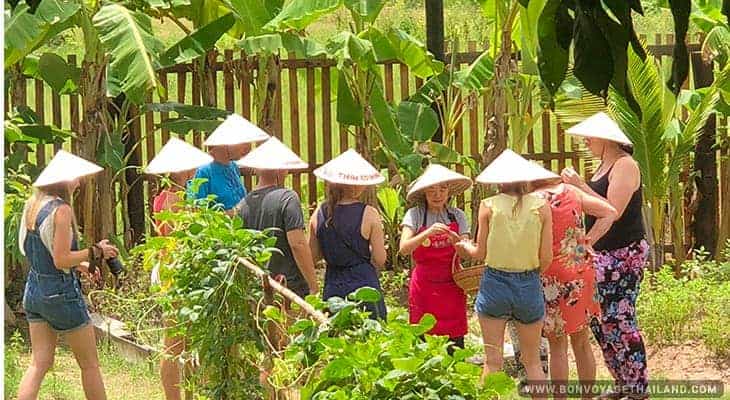 Highlights of this Thai cooking school include:
Cooking at their "In Town" or "At Farm" location (half or full day class)
Touring a local open-air produce market
Preparing Thailand's tastiest curry, stir-fry, soup, and dessert
Getting a cookbook and access to the online photo album of the cooking class
At Asia Scenic Thai Cooking School, join us for a half day class (5 courses) or a full day class (7 courses) to learn the secrets of making Thailand's most popular dishes. Choose from two kitchen locations: in the heart of Chiang Mai City or at an organic vegetable farm in the countryside.
After picking you up from your guesthouse, your English-speaking instructor will take you to a local Thai market. There you'll learn about the fresh herbs and tropical produce used in Thai recipes and shop for your ingredients. Nibble on some Thai snacks while you're there and then ride to the cooking school and get ready for some slicing and dicing!
After you've arrived at the cooking school, grab an apron and claim your own cooking station. Watch your English-speaking instructor in the kitchen as they show you the proper way to prepare each dish and then do what they do. Create your own Thai dishes and then when you're done, sit down and enjoy eating them at the end of class.
Full Day Thai Farm Cooking School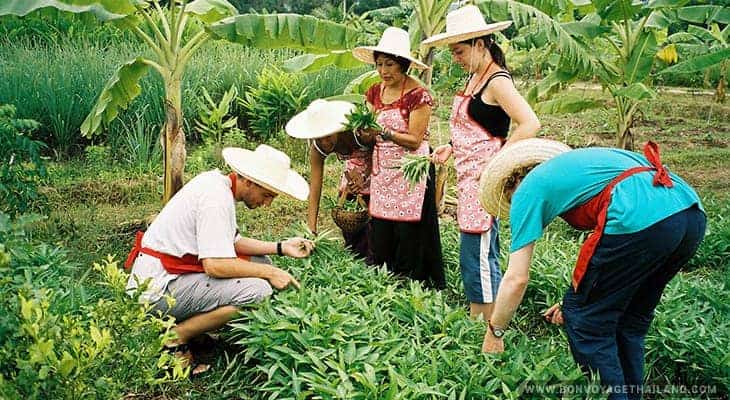 This full day Thai cooking school includes:
Touring a fresh produce market to learn about local ingredients
Picking fresh herbs and vegetables at an organic farm
Learning how to cook five dishes plus sticky rice and curry paste
Eating your meal on a terrace overlooking a fish pond and farm
Experience the ultimate cooking class at Thai Farm Cooking School where you'll have fun learning the secrets of making a home-cooked Thai meal. Whether this is your first time cooking or you know your way around a kitchen, join us for an entertaining and delicious experience on a Thai farm.
This full day trip begins with a visit to a typical Thai produce market to explore the fruit and vegetable stalls. Then, continue with a scenic drive into the countryside to the cooking school and organic farm. Walk through the rows of fresh fruits, herbs, and vegetables and enjoy gathering several fresh ingredients that will be used right in class.

Set yourself up at a cooking station with your own wok, apron, and other necessary cooking tools to prepare your chosen dishes. Then the fun begins! Everyone will make Thailand's ubiquitous sticky rice and then choose a Thai soup, curry, noodle dish, stir-fry, and dessert to make. The menu changes and depends on which day you attend.
Then, once you've finished preparing your Thai meal, enjoy eating it on a terrace with a beautiful view of a fish pond, the organic farm, and the distant mountains. Be sure to grab a complimentary recipe book to remember your experience by and then return to your guesthouse or hotel in Chiang Mai.
Extra and Chiang Mai Night Market Food Tour
This food tour to a night market includes:
Riding in a local red truck "songthaew" taxi
Visiting two different street food markets
Sampling sweet and savory snacks and Thailand's famous dishes
Walking by temples, shops, and neighborhoods
Learning what's safe to eat, how to order from food stalls, and how to eat it
Dying to eat the tasty food that surrounds you in Thai markets and from street stalls but don't know where to start? Join us for a 2.5 to 3-hour evening Thai food tour and experience a delicious culinary journey of Chiang Mai's food scene through the eyes of a local. We'll show you the most delicious food stalls, food that safe to eat, how to place an order, and the proper way to eat it.
The evening begins with your English-speaking guide in the back of a red truck taxi, which is locally known as a "rod daeng" or "songthaew." First, visit a buzzing street food market where vendors sell piping hot bowls of famous noodles, skewers of tasty vegetables and meat, and plates of popular stir-fries. Your guide will provide you with a small pamphlet that lists popular Thai dishes and how to order them in the Thai language. There's a good chance you'll sample a Thai omelet, grilled pork skewer, fried taro, Thai curry fish cake, and papaya salad while touring around.
After dining on several delectable snacks, your guide will lead you on a brief walk and tell you the secrets that makes Thailand's street food so famous. Stop for a refreshing fresh fruit smoothie and then walk through a centuries-old neighborhood, by one of the most iconic temples in the city, and past other landmarks that glow in the evening lights.

After your stomach has settled, visit a second street food market. Be adventurous and nibble on Thailand's spicy sausage or, better yet, crispy bugs! After taste testing a delicious variety of sweet and savory Thai snacks, return to your hotel or guesthouse in the back of a red truck "songthaew" taxi.
Want to get the inside scoop on how and where to order Thai street food?
Which Cooking Class In Chiang Mai Interests You The Most?
How would you rather experience Chiang Mai's food scene – a cooking class or food tour?
Our cooking classes offer an excellent variety of half day classes (morning and evening) and full day classes to accommodate your traveling schedule. Don't miss out on this great opportunity to learn the secrets behind making one of the world's tastiest cuisines. In addition to cooking and eating to your heart's content, explore a fresh produce market, see how Thai herbs and vegetables grow, and take home a recipe book for a well-rounded experience.
On the other hand, you can wander through Chiang Mai's street stalls with an enthusiastic guide who will teach you everything you need to know to find the best Thai snacks from local vendors. Plus, you'll learn how to navigate the Old City using a red truck taxi.
Whichever you choose, let Bon Voyage Thailand help make your vacation unforgettable with a fun and delicious day eating Thai food in Chiang Mai, Thailand.
Provided By The Cooking School
English-speaking instructor
Driver and transportation
Hotel transfer (within 3 kilometers of the Chiang Mai City Moat)
Market tour
All ingredients for cooking
Most cooking classes also provide you with an easy-to-follow recipe book that doubles as a souvenir. Also, some cooking classes allow children or non-cooking guests to come for a lower price.
Additionally, since you have control over what ingredients you use in your meals, all meals can accommodate special diets. Prior to your trip, please let up know if you have any special dietary requirements such as eating vegetarian or vegan meals or if you have food restrictions or allergies.
Weather
Thailand has hot, humid weather much of the year because it's a tropical country. However, Chiang Mai's temperatures are somewhat lower than the central and southern areas of Thailand because it's in the mountains of the northern part of the country.
Chiang Mai is cool in the months of December and January. There is a lot of rain between June and October. Since the rain showers usually last one to two hours each day during the wet season, your tour may pause briefly but then the schedule will continue as planned.
What To Wear
We recommend that visitors of all ages wear short-sleeved shirts and shorts to stay cool and comfortable. Loose fitting cotton clothing is perfect to wear for day tours and excursions. Since you will be handling hot liquids and using sharp and heavy cooking utensils and cookware, it is advised to wear closed-toe shoes.