What's great about trekking in Chiang Mai? There are some spectacular outdoor activities here where adventure seekers can hike lush trails, visit local Thai hill tribe villages, go rafting down the river and even visit elephants. If you're looking for the best Chiang Mai trekking tour that includes these unforgettable activities, you've come to the right place
Chiang Mai is a mountainous province in northern Thailand and is home to verdant jungles, massive waterfalls, and winding rivers. In addition to its diverse wildlife and picturesque landscapes, it's arguably the perfect place for outdoor lovers looking for a little trekking adventure.
Take a look at our Chiang Mai trekking tours and let us take you on the adventure of a lifetime.
Our Top 6 Chiang Mai Trekking Tours
While it's easy to assume that Chiang Mai's trekking tours are relatively the same, a closer look reveals the different experiences granted among several locations. Read on to learn about five popular tours provided by Bon Voyage Thailand to determine which is best for you.
Waterfalls Trail Trek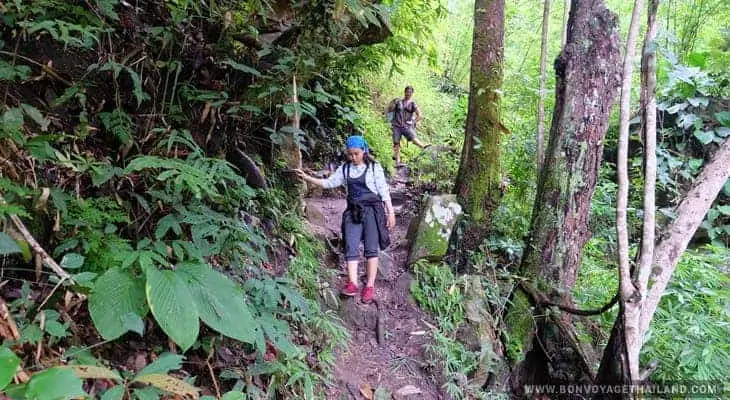 Highlights of the One Day Trek on the Waterfalls Trail in the Doi Inthanon area:
Trekking is the main activity (around 6 hours)
Pass through two Karen hill tribe villages
Swimming at a waterfall
Take a break from the crowds and immerse yourself in nature on a hike through the lush green jungle that surrounds Doi Inthanon National Park, one of the best places for trekking in Chiang Mai. This one-day trek will take you to the most impressive waterfalls and allow you to soak up their beauty (literally) while swimming in the plunge pool.
Your day begins early with a drive into the countryside, where you'll be greeted by your English-speaking Karen guide. For the next two hours, you'll enjoy peace and tranquility as you trek through the jungle and follow the course of the river until you reach your first waterfall. Along the way, your guide will show you the local wildlife, plants, and flowers that are characteristic of the area.
From June to mid-November, you have the opportunity to experience one of the most famous images of northern Thailand: the emerald green rice terraces that run through the hills.
Next, you'll reach a remote village of the Karen hill tribe where you can rest and refuel with some food.
After lunch, you'll continue hiking along the shaded waterfall trail through the jungle, past more rice terraces, and to another breathtaking waterfall. After a four-hour hike, there's no better reward than a refreshing dip in the natural plunge pool below the waterfall!
Freshly invigorated, you'll continue on to another Karen hill tribe village where you can observe their unique culture and way of life. Watch as the locals farm their fields using traditional agricultural methods, while others weave beautiful dresses and silk scarves.
At the end of the tour, you can change into fresh clothes and enjoy the ride back to Chiang Mai. If you want to trek longer in the jungle, you can also book this tour as a two-day option, where you can get back to basics with an overnight stay in a Karen camp.
Doi Inthanon Trekking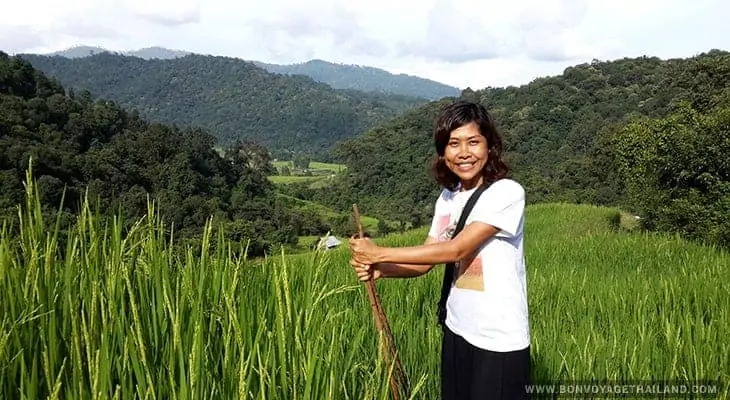 Highlights of the Doi Inthanon Trekking Tour include:
Trekking is the major activity (four to five hours per day)
Cultural visit to nearby hill tribe villages
Swimming at a waterfall
One of the most incredible places in all of Chiang Mai is Doi Inthanon. Located roughly 90 km southwest of Chiang Mai's Old City within the Doi Inthanon National Park, this country's highest mountain boasts incredibly green forests, ancient pagodas, and nature trails with (quite literally) breathtaking panoramic views of the surrounding valley below.
A typical day on a private Doi Inthanon Trekking Tour begins with a truck drive to the Doi Inthanon National Park, followed by a three-hour hike along a mountainside trail that snakes through an evergreen forest. Nature lovers will appreciate the biological diversity, both flora, and fauna, of the national park's forest.
Birders will be happy to learn that the mountain's cool temperatures encourage roughly 300 species of birds to flock to its peak throughout the year. Much to the delight of bird enthusiasts, this national park is the most popular destination for bird-watching in the entire country.
Afterward, you'll stop for lunch, which features traditional-yet-simple Thai dishes. After refueling and resting, the hike continues for roughly two more hours through the jungle.
Near the end of the trek, you will pay a visit to either a Karen or Hmong village, just one of the many indigenous hill tribes that live in Northern Thailand. See firsthand their unique customs and dress and even watch as they create beautiful artwork, which can be purchased directly from them to help support their community.
The tour ends with a visit to a beautiful waterfall where you can cool off with a refreshing swim. Change into dry clothes and then relax on the ride home.
Two- and three-day trekking tours are also available if you want to spend more time exploring the Doi Inthanon National Park. Basic overnight accommodations are provided at a jungle camp and at a hill tribe village, in addition to extra meals and drinks.
Kew Mae Pan Nature Trail – Doi Inthanon National Park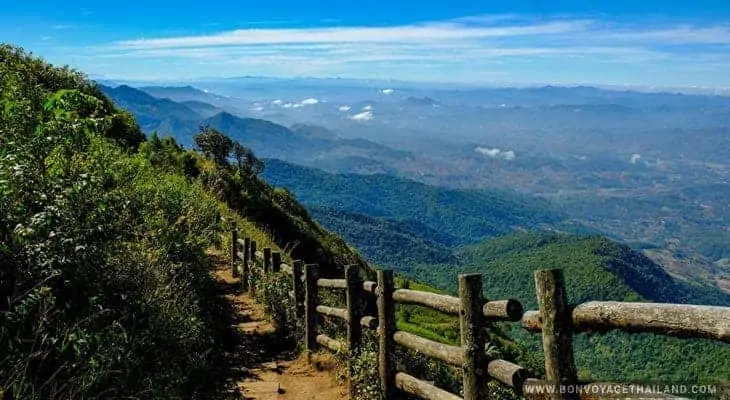 Highlights of the Kew Mae Pan Nature Trail in Doi Inthanon National Park:
King and Queen Twin Pagodas
Doi Inthanon summit, the highest point in Thailand
Trekking the Kew Mae Pan Nature Trail
Visits to two of the park's most stunning waterfalls
This varied privately guided tour is the perfect way to see the most popular attractions of Doi Inthanon National Park in one day, while also diving into nature and experiencing the breathtaking panoramic views that the park is famous for.
After a scenic drive from Chiang Mai to Doi Inthanon National Park, you will begin your day atop the highest mountain in Thailand, surrounded by an exquisite flower garden as you take in the striking beauty of the King and Queen Twin Pagodas. Originally built to honor the 60th birthdays of Their Royal Majesties, the site of the pagodas offers your first vantage point for spectacular views across the national park and the valley below.
From here, you will take a short walk up through a cool, evergreen forest, along the Angkha Nature Trail, to reach the summit of Doi Inthanon. At 2,565 meters above sea level, you will be standing at the highest point in Thailand and will have the opportunity to immortalize it with a photograph next to the sign that marks the spot.
As the name suggests, the Kew Mae Pan Nature Trail is a must for nature lovers and at a distance of just under 3km, is one of the more accessible but rewarding treks in the area for those with a reasonable level of fitness.
For the next two hours, you will take in lush evergreen and tropical forests, mountain ridges, and deep valleys as your local Hmong hill tribe guide points out wildflowers and helps you spot the park's variety of indigenous wildlife. Without a doubt though, the highlight of the trek is the viewpoint which, on a clear day, captivates visitors with its sensational panoramic mountain views. Even on a cloudy day, the blanket of clouds that cloaks the mountain makes for an impressive photograph.
After the trek, relax a little and enjoy a tasty, locally prepared Thai lunch, before continuing on to a Hmong hill tribe market. Here, you will be able to support the local farmers by purchasing their sustainably grown fruit, vegetables, and tea.
You will round off the day with visits to two of the national park's most impressive waterfalls; the Sirithan Waterfall and the Wachirathan Waterfall. The tallest waterfall in the park, Wachirathan Waterfall is popular with visitors for the rainbows which can be seen in the mist of its 80-meter cascade.
Kew Mae Pan + Pha Dok Siew Trekking – Doi Inthanon National Park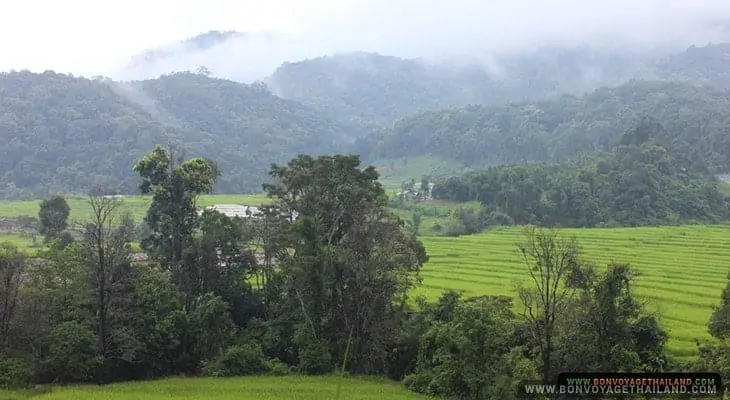 Highlights of Kew Mae Pan and Pha Dok Siew Trekking in Doi Inthanon National Park:
King and Queen Twin Pagodas
Doi Inthanon summit, the highest point in Thailand
Around 4-5 hours trekking
Swimming at a waterfall
If you like the sound of the Kew Mae Pan Nature Trail tour, but you'd prefer to spend more time trekking, why not combine it with a hike to the beautiful Pha Dok Siew Waterfall on the same day? That's what the Kew Mae Pan and Pha Dok Siew Trekking tour give you; The opportunity to see Doi Inthanon National Park's main attractions in one day, plus four to five hours of trekking on the most scenic trails in the national park.
Similar to the Kew Mae Pan Nature Trail tour, your day starts with a visit to the summit of Doi Inthanon. After this, your local Hmong guide will take you on a 2-hour hike along the Kew Mae Pan Nature Trail, immersing you in nature and delighting you with spectacular scenery.
Following the first trek, you will have an opportunity to explore the Royal Twin Pagodas and their wonderful gardens, before visiting a local Hmong hill tribe market to buy locally grown tea, fruit, and vegetables.
Rest for a while and enjoy a delicious local Thai lunch, before embarking on your second trek of the day. The sights and sounds of evergreen forests will arouse your senses as you travel past traditional rice terraces and down towards the stunning Pha Dok Siew Waterfall. After trekking for two to three hours, you will likely welcome the opportunity to rejuvenate your body with a refreshing swim in the waterfall's natural plunge pool!
The day ends with a visit to a Pa Ka Yor Hill Tribe Arabica coffee farm, where you can observe the hill tribe's traditional way of life and sample some of their organic, locally produced coffee, before heading back to Chiang Mai.
Elephant Sanctuary & Trekking Tour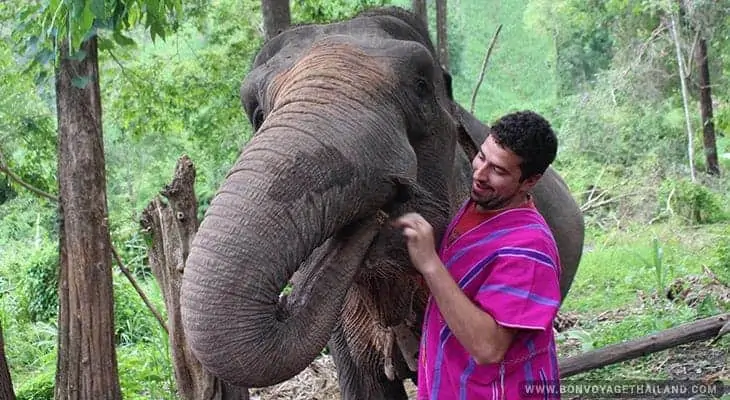 Highlights of this tour include:
Learning about elephants' behavior, anatomy, and their long history in Thailand
Feeding and playing with them in their natural home in the jungle
Giving the elephants a cooling mud spa
Bathing, brushing, and swimming with the elephants in a local waterfall
No elephant riding
This full-day tour is the ultimate jungle adventure. It combines the once-in-a-lifetime experience of spending the morning with Thailand's special elephants and spending the afternoon trekking through the Thai forest and enjoying a relaxing bamboo rafting ride down a local river.
You can look forward to your tour beginning with a relaxing drive through the countryside of Chiang Mai and into the nearby mountains. Once you arrive at the elephant sanctuary, your English-speaking Thai guide will briefly teach you all about the elephants. These majestic animals were rescued from unethical entertainment venues and have been given a new home in Chiang Mai.
Once introductions have been made, it's time to meet the elephants! When you first meet them, win them over by feeding them their favorite treats. Next, it's time to treat them to a special elephant mud spa. They love rolling around in the mud and will happily let you spread mud all over their bodies to help protect their skin.
Once everyone is good and muddy, enjoy a scenic walk to a nearby field, where the elephants freely roam and graze on the grass. After they've eaten enough, walk with them to a nearby river and encourage them to take a dip in the refreshing water. There you can wash them off and enjoy some swimming of your own.
Next on the agenda is a trek through the Thai jungle where your guide will point out different tropical plants and flowers, and if you're lucky, tiny creatures in the jungle. The tour wraps up with a peaceful ride down the river on a traditional Thai bamboo raft for an entirely different perspective of the jungle.
Pha Dok Siew Mini Trekking + Highest Peak of Thailand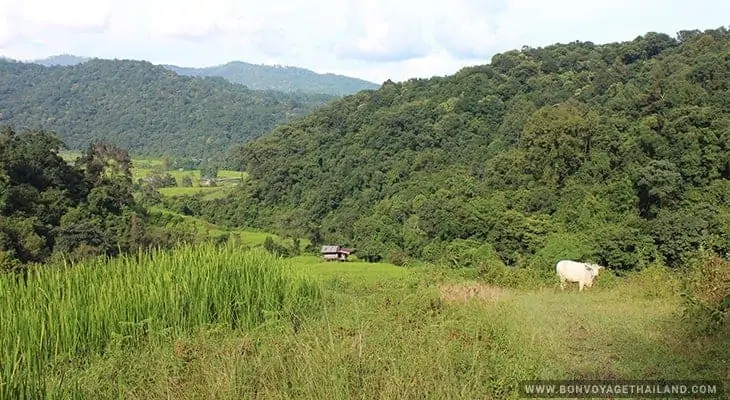 Highlights of the Pha Dok Siew Mini Trekking include:
Coffee plantation
Scenic waterfalls
Highest peak in Thailand
Visits to iconic Thai structures
Beginning level nature trail hike
Explore a hill tribe market
The Doi Inthanon National Park is home to many beautiful sites, both natural and man-made. The activities of the Mini Trekking Tour are among the most easygoing hikes and are the perfect choice for a day trip from Chiang Mai, especially if you are looking for a less strenuous adventure, but want to experience several special places in one day.
This private tour begins at a coffee plantation and then continues to a waterfall near the entrance of the Doi Inthanon National Park. Exploring waterfalls is a popular activity with locals and visitors alike throughout all Thailand, but some of the most impressive waterfalls in Thailand's northern region can be found on Doi Inthanon. One, in particular, the Wachirathan Waterfall, cascades down rocks for an impressive 75 meters and is quite powerful, especially during the rainy season.
You'll arrive at the highest point in Thailand by car and then visit a stupa dedicated to the king for which the mountain was originally named. Not far away is the Angka Nature Trail, a relatively short and relaxing path with a variety of bird and plant species.
Also nearby are the iconic twin pagodas, two incredible structures built in homage to the current king and queen of Thailand. These immense pagodas are situated majestically on a ridge from which you can look down onto the sweeping views below.
Next, you'll be able to witness the local Hmong hill tribe villagers bustle about their outdoor market, which features fresh local produce among exciting sights and sounds. This is where lunch will be hosted and will be a simple fare of Thai cuisine.
After a short rest, you will journey along the longest trail of the day to another waterfall. Along the walk, you will see coffee plantations and rice fields in the distance. These are now grown in place of the once infamous opium flower decades prior. Nowadays coffee has become an important crop and the climate of Thailand's northern region produces high-quality beans.
Depending on the time of year, the rice paddies will be green (growing season) or a golden amber color (harvesting season). Your last stop will be at the hill tribe village that grows the coffee. Here you will get to see a snapshot of the hill tribe's daily life before returning to Chiang Mai.
Provided on the tour
Driver and transportation
Local Thai meals
Hotel transfer (within 3 km of the Chiang Mai City Moat)
Accident insurance
Basic accommodations (overnight trips only)
Meals are provided on the tour, although the number of meals is dependent on whether the trek is one, two, or three days long. All meals will feature local Thai cuisine, but if visitors have any special dietary requirements or restrictions, such as eating vegetarian or halal meals, please let us know prior to your trip.
On multiple-day tours, groups will spend the night in a shared, dormitory-like sleeping area and will be provided with blankets and pillows. If you are in need of luggage storage during your trekking Chiang Mai trip, we offer safe storage at our operating partner office back in the city.
Activities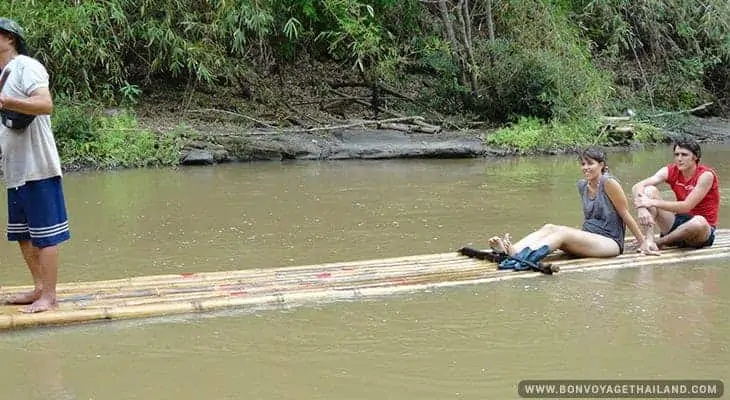 Chiang Mai's hiking trails stretch for hundreds of kilometers throughout the mountainous jungle. Unlike other forests in Thailand that are generally populated with broad-leafed trees and ferns, you may be surprised to find evergreen, pine, and mixed deciduous tree varieties as well, as an interesting species of moss and lichen, once you begin your hike.
You can look forward to the excitement of exploring northern Thailand and the freedom of being in the exotic outdoors. Trekking is a unique activity in that you can truly immerse yourself in your surroundings and experience new sights, sounds, smells, and even textures. And of course, there's the in-the-moment happiness you get out of completing a trail.
There are several major rivers that flow throughout Chiang Mai Province, so it's no surprise that water activities are also on the list of things to do and include rafting, hiking to waterfalls, and even swimming in them.
Thailand's rainy season produces notable rapids in some areas of the river, but during the dry season these currents slow down into peacefully gurgling currents. This is the time when you can lazily drift through the jungle on a traditional Thai bamboo raft.
Perhaps one of the most unique activities Chiang Mai offers is a peek into the lives of the local indigenous hill tribes of Northern Thailand. These people have retained their time-honored traditions and dress and behave in a way that is very different from modern Thai society. These hill tribe people are renowned for their beautiful handicrafts, too.
And lest we do not forget feeding and interacting with elephants. It's an unforgettable experience and one that you'll be able to soon cross off your bucket list. Click here for more on elephant trekking.
Where can I hike in Chiang Mai?
Doi Inthanon Mountain
Doi Inthanon is the highest peak in Thailand. It's located in Doi Inthanon National Park in the north of Thailand. There are many trekking opportunities in this park. Trekkers come here for the beautiful scenery, rich history, and Buddhist stupa.
Mae Wang National Park
Mae Wang (Mountain River) is located on the edge of Doi Inthanon National Park and is famous for its beautiful views and many waterfalls. There are several treks offered. The most famous is the Mae Wang Waterfall Trek, which takes about 2 hours. You can ride a bamboo raft along the river.
Mae Taeng District
Another popular trekking destination near Chiang Mai is where you can hike through rice paddies, go whitewater rafting on the Mae Taeng River, and watch elephants in nearby sanctuaries.
Chiang Dao National Park
In Chiang Dao, a district in the northwest of Chiang Mai. The hiking trail of Doi Luang Chiang Dao Summit is the most rewarding place for hikers.
Preparing for your Trekking Chiang Mai
A little bit of forward planning can make all the difference in making your Chiang Mai trek the experience of a lifetime, versus something you would rather forget. Use the information below to ensure you know what to pack and what to expect.
Weather

Thailand is a notoriously hot and humid country, but its mountains are deceivingly cool. In fact, Chiang Mai is home to Thailand's highest mountain, Doi Inthanon, which reaches a height of more than 2,500 meters above sea level and maintains a mid-day temperature between 10 and 12 degrees Celsius year-round.
Mountains in this region are pleasantly balmy throughout the year, although the coolest months are December and January. Rainstorms are a regular occurrence from July to October, but because showers only last about an hour or two each day, trekkers will be able to continue their tour, even if briefly stalled by the rain.
What to Pack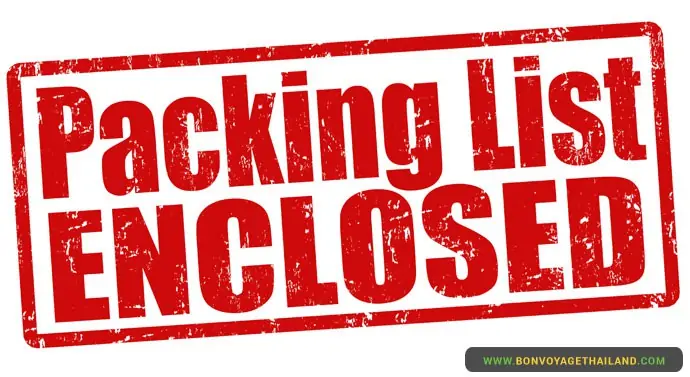 Trekking in Chiang Mai doesn't require much equipment, but there are several essentials to wear. For starters, a comfortable pair of walking or hiking shoes are a must, as well as breathable socks, a pair of shorts and a t-shirt.
Since some of the best Chiang Mai trekking tours include visits to waterfalls, we suggest that you wear a bathing suit under your trekking outfit. Thai culture is modest, so we encourage you to wear a t-shirt over your bathing suit and ask that you refrain from wearing a two-piece bathing suit. Don't forget to pack a lightweight, but an absorbent towel, too.
The rainy season generally takes place from July through October. Rain showers typically last between one to two hours during the wet season, so it is best to pack a lightweight rain jacket or buy a thin plastic poncho to take with you on the trekking tour during these months. You may like to also pack an extra set of dry clothes to change into.
Rain or shine, the tour will go on as scheduled. If you are bringing a camera, consider using a waterproof camera or using something to protect your camera, such as a waterproof case or cover.
There is little chance of rain during the remainder of the year; this is particularly true during the dry season between December and March.
Personal toiletries and first aid items are important to bring as well. Pack a small ziplock bag that includes sunscreen, mosquito repellent, wet wipes, toilet paper, and plasters. Our trekking tours will also have a first aid kit available. Additionally, pack any necessary prescription medications, such as asthma inhalers or epi-pens, specific to your medical needs.
Tips and advice for an amazing Chiang Mai trekking adventure
Whether this is your first time or you are a Chiang Mai trekking regular, use the following tips and advice to get the best out of your trip.
Do your homework
Chiang Mai is blessed with an array of stunning trails and trekking options to suit all levels. Think about what you want to get out of your trekking experience and then find a trek that meets all of your requirements.
You will find that tours are available in varying lengths ranging from day trips to multi-day adventures. They will also vary in terms of the amount of actual walking involved. Think about whether you want to spend a lot of time walking or whether you would prefer something more leisurely that involves a greater amount of time spent on activities, such as meeting a hill tribe.
Be sure to do some research into the different routes available and note the terrain. Three hours of walking may not sound like much, but if it is all spent climbing a mountain, it will be much more strenuous than a longer, flatter route. Being fully aware of what you are signing up for will make for a more enjoyable experience than over-exerting yourself and being unable to comfortably complete each day.
As you will have noticed above, many treks come with options such as bamboo rafting, visiting elephant camps, meeting hill tribes, and swimming in waterfalls. Consider what you would like to experience and how much time you would like to spend on each activity.
Use a good tour company and guide
If this is your first visit to Chiang Mai or you are inexperienced in terms of trekking, it would be advisable to join a tour with a knowledgeable guide, rather than going it alone. Using a guide will ensure that you have the best possible experience; taking suitable routes, seeing the best sights, and most importantly, staying safe.
Be sure to use a reputable and well-regarded company.
Consider your fitness level
Whilst none of the treks in and around Chiang Mai require any expert levels of skill or fitness, some of them are moderately strenuous. Be aware of the terrain and amount of walking involved, and choose a trek that matches your capability.
In order to enjoy your tour in the best possible way, you should do proper training beforehand. This includes not only walking in general but also walking with a backpack because going up and down with the weight on your back can take some getting used to.
Take the right gear
It may sound obvious that you need to bring the right gear, but many people spoil their enjoyment of their trekking experience by neglecting to bring things, such as a pair of comfortable, supportive hiking shoes. If you are planning to come in the rainy season, waterproof walking boots are a plus. We have provided a list of essentials in the section "What to Pack" above.
Be a responsible tourist
Be respectful of Thai culture and customs, for example by covering up while bathing at a waterfall. When visiting a hill tribe, interact with the people, rather than simply looking at them and taking photographs. Many have learned a little English over the years, and your guide will also be happy to interpret for you.
Do not leave any rubbish behind when out trekking, and be conscious not to damage or interfere with any of the plants or wildlife you may encounter on your trek.
Stay hydrated
Make sure you carry enough water with you for the amount of time you will be walking. Bring some small change to buy a bottle of water and your guide will be able to advise you where to buy some before you start trekking. Be prepared to carry your own bottle. Drink it at regular intervals; don't wait until you are thirsty. It is very easy to become dehydrated when trekking in Chiang Mai, and this can be dangerous if severe.
Don't over-pack
On a Thai trekking tour, it is unlikely that you will have porters to carry your bags, so you should be prepared to carry your own backpack. A small difference in weight can really add up when you are walking for hours at a time. Be realistic about what you need versus what you "might need," and only pack the essentials.
Expect the unexpected
Remember that you will be trekking in nature and as such, not everything is controllable. The weather may cause schedules to change, things may go wrong, and you will almost certainly experience peaks and troughs in your energy levels. Approach the trek with a positive attitude, a sense of adventure, and a sense of humor, and you will be sure to have a great time, no matter what happens.
So what will it be?
Which of our options is the best Chiang Mai trekking tour? It's really up to you — whether you are a dedicated hiker, a cultural enthusiast, or want to experience a little bit of everything, these tours will be sure to leave you itching for more.