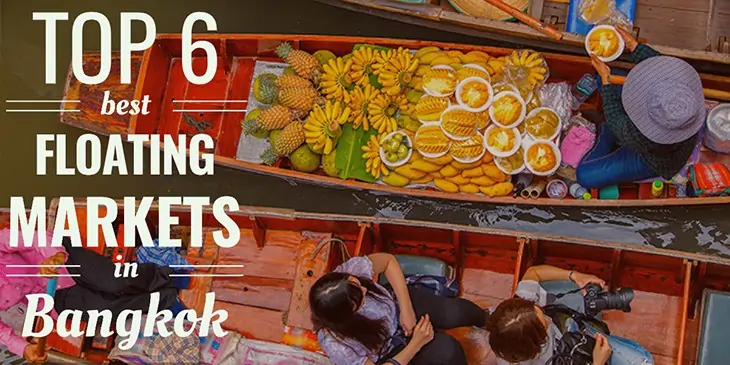 Which is the best floating market to visit in Bangkok ?
Bangkok's floating market has a variety of entertainment markets, food stalls and stores open before and after regular market hours. For locals, it is the ultimate source for all their needs. For many tourists, it is a must-see when they travel to Thailand.
Which floating market Bangkok should you visit?
Damnoen Saduak Floating Market, touristic but everything is there
Amphawa Floating Market for its authenticity
Tha Kha Floating Market for its local flair
What is the best way to visit a floating market in Bangkok?
Depending on what type of traveler you are, it is best to hire a private guide, choose the right one and you will have a wonderful time. The local guides will give you useful information about the floating market and they speak English pretty well. It will be easier to get to the floating market and it will be a memorable trip. (Avoid the one who takes you to a gem store or other tourist trap. Hire a professional guide with a guide license).
Food You Must Try
The dish I love to eat most at the market:
Mango Sticky Rice (let us start with dessert :))
Coconut Ice Cream
Coconut Rice Dumplings
Noodle dish
Grilled seafood
Fruits : Mango, Mangosteen
Coconut drink
And so much more haha!
Damnoen Saduak Floating Market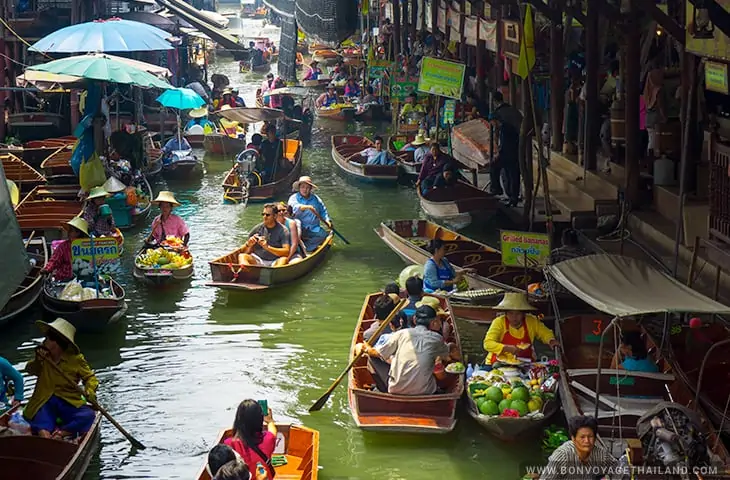 The Damnoen Saduak floating market is the most famous in Thailand and the largest near the city of Bangkok, visited by millions of tourists every year. While many people say it is way too touristy, there is one reason to visit it: the longtail boat ride.
To get there, take a longtail boat that will show you all the sights and canals in the area. The view is beautiful and the sight is like a trip back in time.
With the rapid growth of tourism, this place has become a popular destination with a large number of operators. If you rent a private boat, you can still explore some village life here.
You can enjoy a wide selection of fresh fruit, snacks, soups, grilled meats, seafood, mango sticky rice, boat noodles, Thai desserts, and more right from the floating boat.
Open Daily from 7 a.m. to 5 p.m., making it more of a daytime attraction.
Amphawa Floating Market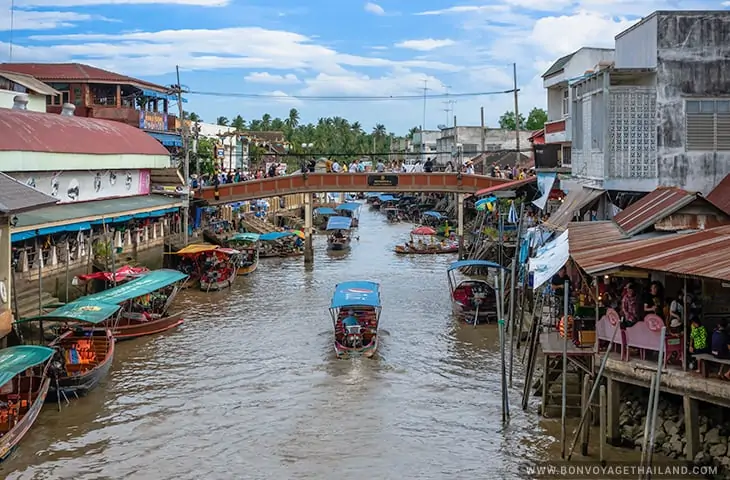 Near Bangkok, the Amphawa floating market is one of the most popular. It is not as big as the Damnoen Saduak, but more authentic. Open until 9:30 pm, it is an excellent option for a pleasant evening.
Several wooden houses lined up along the canal and boats offer a wide range of fresh vegetables, fruits, snacks, and sweets, and exotic, popular for Bangkok residents. It is charming, lively, and very authentic.
The Amphawa market is very crowded at the end of the day because locals like to enjoy the market on weekends, so if you do not like crowds, then I recommend going there in the morning.
There is a cool tour you can do, it is to go to see the fireflies.
Opening days: Friday to Sunday from 10.00 am to 9.30 p.m.
Tha Kha Floating Market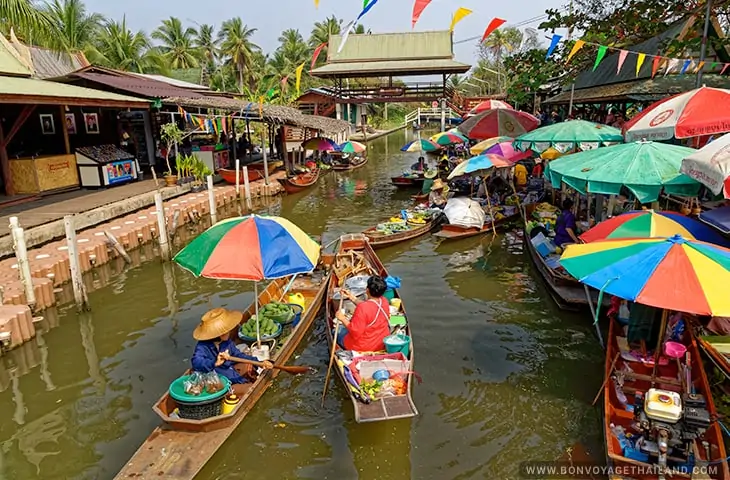 Tha Kha Floating Market has some boat vendors selling fresh produce and food prepared on board. If you want to experience the laid-back country life of Thailand, visit this Floating Market. The locals still trade food and local products. The vendors sit in boats and cook over a wood fire.
Famous products of the Samut Songkhram region include coconut sugar, coconut oil, and even honey. No matter what Thai food you want to try, you will never be disappointed by the fresh ingredients and good taste of Thailand.
Take a boat ride with the locals who bring the food from the land to the boat and sell it. It's easy to get on board for a small fee and take photos of them cooking or eating in the boat as they exchange food with each other.
The Amphawa Floating Market or Damnoen Saduak are more exciting than Tha Kha Floating Market if you are looking for a more exciting market. It is a very peaceful and friendly floating market.
Open Fridays, Saturdays, and Sundays
Taling Chan Floating Market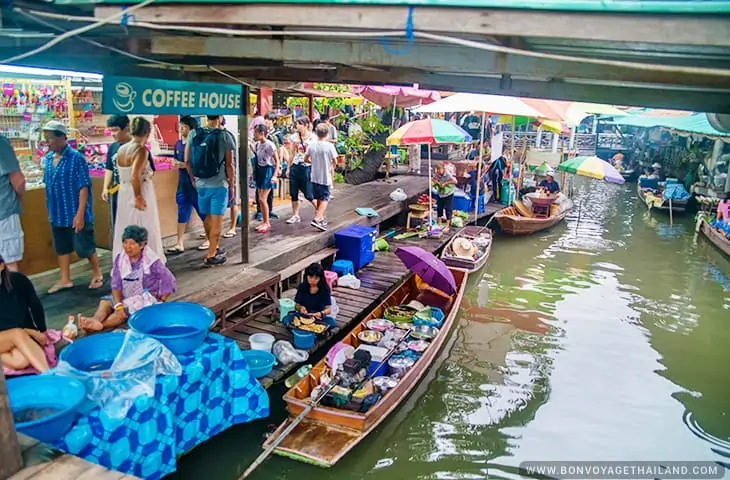 Taling Chan Floating Market is located in the middle of Chao Phraya River, north of Bangkok. The market is very local and small, easy to visit and has no tourist crowds. It can be a hit or miss depending on your point of view.
There are only a few boat vendors along with the pier cooking and selling Thai food, but what makes it special is the atmosphere created by the locals. Some people just sit down, enjoy the food and drink, and watch people go about their daily activities. It's just as fun to watch the locals come and go because this side of Chao Phraya River has a strong sense of community.
Open from Saturday to Sunday from 8 am to 5 pm
Khlong Lat Mayom Floating Market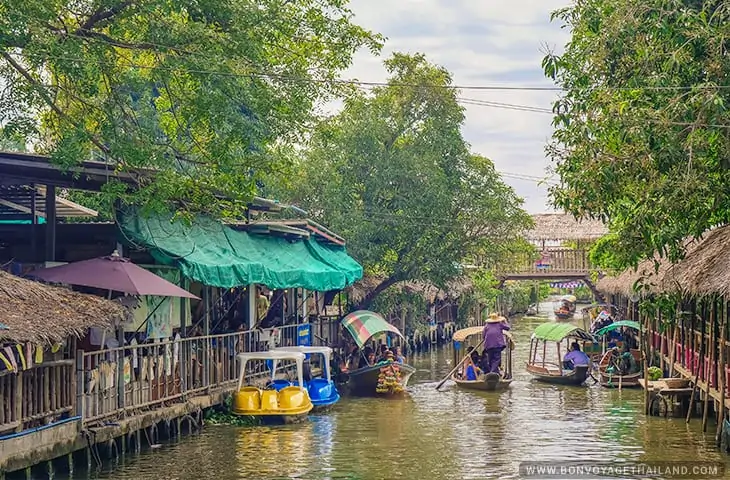 Khlong Lat Mayom Floating Market is both a floating and a real market, there are a few boats selling fruit and vegetables as it is on the Khlong Lat Mayom canal.
The market is very local and popular among Thai people. Most people like to buy fruits and vegetables from wooden boats as they walk to their homes. They also sell handicrafts while others offer grilled fish, meat, snacks, and souvenirs.
The boat trip to the market is an experience in itself. The size of the canals depends on the area, but most are narrow and surrounded by old wooden houses, with lush trees and nostalgic bamboo groves. Every now and then you'll see beautiful temples or local houses with lots of flowers around them. Take the boat tour before the heat gets too much.
Open on Saturdays and Sundays from 8 am to 5 pm.
Kwan Riam Floating Market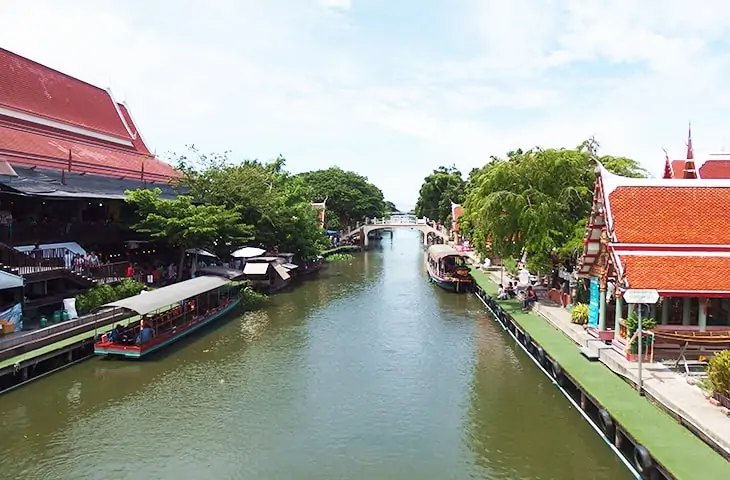 The Kwan Riam Floating Market is one of the many floating markets in Bangkok. It is located on the canal Khlong Saen Saep between two ancient Buddhist temples facing each other on either side of the canal.
There is a good selection of foods at the Kwan Riam Floating Market, as well as dining on boats that have been converted into floating restaurants. On these boats, you can enjoy authentic and delicious Thai cuisine.
The early morning almsgiving ceremony is one of the highlights, between 7.30 and 8am people gather on the banks of the canal and give food to the monks on the passing boats. The session usually lasts 45 minutes.
An iconic bridge connects the two sides of the canal. People love to take photos on this bridge when they visit.
Maeklong Railway Market (Talad Rom Hub)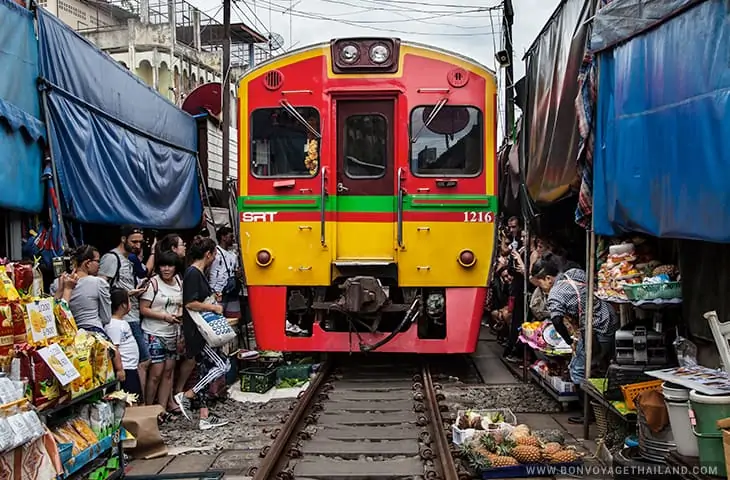 It's not a floating market, but it's a good combination if you visit Damnoen Saduak Floating Market. Located nearby Maeklong Railway Station, Maeklong Railway Market (Siang Tai Market) is a local market where vendors sell fresh fruits, vegetables, fresh fish, flowers, and meat right by the railroad tracks.
The market is referred to as a "life-risking" market because vendors must move their shops and close their parasols from the railroad tracks so that the train can pass through. They must monitor every train signal that arrives and departs Mae Klong. According to the arrival times of trains visiting Maeklong, the event happens 8 times a day.
It is hard to believe until you see it for yourself.
Thailand's Floating Market
A floating market is a part of Thai culture, and on any trip to Thailand, you should visit at least once. It's a great way to experience the life of the locals, but also an opportunity for tourists to directly support the locals. Remember, these vendors offer their products in this unique way that allows them to sell their products while doing what they enjoy most: being in nature and working on the water.
A Bangkok floating market tour is the easiest way to experience a floating market from afar. Book an all-inclusive tour to get the most out of your money.
Remember to always bargain and do not think everything is overpriced.
Floating markets are not just about shopping, they are an experience you will never forget!
Floating Market Bangkok Tour