Bangkok is the capital of Thailand and is one of the most exciting and vibrant cities in the world, with beautiful architecture, diverse culture, a rich arts scene, and nightlife to die for. Bangkok is also, however, a city of contrasts, and many visitors are surprised by the contrast between Bangkok's grand temples and palaces and its equally impressive modern shopping malls, or by the contrast between the beautiful people sunning themselves in its parks and the back-street stalls that sell food so delicious, it is worth braving the Bangkok heat.
Bangkok is packed with things to do and so many things not to do! It can be overwhelming to plan your trip. Here is a list of the best things to do in Bangkok.
Wat Arun – Temple of Dawn
Wat Arun is widely recognized for its breathtaking silhouette of towering spires. Constructed in the early 19th century in the ancient Khmer style, this stupa features ornate floral patterns that are covered in decorated glazed porcelain. It is particularly beautiful when viewed closely. Wat Arun symbolizes more than just its beauty. It represents a new era in Thai history as well as the founding of the capital after the fall of Ayutthaya. The temple is also known as the Temple of Dawn.
Wat Pho – Temple of the Reclining Buddha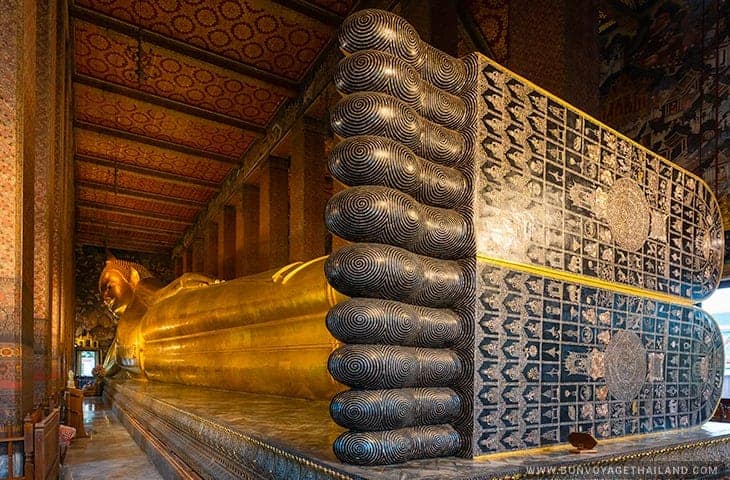 Wat Pho, better known as the Temple of the Reclining Buddha, is famous for its giant reclining Buddha which is 46 meters long. Wat Pho has four chapels with gilded Buddha images, long rows of golden statues, and elaborate murals. The temple is also the national center for the teaching and preservation of traditional Thai medicine. It is also a fantastic place to get a traditional Thai massage.
Grand Palace and Wat Phra Kaew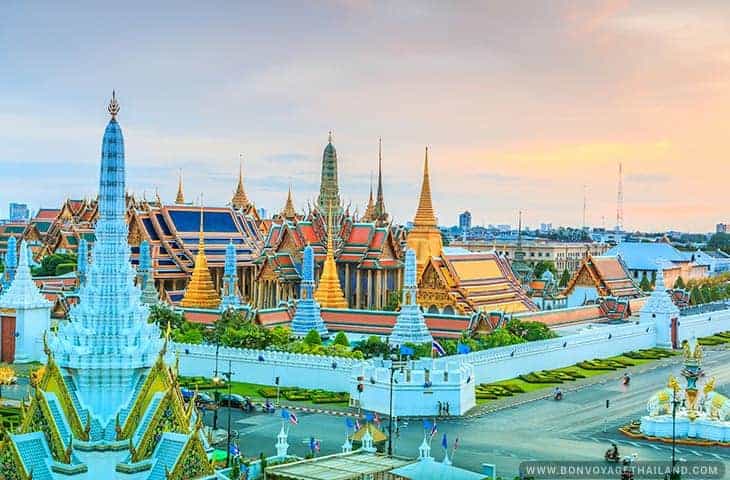 The Grand Palace and Wat Prakaew appeal to all who have visited them. Originally built in 1782, the palace served as Thailand's royal residence for 150 years. There are many impressive buildings within the palace complex, including Wat Phra Kaew (Temple of the Emerald Buddha), which houses the small but prominent and highly revered Emerald Buddha from the 14th century.
Chinatown (Yaowarat Road)
Chinatown in Bangkok is an area in Bangkok that has been settled by the Chinese since the foundation of Bangkok in 1780. Every small road in Chinatown is packed with market stalls, sidewalk restaurants, and gold shops. Chinatown has a frenzied vibe of commerce that draws visitors in. The lively smell of Chinese bakeries and fresh seafood wafts gently through the air of Chinatown's streets.
Jim Thompson House
The former home of the late American businessman James H.W. Thompson is the Jim Thompson Building. In the 1950s, Thompson spent 30 years of his life reviving Thai silk. 6 typical Thai teak houses transported from Ayutthaya are housed in a compound surrounded by a garden. Behind the hidden facade of traditional Thai houses is a tastefully designed entrance foyer with an unusual architectural element. The living area is a century-old wooden house that once belonged to the Ban Krua Muslim community, who was Jim Thompson's first silk weavers. Wooden sculptures of Burmese guardian spirits Nats decorate four display niches. In the dining room, there is a dining table built from two Chinese mahjong tables and set as if dinner is about to be served, with a blue and white porcelain set.
Chatuchak Weekend Market / JJ Market
The Chatuchak Weekend Market is one of the most popular weekend destinations for Bangkok residents and travelers alike. This huge market is home to one of the best selections of local Thai goods you'll find anywhere. You'll find everything from fresh fruits and vegetables to handcrafted Thai silks, traditional Thai jewelry, antiques, designer knock-offs, art, homewares, and even pets. The Chatuchak Market is open on Saturdays, Sundays, and some public holidays. With over 9,000 stalls, it's made up of 25 sections.
Wat Saket – The Golden Mount
Wat Saket is generally known as the Golden Mount ( Phu Khao Thong, ภูเขาทอง ). The hill is crowned with a shining gold chedi which houses a Buddha relic. In order to reach the gold chedi you need to climb more than 300 steps, a panoramic view from the top will give you a 360-degree view of Bangkok. The temple attracts a lot of people every night from early evening to midnight.
Lumphini Park
The Lumphini Park in Bangkok is a large public park in central Bangkok. With its large lake that is a popular spot among locals for a picnic or a boat ride, a children's playground, an amusement park, a restaurant, and an outdoor gym, a swimming pool, and other amenities, there is always something to do there. In the summer, the park is also a popular place for locals to cool off, as the lake is home to hundreds of water lily plants that cover the surface; in the winter months, however, the park is popular with locals and visitors alike, as the temperature is much cooler.
Chao Phraya River
The Chao Phraya flows south from the mountains in northern Thailand until it reaches the Gulf of Thailand. It's used for transportation and irrigation. Explore historical sites, temples, palaces, and floating markets along the banks of the river in a boat taxi or a long-tail boat.
Chao Phraya River Dinner Cruise
On a river dinner cruise, you can explore the past that lies on both banks of the river. Cocktails and an elegant buffet dinner are served on different cruises, which both include Thai dishes and foreign ones. As you cruise the right and left banks, enjoy the sounds of live bands or Thai dance shows. The best way to end a perfect day in Bangkok is to take a cruise.
Maeklong Railway Market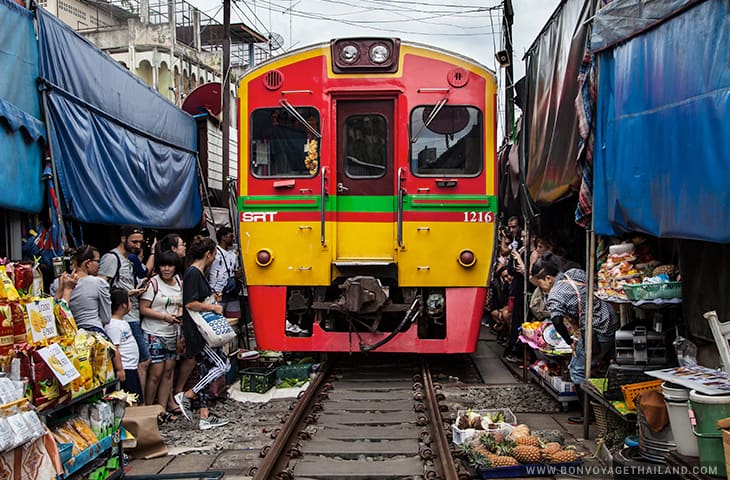 Famous for the train that runs through the middle of the market, Maeklong Railway Market is a historic urban market and tourist destination in Bangkok. The market has many stalls and vendors selling a wide variety of Thai foods, fruits, vegetables, meats, seafood, and more. The market is open every day from 8:00 am to 5:00 pm.
Muay Thai
Muay Thai is the most famous and popular sport in Thailand. It is a martial art that combines physical strength, agility, endurance and strategy as well as hand-to-hand combat. Rajadamnern Boxing Stadium is the largest Muay Thai stadium in Bangkok.
Asiatique the Riverfront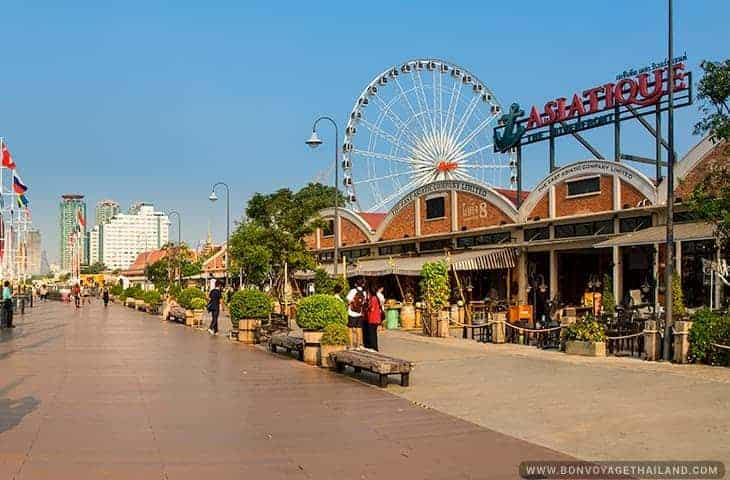 Asiatique The Riverfront is a riverside night market in Bangkok in the old warehouses of East Asiatic Company. Asiatique offers a variety of dining, shopping, and entertainment options for tourists and locals alike. It will take you the whole evening to explore this market. Home to the 60-meter high Asiatique Sky, a giant Ferris wheel that offers unparalleled views of the city of Bangkok.
Damnoen Saduak Floating Market
Damnoen Saduak, the original Bangkok floating market, still offers an authentic experience. Wooden rowboats floating by, filled with fresh fruit, vegetables, Thai dessert, and flowers. You can order a pad thai, boat noodles, or a tasty seafood dish prepared on the boat. The most popular fruits are mangoes, bananas, dragon fruit, long-skin mangoes, and star apples. The market is around 100 kilometers from Bangkok.
Bangkok Canal Tour
Taking a boat tour of the canals of the Chao Phraya River appeals to travelers who want to see a more ancient part of Bangkok. For more than a century, the canal has been a vital part of the city's transportation network. Bangkok Canal Tour is a great start to a full day of sightseeing since there are plenty of attractions nearby and on the canals themselves.
Express Boat river taxis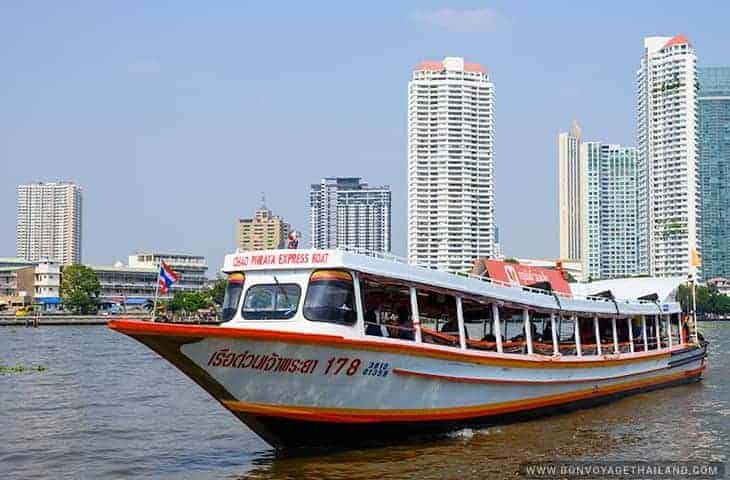 The Express Boat service is the fastest way to travel between major tourist attractions along the river, and the favorite way for many visitors to explore the city. It costs about 15 to 30 baht per ride and the boats are air-conditioned. You can start your trip at Sathon Pier and go to Wat Arun, Chinatown, and the Grand Palace, and more.
Wat Traimit Withayaram Worawihan
The temple Wat Traimit is located in Bangkok Chinatown and is an important temple for the Chinese community in Bangkok. The largest massive golden Buddha image in the world, known as Phra Buddha Maha Suwanna Patimakorn in Thai, is what attracts tourists to Wat Traimit in particular. The Buddha image is 15 feet tall and is 83% gold. It weighs about five and a half tons and is said to be worth millions at today's gold prices.
Erawan Shrine
The Erawan Shrine is the Thai representation of Brahman, the Hindu god of creation, not exclusively Buddhist, but draws more tourists than most famous temples in the region. The four faces of the Brahma God embody kindness, compassion, sympathy, and neutrality, was created in honor of Than Tao Mahaprom, from early morning until late at night an endless stream of people will pay their respects.
The Erawan Museum
The entrance of the museum is guarded by a gigantic three-headed elephant statue, a 250-tonne structure cast in pure copper, 29 meters high. The Erawan Museum Bangkok has three levels that symbolize the underworld, earth, and heaven. Every corner of the museum is full of eastern antiques, religious icons, and funky decor.
Rooftop Bars in Bangkok
Rooftop bars in Bangkok are the latest trend that is sure to last for years to come. Rooftop bars are not only a great place to enjoy a drink, but they also offer amazing views of the city. Being above the hustle and bustle of the city is the perfect place to enjoy the nightlife. You can enjoy a selection of fine wines, beers, cocktails, and snacks while viewing the city from hundreds of feet in the air.
Ride the Sky Train
It is certainly the most popular way to get around the city, it's also a fascinating way to see the city. You're high above the traffic, so you can see historic temples, skyscrapers, and even the skyline from the train. In addition to its air-conditioned carriages, the SkyTrain is convenient, inexpensive, and an excellent way to enjoy the city… and it is used most often by tourists.
Thai Food in the city of angels
The first thing that comes to travelers' minds when they think of Thailand is food. Bangkok is known for being a foodie's paradise; it offers a wide variety of local specialties and international cuisine. Bangkok offers many different options for its visitors, from street food stalls to fine dining restaurants and everything in between.
Thai cuisine has been influenced by many different cultures over the years, including Chinese, Indian, and even European influences, but most importantly, it reflects Thai culture.
Food tours in Bangkok are very popular. Travel through the streets, markets, and sidewalks of the city on a local food tour and learn everything about Thai cuisine. On the tour, you will discover the different ingredients used in Thai cuisine, how they are grown and harvested and how they work best in recipes.
Tuk Tuk
Tuk tuk taxis are a local mode of transportation in Thailand that is popular with travelers. Tuk Tuks are ideal for getting around the city, and you can also hire them for sightseeing tours to the famous temples and palaces in Bangkok. Rent a Tuk Tuk from a trusted local travel agency or hotel.
Make sure you agree on the fare before you set off, as he may charge different amounts at different places if you are visiting many places. Some drivers may claim it's free but as we all know, nothing in this world is ever free so please refuse them; it's a common scam with such taxis, they take you to places for which they get commissions, they might charge you more than the normal rate.
Khao San Road
Khao San Road is the backpacker's paradise of the world. It is home to hundreds of hostels, bars, restaurants, and shops, all catering to the needs of the traveling community.
It's a place where you can get a foot massage, drink a cocktail on the street, eat at a street food stall and even get a tattoo while meeting expats and travelers from all over the world.
The nightlife is what attracts most backpackers, there are hundreds of bars and clubs in the area. The bars on Khao San Road offer cheap drinks where travelers can enjoy a fun night out with other travelers. There are also live music performances every night on Khao San Road.
Khao San Road has everything; it is a must-see place when in Bangkok.
Where to stay in Bangkok?
There are so many great places to stay in Bangkok. Some are traditional, some are modern, but all will give you exactly what you need. Whether you are looking for an old-fashioned hotel or a modern one with all the amenities, there is a place for everyone.
Generally, travelers prefer accommodation near easy access to the BTS Skytrain and MRT subway for transportation. Some travelers like to stay in hotels near the nightlife so they can enjoy the Bangkok nightlife and easily return to the hotel.
Another interesting feature of Bangkok hotels that makes them unique is their infinity pool. Pools around the world are very different, most of them are ordinary rooftop pools with breathtaking views of the city, but Bangkok offers something special – an infinity pool in the middle of the city.
Remember that most tourist attractions in Bangkok are no more than 10 minutes from a BTS station, so they are easily accessible.
Bangkok is a Great Place!
Bangkok Thailand is a fun city and the locals are friendly. This is a place you really need to experience to enjoy. There are many day trips you can take from Bangkok. Most travelers stay in Bangkok for 3 days.
Bangkok has something for every type of traveler, regardless of their budget or preferences.
What's Next After Bangkok ?
Visit Chiang Mai, the "Rose of the North" and the Northern Capital of Thailand. Chiang Mai is surrounded by beautiful mountains, beautiful rivers, and is well connected to the rest of the country by rail, road, and air.
The local people are friendly, the food is delicious and inexpensive and there are plenty of things to do in Chiang Mai.