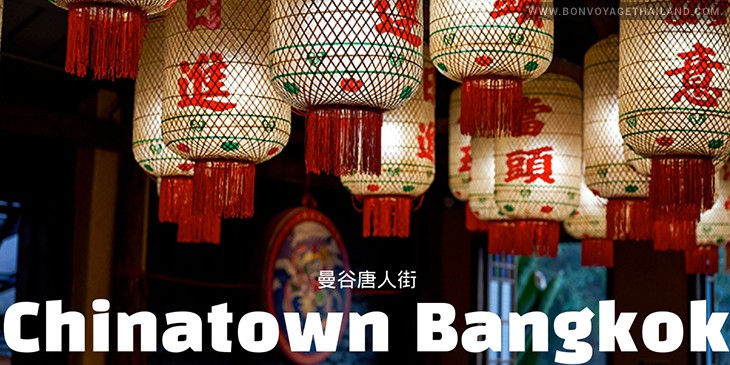 Chinatown Bangkok is a goldmine for tourists and locals who want to hop from street food stall to street food stall, shop, and visit some temples.
Stroll through the market on a busy weekday morning and you'll be bombarded with all sorts of sights, sounds, and smells. Surrounded by vendors selling fruits and vegetables in baskets on their heads, pirated DVDs, or fake designer handbags. It's packed with visitors exploring the narrow alleys.
Bangkok Chinatown is located in the Yaowarat district, an authentic Chinese town in the heart of Bangkok.
The area is pretty colorful and full of life.
What to do in Chinatown Bangkok?
Take a boat taxi to Chinatown (Ratchawong Express Boat Pier (Tha Ruea Ratchawong) )
Walk through Sampeng Lane market
Taste dim sum
Visit a temple
Visit the flower market
Take lots of photos
Taste more food !
History of Chinatown Bangkok Thailand
The history of Chinatown Bangkok Thailand begins in 1782. King Rama I of the Chakri Dynasty moved the capital to Bangkok. In 1782, Chinese immigrants began to move to Bangkok and settled in Sampeng Lane. As more and more immigrants came to the area, they began to build their own community. First in Siam Square and then in the Pahurat area, it became a landmark in the region. The name Yaowarat is derived from the Chinese "Yaowarats", which means "city within".
Today, Chinatown is one of the most popular destinations for tourists visiting Bangkok. There are hundreds of shops here selling souvenirs and delicious food from all over Asia.
Sampeng Lane Market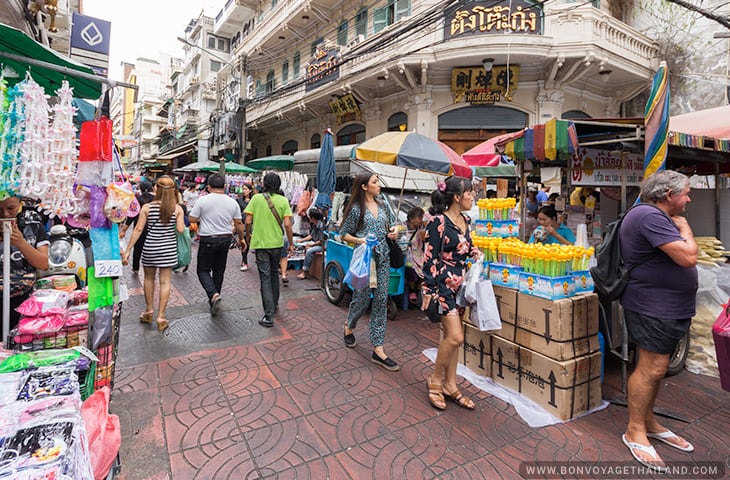 Sampeng Lane Market is a lively neighborhood market in Chinatown with small streets. At the time when Chinatown was established in Bangkok, Sampeng Lane was the main street. It is a great place to stroll through the small alley and people watch. There is a lot of chaos and confusion here as well, which makes for a lot of fun, just like the other streets.
Yaowarat Road at Night
When the sun goes down, Yaoworat Road is illuminated by spotlights and presents a spectacular sight. With its many street stalls, neon signs, and Chinese lanterns, Chinatown at night is a spectacle in itself. The street transforms into a culinary destination as restaurants are located along the sidewalk and extend out onto the street. Yaowarat Chinatown is a great place to eat seafood and drink with locals.
Chinatown Bangkok Street Food
Bangkok Street food is open 24 hours a day, you can get breakfast, lunch, or dinner at any time of the day! The open-air and covered markets offer a range of traditional Thai Chinese dishes, as well as street food that is part of Thailand's Chinese heritage. Some of the most popular Chinese food is served at these stalls.
Dim Sum is one of the most delicious things. Dim Sum is a type of food eaten in many parts of Asia. It is traditionally served in small, bite-sized pieces of fried and steamed dumplings. It is also known as Yum Cha or Hong Kong dim sum. You can visit dim sum restaurants, snack stalls, and street food stalls to eat something really good.
Fried rice with minced pork, crispy pork, and pork satay is very tasty and appreciated by most foreigners visiting Bangkok. Green curry with pork neck bone or chicken is an equally delicious and popular option.
Bangkok is also known for its unusual but delicious desserts. Among the most popular are coconut jelly, grass jelly, mango boba, and sweet bean desserts. Coconut jelly is a dessert made from a mixture of egg whites and coconuts. It is sold by street food vendors, restaurants, and in dim sum shops.
Visit a Temple
You can go sightseeing in Chinatown Bangkok any time of day. A visit to Wat Traimit, the Golden Buddha Temple is a great way to learn more about the history of the neighborhood and how it has changed over time. This is the most famous temple in Chinatown in Bangkok. The temple is open all week, including weekends and holidays. At certain times of the year, it is also open early in the morning and late at night. Wat Traimit is famous for its sitting Golden Buddha statue, which is worth over $250 million in gold.
Wat Mangkon Kamalawat (Wat Leng Noei Yi) is the most famous Chinese temple in Thailand and is located at Charoen Krung Road. The temple was built in 1871 by Chinese merchants. The temple houses several colorful Buddha statues.
Also, Wats Phraeng and Wats Yai, both of which are just a few buildings away from Wat Traimit. For tourists looking for more variety in sightseeing, there are also many Hindu temples.
Chinatown Gate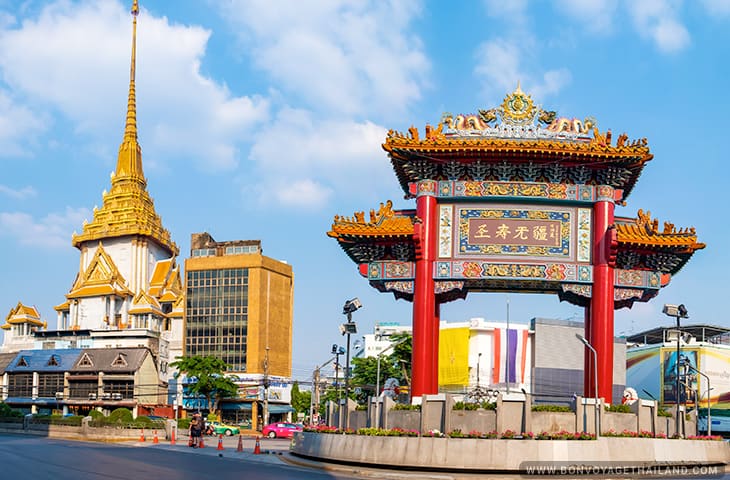 Chinatown Gate is the entrance to Chinatown in Bangkok. It is like the "Lower Manhattan" at the entrance to Chinatown in New York. It is very beautiful and you can see it from far away when you walk down the main street of Chinatown in Bangkok, Maha Chai Road.
Guan Yin Shrine at the Thian Fah Foundation Hospital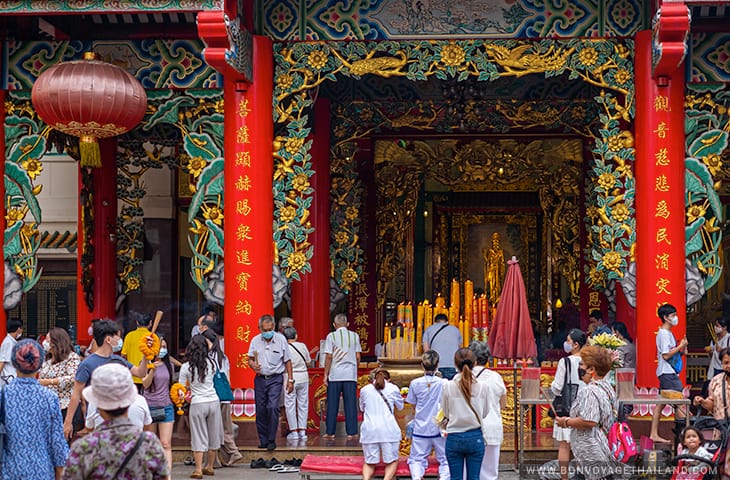 Guan Yin Shrine is the most important shrine in Chinatown in Bangkok. It is considered the goddess of mercy. It is believed that Guan Yin the Thian Fah Foundation Hospital was carved from teak in China and dates back between 800 and 900 years old. This piece was brought to the foundation from China in 1958. The shrine is very popular during the Chinese New Year.
Chinese New Year
Chinese New Year is celebrated every year in Chinatown. The main festival in Bangkok takes place at the end of January. It lasts until February. During the festival, there are many cultural events and performances.
Chinese New Year is the biggest festival of Chinese people in Bangkok, but some Thai people also celebrate it. Chinatown market is another good place to visit for the Chinese New Year.
Yaowarat Chinatown Heritage center
Chinatown Heritage Center is an interesting place to visit if you are interested in the history of Yaowarat. The center features display boards about Chinatown and the history of immigration in the area, so visitors can learn more about this neighborhood. You can find the center at the end of Yaowarat Road in Chinatown.
Gold Shop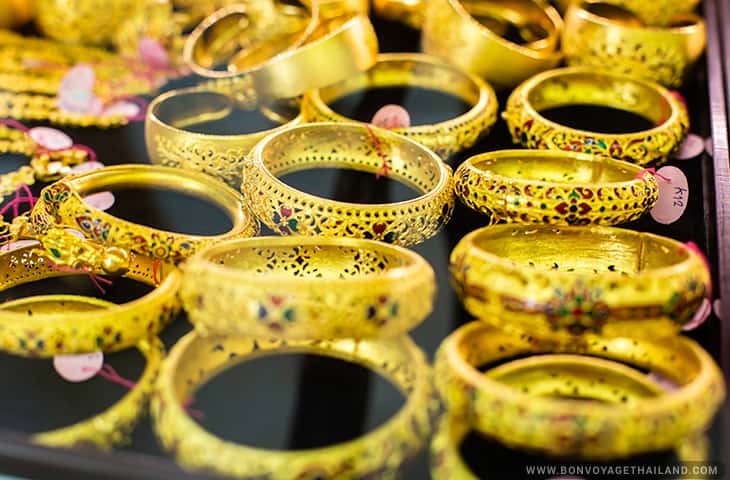 Several gold shops sell articles made of this precious metal. The gold is very expensive, but it is also beautiful. Bangkok is known for its stunning gold designs, and you can find some of them in Chinatown Bangkok. There are many shops where you can find necklaces, rings, bracelets and much more. Many of the vendors at these booths are also able to engrave your name on your purchase for an additional fee. If you want to buy a wedding ring or a gift, the price may be worth it. Thai gold is very well known worldwide and has the best quality in Asia.
How To Get to Chinatown in Bangkok
There are several ways to get from downtown to Chinatown Bangkok. BTS and MRT stations are nearby, so you can easily hop on a train and be at one of the stations within minutes. It is important to remember that all BTS and MRT trains stop running before midnight. You can also arrive by tuk-tuk or taxi.
Conclusion
Go there and see it. Do not let the big size of it put you off. It is really interesting and full of different things to do and see. You will experience a real immersion in Thailand culture there.