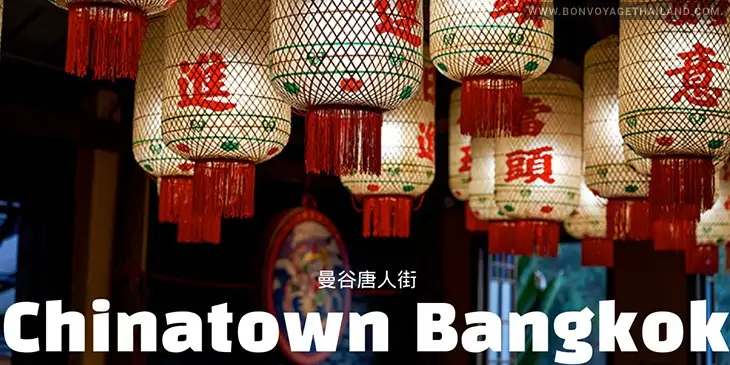 Chinatown Bangkok is a vibrant and exciting part of the city that offers countless activities for visitors. From unique shopping experiences at local markets to exploring cultural attractions, Chinatown has something to offer everyone who visits this bustling district. This article will explore some of the most popular things to do in Chinatown Bangkok, as well as provide tips on how to make the most out of your trip.
Chinatown Bangkok is renowned among locals and tourists alike due its range of colorful street food stalls, historic temples and traditional Chinese decorations. When walking through these streets it's easy to feel like you have stepped back in time into an ancient kingdom filled with exotic sights and sounds. Visitors can sample delicious dishes from around Asia or take a leisurely stroll along Yaowarat Road – one of the oldest roads in Thailand.
The possibilities are endless when visiting Chinatown Bangkok; whether you're looking for souvenirs or just want to soak up the atmosphere there's always something new waiting around every corner. With so many choices available all packed into such a small area, it can be difficult deciding where to begin but fear not! In this article, readers will find helpful advice about navigating their way through this unique neighborhood and discover what makes Chinatown Bangkok such a special place.
History of Chinatown Bangkok Thailand
In the 1700s, Chinese immigrants began to settle in Siam, now Thailand. King Rama I of the Chakri Dynasty later moved the capital to Bangkok, which has a rich and extensive history. These early settlers played a crucial role in making Chinatown an important trading center for local and foreign goods such as spices, porcelain and silk fabrics. This led to more and more people moving to the area and establishing their own community, which became a landmark in the region.
Over time, the community grew and expanded to other parts of Bangkok and became a popular attraction for visitors. in 1891, King Rama V officially named the area "Yaowarat" and granted permission to build the first street in Chinatown. Since then, the name "Yaowarat" has become synonymous with Bangkok's Chinatown and is widely known as such.
Today, Chinatown Bangkok is a vibrant center for commerce, entertainment and culture. Visitors can explore the various streets lined with traditional stores selling everything from jewelry to antiques, enjoy delicious street food at outdoor stalls, or participate in festivals such as Loy Krathong, which honors Thai traditions. With its unique blend of old charm and modern amenities, it's no wonder Chinatown Bangkok attracts visitors from all over the world.
Sampeng Lane Market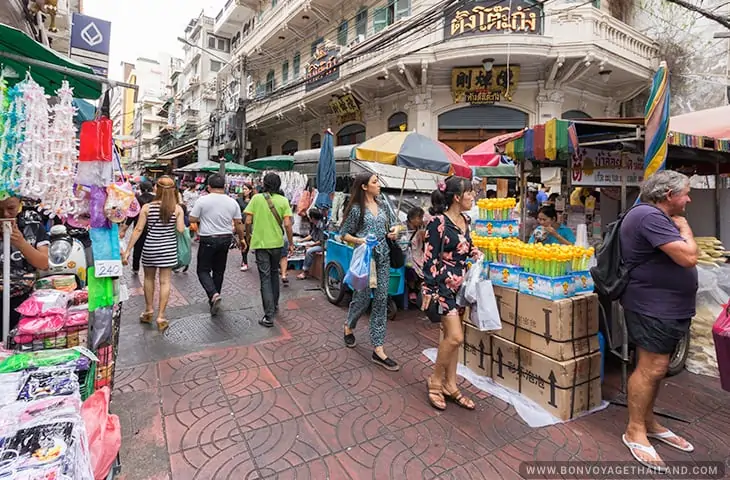 Sampeng Lane Market is a popular destination in Chinatown Bangkok. This bustling market has been around for over a century and offers a wide variety of goods, including clothing and accessories. Here you can buy textiles such as cotton, silk and synthetic fabrics as well as traditional Thai clothing at reasonable prices. There are also many stalls selling electronic equipment such as cameras, computers and cell phones.
The narrow lanes of Sampeng Lane Market offer a unique shopping experience, as there are both old-fashioned Chinese stores and modern stores aimed at tourists. There is a lively atmosphere with merchants touting their wares at every turn. Visitors can watch locals haggle over their wares while they themselves try to get the best deals on various items. It's important to know that haggling is common when buying products here, so don't hesitate to negotiate a better price if you feel confident enough!
Sampeng Lane Market offers everything from souvenirs to daily necessities. With its wide selection of goods and welcoming vendors, this market promises an unforgettable shopping experience in the heart of Chinatown Bangkok.
Yaowarat Road at Night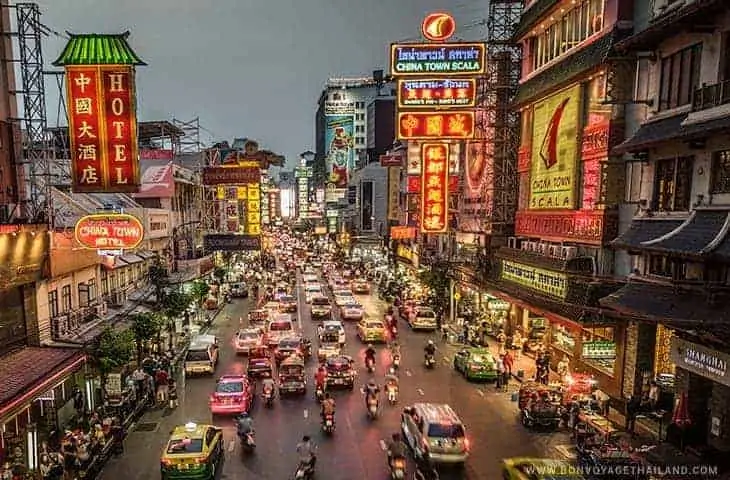 When the sun goes down, Yaoworat Road is illuminated by spotlights and presents a spectacular sight. With its many street stalls, neon signs, and Chinese lanterns, Chinatown at night is a spectacle in itself. The street transforms into a culinary destination as restaurants are located along the sidewalk and extend out onto the street. Yaowarat Chinatown is a great place to eat seafood and drink w
Yaowarat Road is the heart of Chinatown Bangkok, a lively and exciting place, especially at night. The street is lined with many small stores, restaurants and street vendors selling all sorts of things. When the sun goes down, colorful neon lights illuminate the sky, creating a lively atmosphere that attracts people from all over the city.
To experience all the hustle and bustle of this neighborhood, it's best to walk through the busy streets. On one side of the street there are many jewelry stores selling shiny gold pieces, while on the other side there are many seafood restaurants serving delicious dishes like shrimp fried rice and steamed dumplings. There are so many exciting things to see and try, like street performers or food stalls preparing fresh and delicious snacks.
Yaowarat Road isn't just about shopping and eating, though. From late evening to midnight, locals come here to listen to live music, from jazz to pop songs. You'll also find massage stores offering traditional Thai massages and bars serving unique drinks like Chang beer or herbal tea with floating honeycomb. Whether you're in the mood for fun or relaxation, Yaowarat Road is the perfect place to experience the energy of Bangkok at night!
Chinatown Bangkok Street Food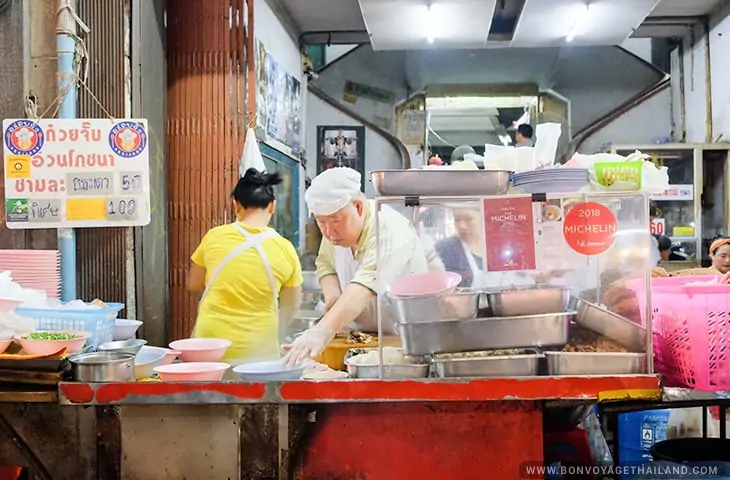 Bangkok's street food scene is a foodie's paradise, open 24/7. You can have breakfast, lunch or dinner at any time of day, as the covered and open markets offer a diverse selection of traditional Thai and Chinese dishes, including Thai-Chinese street food that is part of Thailand's culinary heritage. These street stalls serve some of the most delicious Chinese dishes you'll ever taste.
One such popular dish is dim sum, which is eaten in many parts of Asia. It consists of small, bite-sized portions of fried and steamed dumplings and is also known as Yum Cha or Hong Kong Dim Sum. You can enjoy this delicacy at dim sum restaurants, snack bars, and street vendors throughout the city.
Another must-try is fried rice with minced pork, crispy pork and pork satay, which is popular among foreigners visiting Bangkok. Green curry with pork neck bone or chicken is another delicious and popular option.
Bangkok's street food also has a number of unique but delicious desserts to offer. Coconut jelly, grass jelly, mango boba and sweet bean desserts are among the most popular. Coconut jelly, made from a mixture of egg whites and coconut, is sold by street vendors, restaurants and dim sum stores. If you're a food lover, you shouldn't miss Bangkok's street food scene!
Visit a Temple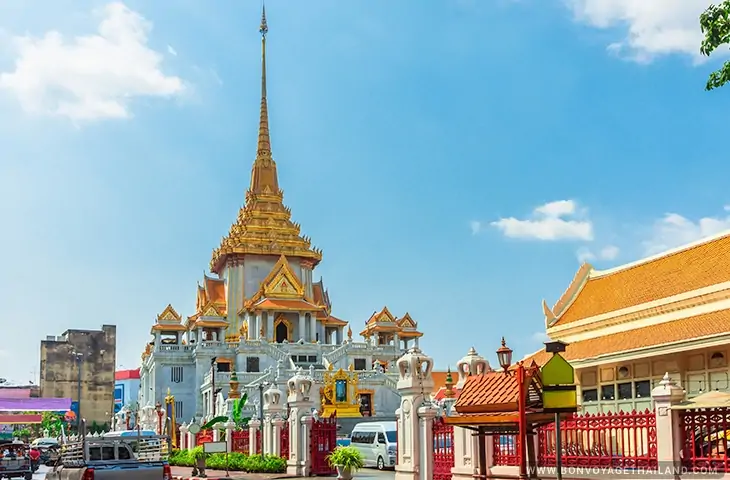 Chinatown Bangkok is a great place to explore and visit throughout the day. If you want to learn more about the history of the neighborhood and its development over time, be sure to visit the Temple of the Golden Buddha or Wat Traimit. This temple is the most famous in Chinatown Bangkok and is open every day of the week, including weekends and holidays. At certain times of the year, the temple is also open early in the morning and late at night, giving you even more opportunity to experience its beauty. Wat Traimit houses a stunning seated golden Buddha statue that is said to be worth over $250 million in gold.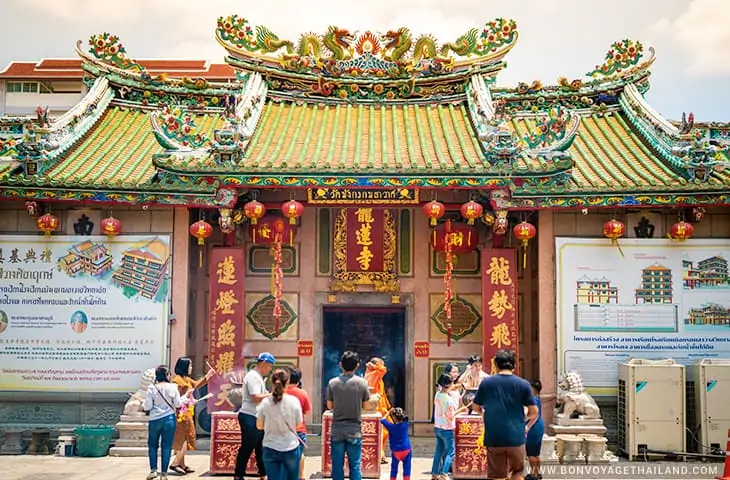 If you want to experience Thailand's rich cultural heritage, a visit to Wat Mangkon Kamalawat (also called Wat Leng Noei Yi) is a must. Chinese merchants built this historic temple on Charoen Krung Road in 1871, and when you enter, you'll be struck by the stunning and vibrant Buddha statues on display.
If you're in the area, you should also check out Wats Phraeng and Wats Yai, which are just a few buildings away from Wat Traimit. And if you're interested in other religions, you can also visit many Hindu temples in Bangkok.
Chinatown Gate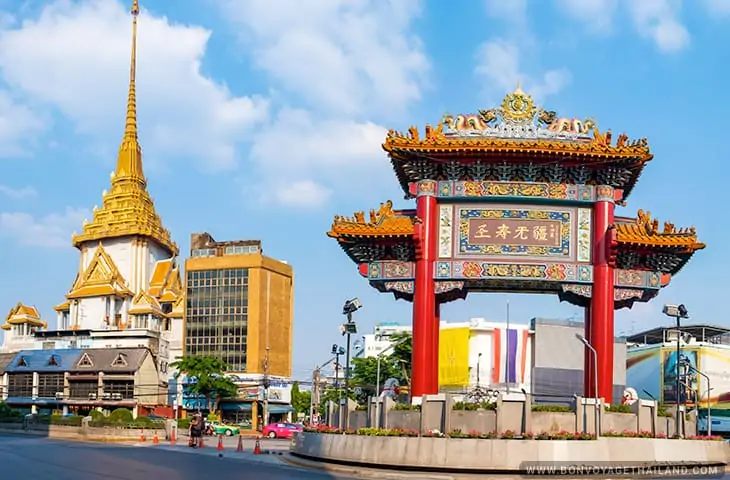 ​Chinatown Gate is an important landmark at the entrance of Yaowarat Road. It has a beautiful archway decorated with colorful tiles and Chinese dragons symbolizing protection from evil spirits. Also, the gate has two minarets with four figures symbolizing different kinds of wealth.
Tourists can explore the lively markets that offer delicious traditional dishes such as Char Kway Teow noodles and dim sum. There are also unique stores selling antiques and jade jewelry. Visitors can also visit the temples near the gate to pray or explore.
Chinatown Gate is a valuable piece of Bangkok's culture and reminds us of the city's past while being important to modern Thai culture. It's a fascinating place and has many attractions that attract people from all over the world.
Guan Yin Shrine at the Thian Fah Foundation Hospital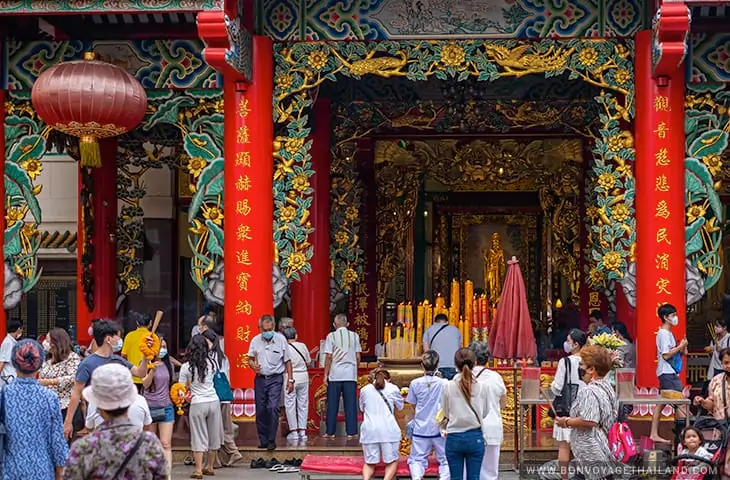 The Guan Yin Shrine at Thian Fah Foundation Hospital is a popular attraction in Chinatown Bangkok. The shrine was built by Chinese immigrants and locals and is dedicated to the deity Guan Yin. The main statue is a beautiful white marble sculpture of Guan Yin standing on a lotus flower. The shrine also contains many other statues made of bronze, porcelain and jade, representing various Buddhist figures. Visitors can offer fruit baskets, incense sticks, candles, lamps, paper money and much more to the deities.
Worshippers at the shrine perform fascinating rituals, standing in front of each statue and praying with their heads bowed or hands folded. They light incense sticks or candles and donate coins into designated boxes for good luck. Many visitors also seek spiritual advice by obtaining blessed amulets or consulting fortune tellers.
Visiting Guan Yin Shrine is a great way for tourists to learn about traditional Chinese culture and religion while observing the daily practices of the locals. It's an unforgettable experience that shouldn't be missed when exploring Chinatown Bangkok.
Yaowarat Chinatown Heritage center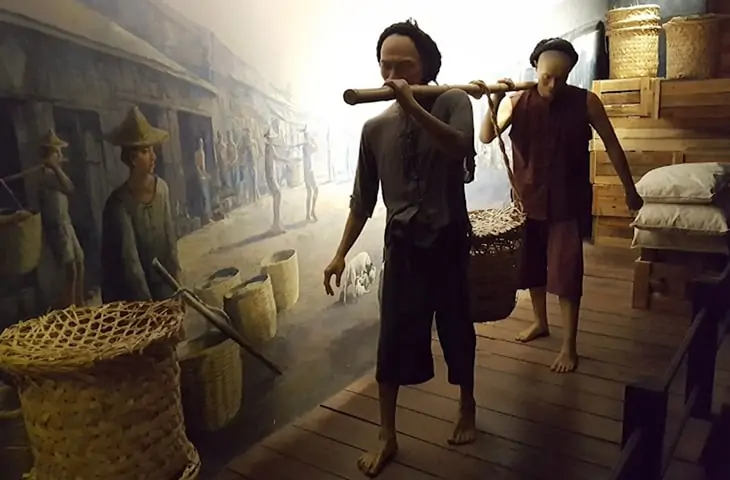 During Chinese New Year, the Yaowarat Chinatown Heritage Center in Bangkok is a great place to learn about the neighborhood's history and culture. Located in one of Bangkok's oldest neighborhoods, the center was recognized in 2018 by UNESCO as part of the Memory of the World Project.
The center features interactive exhibits and multimedia presentations that showcase local heritage from ancient times to contemporary life in Chinatown. Visitors can see a collection of pottery from four centuries found during archeological excavations in the district. There are also many photos showing how the district has changed over time.
The Yaowarat Chinatown Heritage Center is a great opportunity to learn more about the local culture and gain new perspectives on its influence on today's society. Through the center's exhibits and resources, visitors can better understand the past and its relationship to the present. The center promotes diversity and reminds us of our similarities despite our differences.
Gold Shop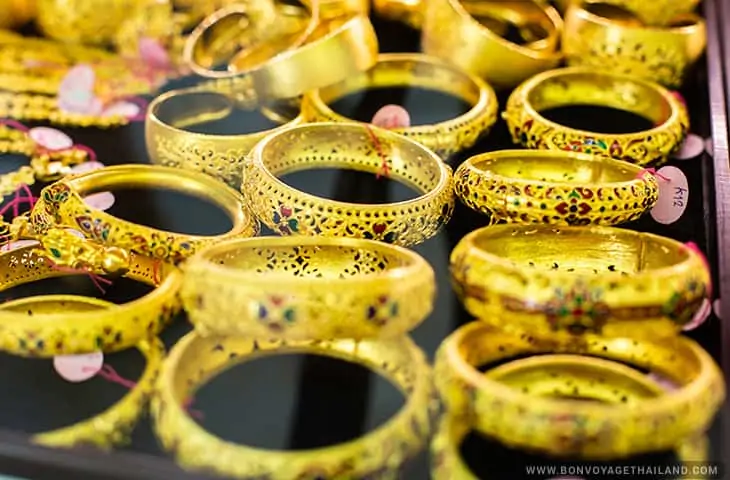 If you're looking for jewelry and gems, Chinatown in Bangkok is the perfect place to visit. The Chinese-style gold stores offer a wide selection of necklaces, pendants, earrings and rings, all with intricate details. There are even luxury stores with designer jewelry and gemstones. The staff at these stores is knowledgeable and can help you find the right piece for your style. Also, in many stores you can customize your purchase with different stone settings or engravings.
Shopping in Chinatown isn't just about buying gold, but also about enjoying the lively atmosphere. Street performers entertain passersby while vendors advertise their products at kiosks along the streets. The lively atmosphere makes gold shopping a memorable experience. So if you're looking for a unique shopping experience and high quality gold jewelry, Chinatown is the place for you!
Chinese New Year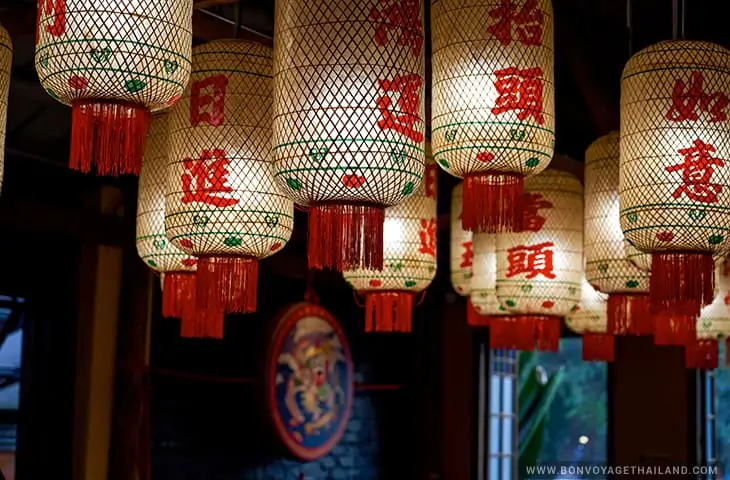 Chinese New Year is a special festival in Chinatown, Bangkok, held every year at the beginning of the lunar calendar. During this time, the streets are filled with colorful decorations and exciting festivities such as dragon dances and lion parades. The festival takes place on a different date each year, but some traditions such as handing out red envelopes with money to children and elders to bring good luck and prosperity are still maintained.
Families also gather around large tables with special dishes representing various elements of Chinese culture such as longevity and fertility. Chinese New Year in Chinatown is a unique experience that combines centuries-old traditions with modern variations of cultural activities. Visitors can participate in this joyous event and learn about a new culture while creating wonderful memories.
How To Get to Chinatown in Bangkok
Chinatown in Bangkok is easily accessible by public transportation. The easiest way to reach Chinatown from the city center is to take the MRT Blue Line. This line runs from Hua Lamphong Station to Bang Sue Station and stops at several stations along Charoen Krung Road, including Ratchawong Pier, which is close to Chinatown. From these stations, you can take a cab or tuk-tuk directly to Chinatown. Alternatively, there are several bus lines that pass through Chinatown, such as bus lines 3, 5, 7, 11 and 28.
If you want to go to Chinatown by car, it's best to follow Yaowarat Road to the Chakkrawat intersection, where you'll find plenty of parking spaces. Note, however, that traffic in this area can be very heavy, so plan your trip accordingly during rush hour.
If you're looking for something unique, you can take a boat ride on the Chao Phraya River and disembark at Ratchawong Pier near Wat Traimit Temple, a Chinatown landmark. The water cabs run regularly between 6am and 8pm, offering passengers a beautiful view of Bangkok as they travel upriver to their destination.
Conclusion
Chinatown in Bangkok is a really cool place with lots of great things to do and see. People have been going there for a long time because it's so special. In this article we'll talk about some of the things you should do when you go there: visit Sampeng Lane Market, try delicious street food, visit temples like Wat Traimitr or Wat Mangkon Kamalawat, celebrate Chinese New Year, visit Yaowarat Chinatown Heritage Center, buy gold and find out how to get there.
A visit to Chinatown Bangkok will be a super fun experience that you'll remember forever. There is something for everyone! You can learn about Thai history and culture, eat delicious food, store for unique things, and even visit some great temples. It's a very special place with a lot of cool things to discover. If you're planning a trip to Thailand, you definitely don't want to miss out on the fun in Chinatown!