Thailand is known for its exotic culture and traditional history, but there is more. Phuket Thailand is also known for its beautiful beaches and crystal clear waters. Perhaps you would like to relax in some of the best spas on the island, dive in one of the underwater wonders or go on island hopping? If so, then Phuket should be on your list.
Every tourist should do something that can be considered an unforgettable experience in their lifetime.
Beaches in Phuket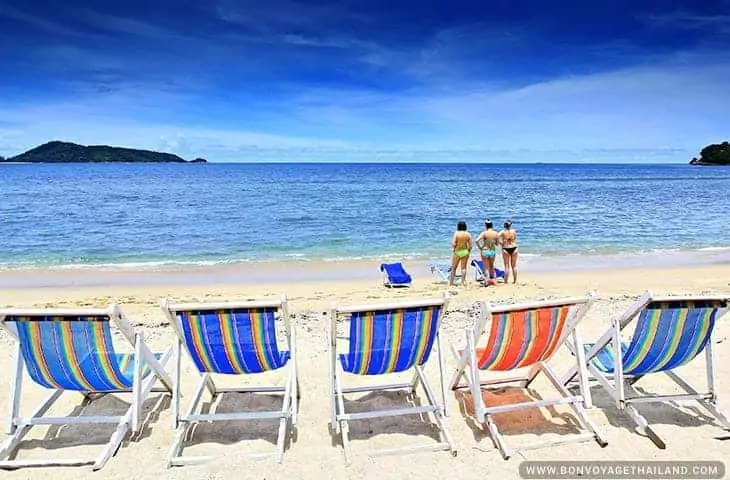 Phuket has great beaches for everyone, from family-friendly beaches with white sand and turquoise waters to more secluded, undeveloped beaches. With so much to choose from, you'll be spoilt for choice. Whatever your interests, you'll find a beach that suits you.
Take a look at this article on the best beaches in Phuket
Phang Nga Bay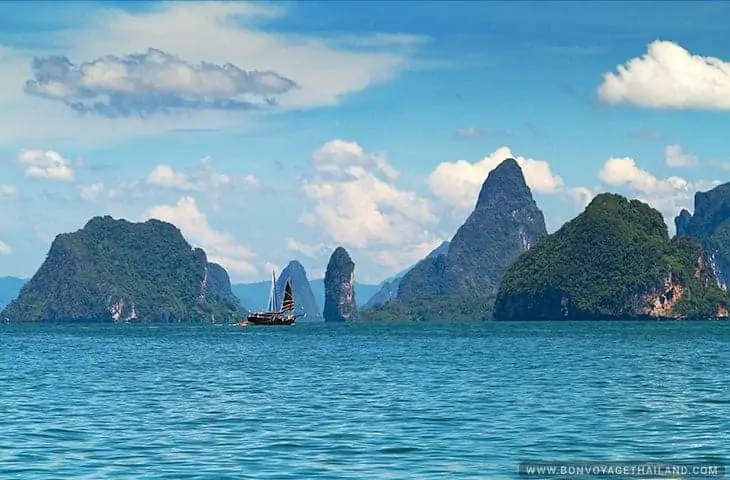 Phang Nga Bay is located about 40 kilometres northwest of Phuket Island. It is located in a small natural bay, almost completely enclosed by limestone hills and cliffs, formed by prehistoric currents and waves and unique mangrove forests. Phang Nga Bay is full of fun, adventure and beautiful scenery.
James Bond Island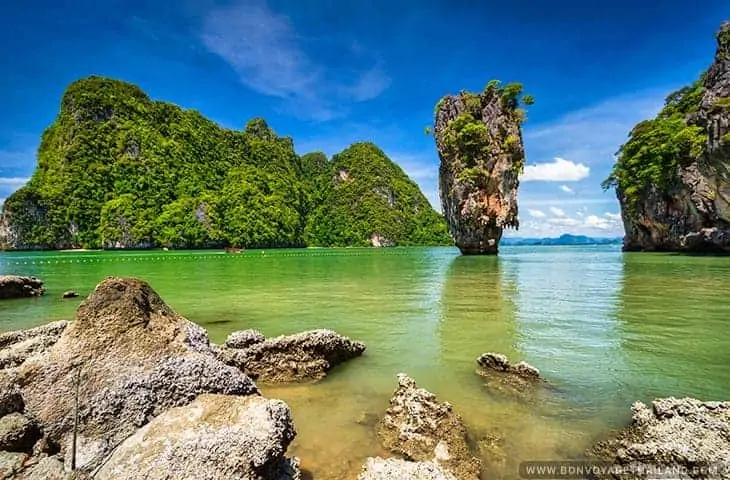 James Bond Island (Khao Phing Kan and Ko Ta Pu) is located off the coast of Phang Nga Bay on the Andaman Sea, is one of the most popular destinations in Phuket. The island is featured in the movie James Bond The Man with the Golden Gun, in which Roger Moore appears as 007. James Bond Island can be reached by longtail boat.
Koh Panyi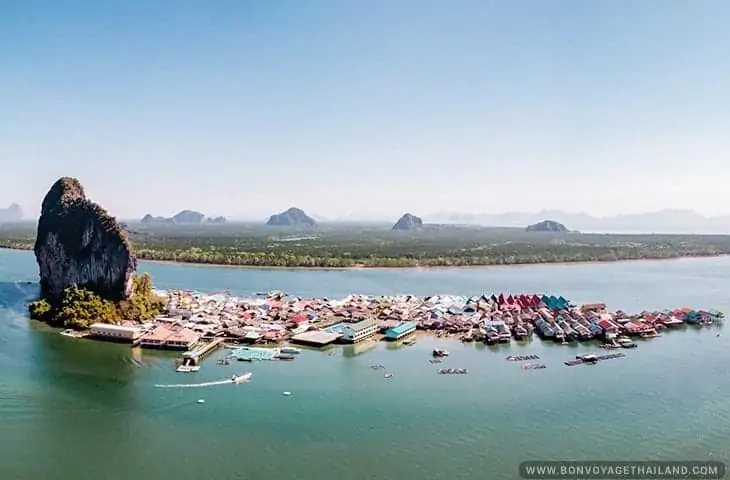 Ko Panyi is a small fishing village located on the east coast of Phuket. The village is built on the edge of a steep cliff on a long floating jetty. About 360 families live in the village and most of the residents are fishermen. The village has a special floating football field.
The Big Buddha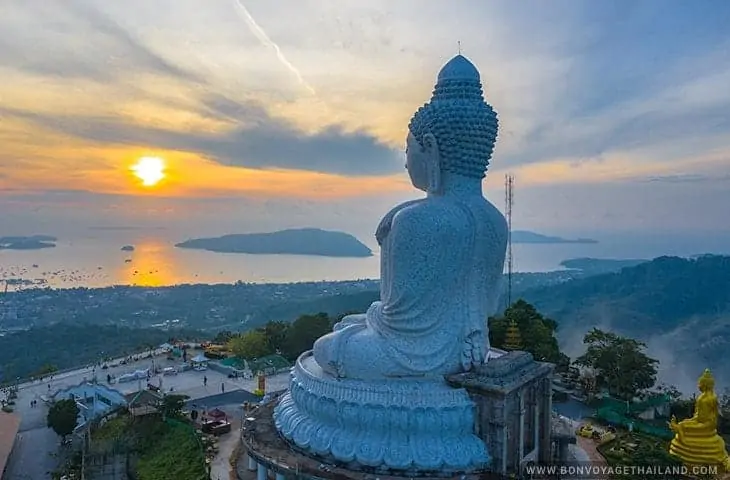 The Big Buddha rises 45 meters tall and is the second largest in Thailand, with its huge head greeting visitors from atop of the Nakkerd Hill near Chalong. The best time to visit the Big Buddha is either early in the morning or at sunset to watch the sun and moon set on opposite sides of the statue.
The Big Buddha is waiting to be discovered.
Phi Phi Islands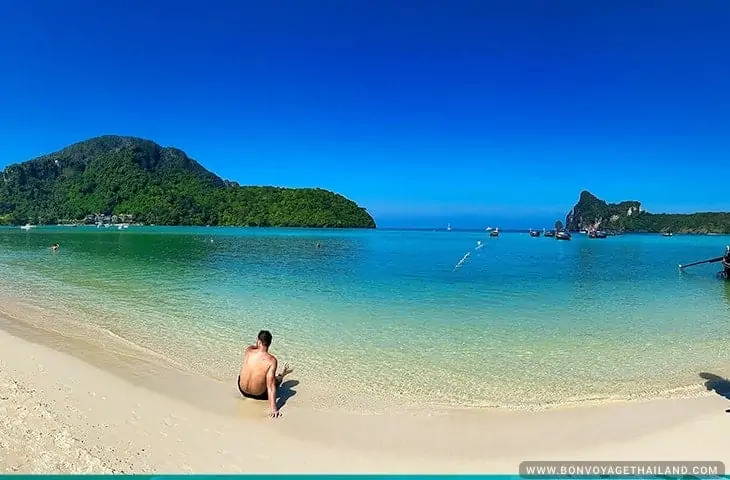 The Phi Phi Islands are a group of 6 islands off the west coast of Phuket. They are covered with fine white sand and surrounded by turquoise waters. The two main islands are known as Ko Phi Phi Don and Ko Phi Phi Leh. Phi Phi Islands can be easily reached by boat from Phuket town.
Ko Phi Phi Don is the largest of the two islands. From this island you can do many snorkeling trips, also there is a lively nightlife, restaurants, shops and bars. .
Phi Phi Leh is an uninhabited island located 1.5 km south of Phi Phi Don. It is famous for its beautiful nature, steep limestone cliffs and dazzling beaches. The island is undeveloped, making it a popular destination for quiet relaxation. Phi Phi Leh is home to several bays, including Maya Bay, which was the filming location for the movie The Beach. Large swaths of coral reef surround Maya Bay and hundreds of species of tropical fish can be spotted.
The two islands are connected by a reef known as "The Narrows" which is best traversed by longtail boat or on foot along the beach.
Snorkeling in Phuket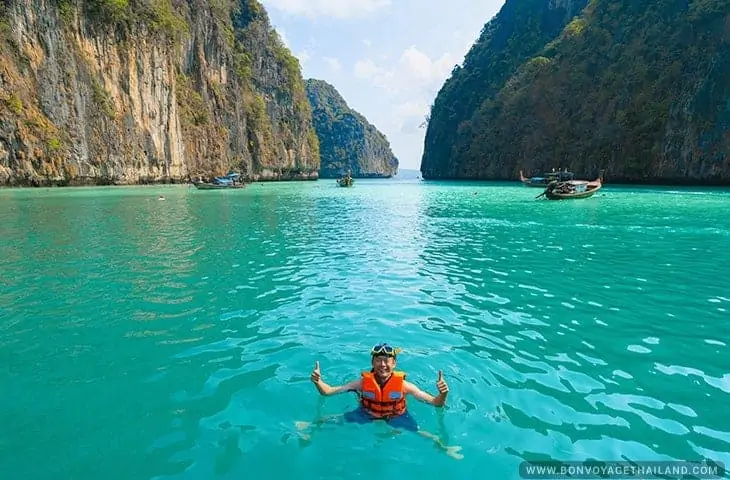 Snorkeling involves diving into the ocean and swimming around to look for fish, coral, and sea creatures like sea turtles.
Snorkeling can be done in many different places in Phuket. Some of the best places to snorkel are : Kamala, Surin and Kata beaches; the Andaman Sea; Ko Phi Phi Leh (the best place to snorkel on the entire island); Hin Wong Bay (also known as Long Beach) and Phang Nga Bay.
The Andaman Sea is home to thousands of species of fish. Every year divers and snorkelers discover new species never seen before.
Scuba diving in Phuket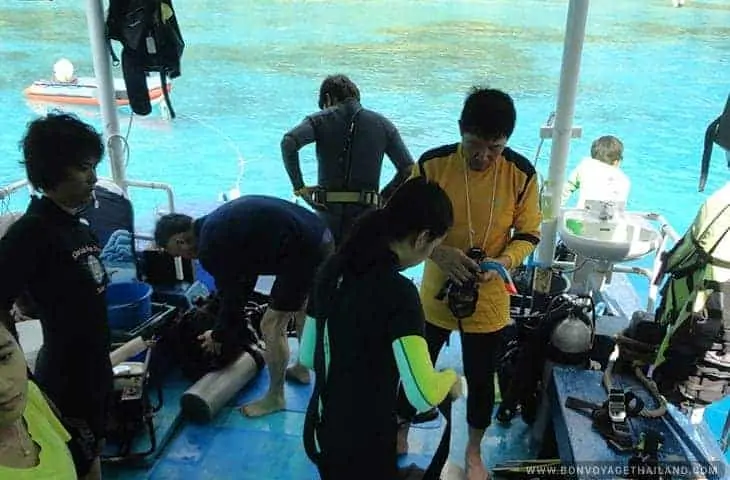 Scuba diving is a popular activity in many parts of Phuket. There are many diving centers around the island that offer courses for beginners. You need a certificate to be able to dive in Thailand, and there are some organized courses that take place around the island. Once you have your certificate, you can dive anywhere (usually at dive sites near Phuket).
The main diving area for divers in Phuket is the Similan Islands, Surin Islands and Ko Bon Island.
Night diving in Phuket is also possible, at night when the fish are more active and you can see their bright colors better than during the day. Night diving is also calmer and gives you a chance to see some fish that you may not see during the day.
Wat Chalong Temple in Phuket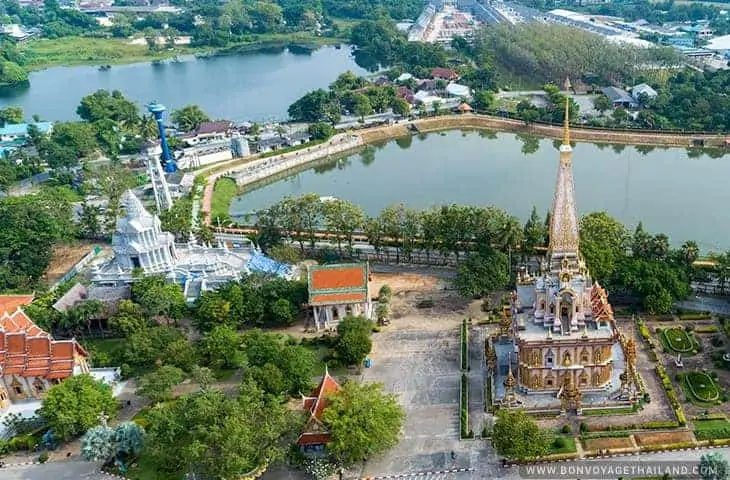 Wat Chalong in Chalong Bay, Phuket, is an iconic historical site and Buddhist temple. Locals come here almost every day to pray, and travellers come to see the temple's beautiful architecture and learn about its history. The temple is officially known as Wat Chaitararam; however, it is more commonly referred to by its ancient Thai name, Wat Chalong. It is located in the northern part of Tambol Chalong at Chao Fa West Road.
Phuket Elephant Sanctuary
Visit the Phuket Elephant Sanctuary https://www.phuketelephantsanctuary.org/en/ , to learn more about the elephants, observe the elephants at a respectful distance and feed them. Elephants are still an important part of Thai culture, and the project at this sanctuary not only works to teach people about elephants, but also about Thai heritage. The sanctuary is located 30 minutes north of Phuket town.
Phuket Town Weekend Night Market
The night market in Phuket can be a fun fair, but it also has all kinds of interesting shops and restaurants. There is a wide variety of food, and many vendors sell clothing, traditional Thai items, and not just souvenir items. It is open every Saturday and Sunday night until 11pm.
Traditional Thai Massage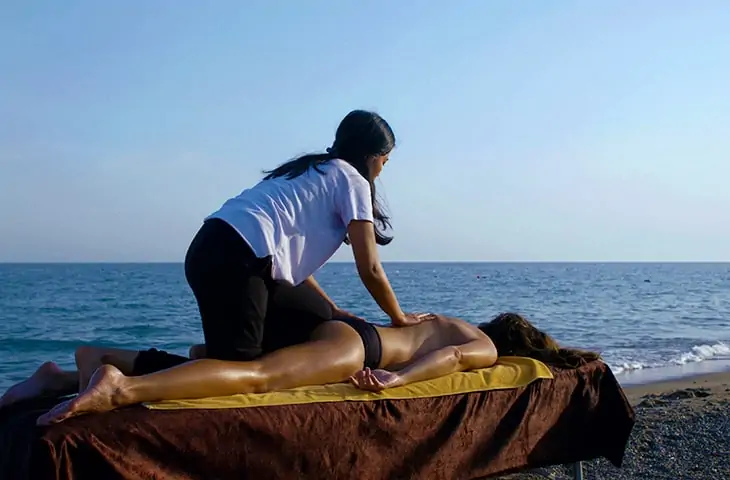 There are many massage shops in Phuket Town, but if you are looking for a truly genuine experience, you should visit a traditional massage shop. These shops have been around for many years and can offer you the kind of massage that your mother or grandmother probably received. A traditional Thai massage is done without oils; however, you can ask for coconut oil to be added if you wish.
Karon Viewpoint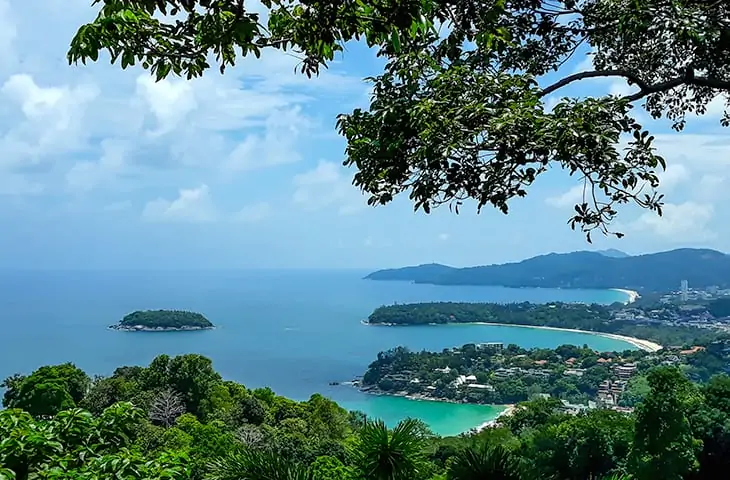 When you travel to Phuket, you will undoubtedly want to enjoy the sun, the sea breeze and a beautiful sunset. A great place to do this is at Karon View Point. From the highest point, you can enjoy a magnificent view of the entire bay. The View Point is located in the south of Kata Noi Beach.
Monkey Hill in Phuket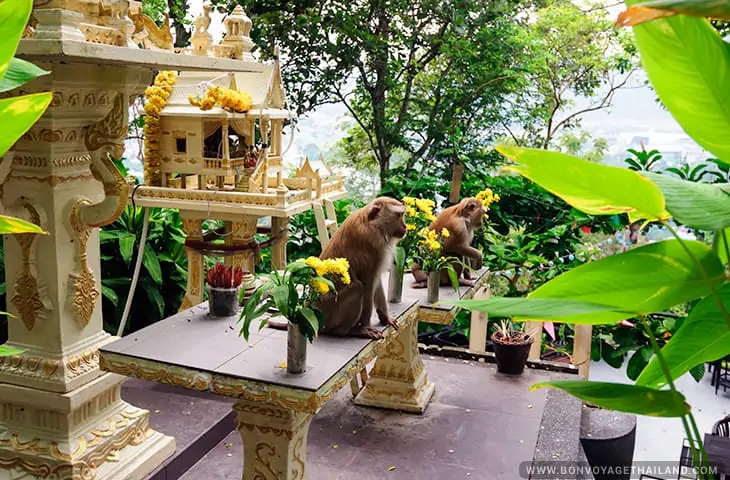 The main attraction of the Monkey Hill are the free roaming monkeys, you can find the different species of monkeys living there. Not only the tourists visit the Monkey Hill in Phuket, but also the Thai people. Be careful, if you want to feed the monkeys, you will be followed for days! Bring some bananas and if the monkeys don't attack you, they will wait for a treat. Travelers have reported being bitten so please be vigilant if you are traveling with children, keep them close to you, also keep an eye on your belongings.
Ladyboys at the Simon Cabaret Show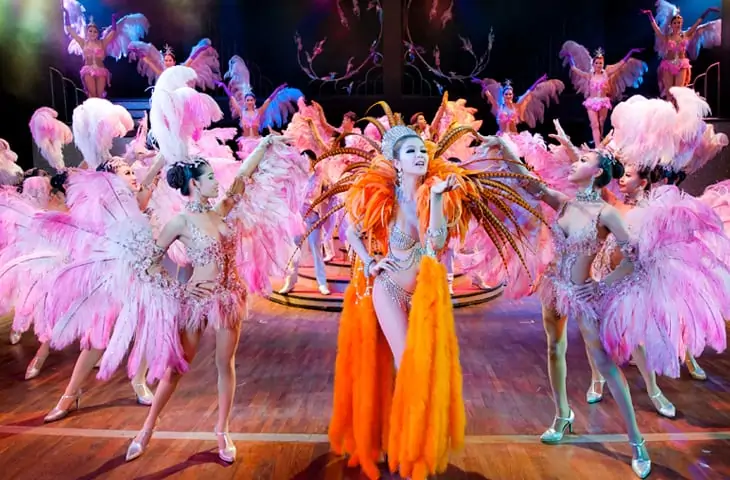 The Simon Cabaret is Thailand's most famous lady show. The show is a high class cabaret that offers the latest in entertainment. The cabaret offers different types of shows including burlesque and classical Thai dance. After the show, you will have the opportunity to meet the performers, take unforgettable photos and see their beauty for yourself.
Going Out on Bangla Road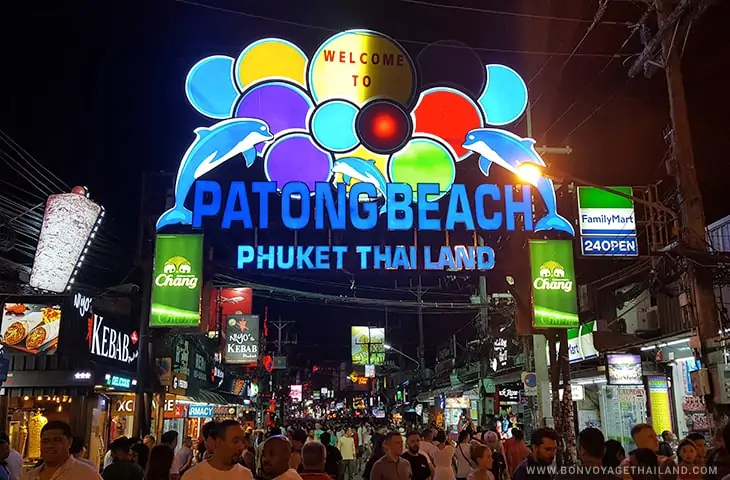 Enjoying the nightlife in Phuket is one of the most popular activities for tourists visiting the island. Bangla Road is located in the heart of Patong. It is filled with tourists and locals dancing to loud music and eating delicious Thai food. There are many bars on Bangla Road and you can find a place for every taste: Irish pubs, sports bars, dance clubs, beach clubs, karaoke places and so on. The street is full of tourists and backpackers looking for fun every night.
Phuket FantaSea Show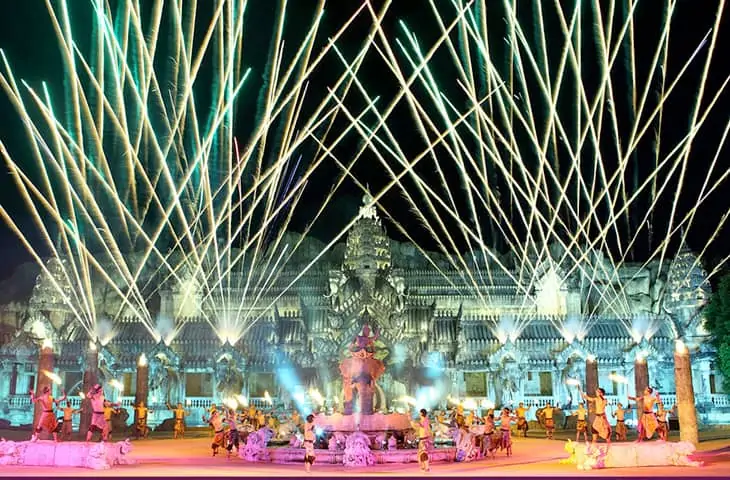 Phuket FantaSea Show is a mega theme park that features parades of colorful musical and magical shows and attractions. Visitors can experience a variety of entertainment shows, including the famous Thai cabaret show. The theme park also offers a nightly parade with a dazzling light show and fireworks.
Khao Rang Viewpoint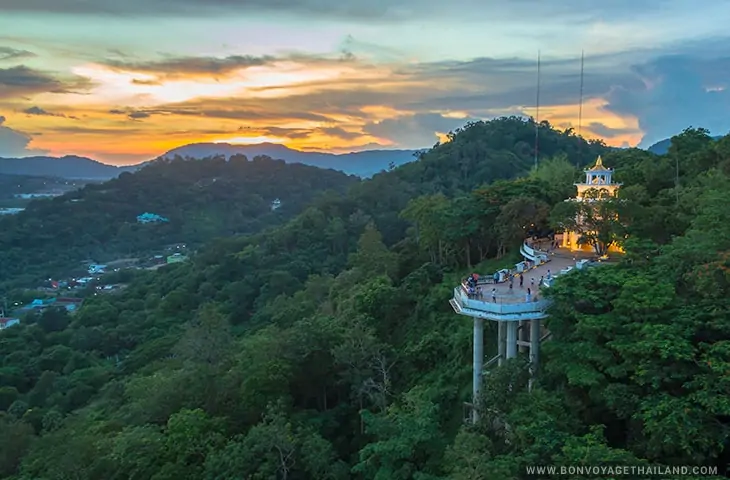 Khao Rang Viewpoint offers panoramic views of Khao Rang Nok and Khao Rang Nok Bay. The viewing platform is a good place to watch the sunset and enjoy the beautiful weather here in Phuket.
Jui Tui Shrine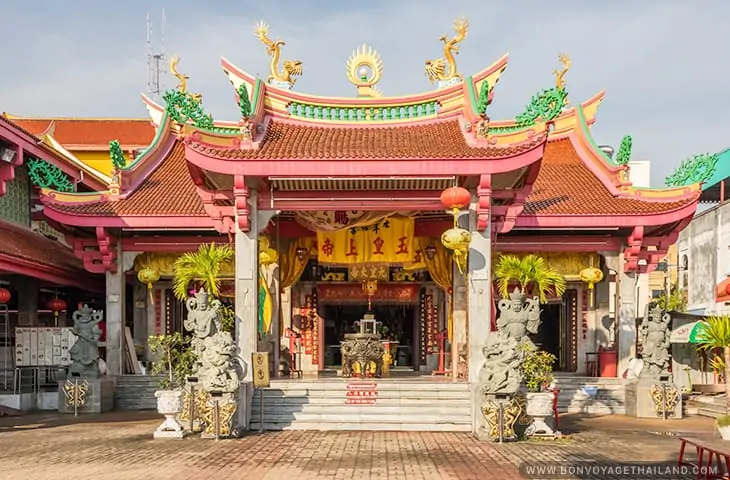 One of the most prominent and oldest shrines on Phuket Island, Jui Tui Shrine is a temple that is in the traditional Chinese style. It often plays a prominent role during Phuket Vegetarian Festival. The festival dates vary each year, depending on Lunar Calendar, so be sure to check before you travel to Phuket for this festival.
The Phuket Old Town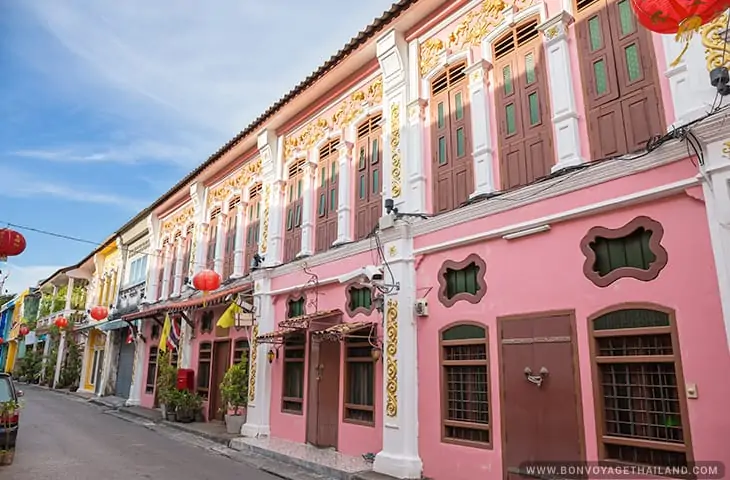 If you are looking for a cultural experience during your stay at on Phuket Island, be sure to consider taking a walking tour of the Old Town, the local residents are mostly Chinese-Thai. For centuries this area has been the cultural and commercial center of the island, and today it is a fascinating mix of temples, shrines, markets, seafood restaurants and art galleries. If you like the chaos of the street markets, you will love the Old Town; here you can experience the true color and character of Phuket.
Patong Beach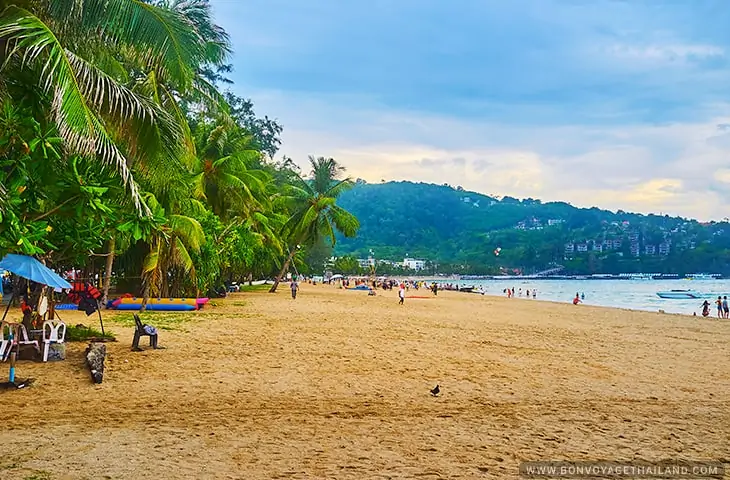 If you are looking for a wild night out in Phuket, Patong is the place to be. Visitors can enjoy a variety of activities at Patong Beach: surfing, kite surfing, jet skiing, water skiing and other water sports. There are also many bars and nightclubs in Patong that visitors can visit before or after a fun day at the beach.
Phuket Trickeye 3D Museum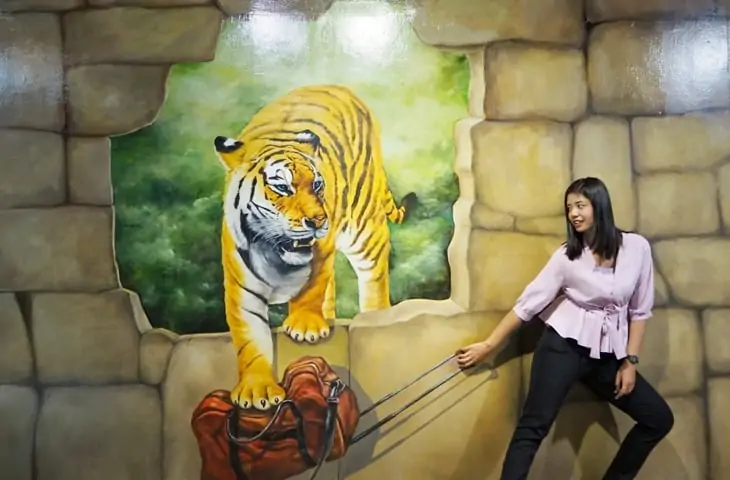 The Phuket Trickeye Museum is a unique museum that offers a combination of art, history, technology and science. The museum is designed as a virtual 3D art experience, giving visitors the opportunity to be part of the experience and experience a virtual 3D journey through art and history. It is located in Karon, Phuket, Thailand.
Promthep Cape Sunset Viewpoint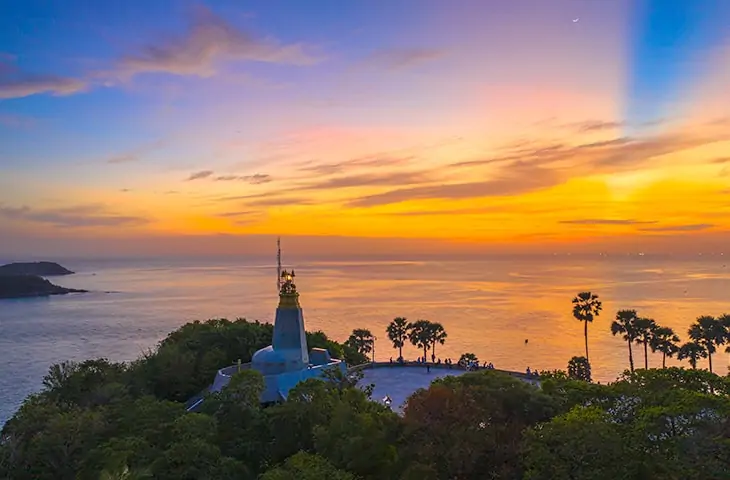 Promthep Cape in Phuket is a great place to watch the sunset and experience the beauty of Phuket Island. The sunset is best seen from the eastern end of the cape, where a grassy hill overlooks the beach.
Similan Islands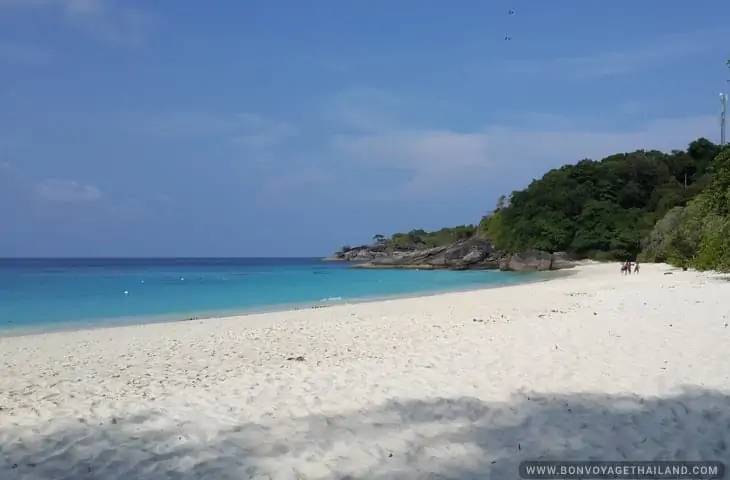 Located off the coast of Phang Nga Province in Thailand, the Similan Islands are a group of nine islands that are now considered a national park. The islands are a popular destination for divers, and there is no shortage of excellent dive sites.
The Similan Islands were formed about 10 million years ago by the uplift of an extinct volcano. The park offers reefs and clear blue waters and many species of marine life such as tuna, shark, snapper, reef fish and some coral species. Day trips and overnight trips are available.
Surin Islands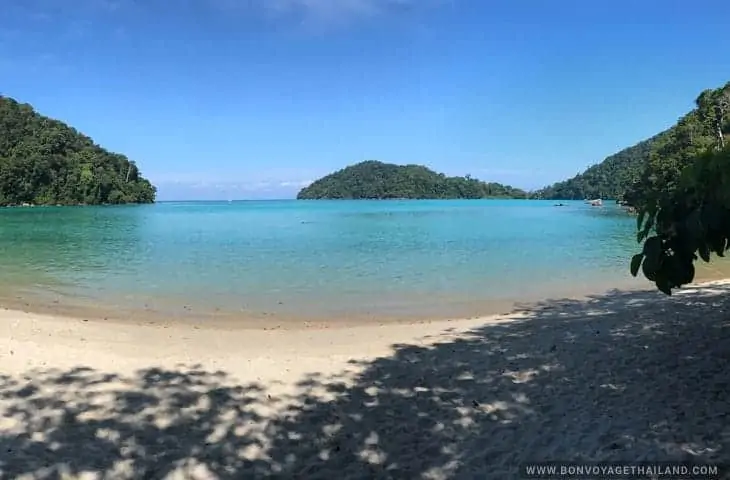 The Surin Islands lie off the coast of Phang Nga Province. This group of five islands is the perfect place for divers and snorkelers. The water around the five islands is crystal clear, and the scenery is spectacular. You can see a variety of corals and underwater creatures. The islands are a part of the Surin National Park. There is a day trip that takes you to the Surin Islands for spectacular views, snorkelling and diving.
Chalong Bay Rum Distillery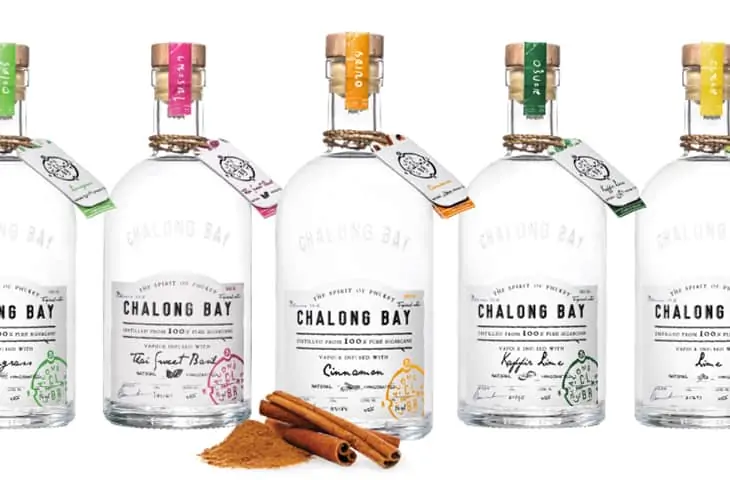 Chalong Bay Rum Distillery is a boutique distillery located in the tropical paradise of Phuket, Thailand. The distillery produces high-quality artisanal rum using only fresh sugar cane from the region and pure, natural water. Visitors can take a tour of the distillery to learn more about the rum-making process and sample the award-winning products. The distillery also has a bar and restaurant where visitors can enjoy creative cocktails made with the in-house rum, as well as delicious Thai cuisine. Chalong Bay Rum Distillery is a must-visit for anyone who wants to experience the unique flavors of Thailand and its world-class rum tradition.
Phuket Vegetarian Festival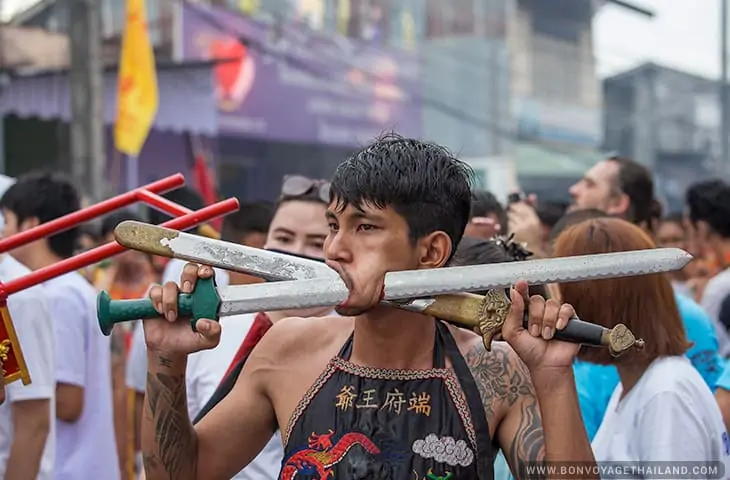 Phuket Vegetarian Festival is a 9-day vegetarian festival held in the month of September or October, depending on the Chinese lunar calendar. During this time, visitors can sample delicious Thai food and watch performances at various venues on Phuket Island. The festival is one of the most popular events for tourists and locals alike.
Samet Nangshe Viewpoint in Phang Nga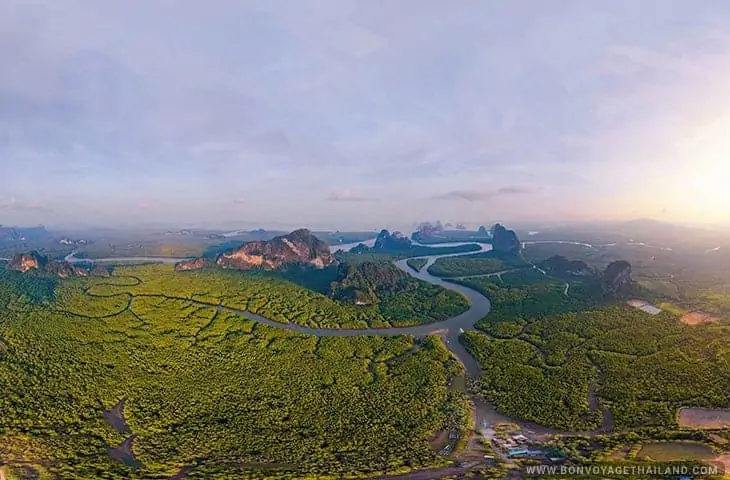 Samet Nangshe Viewpoint in Phang Nga is a great place to admire the spectacular view of the bay, you can see the mountains, trees, islands and so on. There are many restaurants here selling delicious Thai food at very reasonable prices. Eat and admire the view.
Coral Island Phuket
Coral Island is located south of Phuket and offers spectacular views you will never forget. Coral Island has 2 beaches, Long Beach and Banana Beach, the sand is so soft and the water is so clear that you can see up to 30 meters deep underwater.
The activities on Coral Island are swimming, sailing, kayaking, snorkeling, and so on. You can reach the island by longtail boat or speedboat from Rawai Beach in the south of Phuket.
Conclusion
All types of travelers come to Phuket because it has something for everyone. There are many historical sites and religious temples; however, there are also many modern attractions for visitors to enjoy. No matter what you are looking for when you travel to Phuket, there is a good chance that you will find it here.