Don't skip the beach! Thailand has some amazing beaches that every vacationer should visit. Soak up the sun, feel the sand between your toes, and go for a swim while relaxing in a stunning environment. Put on your sunscreen and get ready for paradise at any of our favorite beaches:
Karon Beach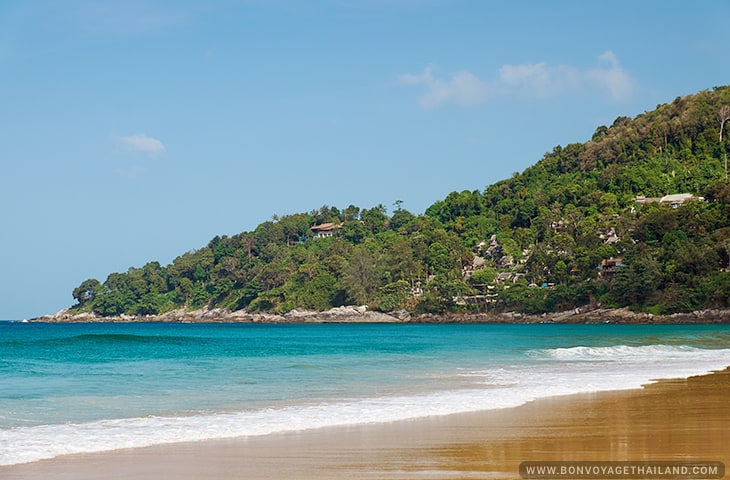 This lovely natural setting is a long beach, where you can enjoy romantic walks with your loved one or fun days of drinking and sunbathing with your friends. There are plenty of things to do nearby, with restaurants and bars as well as night markets to explore. You can easily head to Patong to party at night.
Kata Beach
Relax on this cove-shaped beach with your family, friends, or partner. Soak in the sunlight, or the shade of a tree if you get too hot. At the end of the day watch from a nearby hill as the sunset paints a colorful picture in the sky. If you want to see the sunset in style. Grab a quick drink or have dinner at the hotel or local establishments.
Kata Noi Beach
If you are near Kata Beach, but want a less developed, more private location to enjoy your day – head to nearby Kata Noi. This beach has no vendors, and fewer sunbathers and tourists.
Surin Beach
This beach is popular with tourists, and can be livelier than some of the others. Perfect for families who want to take a dip in the ocean and just enjoy the water all day. You can find quick food at the nearby street carts for lunch, and head to one of the beachside restaurants for a delicious dinner while taking in the sunset.
Kamala Beach
If you are trying to avoid the party atmosphere of Patong, Kamala Beach is the place for you. While there are plenty of options for lunch and dinner, it is removed from the hustle and bustle of Patong. Take a family vacation and enjoy the beach, the sunsets, and the history of this former Muslim fishing village.
Layan Beach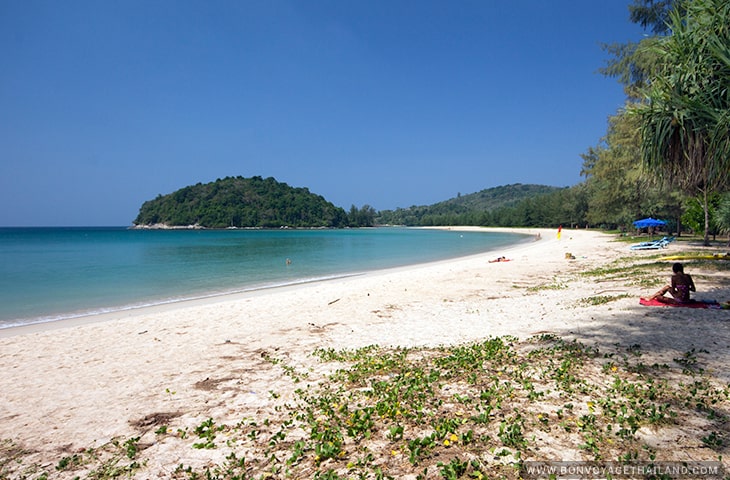 Layan Beach is another quiet, family friendly beach. White sand, crystal blue water, and fewer tourists make it a great spot to enjoy some alone time with your loved ones or friends. There are still plenty of restaurants to enjoy, despite the lack of annoying jet skis and crowds. Relax with a drink, or a coconut, and soak in the sun – or the shade of a beach umbrella.
Mai Khao Beach
If you want to skip the busier, tourist-filled beaches, head up the road towards the northern part of Phuket to Mai Khao Beach. There's little to no tourist activity here, just coarse white sand and lots of water. During the dry season it is a great spot to swim, although the wet season brings waves and is dangerous for swimmers. You may even get to see some wildlife, like sea turtles, here!
Patong Beach
Patong Beach is one of Phuket's most popular spots. This busy beach is filled with tourist-approved fun. Everything a visitor needs will be close by: great food, strong drinks, travel guides, and more. And if you get tired of the heat, head to Jungceylon, an air-conditioned mall with plenty of shopping and dining. Once night falls, head on over to the night market to explore, buy some souvenirs, and take in the local scenery.
Nai Harn Beach
If you are visiting Phuket Island, there is no better day trip than going to the beaches in the north. Nai Harn Beach is a well-known spot for visitors and is known for its great snorkeling. Watching the waves crash against the rocks while swimming or snorkeling is beautiful in itself. Nearby, you will find many restaurants where you can have lunch or a snack before heading back to the beach.
Rawai Beach
This beach is beautiful, although it can be crowded. If you want to sit on the beach in peace, this is an excellent place for you. The water is nice, warm and clear, perfect for snorkeling or swimming. If you go for a swim, remember that the waves can get quite strong, so don't stay too close to the rocks!
Freedom Beach
The gorgeous beach at Freedom Beach is one of the most beautiful beaches on Phuket, with amazing soft sand and crystal clear water. Although it's right next to the crowded Patong beach, it's relatively quiet. It's easy to explain why: there are only two ways to get there, from the top of the hill or by boat. You won't regret it.
Ya Nui Beach
in the south of Phuket Island is a small beach hidden between Windmill Viewpoint and the famous Promthep Cape. The area is a popular place for snorkeling and diving on the beach. There are lots of fish to see and the water is cool and clear. Not easy to find, but very rewarding!
Paradise Beach
The sea at Paradise Beach is very blue, the sand is powdery, and it is relatively remote and small. There are many services and an entrance fee of 200 baht or more. If you want to check out Paradise Beach, you can get there between 9am and 9pm.
Bang Tao Beach
Bang Tao Beach is a beautiful sandy beach on the west coast of Phuket and is one of the longest beaches on Phuket. There is nothing better than a nice walk on the beach with a dip in the water every now and then. If you need refreshment, there are many restaurants nearby.
Banana Beach, Coral Island
If you love the freedom of having your own private beach, head to Banana Beach. Here you will find peace and relaxation in the comfort of your own resort. The beaches here are beautiful, with warm waters and soft sand. The beach is the perfect place to sunbathe and enjoy one of the many water sports. Don't forget to bring your camera!