Take a Chiang Mai ATV Tour and Discover Thailand in a Different Way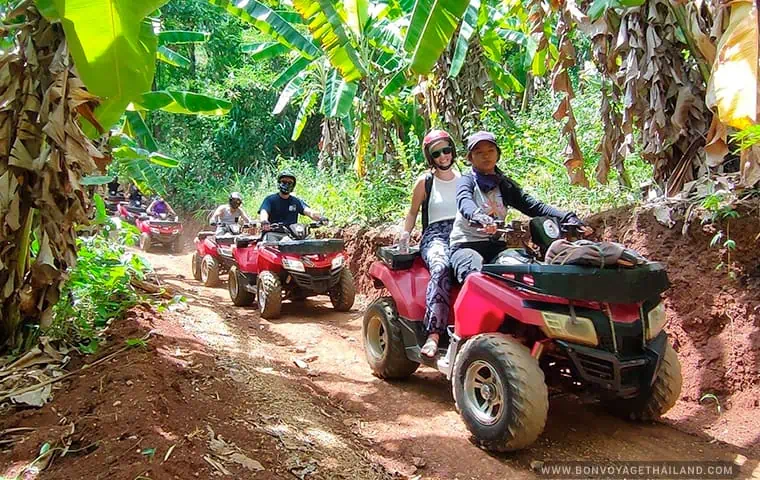 Chiang Mai is the perfect place for an off-road biking adventure. Safe, jungle trails weave high up into the mountains, giving you a chance to leave civilization behind and experience a side to the Thai countryside that you may not otherwise have seen. There is a Chiang Mai bike tour to suit everyone; from half-day ATV tours to dirt bikes, whatever your taste, there will be something to get your adrenaline pumping.
Let us take you on an epic ATV adventure on the mountain trails around Chiang Mai.
Explore Chiang Mai With an ATV Tour
An all-terrain vehicle (ATV), also known as a quad bike, is a four-wheeled motorbike that runs on low tire pressures, allowing it to be used off-road. No experience is needed to safely enjoy riding an ATV, as they are very stable compared to a two-wheeled bike, making them the perfect choice for everyone.
Embark on an exciting half-day ATV tour that will take you through different landscapes and challenge your off-road skills. On this 3-hour tour, you'll immerse yourself in the breathtaking natural landscape of Chiang Mai's forests, meet local Hmong communities, and even cross a river for added thrills!
Tailored for adventurers, this ATV tour promises an adrenaline-pumping ride over rugged dirt roads and offers a unique way to experience the wilds of Chiang Mai.
Take a Chiang Mai Dirt Bike Tour
For more experienced riders looking for the ultimate adrenaline rush, a Chiang Mai dirt bike tour may be the answer. Most tours head up into the mountains or jungle on off-road trails, but take in more challenging routes, so you will still be treated to the same breathtaking views, but will get to test your nerves and skills at the same time. For the really serious, multi-day tours are available.
In addition to your Chiang Mai bike tour you may like to mix things up with other activities such as visiting an elephant camp or trekking. Chiang Mai is the perfect place to experience all of these activities.
ATV Riding Tips
Riding an ATV is a great introduction to off-road biking but don't underestimate the power and capability of the vehicle you are on. The following riding and safety tips should ensure that you have a great experience:
For maximum control and comfort, never lock your elbows
Don't let your feet hang to the sides, always use the foot pegs
Do not attempt to do wheelies. There is a danger that the bike could land on top of you
If it is your first time, take the opportunity to practice before setting off. Practice steering, braking, and if relevant, shifting gears
Planning the Best ATV Tours in Chiang Mai
For ATV tours Chiang Mai is a dream location, but there is nothing worse than being cold and wet, or overdressed and hot, on a motorbike. Being aware of the climate and knowing what to take will allow you to enjoy your biking adventure to the fullest.
Weather
Riding in Chiang Mai is possible at all times of the year.
March to May is the hot season and sees temperatures rise as high as 36°C. Rainfall is low at this time of year right through until the middle of April, when the first rains usually start. Off-road tracks will be dry and there will be no water obstacles, but this also means that you can get higher into the mountain.
The rainy season is between June and October, when the rain increases and the temperature drops. September is the peak of the rainy season, and you will regularly experience heavy downpours in the afternoon. The lower temperatures actually make this a good time for biking, and you will experience the trees and plants in all their lush, green glory.
Rivers and waterfalls will be more impressive at this time of year, however the off-road tracks can be severely rutted, which means that you may not be able to get as high into the hills. Having said that, you are guaranteed loads of fun in the mud.
November to February is the cool season and can see the temperature drop to as little as 10°C in Chiang Mai City, while the hills are cooler still. This is the most popular time of year for visitors with clear skies and sun but without the intense heat. This makes it a great time for all types of ATV tour.
What to Wear on a Chiang Mai ATV Tour
For off-road biking in Chiang Mai, you should wear clothes that you don't mind getting dirty. For safety, closed-toe shoes or trainers are an absolute must, so leave your flip-flops at home. You may want to take a long-sleeved top or jacket, as the mountains are much cooler than the city, and long pants are advisable. Take gloves if you have them and sunglasses.
What to Take on a Chiang Mai ATV Tour
Take a change of clothes, as you may get muddy off-road. Even if you don't, you will still sweat a fair amount, so you may want to change into something fresh! Sunscreen is advisable at all times of the year. Take a look at our ATV tours and book an adrenaline-filled adventure of a lifetime in the mountains of Chiang Mai.