A Private Tour Can Make All The Difference!
With a private tour, you and your friends or family can experience the best-kept secrets of the city and ultimately the real Thailand in a personal and special way.
A private tour has several advantages and special benefits over a join-in tour. Probably the most obvious advantage is that a private tour focuses entirely on your interests and those of the friends and family you're traveling with. You don't have to worry about the wants and needs of people you don't know, and you don't have to go somewhere or do something that doesn't interest you personally.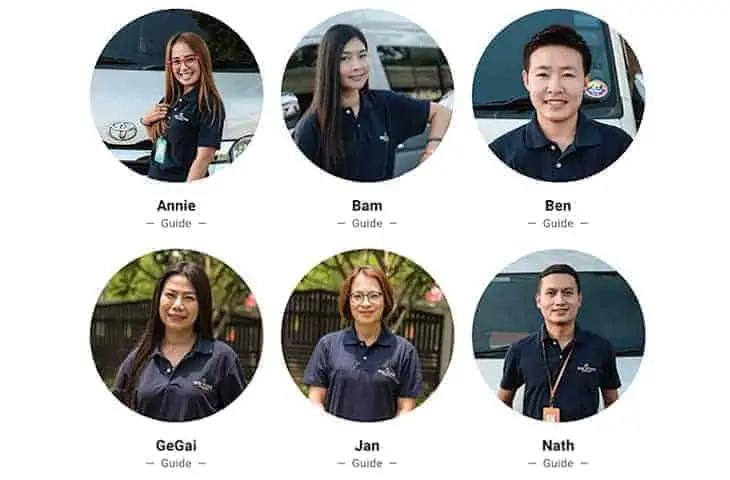 That's because a private guided tour is entirely customizable. Before going on your private tour, you will have the opportunity to discuss your 'bucket list' items with our team of experts at Bon Voyage Thailand. Let us know where you want to go and we'll also suggest places we think you may like that's not on your original list. Then we'll finalize your itinerary before your trip so that we can secure your private tour guide and driver. This is especially important during high season when there are so many visitors!
A private tour also goes at a pace designated by you, whatever that may be. On one hand, you can pack your day full of activities and sights. On the other hand, you can take it slow and go at a leisurely speed. This is especially helpful if your friends or family members have a range of ages and physical abilities or if you are traveling with a large group.
In a private tour, your local guide is there to help you visit places that aren't offered or accessible on a predetermined tour. Just let us know in advance the types of places you're interested in and our tour team will suggest intimate, off-the-beaten-path activities perfect for your travel style.
Lastly, you will have your private guide full attention. This allows you to have plenty of opportunities to ask questions about a particular place or activity and really dive deep into the culture, history, and other fun facts of whatever place you are visiting. Having such personalized attention will take your tour experience from good to amazing.
Things To Consider When Customizing Your Private Tour
Join in tours have a pre-determined schedule but custom tours don't. Since you have the freedom to design your own tour, or at the very least make changes or upgrades to existing tours' itineraries, you should ask yourself a few important questions. These can help you focus in on your preferred activities, such as:
Are you into adventurous outdoor activities or would you rather experience less intensive activities?
Do you prefer to visit the classic, iconic sites or go somewhere off the beaten path and less touristy?
Are you interested in sampling a lot of local (and possibly unusual) food or prefer to eat food that you are familiar with?
Family vacation, honeymoon trip, friends' trip, or solo trip, large group?
Would you prefer a fast moving itinerary with many stops or a slow itinerary with more time at each place?
How many people are in your group? Be sure to consider the abilities of the youngest and oldest members.
You may want to celebrate a special anniversary, making a donation to a local school, visit a church, praying, or taking photos.
You have a list of what you would like to do or what you would like to see.
Don't worry! We will do all the planning, but answering these questions will help us to craft the best personalized itinerary for you. All activities will be chosen in advance so that will all be done in advance.
A tailored itinerary to your unique needs and timing.
Provided On Every Private Tour With Bon Voyage Thailand
You can be sure to receive the following on a private tour:
Friendly and knowledgeable English-speaking guide
Seamless connections with a personal driver in an air conditioned vehicle
Flexible front door pickup and drop-off from anywhere within a 3 km radius of Chiang Mai Old City; additional rates may apply outside this area
Payment and handling of entrance fee for standard activities; fees for optional (add-on) tours are not included
Local Thai meal for full a day trip
Accident insurance
Meals
Your guide will recommend different restaurant options depending on the current location and which dish is a must try.
If you have any special dietary requirements such as eating vegetarian or halal meals or if you have food restrictions or allergies, just let your guide know. Bottled water and cool towelettes will also be provided throughout the trip.
Our Private Tour Guides
Our local experts are licensed and qualified local tour guides, all our tailor made tours come with an English speaking tour guide. If you require a French, German, Spanish, Chinese, Japanese and Thai speaking tour guide, it can be reserved in advance. During your tour, you will have the opportunity to learn about Thai culture, history and even some interesting stories from your guide's personal experience, just like any taxi driver.
Our friendly guides enjoy sharing their knowledge with guests
Safety during the Private Tours
All activities are fully covered by Bon Voyage Thailand, and of course we will make sure to protect you from any unforeseen circumstances.
Your local tour guide wants you to feel safe and comfortable while you are on tour with us. They know exactly what to do in any situation and will help you make the most of your trip.
You will travel in a private vehicle with a professional driver.
Your security is our top priority.
Why booking with us?
We are a Local Private Tour Company
We are a family business and experienced tour operator, which gives us the opportunity to offer you a truly personal service at a very good price. We specialize in private tours in Chiang Mai, Chiang Rai and other parts of Northern Thailand.
Experience
We have been providing private tours to travellers for over ten years and our licensed guides know Bangkok to Chiang Rai like the back of their hand.
We can also accommodate requirements that large or commercial tour companies cannot.
Save time & money
Let us know what you want, and we will suggest the most suitable private tour package for you, and we will adjust your schedule to fit your budget.
Reasonable price with great value for money, prices are not inflated to compensate the fee for middlemen site.
Deposit
A deposit is required to reserve a guide and driver for your customized tour. This will be refunded if you cancel up to 3 days before the tour date.
Cancellations
Cancellations are accepted up to 3 days prior to the scheduled date of the tour. Requests must be submitted via email or phone within three days of the tour departure date. Less than 3 days before the departure date we will do everything we can to refund you as much as possible, for example only the tour guide and driver fees are required. There will be no questions asked. Learn more about on cancellation policy.
Communication
You can communicate with us via email, phone calls, WhatsApp or messenger, we value communication with you.
We are waiting for you
There are many options when you book a tour with Bon Voyage Thailand. Book a private tour today!