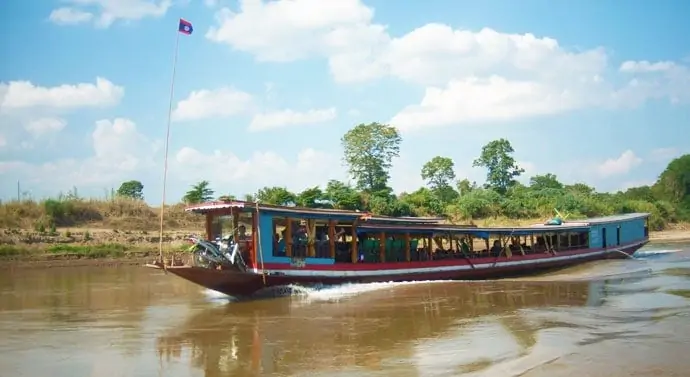 So many tourists use Chiang Mai as a jumping off point to explore the expanse of Asia that surrounds the region, from Chiang Mai the most popular destination is Luang Prabang Laos. The border town of Chiang Khong, where travelers go through immigration, is a short five hours drive from Chiang Mai.
First steps (The basics)
After your arrival in Chiang Mai, we will take you to Chiang Khong. The next day, you will take a tuk tuk from Chiang Kong to Thai Immigration and then cross the Thai-Laos Friendship Bridge No. 4 into Laos.
Day 1 : Chiang Mai to Chiang Kong
A private minivan will pick you up from your guesthouse or hotel in Chiang Mai. We depart at 7:30am and drive five to six hours to beautiful Chiang Khong, stopping briefly at the White Temple along the way. You will arrive in Chiang Khong around 3pm. In Chiang Khong you will have plenty of free time to explore the town, try local food, buy souvenirs and wander wherever your feet take you. You will stay overnight at the Namkhong Guesthouse and Resort.
Day 2 : From Chiang Kong to Thai-Laos Friendship Bridge No. 4, then to Lao Immigration and on to Huay Xai.
To leave Thailand, go to Thai Immigration at 8am and take a shuttle bus (25 baht/person) across the Thai-Laos Friendship Bridge to Lao Immigration and then a tuk tuk to Huay Xai.
In Huay Xai, board a slow boat at 10am for an 11am departure to Luang Prabang. The trip takes about six hours and you will spend the night in Pakbeng.
Day 3 : Pakbeng – Luang Prabang
On the third day, the boat departs in the morning. The rest of the day will be spent cruising downstream on the Mekong River until you reach Luang Prabang.
Private Minivan with driver to Chiang Khong