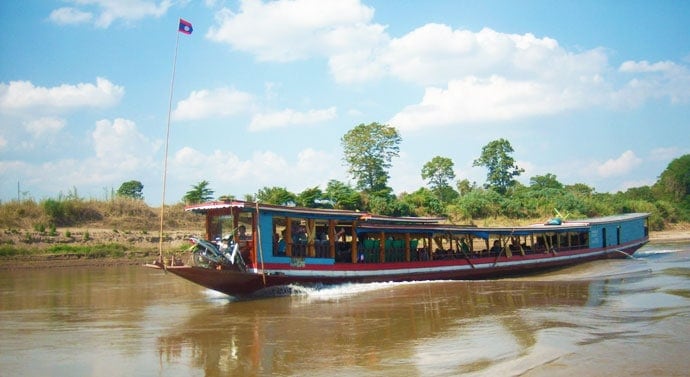 So many tourists use Chiang Mai as a jumping off point to explore the expanse of Asia that surrounds the region, from Chiang Mai the most popular destination is Luang Prabang Laos. The border town of Chiang Kong, where travelers go through immigration, is a short four-hour drive from Chiang Mai, and luckily for those explorers, we offer a service that makes your international travel a breeze.
Here's How It Works (The Basics)
We take you from Chiang Mai to Chiang Kong and Huay Xai, where you can get stamped and ready to go. Then we'll help you get to the Laotian town of Luang Prabang, where you can start exploring the rest of the region.
The Package (The Details)
We start by picking you up from your guesthouse or hotel in Chiang Mai. Hopefully you've seen all the area has to offer, because you're about to head towards the next country in your travels. We start picking up guests around 10 in the morning, and then travel four hours to the lovely town of Chiang Kong, where we will drop you off at your hotel for the night. You'll have a lot of free time in Chiang Kong to explore, try local foods, buy souvenirs, and wander where your feet take you. Just make sure you come back to us for dinner that night.
We'll begin day two of our trip with a simple breakfast, and then a visit to the Thai immigration office. Here you will be cleared to leave Thailand. Once you have the proper stamps, we'll transport you across the Mekong river via a long tail boat to the Laos side, where you'll have to get a visa. By 10 AM, you will board a boat heading towards the final destination of Luang Prabang. They provide sack lunches for the travellers for the boat ride. It's a smooth, tranquil boat ride that will take up the rest of our day. Please remember, we have to stop for the night in Pakbeng, and you must make your own hotel accommodations.
Day three starts with you boarding the boat in the morning. You will be on the boat traveling down the Mekong river for the rest of the day until we reach Luang Prabang.
Make Note
Our trip is not a tour, it's a service to help you get from point A to point B with little hassle. We try to make this trip as stress free as possible, by helping you get to the right hotels, checkpoints, immigrations locations, etc. We don't provide a tour guide. This package is about getting you ready to leave the country and striking out on your own. It will be super easy to make visa arrangements in Huay Xai, and you don't need anything done in advance. You'll have to make sure you are carrying enough money to pay immigration fees, and you'll have to do all the connected paperwork on your own (you can check with your Chiang Kong hotel for help with paperwork, though we are not affiliated with that service in any way).