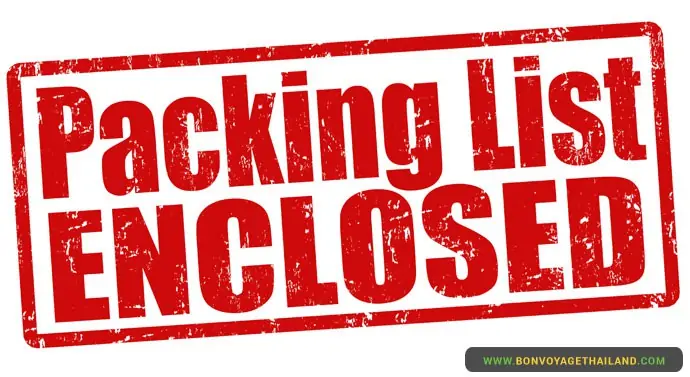 Thailand has hot, humid weather all year round. However, there are some changes in temperature and rainfall depending on the time of year you visit. Here are our tips for packing light and efficiently no matter what time of year you vacation in Thailand.
Hot Season
Temperatures and humidity levels can reach soaring heights in Thailand, so it's best to pack lightweight, breathable, loose-fitting clothing that lets air circulate. A quick-drying material, whether its linen or synthetic blends, that are easy to wash are perfect.
Walking sandals are essential to keep your feet cool and comfortable. Flip flops are great for the southern beaches and islands.
If you plan to visit the beach, pack a thin sarong or Turkish towel to lay on and to dry off with. The sun can be very intense, so remember to pack high-level SPF sunscreen.
Cool Season
Even in the cool season, temperatures are fairly warm throughout the day. However, it can get chilly at night. This is particularly true in the higher altitude regions in the mountains like Chiang Mai and Pai. Pack long pants to wear in the evening, long-sleeve tops, thin cover-ups, and warm sweaters or sweatshirts to wear to bed. The ideal evening attire includes long sleeves and loose long pants or a long dress with a jacket.
If you plan to trek in Chiang Mai, a wool sweater, fleece or sweatshirt, and thick pants work well. Don't forget to bring socks since your feet can get cold in the night.
Green Season
During this time of year, you can expect sudden downpours that wash away the heat of the day. Pack a rain resistant jacket or buy a thin, inexpensive poncho when you get to Thailand from a convenience store.
You'll want to wear quick-drying clothing so in case you get wet, you won't stay waterlogged. This is especially true if you are trekking, biking, or doing any other outdoor activities. Also, pack water-resistant shoes that can get wet without getting ruined.
All Seasons
No matter what time of year or what regions of Thailand you visit, you'll want to pack sturdy, comfortable shoes for walking and trekking. Water resistant shoes with drainage are especially useful for walking in mud and trekking through streams and waterfalls.
You'll also need a bathing suit if you plan to swim in any of the waterfalls and hot springs, and especially if you'll be doing an island tour!
The number of mosquitoes in Thailand tend to be consistent throughout the year, so be sure to bring long loose pants and dresses to wear in the evenings. Also, consider packing a natural insect repellent.