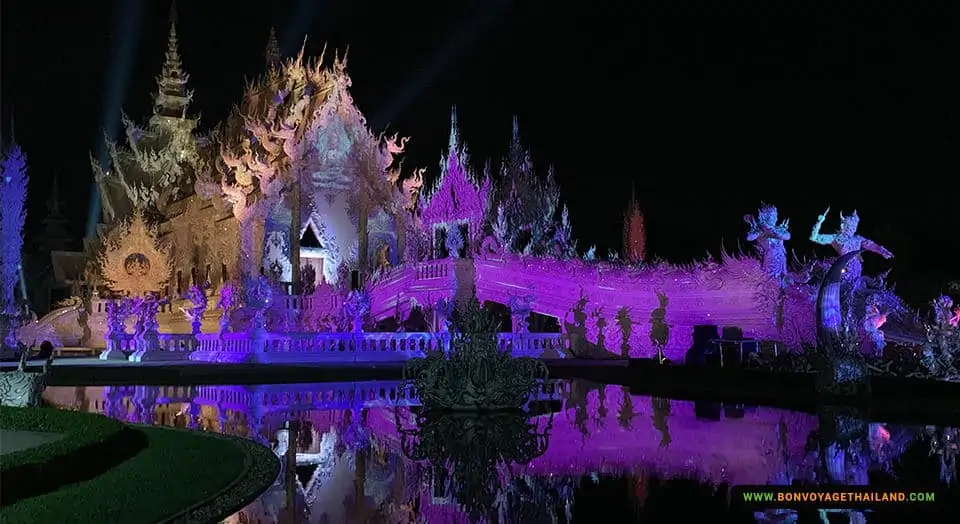 Chiang Rai's famous White Temple, locally known as Wat Rong Khun, will open its doors to visitors after dusk for the first time ever and host the Wat Rong Khun Light Festival. Spectacular light and sound performance, which was held in 2019.
People from all cultures, ages, and religions are welcome to explore the temple grounds and watch the temple come to life during the one-hour show, "The Illumination of the White Temple." Watch as stories unfold through the use of colorful laser images and the latest 3D mapping techniques across five different areas of the temple:
Main Temple Hall (Ubosot) – Walk across the bridge to the heavens and look upon the horrors of hell below
Wishing Well – Enlighten your heart with a wish
Bell Tower – Watch the story of Lord Buddha under the Bodhi tree
Crematory – Face life's stages of birth, aging, sickness, and death.
Genesha Tower – Witness a virtual reality water show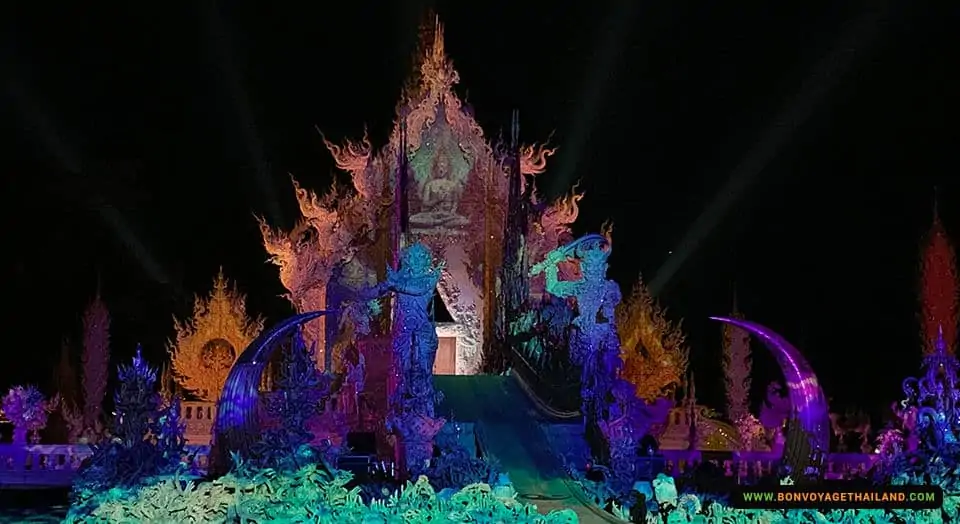 Chalermchai Kositpipat, the national artist who designed and built the temple, will also be co-hosting this event. All proceeds from the Wat Rong Khun Light Festival will be donated to the Chiang Rai Prachanukroh Hospital.
Wat Rong Khun Light Festival
Location : The White Temple (Wat Rong Khun), Chiang Rai City
Dates : 22 November to 22 December 2019
Times
6:30 PM to 8:00 PM (daily)
8:30 PM to 10:00 PM (weekends only on 22, 23, 29 November and 7, 10 December)
Price
Show Only: 1,000 THB (VIP Seat) / 400 THB (General Seat)
Show and Buffet Dinner: 1,150 THB (VIP Seat) / 550 THB (General Seat)
Additional Information
Private Transportation and Tour Guide
The price of the tickets includes the entrance fee and cost of the buffet dinner (where applicable). It does not include a tour guide, transportation to and from the event, or hotel stay. If you would like to have private transportation and an English-speaking tour guide, please contact us.
Dress Code
Please dress in respectful clothing that covers your shoulders and is long enough to cover your knees. Do not wear low-cut shirts that go below your collar bones or sleeveless shirts, tank tops, or vests. Please do not wear dresses, skirts, or shorts that are above the knee.
Buffet Dinner
A buffet dinner will be available for 150 THB per person. The dining facility will be located next to the White Temple and hosted by Lanmaihom, a local professional catering company. Seating will be within a comfortable, air-conditioned room.