Pai is a small town in Northern Thailand, near the Myanmar border. Sitting happily along the Pai River, Pai was once a quiet Shan village and has turned into a hippie town in the last few years. 
Pai is full of opportunities to hang out in nature at hot springs and mountains, with picturesque views everywhere you go. It manages to remain a peaceful town while also full of animated festivities like live music joints, bars, and clubs. Yogis, backpackers, and artists all gravitate here, alongside people looking to explore a quieter kind of life. This is a place where budget travelers can integrate with nature and fully enjoy the countryside of the north.
It's a popular destination for travelers who have covered all of the landmarks in Chiang Mai because it's so accessible from the big city.
Pai Canyon
One of the most impressive natural sites in Mae Hong Son is the Pai Canyon. Located less than 10 kilometers outside the main town of Pai, this scenic canyon offers sweeping views of the surrounding landscape. What makes it so unique are the natural ridges that zigzag through the canyon, which formed after thousands of years of soil erosion. What's left are narrow pathways and steep drop-offs that visitors can explore on a modern hike and enjoy 360-degree views of the rolling hills, unique cliff formations, and jungle trees and shrubs.
Pai Memorial Bridge
The Pai Memorial Bridge is a heavy steel and wood construction that Japanese soldiers forced villagers to build during World War II. It served as a transport for weapons and has since become a symbol of the Japanese occupation of Myanmar.
Shortly after the war, the bridge was burned down, causing a major inconvenience for Thai citizens. Locals eventually rebuilt the bridge years later, on their own accord, to ensure the safe transport of people and goods across the Pai River. Today, this historic landmark only carries pedestrians across. Other vehicles can use the concrete road running parallel instead.
Pai Coffee in Love
Perched on the top of a hill overlooking the valleys below is a sweet wooden coffee house. You can't miss the large, colorful 'Coffee in Love' sign out front as you reach the top of the summit.
The café serves a variety of western lunch options such as burgers and chicken wings, as well as simple Thai foods like pad thai. The drink menu is stocked with smoothies, coffees, and tea, as well as cakes for anyone craving some sweets.
The menu is good enough, but the view is the main attraction, so make sure you grab a seat on the balcony. Coffee in Love is a great getaway for nomads and nature enthusiasts who want to get away from the crowd — the charming cafe is just outside of Pai town.
Mae Yen Temple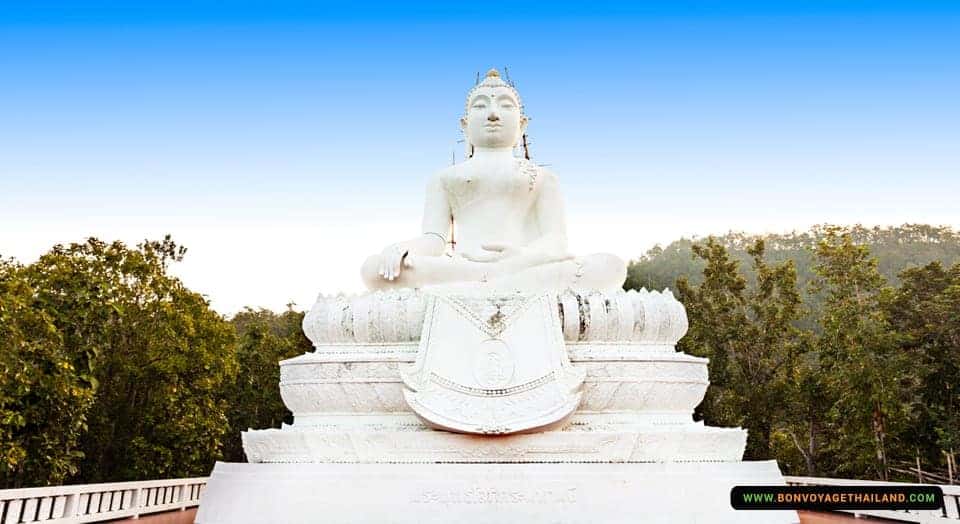 Phra That Mae Yen temple is best known for its big white Buddha statue perched on top of a hill. The enormous structure is easy to spot when taking a glance at the eastern part of the mountains.  Driving a car or scooter to the peak is possible, but most visitors enjoy the modest trek up the Naga staircase. Climb the 350+ steps and be rewarded with a spectacular view of the Pai valley below. 
Many tourists visit Mae Yen during sunrise, or in the evening to watch the sunset over the hills. This is a beautiful way to avoid the crowd and get the best views of the graceful white buddha. The temple also includes two buildings and a few golden chedis that make for great pictures. 
Pai Walking Street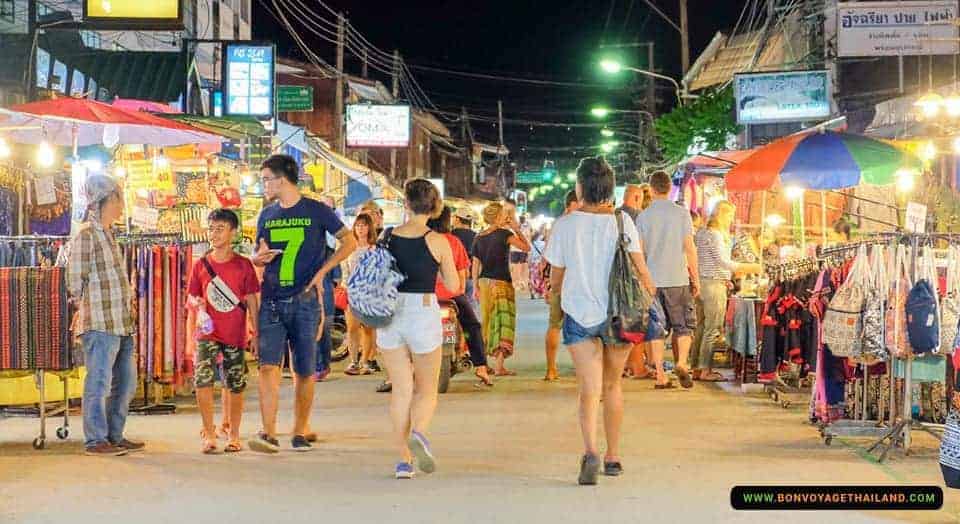 Another must-do attraction sitting smack in the center of the city is the popular outdoor market, Pai Walking Street. Similar to the walking streets in Chiang Rai and Chiang Mai, but full of valley locals, this is a chance to have heart-warming interactions with the lovely Pai people.
Everything your heart desires is on offer here, from souvenirs to food and music. Browse through colorful handicrafts, bags, shoes, clothing, jewelry, and more. Prices are low and bartering is expected, but be kind and courteous. A simple smile will go farther than anything else.
Food options are abundant with mouthwatering choices of local and western cuisine. Dishes include grilled meat, vegetable gyozas, sticky rice, and skewers. Vegans and vegetarians have no shortage of options and can pick from a variety of items including spring rolls, noodles, pizzas, samosas, and chocolate truffles.
Between the market, and stalls are indoor bars full of vivacious music that allow you to bring in your street food. Make sure that you buy a drink of course, which is an easy suggestion when the atmosphere is so lively and inviting.
No trip to Pai is complete without a trip to Pai Walking Street. You're sure to leave with a heart full of good vibes and a stomach full of good food.
Pai Yun Lai Viewpoint
Pai Yun Lai Viewpoint overlooks the town of Pai with a backdrop of rolling green grass hills and fields. Enjoy the view while sipping on a Chinese green or oolong tea. Just 15 minutes outside the city, the viewpoint can be reached by scooter or songthaew.
There is an on site café that serves tea, coffee, and baked goods. Enjoy a snack and a beverage on the bamboo deck while the sun rises for a taste of true serenity. If you come during a busier time, step out into the flower fields to escape the crowd.
The viewpoint is open from dusk till dawn and the entrance fee is cheap. It's said to be one of the best places to watch the sunset in Pai.
Santichon Chinese Village
Step into the past at this small but educational Yunnan cultural village. Located on the outskirts of Pai, this historical site was once a Chinese settlement. Today, it's a cultural center where travelers can learn more about the Yunnan way of life. Stroll by homes and souvenir shops that are made in the traditional Chinese style using clay and straw and taste test a variety of locally grown tea such as green tea, jasmine tea, or oolong tea. Enjoy a feast of delicious Yunnan food, dressing up in traditional Yunnan clothing and take pictures near a replica of the Great Wall of China, riding a pony or donkey, or spin around on a wooden Ferris wheel.
Wat Nam Hu
Wat Nam Hu is an important temple containing a sacred Chiang Saen-style Buddha known as "Un Meang." The head of the Buddha image is hollow and contains holy water. Though it is now forbidden to touch the image itself, there are bottles of holy water available. Drink one to get rid of sickness and invite health and good luck into your life.
Many locals come here to pray and pay homage to this image, as well as another Buddha statue housing the ashes of the Thai Princess Suphankalaya.
The temple is close to a Santichon Chinese village, so many visitors find it convenient to visit Wat Nam Hu for a prayer before seeing the village. You will also come across Lisu villages and the Mor Paeng waterfall nearby. Visit the sacred temple, greet the local villagers, then head to the quaint waterfall to dip in its shallow swimming pool.
Tha Pai Hot Spring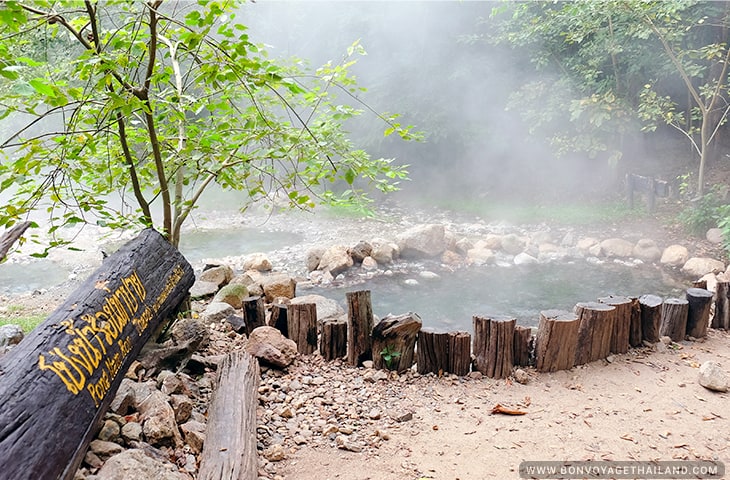 Tha Pai Hot Spring is a place you shouldn't miss. A warm river that doesn't smell of sulfur, crystal clear water, and is shady during the day. There are a number of choices for water temperature, from very hot to a comfortable bathing temperature. At the top of the spring, it's hot enough to boil eggs, which is a remarkable sight. If you've time, you should come here when you're in Pai. The price is 300 baht for an adult and 150 baht for a child. Parking costs an additional 20-30 baht.
Sai Ngam Hot Spring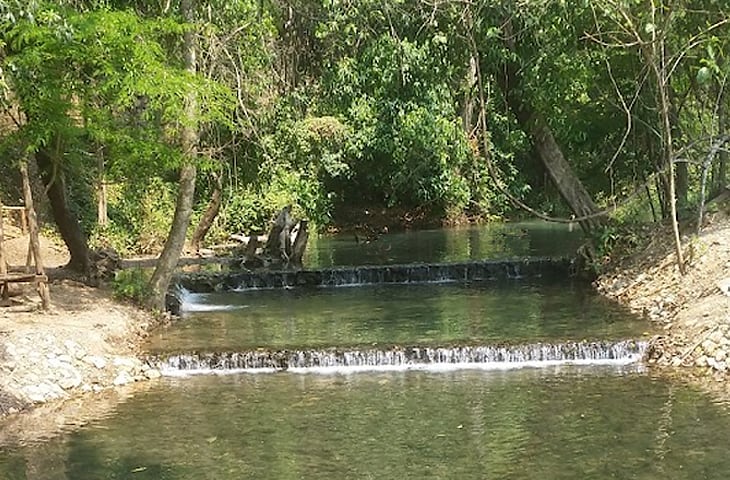 From Pai, it's only 13 km to the hot springs. It's a pleasant and easy drive and the entrance fee to the hot springs is 200 baht. In addition, there's a parking fee of 20 baht.
There are two levels. On the first level, you can swim or float. The water temperature is perfect. On the second level, the water is shallow and there's a cascade at the top where you can sit back and feel the water on your neck.
The natural pool is set in a lush jungle area and the water is warm and clear – a great place to relax after a swim.
Private Tours to Pai
If you're interested in taking a tour to see the exciting sites of Pai, browse our private tours.
Accommodation in Pai
Stay in the outer parts of the city for peace and quiet or stay right in town to find yourself engulfed in a whirlwind of adventure. The area is abundant with waterfalls, hikes, and activities that are accessible from every location, and some waterfalls even seep right into the backyards of private bungalows.
With hundreds of accommodation options ranging from hippie hostels to luxury hotels and homestays, there is truly something for everyone.
The tourist high season peaks between November and March, so expect to see a spike in travelers during this time, but don't let that deter you from taking a visit if you've already made your way to the north.
This small town packs a big punch and offers a variety of natural sites and off-the-beaten-path destinations — you could spend any amount of time in Pai and never run out of things to do.