Mae Hong Son is Thailand's northernmost province, sitting right on the border with Burma and surrounded on all sides by mountains and thick jungles teeming with wildlife. Unlike Pai, the province's busiest city that has lately become a bustling tourist hotspot, most of this region is relatively untravelled, making it an ideal destination for people seeking peace and quiet and a taste of authentic local life.
Here you'll find spectacular natural beauty everywhere you go. Climb or drive to mountaintop viewpoints overlooking misty valleys and rolling hills. Visit tiny temples and villages where ethnic minorities and hill tribes live and worship. Crawl through caves, caverns, and canyons to reach cascading waterfalls that bubble into cool, clean swimming pools.
Wat Jong Kham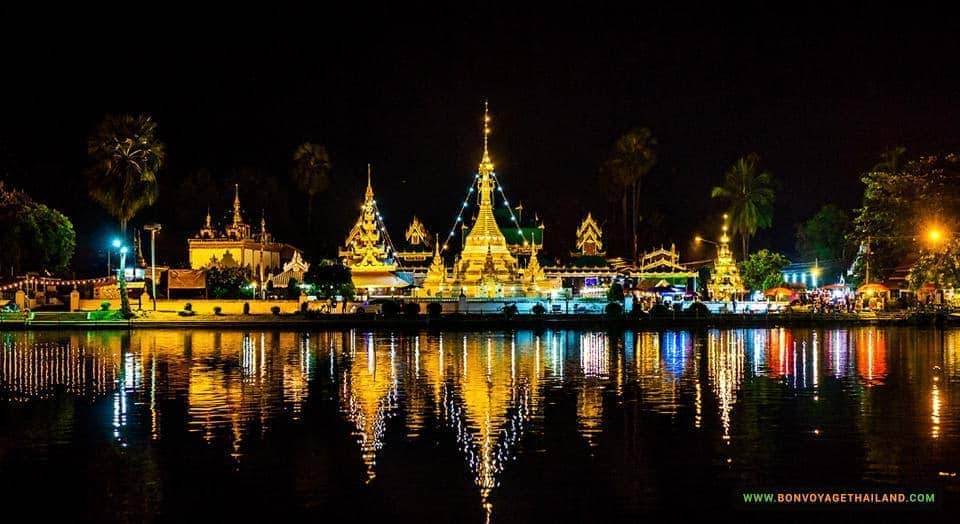 Wat Jong Kham is the oldest temple in Mae Hong Son and is a stunning example of Tai Yai architecture. Next to this temple is the white and gold chedi known as Wat Jong Khlang. They are built on the edge of the Chong Klang Lake and together they make a beautiful reflection in the lake's calm surface.
Wat Phra That Doi Kong Mu
This tranquil temple complex sits on top of Doi Kong Mu hill and can be seen from Mae Hong Son's provincial city. The Burmese style temple was founded in 1860 and features two brilliant white chedis attached to it. The larger Chedi contains the relics of an important monk who was one of the disciples of Buddha. Around the bases are enshrined Buddha images protecting the temple grounds.
A small coffee stall with hilltop seating is the best place to see the sun come up and go down and illuminate the temple in warm soft light. The grounds are open during normal daylight hours. Admission is free but donations are always accepted.
The atmosphere is completely serene and the landscape is beautiful. If you're looking for one must-see temple in the area, this is the one to keep on the list.
Phu Klon Mud Spa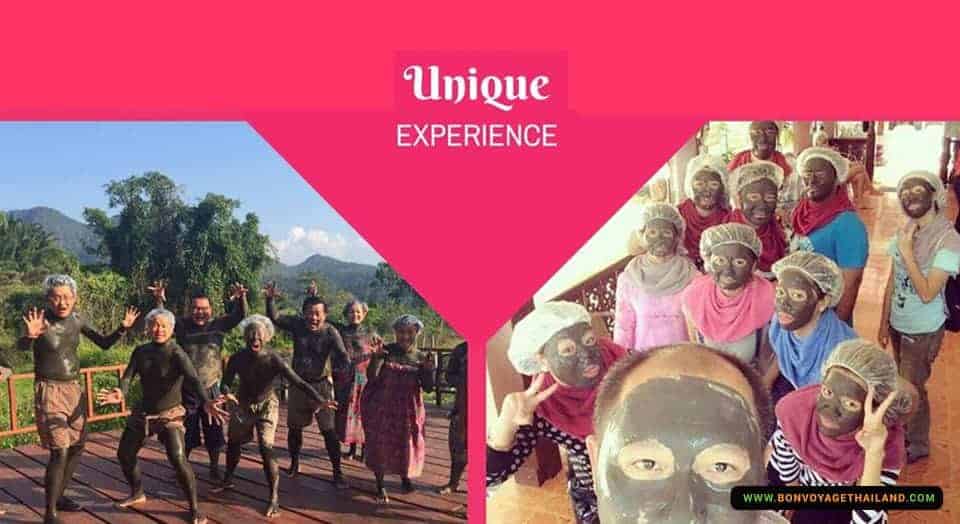 The Phu Klon Mud Spa is a local Thai spa that specializes in mud treatments for the face and body. It also offers Thai and aromatic massages as part of their wellness packages. The mud used at this spa is sourced from a nearby hot spring that is rich with minerals and claims to have healing and calming properties. After you have the special mud painted onto your face or body by a spa technician, relax as the minerals rejuvenate your skin. Afterward, enjoy a calming soak in the nearby steamy mineral pool. There is also a small shop on site where you can purchase cosmetics made from the mud.
Ban Rak Thai Village and Tea Plantation
Ban Rak Thai is a small sleepy Chinese village near the border of Myanmar known for its exceptional tea plantations. It was once a checkpoint for soldiers and traders passing between the Thai-Burmese border and has ties to the opium trade. Today, it's a popular destination with Thai locals but it's not often visited by international travelers. This quaint village is home to Chinese-style mud and straw cottages, cafes offering tea tastings, and restaurants serving delicious Yunnan cuisine. Ban Rak Thai is incredibly scenic thanks to its small roads winding through the hillside, a small reservoir bordered by the traditional huts, and the surrounding hills covered in lush green tea plants.
Tham Pla Cave
Within the Tham Pla National Park is an attraction for which it's named: the Fish Cave or Tham Pla. This natural cavern is filled with water and home to fish that can grow up to one meter long.
Tham Lod Cave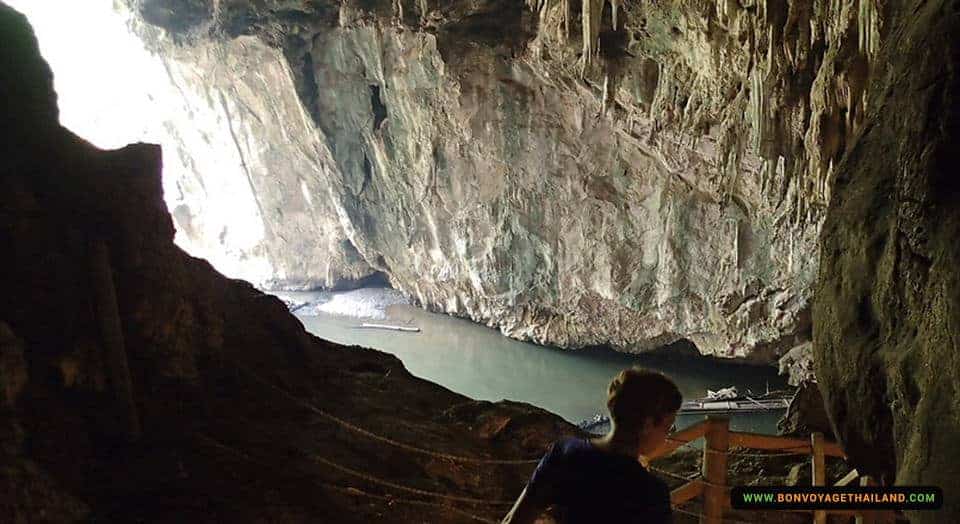 Tham Lod Cave is actually a system of limestone caverns stretching nearly a mile long under the hills just north of Pai. The caves feature an impressive collection of stalagmites and stalactites, and are home to a large colony of playful swifts that inhabit the entire length of the mountain.
A freshwater river flows through the cavern system, preventing it from being accessed on foot. Hop on a bamboo raft to float through the mystical cave, guided by lantern light. Listen to the swifts chattering overhead before floating out of the mouth and into the jungle on the other side.
Pang Oung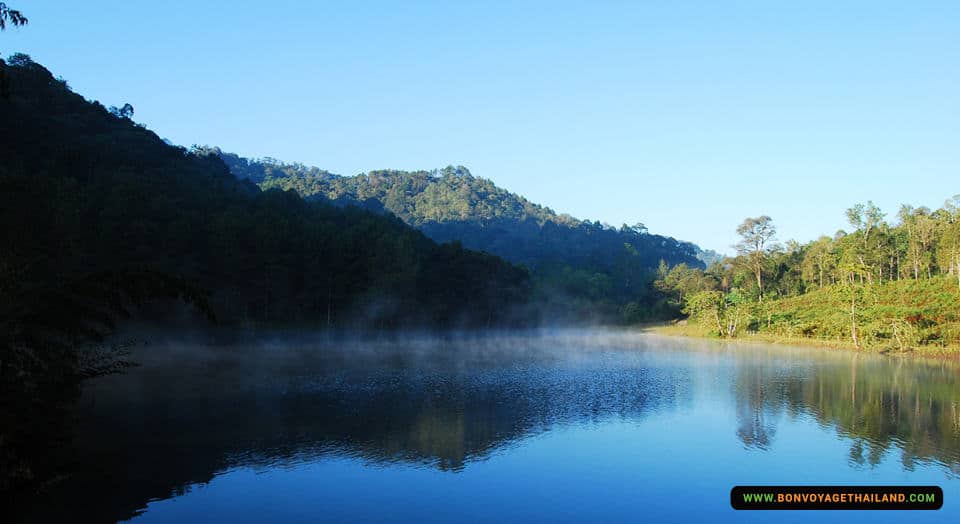 Not far from Ban Rak Thai is Pang Oung, home to the nearby Huai Pang Tong Reservoir that is surrounded by evergreen trees and rolling mountains. Narrow twisting roads lead to a beautiful lake high in the wooded mountains.
Rent or bring a tent to pitch in one of the campsites under the pine trees and dine on cheap food in the stunning landscape. Its natural beauty is often compared to Switzerland, making its unique beauty a must-see for travelers in Southeast Asia.
Wat Tor Pae
This temple is one of the most beautiful examples of Burmese architecture in Mae Hong Son. Paired with a Thai-styled pavilion, it is home to a gem-encrusted mural, precious Buddha images, and several stunning wood carvings. This beautiful example of Burmese history serves up Yunnan cuisine in the company of friendly locals, without the crowd of tour buses.
Kaew Komol Cave
This gorgeous cave system is one of only three in the world made of glittering calcite crystals, and the only one in Southeast Asia. Five different "rooms" sparkle with calcite formations that resemble cascading water, clouds, coral reefs, curtains, and snow. The crystals in this rare and precious cave are in perfect condition, whole and intact. The small entrance fee includes a ride up the hill and into Kaew Komol.
Royal Projects at Huay Hom
Their Majesties the King and Queen of Thailand introduced sustainable agriculture to this small village, which specializes in producing world-class Arabica coffee. Learn more about the growing and roasting processes and enjoy a cup of coffee during your visit.
Doi Kiew Lom Viewpoint
Sometimes you need to stop and get some perspective. Doi Kiew Lom is here for you, a stunning mountain top overlooking the entire valley below. This viewpoint is right on the way from Pai to Mae Hong Son and offers 360-degree panoramic views of the landscape. Stop here to think, to breathe, to journal, and to watch the sun rise above a sea of white clouds.
Su Tong Pae Bridge
This bridge provides a walkway for monks and visitors between Kung Mai Sak Village and a nearby Buddhist temple. Instead of wood or steel, Su Tong Pae Bridge is made of woven bamboo, spanning a half-kilometer over a scenic rice field and river.
Su Tong Pae translates to "Successful Prayer" in Tai Yai, the native language of Shan people. Built on land donated by farmers, the villagers constructed the bridge to serve the monks who cross it daily to receive alms. Make a wish as you cross the platform and it will come true!
Start your journey early to watch the monks leave the monasteries shortly after sunrise, carrying bowls for donations across the bridge.
Long Neck Karen Village
Huay Phu Kaeng is a genuine "Long Neck" Karen village that welcomes visitors to learn more about this unique hill tribe's way of life. After a 30-minute boat ride down the peaceful Pai River, you'll arrive at a Karen village that is famous for its tribe women who wear the iconic brass rings on their necks and colorful clothing. This is an excellent opportunity to speak with the Karen villagers about their daily lives and learn what they are interested as well as to share your own travel stories. Shopping for handicrafts and souvenirs help to support the village.
Mae Sariang
This little town and district sits on the border of Myanmar along the banks of the Yuam river. It's a small but popular stop along the Mae Hong Son loop that winds through the mountainous region between Chiang Mai, Mae Hong Son, and Pai.
The culture is different from the rest of the country, settled by Shan and Hill Tribe people. The atmosphere is relaxed and friendly, people are kind, and the pace is slow. Be sure to have a meal to enjoy unique food options that reflect the diverse community here. Restaurants serve up Halal food for the Muslim descendants of Bangladesh immigrants and tasty Shan food cooked up by the Tai Yhai, a minority group originating from Southern China.
Just outside of the town you'll find jungles, forests, and farms. The region is abundant in hotels and guest houses catering to every budget and comfort level, allowing visitors to explore the many ancient holy sites and hill tribe villages nearby.
Private Tours to Mae Hong Son
Leave the busy cities of Chiang Mai, Chiang Rai, and Pai and escape into nature in Mae Hong Son. Pick a single destination and take a day trip if you're short on time, but if your itinerary is flexible, the region really deserves a few days at least.
From underground cave complexes to mountain views at the top of the world, every option promises an intimate experience with other-worldly natural elements. Then break up trekking, rafting, and spelunking expeditions with trips to hospitable hill tribe villages and temples for a chance to get to know the many other cultures and communities in Northern Thailand.
If you're interested in taking a tour to see the exciting sites of Mae Hong Son, browse our private tours below: