Chiang Rai : White Temple, Black House, Blue Temple and Golden Triangle
Location: Chiang Rai Province.
The tour begins and ends in Chiang Mai.
Highlights: White Temple, Black House, Blue Temple, Golden Triangle
Free pick-up/drop-off within 3 km of the city center.
English-speaking local tour guide.
Small Group Tour
Secure your spot today with a small deposit
• Adult :

฿

400
• Child (age 2-6) :

฿

200
Deposit will be adjusted at checkout.
Overview
Take a full-day tour of the beautiful Chiang Rai countryside and visit four must-see sights. Start with the White Temple (Wat Rong Khun), one of the most famous temples in all of Thailand for its white exterior. Next on the tour is the dark, mysterious Black House (Baan Dam). Then, immerse yourself in the enchanting beauty of the Blue Temple (Wat Rong Suea Ten) with its fascinating blue and gold decorations. End the day with a visit to the beautiful viewpoint known as the Golden Triangle, from which you can see three different countries at once. This comprehensive itinerary offers a perfect blend of heavenly beauty, intriguing secrets and breathtaking views and is an unforgettable day trip from Chiang Mai.
Itinerary
Meet in your hotel lobby

7 AM to 7:15 AM : the area of the old city center and Night Bazaar
7:20 AM to 7:35 AM : within 3 km outside the old city

9 AM : Halfway through the drive, take a short break at a hot sulfur spring (approx. 20 minutes)
11 AM : Explore the White Temple in Chiang Rai (approx. 45 minutes)
12 PM : Have lunch at the White Temple's Thai restaurant
1:15 PM : Walk through the many buildings of the Black House compound (approx. 45 minutes)
*Optional tour – Long Neck Karen Hill Tribe village (approx. 40 minutes)
3:30 PM : Visit the Golden Triangle viewpoint overlooking the borders of Thailand, Laos, and Myanmar (approx. 30 minutes)
*Optional Tour – River boat tour of the Mekong River (approx. 30- to 45-minute )
5:30 PM : Visit the Blue Temple (approx. 30 minutes)
6 PM : Depart from Chiang Rai, stop at a gas station along the way
9 –  9:30 PM : Return to your accommodation
Please Note : For additional information about the optional riverboat tour, read the 'Additional Information' section below.
Your guide will make sure that you spend as much time as possible at each activity. However, the schedule may vary depending on the weather and traffic.
What we'll do
About the White Temple, Black House, Blue Temple And Golden Triangle Tour
Your tour guide will pick you up from your hotel in Chiang Mai and then take you on a morning drive through northern Thailand. Halfway to Chiang Rai, make a quick stop for coffee at a local natural hot spring. The water is so hot there that it can boil eggs!

After stretching your legs, the tour's first major stop is the breathtakingly beautiful White Temple. It has nine entirely white buildings that are adorned with small mirrors that glint and shine in the sunlight. The grounds are home to an all-white koi fish pond and the self-proclaimed 'most beautiful bathrooms in the world', too.
After exploring the various buildings and artwork of the White Temple, enjoy lunch at its Thai restaurant. Afterward, continue to the Black House just a few kilometers away.

Locally known as Baan Dam, the Black House is strikingly different from the White Temple. This series of buildings is bizarre looking and decorated with heavy wood and dark metal. Inside are exhibits displaying animal skins and skeletons and there is also a dungeon with torture-like devices. Throughout the property you can find remnants of animals such as crocodiles, bears, and elephants, too. The Black House is fascinating but may be a bit disturbing for some.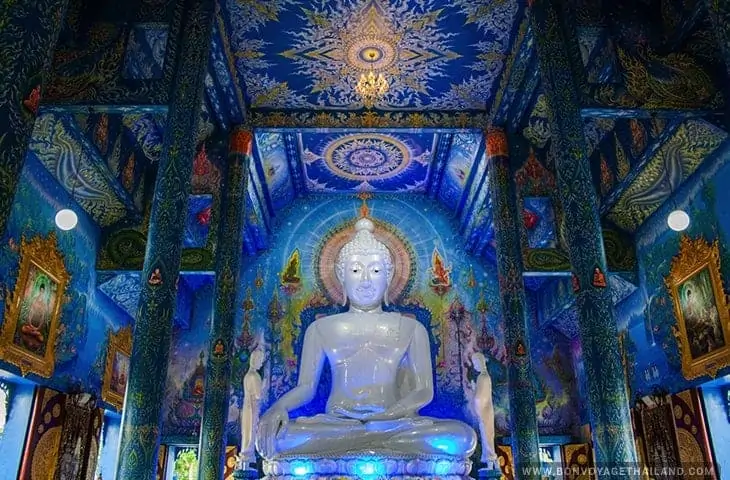 We continue the tour and reach the enchanting Blue Temple. Its bright blue exterior, decorated with intricate golden details, will captivate your eyes. As you enter the temple, you'll be greeted by a magnificent central Buddha statue surrounded by smaller Buddha representations. The interior of the temple is decorated with exquisite murals depicting captivating scenes from Buddhist mythology and teachings. This tranquil sanctuary is the perfect place to quietly reflect and admire the beauty of the artwork.
After exploring the tranquil Blue Temple, we will take you to the famous Golden Triangle region. The Golden Triangle is located at the confluence of Thailand, Myanmar and Laos and is historically significant as a former opium growing area.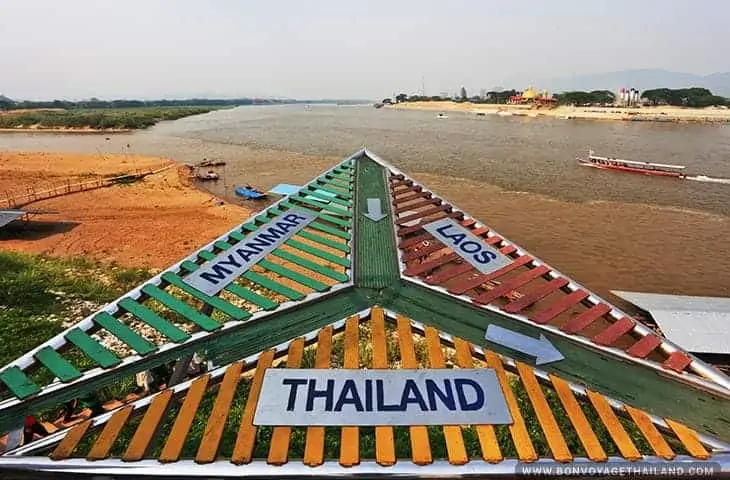 Embark on a scenic drive to the Golden Triangle, where you can enjoy breathtaking views of the Mekong River that separates the three countries. Immerse yourself in the rich cultural heritage of this region and visit the Hall of Opium, an informative museum that highlights the history and impact of the opium trade.
You can also take a boat trip on the Mekong River, explore the surrounding landscapes and observe the traditional way of life of local communities.
This Tour Includes
A free pick-up and drop-off service is included within 3 kilometers of the city center

If you're out of town, contact us to arrange a meeting point

Transportation via minibus with air conditioning and a driver
English-speaking tour guide
All entrance fees
Thai lunch
One small bottle of water
Travel accident insurance
What To Bring
Passport
Comfortable shoes
Hat and sunglasses
Sunscreen and insect repellent
Camera (Optional)
Additional Informations
If you have any dietary restrictions or allergies, please inform your tour guide. We can serve vegetarian food upon request.
Additional tours are also available for this tour. Enjoy a 30- to 45-minute boat ride on the Mekong River for an additional 300 baht per person. Please talk to your tour guide to arrange this additional excursion.
This is a small group tour, approximately 12 persons.
Tour operated by our Tour Operator Partner.
Want a Private or
Personal Tour?
We can customize our tours to your needs just contact us and we'll provide you with the information you need.